It's rallying towards Summer and that means only one thing. The high Summer fashion drop has landed in stores. You may remember a couple of weeks ago we headed to intu Eldon Square's Summer Fashion show event. This was 4 days of workshops and style seminars. Just before I headed to Ibiza, I headed to the very pink, tropical and fabulously out-there Summer Fashion Show at intu Metro Centre for an exclusive VIP event.
With hotel Tropicana, the theme of the evening in true intu style the catwalk event was in the Platinum. If you're not familiar is the centre of the cross-shaped shopping mall.
Entering through a picket fence we were greeted with black vodka cocktails and the most Pinterest-worthy shooters from the guys at TGI Fridays. Located in the Qube (Yellow Mall), where all the biggest name restaurants and bars are.
With Barburrito serving up a tasty storm too with Mexican cantina style chilli and wraps. Everything was smelling divine.
The event space was dressed with palm trees, a ball pool and of course the ultimate Summer must have. An inflatable pink flamingo. The theme of the 4-day catwalk show being a tropical flamingo. With Paperchase providing the little finishing touches including some amazing 'Party like a flock star' serviettes they really put a smile on your face.
The ladies from NYX were on hand to touch up makeup where necessary and help answer those burning questions you may have.
With Anna from BBC Newcastle hosting the night's fashion show we saw capsule collections from many favourite high street brands.
Kicking off the show was favourite Topshop. Think cut off shorts, floral embellishments. For those who really rock styling their signature styles of Daisy Dukes and playful crops.
Next up was Burton Menswear. A mix for casual and formal this men's store is located in the Green Mall. With suits for this season's biggest weddings and essential slogan tees of you're left to do your male counterpart's shopping this one stop shop is for you. Head to the Green Mall.
Can we please just take a minute though to appreciate this model and how he's very much channelling a look of Gossip Girl favourite Chuck Bass….swoon.
Karen Millen, one of my favourite summer go-to brands certainly didn't disappoint. Colour popping brights were juxtaposed with softer more intricate florals there was an item in their capsule collection for everybody. With fashion guru and event BFF Pixie from Fashion Voyeur confirming what I already knew the yellow dress would be the one, I'd wear proudly to a summer event or wedding.
With Macara and Pixie, both ogling over the navy split jumpsuit. Both with their rock chick edge we knew where we were heading for after the show.
All great outfits need Accessorize. Shop the finishing touches for your Summer Vaycay with floppy hats, bracelets and chunky necklaces, oversized beach bags and more. Accessorize is located in the Lower Green Mall.
New Look Men showcased their new signature pieces down the catwalk. With a twist of prints and slogan tees this is a perfect stop for getting those Summer purchases to throw in the holiday suitcase.
I'm not going to hide the fact that my stance on Cath Kidston is in one word 'Mumsy'. This vintage inspired floral brand has never been high on my list of brands, especially considering my wardrobe is colour fantastic. That was until the styling team behind the scenes styled this brand to the point that I absolutely loved the denim pieces and their subtle nude handbags.
If you've been naive like I have, make sure you take a trip to Cath Kidston. Located in the Red Mall to see what pieces you can pick up.
Primarni – everybody's favourite
Primark is one of those stores where everybody I know seems to find great pieces whereas I struggle. The stylist for the evening clearly sees things I don't as this mix of fresh vibrant colours, quirky tees and designer style dupes really made for a more luxury looking runway. Styled, these outfits look less money saving and more money splurging. Well done Primark! You'll find the expansive store located in the Lower Yellow Mall.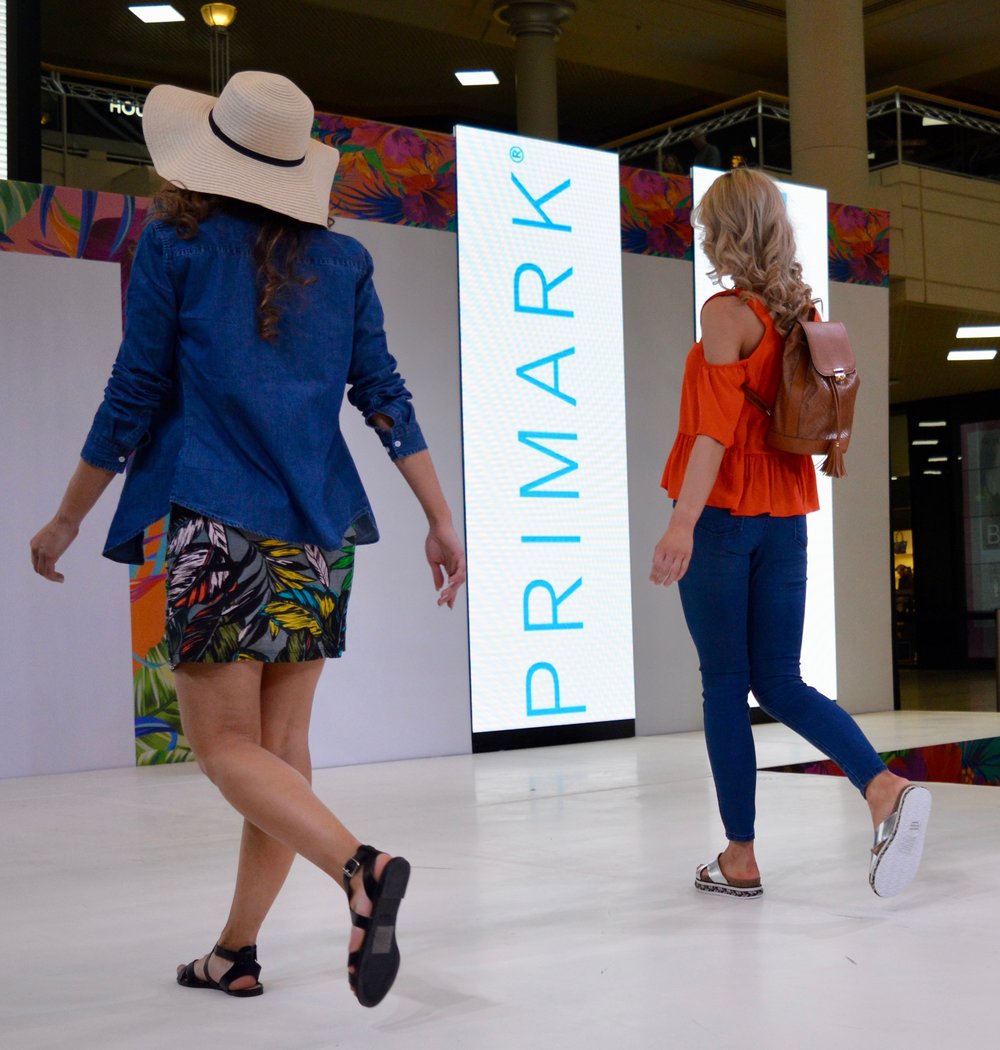 I'm going to admit it. When the first model, who was modelling designer brand store Tessuti stepped out I could recognise her sweater from 50 paces off. Of course, Ralph. This iconic jumper comes in a multitude of different colours and I'd estimate owning 90% of them! My signature outfit was showcased right before my eyes. Teamed with jeans and a pinstripe shirt I realised my self styling wasn't that bad after all?
Fun florals
One of those brands which cater for everybody is Miss Selfridge. The playful mix of florals (which are huge again this season is teamed with bold bright colours. This 25-40 age brand is fun, flirty and seriously great this Summer season!
House of Fraser is one of the most well-known department stores situated within intu Metro centre. You could probably call it the epicentre of the mall. With its own expansive hub of beauty houses, designer fashion brands, homeware and more. It's certain you're going to be catered for from head to toe when heading to HOF.
Coast are one of those brand's which I adore going to when dressing for a wedding. With floaty hemlines and blush being the colour of choice. These soft pastel shades and laser cut lace will ensure that you'll make an impact wherever you go. Styling whites for fresh Summer days and sparkle for those magpies amongst us are are hot trends right now.