Saturdays are for waving goodbye to the working week with some great food right? This weekend I headed down to The Imperial Restaurant; which serves Chinese cuisine, located in Low Fell, Gateshead for my Saturday food fix. I certainly wasn't disappointed, this restaurant is a real hidden gem.
If you're not familiar with The Imperial Restaurant make it your mission to become familiar and quick, stat. You'll absolutely love it if you've taken note of any of my other recommendations previously;
The best Burgers in Newcastle
Enjoy the best Fish from the best Fishmongers in the city
Looking for the best Steak in the Toon?
Discover the best views of the Quayside
Having headed to Low Fell for our table which was booked for 7 pm we arrived a little early. The Sat Nav (typically) took us to a car park just off Durham Road. I really need to start relying more on my brain and less on this computer which has worse directional skills than I have! Having driven up and down the main drag in Low Fell with what must have been our blinkers on, we both burst out laughing when we saw the large red lettering on the restaurant wall. Blondes really do have all the laughs!
Entering the downstairs doorway, through gorgeous glass doors and up the staircase we arrived in the restaurant which was a bustling hive of activity. The expansive space which is decorated with a modern look, with a traditional twist, covers up to 110 in one sitting. Attracting a mixed clientele of all ages, including a large party for a 60th birthday, it was a real testament into how much the locals enjoy spending their Saturdays here.
We were welcomed by Sindy, the owner of The Imperial Restaurant who was super friendly and overseeing the smooth running of seating the diners and ensuring that their very busy takeaway service was running like clockwork. Ryan showed us to our table and then took our drinks order. We opted for a bottle of the house red, a Merlot as we perused the menu, and nibbled on prawn crackers.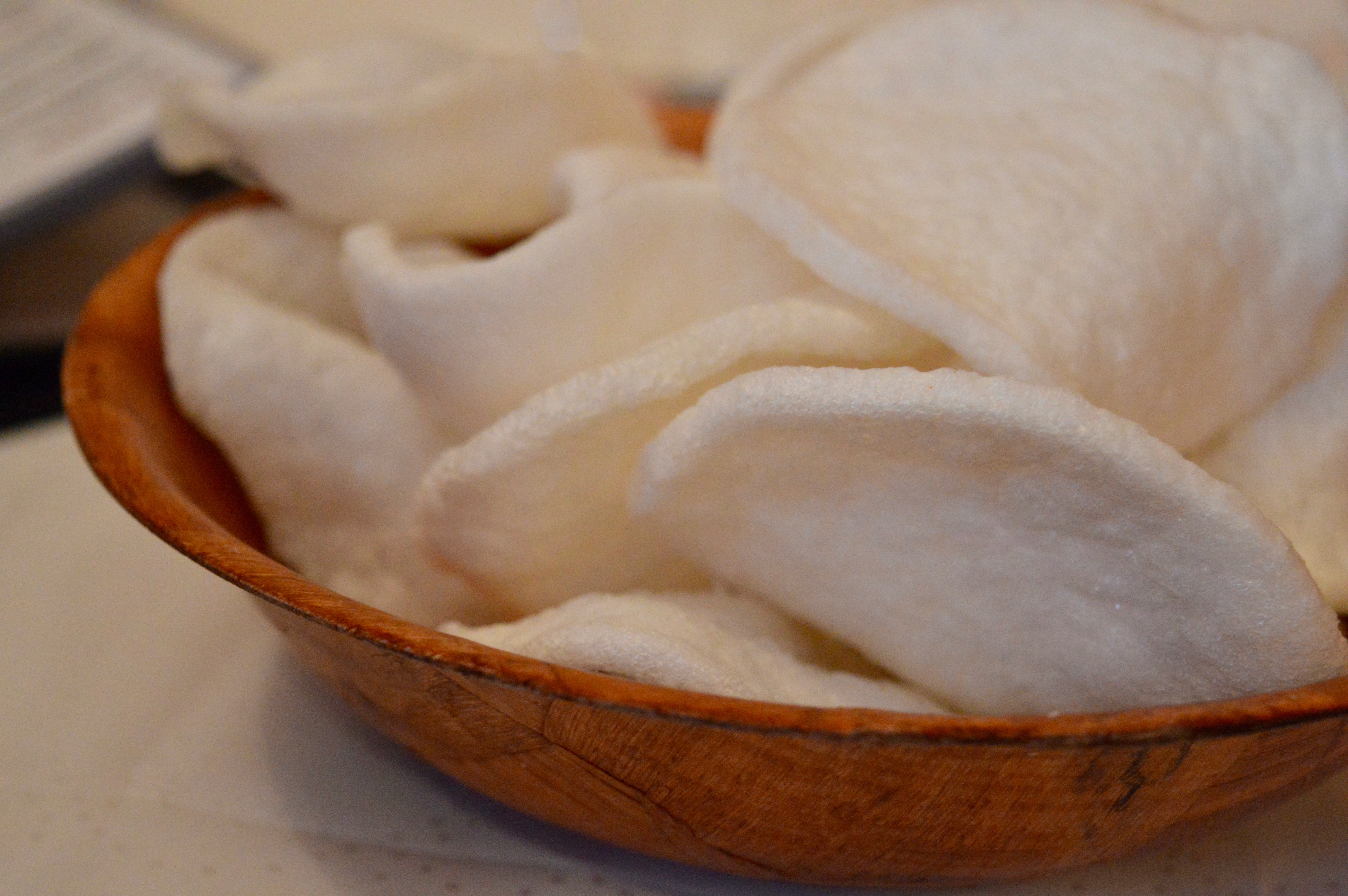 The menu was so diverse, including a whole page each for scallop and squid dishes. Meats on offer included chicken duck, pork and beef as well as an extensive fish and Vegetarian selection (with lots of Tofu options). The Imperial Restaurant pride themselves on their banquets and offer both lunch and evening banquet choices.
If you like a selection of dishes then the banquets come highly recommended (and extremely reasonably priced). Even better is that you can choose the banquet menu even if you are just a party of two.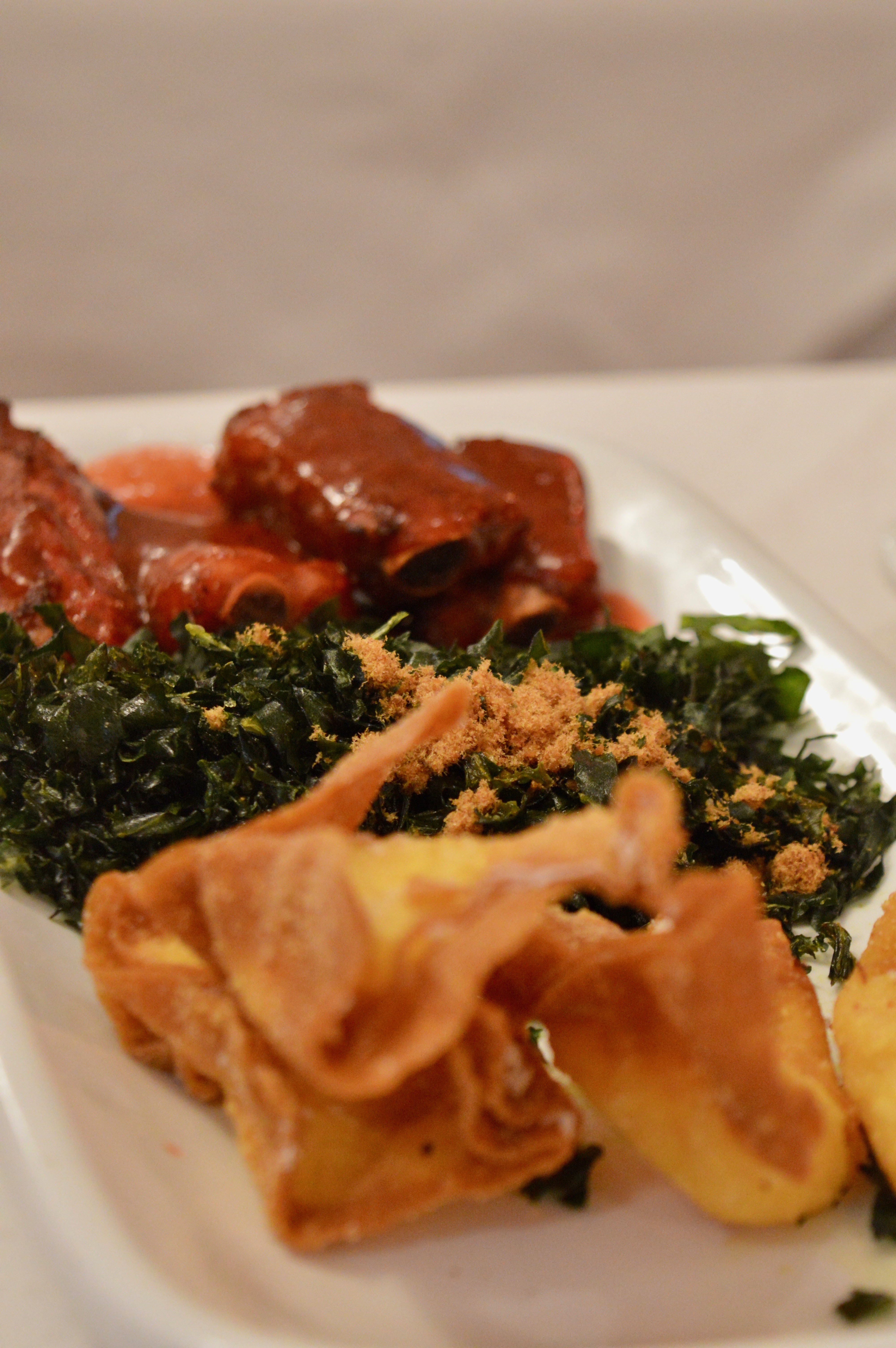 The Regal Banquet is £15.90 includes soup, a selection of appetisers, then a beef and a chicken dish (for 2 people) with rice followed by dessert – if you have room! The Royal Banquet (Sindy informed us that this was the most popular choice) is priced at £18.90 per person and switches the appetisers for duck pancakes and adds in another main dish.
The Emperor's Banquet (the banquet we opted for) included soup, duck pancakes and appetisers, followed by rice and three dishes and a dessert – this comes for an amazing price of £24.90 per person. Finally, the last banquet is the piece de resistance, the Imperial Banquet, priced at £29.90 per person it includes soup, a whole host of appetisers and duck, 3 mains (per 2 people sharing), rice and dessert. The lunch banquets start at £7.10.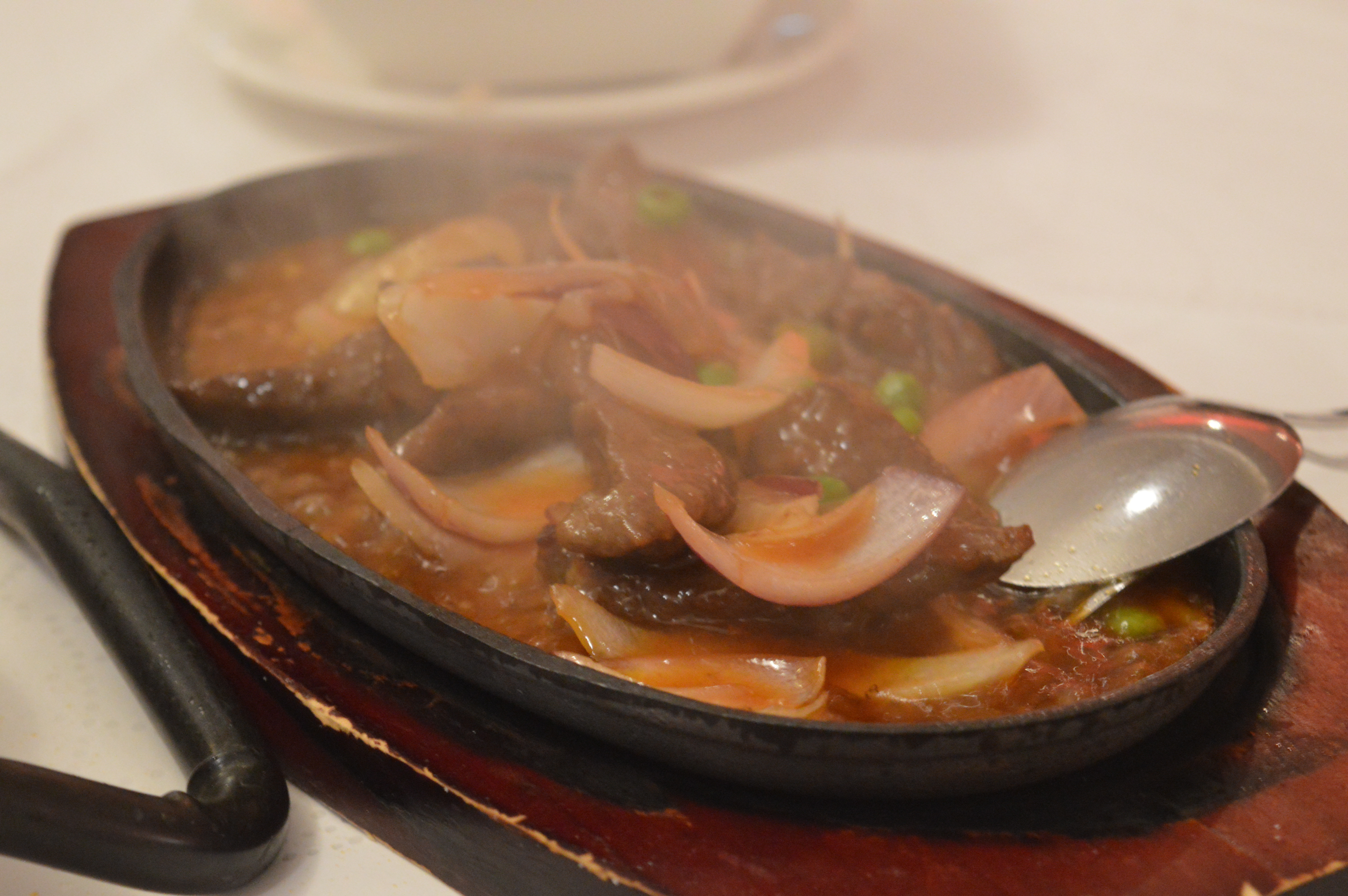 As we had opted for the Emperor's Banquet, our first course was the Dragon and Pheonix Soup. I loved the name of this magical soup. Chinese soup is one of my favourites so I couldn't wait to see how the Dragon & Pheonix soup faired. Arriving piping hot it was served in little bowls and the remainder left on the table for us to help ourselves. The soup was that perfectly thick consistency and full of chicken, prawns, mushrooms and vegetables. It was absolutely delicious and while I could quite happily live on soup I knew I needed to pace myself. It didn't stop me dunking my prawn crackers though!
The service was so efficient and no sooner had our plates been cleared away, cutlery and plates for the next course were brought out, swiftly followed by the duck pancakes and the appetisers. The efficiency of the whole restaurant, especially on a busy Saturday evening really was impressive. No table was forgotten about or left too long, the whole operation was carried out with military precision.
Our appetisers arrived and I couldn't be more excited, crispy seaweed is one of my favourite delicacies, so I was straight in, loading it onto my plate. Accompanied by spare ribs in Chinese barbecue sauce and deep fried wan tons. I absolutely adore wan tons and the Imperial's didn't disappoint. They were extremely fresh and delicious. I'm not a fan of ribs, however, my dinner companion did confirm that they were super meaty and had a great taste and that they really enjoyed them.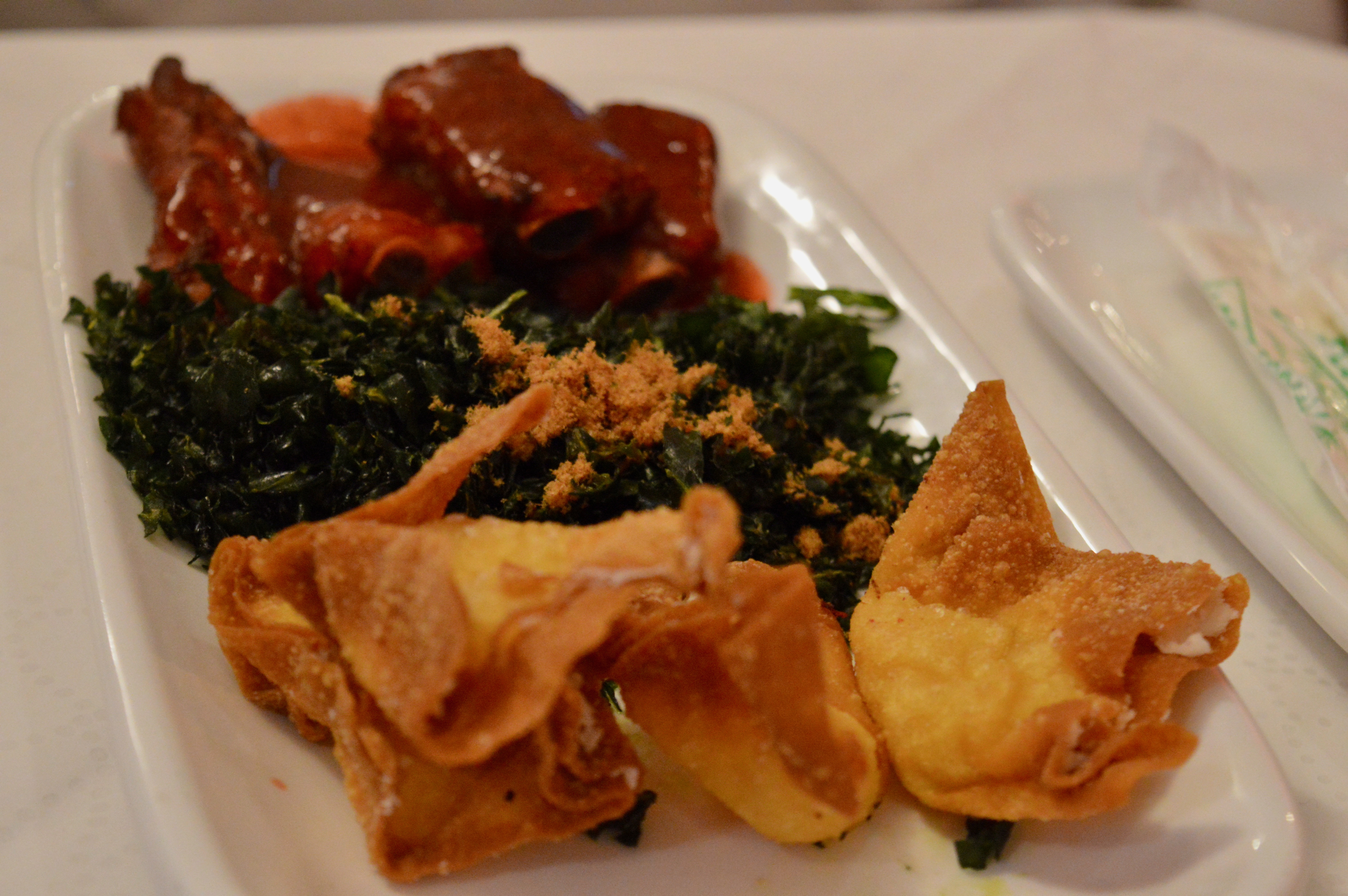 More than ducky
The main event, before the main event. The duck pancakes. It's like the international symbol of Chinese restaurant appreciation; an aromatic duck pancake isn't it? If you don't have duck pancakes with your meal, why did you even bother eating? The shredded duck arrived mounded on the long rectangular plate, finished off with a pink floral for added decoration. We took out a pancake, layered out our finely chopped veg, piled on the duck and drizzled the sticky hoisin sauce all over. Rolling our pancakes and taking a bite, it was heavenly! Top marks for the duck pancakes.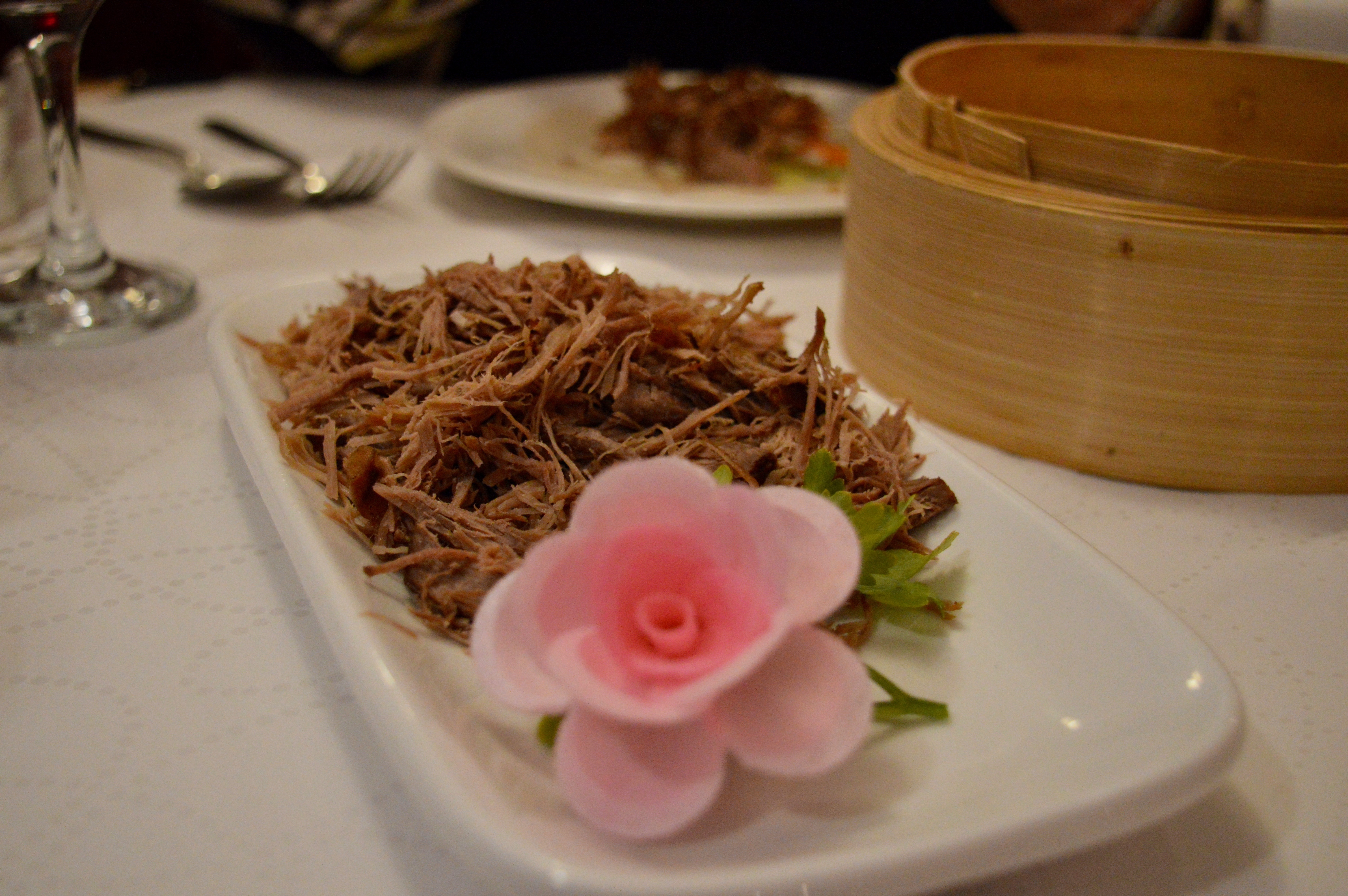 The appetisers were great and although we couldn't wait to taste the main course, in reality, we needed a little break from eating. Obviously accustomed to this, our server asked if we would like the food served immediately or would we prefer five or ten minutes. Again another preemptive touch that sets the hospitality of this restaurant apart. The waitress knew exactly when to return to the table to ask if we were ready for the next course.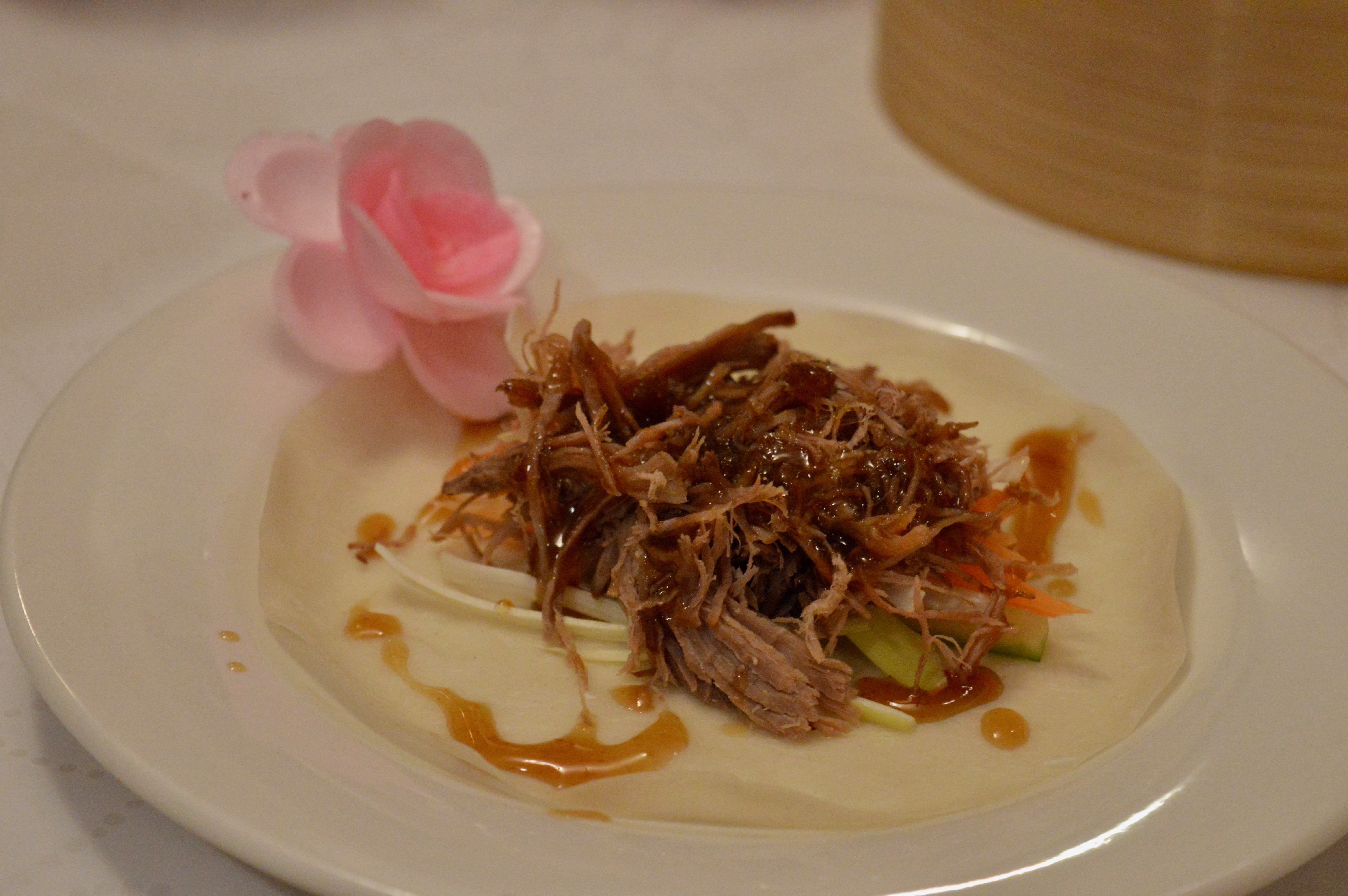 The main event
We were served with Yeung Chow Fried rice and a selection of 3 dishes. The Sizzling Fillet Steak Cantonese Style was brought to the table and unlike in other restaurants where an acrid haze can often linger, this certainly wasn't the case here. The beef tasted fabulous and cooked to perfection the sauce was rich and tasty. The other two splendid dishes were Chicken in Spicy Garlic Sauce and Chicken Szechuan Style. Both were well proportioned and we enjoyed more than sufficient tender chicken. We had both eaten far too much but it was too delicious not to.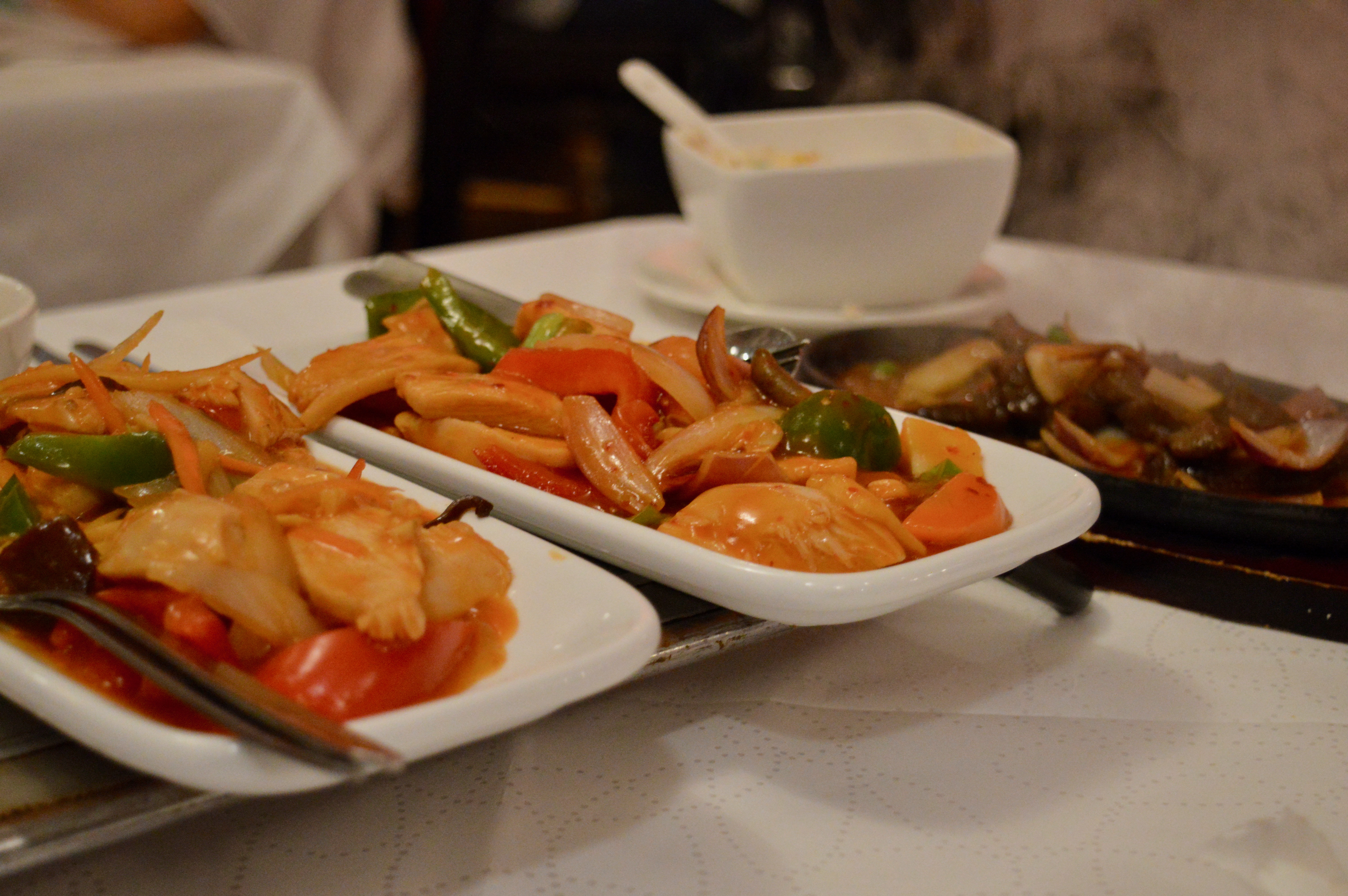 When the orange segments were brought to the table I was a bit afraid that this might signal half time! Fortunately, they were to cleanse our palette, too full for dessert or coffee we ended our evening enjoying our fortune cookies.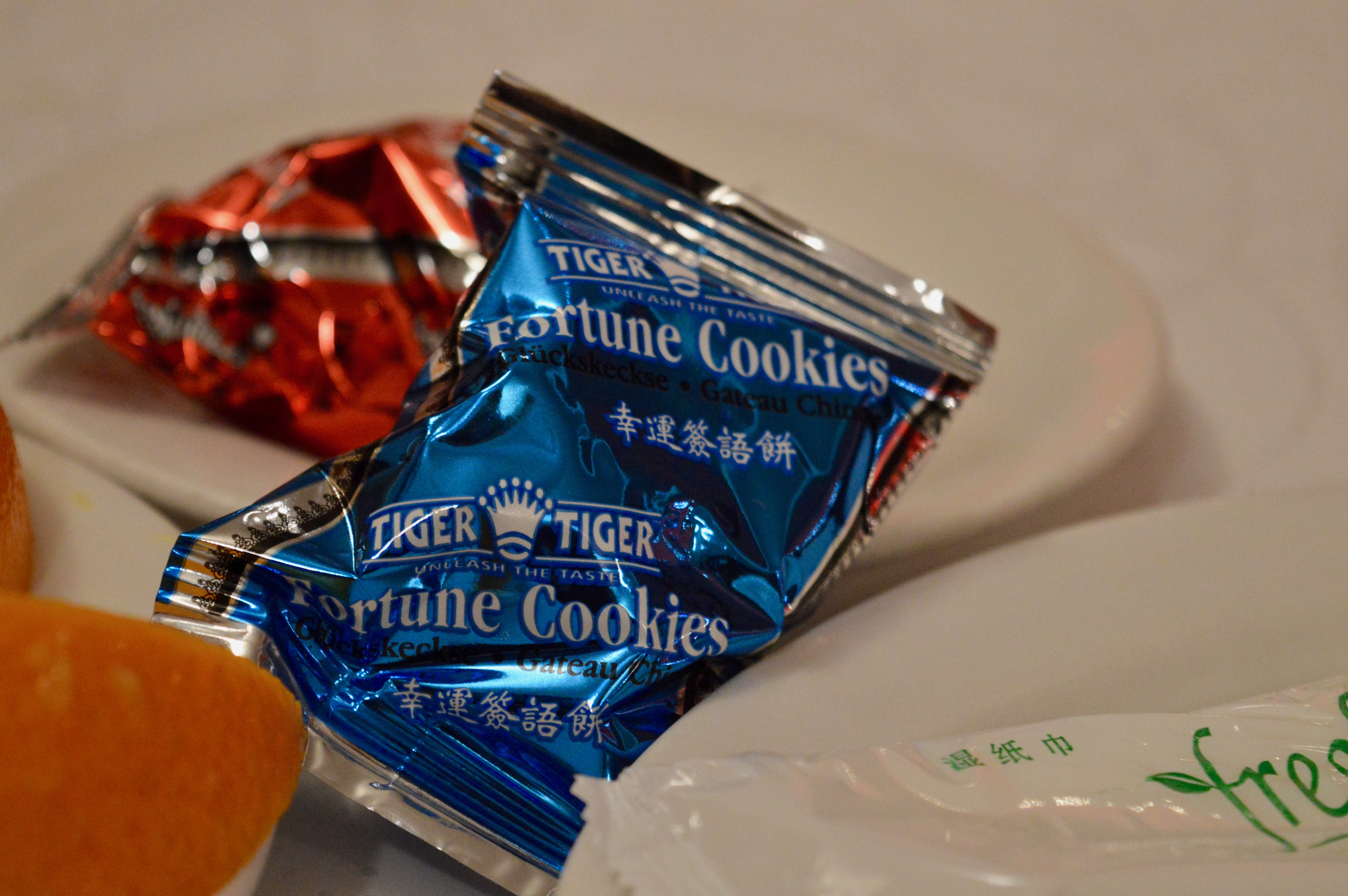 Pleasing to eye as well as the stomach
The signature red and white branding of the restaurant was carried through into the decor. We admired the lighting and Sindy recalled a recent trip to Asia where she had spotted the fabulous strings of lighting and insisted that they were required for the restaurant. How right she was to bring home 24 sets. They create a perfect warm ambience along with the wonderful central chandelier and red uplighting. We also remarked that it was unusual that there was no background music and were informed that when the restaurant is as busy it makes it's only vibrant hum and people enjoy that they can hear the conversations on their table without overhearing other tables. Another smart decision by Sindy, she clearly knows her restaurant and her customers exceptionally well.
There is no fixed booth seating, all of the tables can be moved to suit any party size which is a real positive. The whole place is family orientated and the fact that they had 4 birthday celebrations booked throughout the day really demonstrated what a popular choice this restaurant is.
The final verdict
You know, The Imperial Restaurant is up there as the most welcoming restaurant I've ever been to. Sindy and her team work cohesively together to create a seamless service for all their diners. It was lovely to see the regulars chatting with the waiters and waitresses about their Summer holidays, the whole restaurant had a really welcoming feel and it's certainly somewhere I'll be heading back to. The love and attention that Sindy has channelled into her restaurant and staff truly resonates throughout. We entered as strangers and left feeling like we had been part of the Imperial family forever! Until next time!