Quarantine has led us to explore Isaac Newton's lesser-known fourth law of physics: A stressed-out body in quarantine will stay stressed out unless an external force of relaxation acts upon it. That being said, we are all spending a lot of time with ourselves in the same space, repeating the same tasks, and becoming increasingly more stressed as the situation progresses. So take a moment and just relax. Now is the perfect time to focus on you! If you need to unwind or rejuvenate, here are some self-care routines and tips from nine different influencers to help you take care of yourself during quarantine.
Related Read;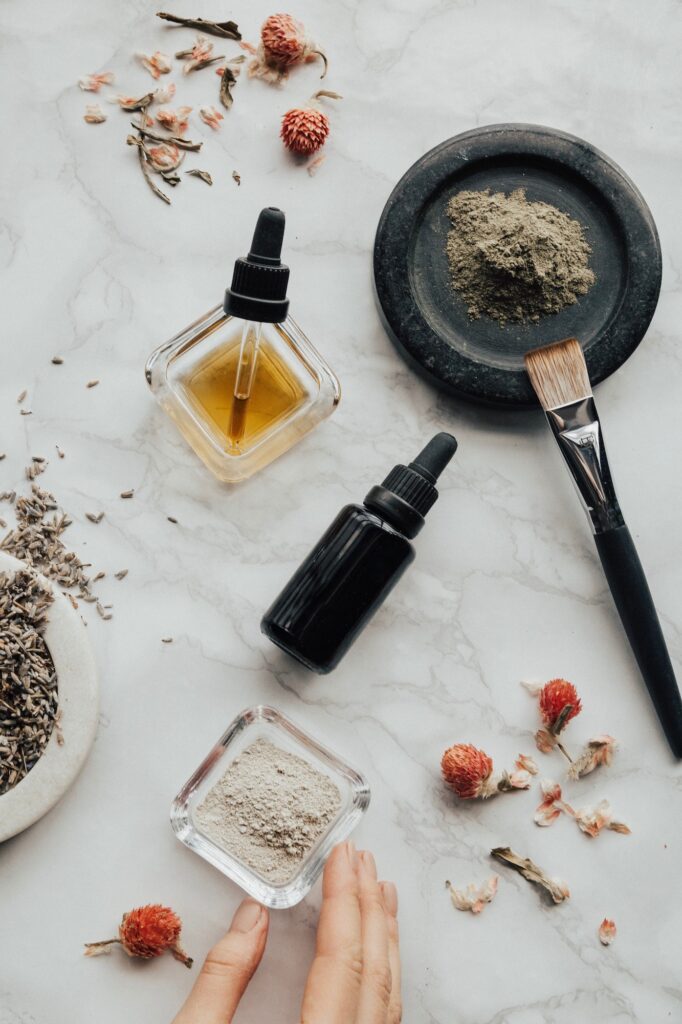 Belle knows the importance of self-care in a time that seems to foster anxiety. Her self care routine focuses on feeling calm and present throughout the day.
Drink water and eat healthily, but don't restrict yourself. Replace coffee and caffeinated drinks with herbal tea if you start to feel stressed or jittery.
Organize your day. Make a to-do list of simple tasks and work to finish so you don't feel so overwhelmed.
Affirmations. Affirmations are a great way to start your day and get those good vibes going. Belle does this by making a "good vibes board" of motivational quotes, cute animals, and other things to make you smile.
Meditate. If you find your thoughts drift easily, take Belle's tip and picture a leaf floating down a stream throughout the meditation. Whenever your mind drifts, focus on the leaf to stay in tune.
Talk to people you love. Whether in person or through video chats and texting, taking time to talk to the people that mean the most to you during isolating times is essential to keeping you happy and mentally healthy.
Have a pamper session.
Cook a good meal. Home-cooked food is always comfort food.
Chill. Belle's top tip is to light some candles for instant warmth and cosiness. Then, turn on your favourite show and engage in honest laziness.
Olivia has a few pieces of advice for self-care practices to put in place every day so that you don't end up stressed and upset in the first place.
Olivia's most important piece of advice for continuous self-care is to create a routine. Give yourself a new normal to stick to so that your days don't feel aimless. A routine can be a checklist of things to do or one thing you complete every morning, like opening the blinds and working out. It doesn't really matter what's on the schedule, just having one for each day will help you feel productive but not stressed.
Write down three things you are grateful for. It's easy to fall into the pessimism and darkness from this whole situation, but physically writing down three or more things you are grateful for each day can help keep you positive.
Meditate or do some morning yoga for just ten minutes to ground yourself.
Keep your environment tidy. Put away your weights after your workout. Make your bed in the morning. Clean up after you make a meal. Never let your space become messy and cluttered, you'll feel all the more cramped and trapped.
Listen to chill music and light some candles to set a calming environment at the end of the day.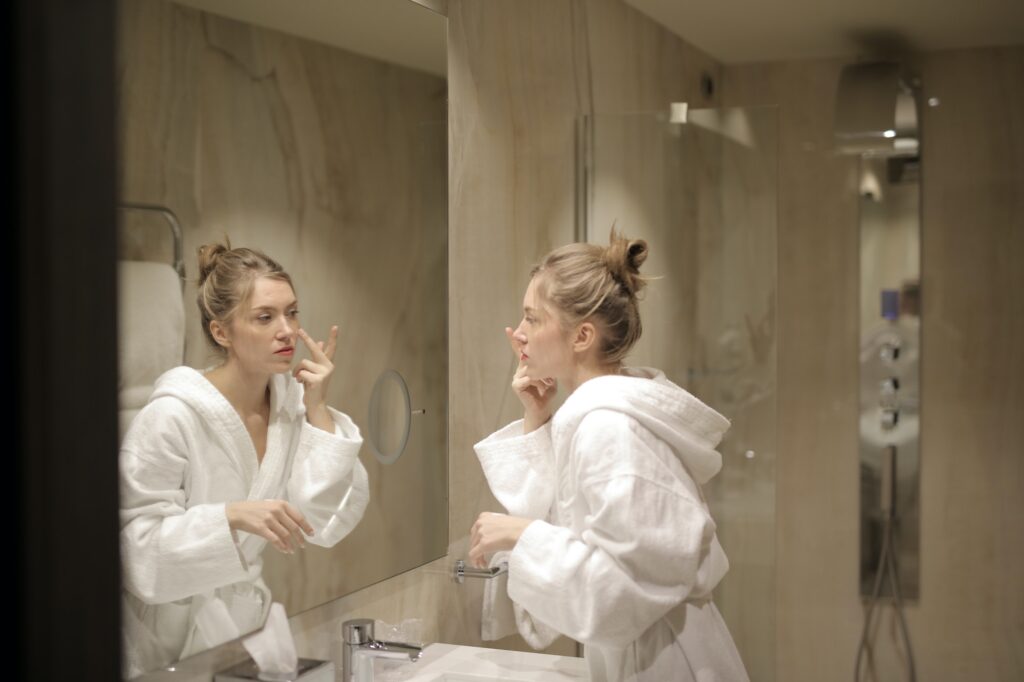 Chantel's favourite self-care is her skincare routine. Taking time to really focus on your skin is relaxing and rejuvenating for a part of our bodies that goes through a lot of wear and tear each day.
Put on an ambient music playlist to get you in the mood
Take a nice long shower
Protect your hair. Use this time to take care of your hair and do protective styles so it can relax and heal. Chantel's no heat wavy hair trick involves two high space buns secured with scrunchies on post-shower damp hair.
Do a face mask
Wipe with toner
Apply serums and eye creams
Moisturize all over
Try out a lip mask for extra moisture
Finish with a spot treatment
Aileen's number one rule for a self-care routine is always to stay calm and be safe. Once that's taken care of, here are 15 things she suggests to maintain self-love.
Put your phone away and disconnect for a while.
Put on a cosy playlist. She recommends this one.
Journal to work through your thoughts and emotions. It's easy to get stuck in your own head at times like these, and journaling can help separate you from overwhelming emotions. If you're at a loss for what to write, try starting with a list of things you're grateful for.
Learn something new. Take a class online or find a YouTube video to follow.
Clean and organize inside your house/room to gain control. If it seems daunting, she suggests setting a ten-minute timer for a mini cleaning session.
Meditate.
Exercise in a way you find enjoyable.
Read. Everything from manga to fanfiction to biographies, just find something intriguing to jump into.
Practice a hobby you haven't had time for or that you always love.
Learn a language. No one is there to hear you sound a little ridiculous at the start.
Watch feel-good TV.
Cook and experiment in the kitchen.
Take a relaxing bath. Light some candles, add bubbles and enjoy.
Indulge in skincare.
Follow your heart. Don't feel obligated to make a list or complete traditionally "productive" tasks. Leave time open to do whatever strikes your fancy without stress or pressure.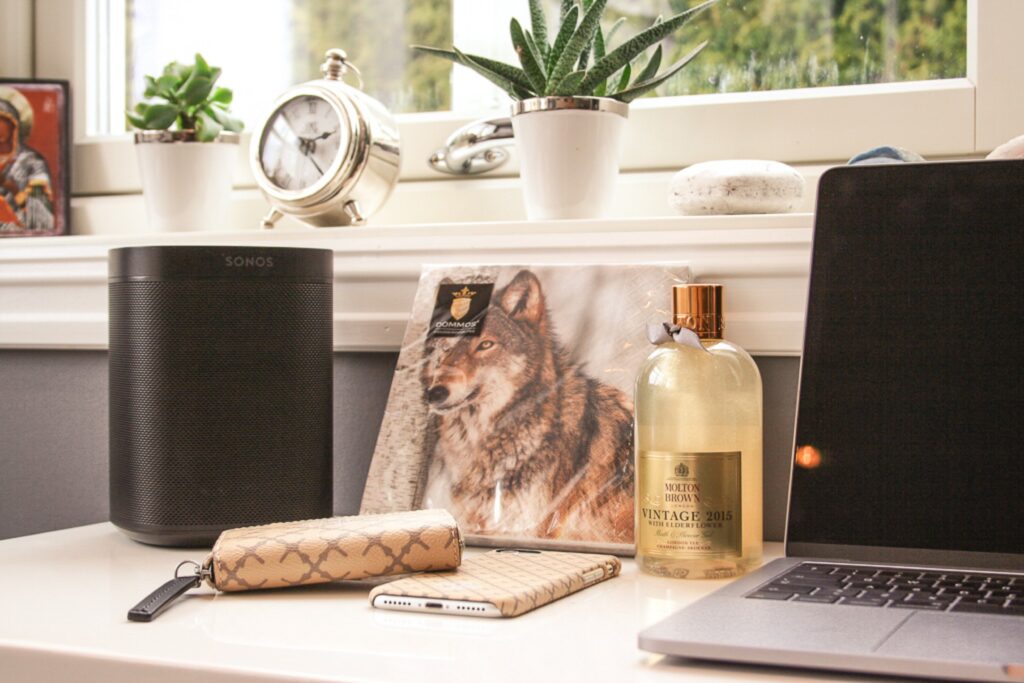 Elena knows the power quarantine has of sucking away your motivation. For some self-care activities to implement every day, take a page out of Elena's book.
Set up a routine for your morning. Wake up, wash your face, brush your teeth, make your bed, and make a good breakfast.
Find some interesting fiction to escape into. An engaging book will pull you into a story and allow you to get lost in a world different from ours.
Exercise. Just get your body moving to keep yourself sane.
Get ready for the day. Put on some makeup or try a hairstyle, and make sure to enjoy the process of expressing yourself and feeling cute.
Get some sun. Try and go outside if you can, or just spend some time by the widest window you can find.
Connect with people you love. Block out time specifically for human connection or a Zoom call with the people you love.
Relax at night. Do a fun face mask, watch YouTube, read a book, and just chill.
Remember that all of your moods are valid! Feeling super productive? Go wild. On the complete opposite end? That's totally ok. Watch Netflix and lounge in your sweats.
After months in Zoom seminars and video presentations, Annie has a self-care routine for the ultimate online school purge and reset.
Get into your comfiest clothes.
Invest in some blue light glasses to save yourself from headaches induced from hours of screentime.
Journal. Make a gratitude list, write down your thoughts, or list positive affirmations.
Clean and organize.
Do a face mask and make yourself a treat.
If you have been feeling the all consuming sense of boredom after 435 weeks in quarantine, Summer has your back.
Exercise and have fun being active.
Learn TikTok dances. Dance in general.
Switch up your room. Redecorate, make a collage wall, move your furniture around.
Explore outside and connect with nature.
Go for a drive. Blast music, roll down the windows, cry if you need it, and just vibe.
Take your time in the morning to slowly wake up.
Dye your hair. Probably temporary in case you hate it. Stay away from bleach…
Journal. Take time to reflect on changes you can adopt from this experience into your regular life: use less toilet paper, take time for yourself, connect with people and nature.
Try a new or old hobby.
Start a Poshmark or DePop.
Facetime people you love and miss.
Read a book.
Apply fake tanner.
Give yourself a pamper day.
Find new music. Explore Spotify playlists and vibe with new songs.
Rowena Tsai wants you to explore what it looks like to really take care of yourself, now that we all have time to focus on it.
Have silent, mindful mornings.
Reset your environment. Clean and organize to promote good habits.
Stick to good schedules and habits. Avoid extremes like working incessantly or just not working at all.
Embrace stillness.
Think long term. Exercise and take care of yourself for the long term.
Dig deeper into self-care habits. Learn about your skin and research products that are important to you.
Set boundaries. Separate your workspace physically and set emotional boundaries with people you may be quarantined with.
Be mindful of the colour of your thoughts. Be nice to yourself.
Consume things that uplift you. This can mean shows, books, social media content, and even food.
Connect with fellow humans. Have a virtual game night or just talk.
Stay positive. Know that there is good ahead, but you don't always have to be "happy" to be positive.
Choose the depth of your time. We are all isolated for the same amount of time, but how will you spend it?
Jenn Im has a full list of self-care activities for your day off. Remember to take a day off to reward all your productivity, you deserve it.
Give your skin from TLC.
Wash your hair.
Meditate to get out of your own head.
Style your hair.
Put on comfy clothes.
Make a nourishing meal and eat it without distraction.
Clean something (start small).
Reminisce on old memories. Go through photos, cards, and other bits you've saved.
Do an activity that requires absolutely no brainpower. Decompress.