David Bowie: The Day the Music Died. The True Influencer
This morning as my bedroom door swung open frantically and my Mum burst in I was awoken from a deep sleep. She kept saying over and over something. As I slowly began to come to I realised that the sentence she was repeating was stringing itself together. David Bowie had died.
At first I thought I was dreaming. Then when the realisation hit me by the heartbreak in her voice, sadness suddenly hit me.
David Bowie – The Legend
Ever since I can remember my mum has always been a manic Bowie fan. She's that Bowie mad that even our little Jack Russell, Ziggy takes his name from one of her favourite tracks. How's this for impressive too? When Ziggy was a puppy he used to play guitar. No, seriously we used to play Ziggy Stardust to him and he'd recognise the song immediately! His tail used to wag as the music played.
Today as I began to write he was curled up in the living room looking super sad at the news.
I've always jokingly mocked my Mum for her love obsession with David Bowie. I knew the day he died he died would be a sad one in our house. I must admit, however, today his death struck a chord with me.
My journey with Bowie began when I was dancing to the Starman himself in the womb. As my Mum; pregnant with me in 1990 partied at the Metro Radio Arena with the legend himself. I've always enjoyed listening to the clever lyrics and listening to her recount stories of his wild and adventurous life, it must have been drilled into me before I was even born.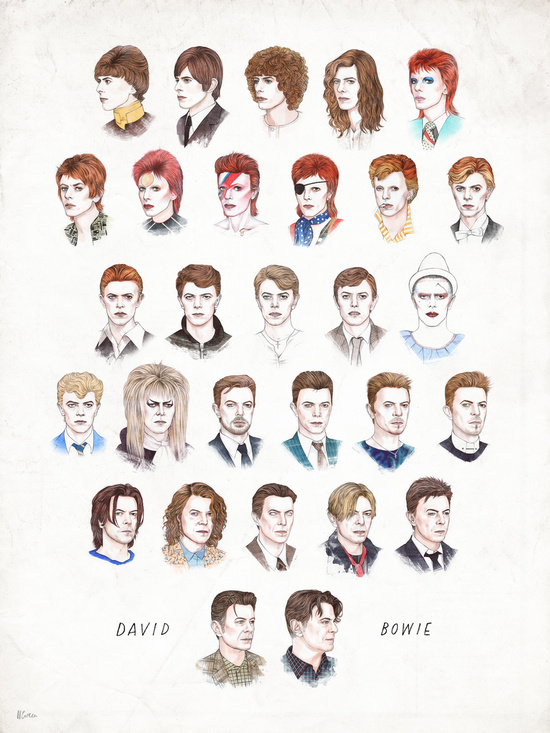 Of course, Facebook and Twitter were flooded with condolences for the star everybody with their own individual tributes. Poignant and memorial everybody has their memories and even for my age range he had made an impact on many lives. The most popular memory of heaven's new Prettiest Star was his epic role in Labyrinth.
Wham Bamm Thank you Ma'am
Being brought up by music obsessed parents I've grown up on a staple diet of Bowie and Kiss so have a massive appreciation for global hits such as Suffragette City, The Man who sold the World and Rebel Rebel.
In a week when Bowie's former wife has been making headlines for her appearance on Celebrity Big Brother. The legend himself celebrated his final birthday at the age of 69 on Friday knowing it would probably be his last. Releasing his final album 'Blackstar' on the same day which has several references to him looking down from heaven. What a way to go out, don't you agree? The performer bowed out gracefully leaving his fans the most personal memory to thank them.
Upon my Mum's arrival home I asked her about her day, she was filled with sadness and sitting here writing now she's talking about what a life he's lived to my Grandma over the phone. With friends from through the years sending her texts and emails offering their condolences today as if she'd lost a friend it's hard not to feel an ounce of sadness.
Regardless of your age or music taste there's a little Bowie in everything you hear if not his music directly but music influenced by him
"What a wonderful life to have led" were my Mum (and David Bowie's top fan) parting words.
Sleep tight. The world will certainly never see another Aladdin Sane again, you really set the World on Fire.
Are you a David Bowie fan? Did you get the opportunity to see him live? I'd love to know where and when. Let me know in the comments below.
Tagged:
david bowie
jack russell
Music
Tribute