Have you ever wondered "how much does a wedding cost"?  In 2020, weddings were at a minimal cost because of COVID 19. Couples were forced to make significant changes due to social distancing restrictions. We saw reduced guest lists, an increase in elopements, the emergence of micro-weddings, and so much more. All of these factors impacted the average costs of weddings. 
Weddings were planned with next to no budget, in backyards all the way up to $19,000. It was a massive drop from what was spent on weddings in 2019 where the average wedding cost $33,900. But in 2021, there's a total bounce back in the average cost of a marriage. So you should be ready to spend an estimate of $22,000 to $31,000 to tie the knot.
The average cost depends on region, season, style, day of the week, and of course, the guest count. It doesn't include an engagement ring and honeymoon. So, what exactly is the breakdown of these costs? And, how can you cut down the costs for your wedding? You'll find your answers as you read on. 
Wedding Cost In 2021: Full Breakdown
The easiest way to start planning anything that will be successful is to create a budget. Unfortunately, many couples end up spending more than their initial plan on their wedding. So, it's better to have the lowest and highest estimate for each item on the budget. And having a fully detailed wedding budget that breaks down each area where you'll have to spend money is key to staying on track. If you're getting started planning and wondering how much does a wedding cost, we're breaking it down here.
Get your partner and spreadsheet ready as we go down on the budget list together. From location and transportation to photography, entertainment, and vendor costs, expect some mind-blowing prices. But there's hope in sight, as we also have some great tips for cutting down the overall costs.
Location and Transportation
Wedding location or venue varies on your choice and can have a major impact on how much a wedding costs. You can spend as little as $0 or as much as $20,000 on your venue location. Some couples choose to use a rustic barn or a backyard for their celebration. While family backyards might not cost a penny, a barn can cost a lot.
Factors like what season it is have a significant influence on the cost of the venue. For example, if you want to use a wedding banquet hall in wedding seasons like late spring to early fall, expect to pay a premium. Also, if you're seeking a large venue, you'll spend more.
Other things like rentals, DJ, Décor and florals, security, linens, hours, and shuttle also affect the total cost of any venue you choose. So, if you see a venue cost $1,000, make sure to inquire about the other things that you will need. Many times, chairs, tables, and linens aren't included in the cost of the venue rental and will impact your budget. But, if you find a venue that costs $10,000 and includes everything, it may work out better.
For transportation, most couples love limousines or vintage automobiles. However, these cost an average of $600 – $800. Many companies price their services per hour, and you enjoy a different level of service depending on price. Book as early as possible to avoid extra costs. 
Wedding Attire
Bride
A wedding dress in 2021 costs an average of $1,000-$1,500. The price for the gown you choose mostly depends on the designer and fabrics that are used. For example, if you love glitz and glam, it'll cost more. Also, embellishments such as beadwork and embroidery will increase the cost. But a great way to save on this part of the wedding budget is to buy a used wedding dress. Tons of websites allow brides to sell their wedding dresses. This is great, especially if you have champagne taste on a beer budget. Many times you can save 50% – 80% off the retail price. 
Makeup and hair are other significant areas to save some dough. Of course, getting your hair and makeup done varies in price depending on who you use. It can cost from $100 – $350 just for your hair, and makeup will likely cost around $100.
Groom
A simple groom suit or designer tuxedo? Renting vs. buying all depends on your style and preference. Renting a tuxedo can cost $150 – $250, while you can buy a designer tuxedo at $600 – $1,000.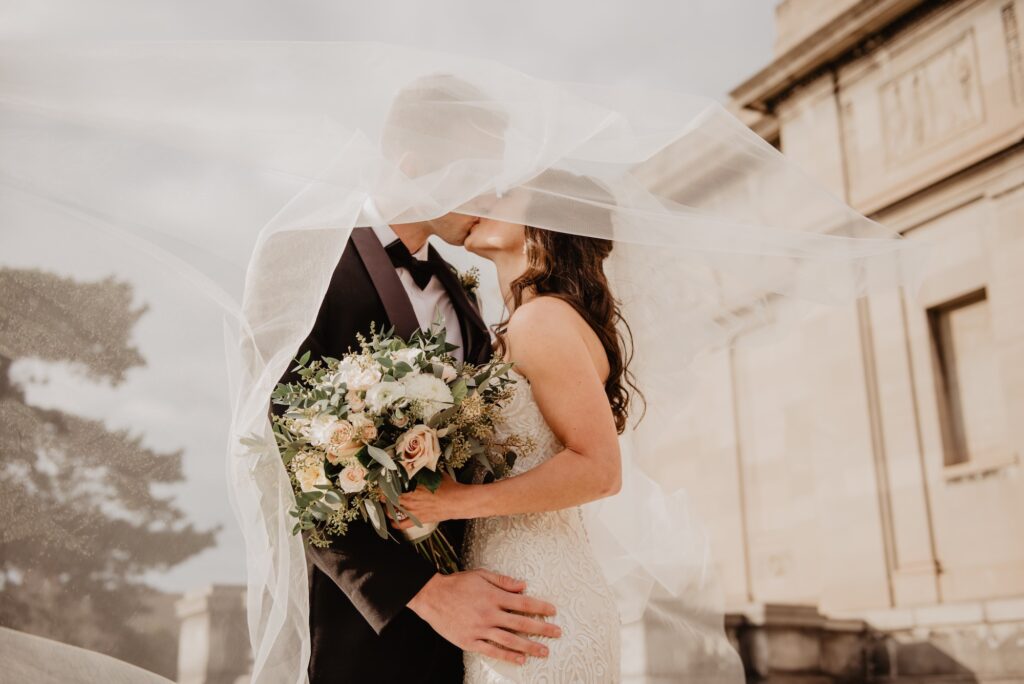 How Much Does A Wedding Cost? Find Out Here.
Average Wedding Vendors Cost
Wedding Planner
Wedding planners charge about $50-$200 an hour. So, you can plan your momentous day with an estimate of $1,500 – $3,000. They take charge of all the back and forth ahead of the wedding day and during the celebration. There are different packages of wedding planning services.
Without the planner overseeing anything on the wedding day, essential planning will cost between $500 to $1,500. A partial wedding planning service which includes essential planning, event design, and overseeing all plans on the day, will cost $1,200 to $3000. This is perfect enough for a perfect day.
However, if you love luxury or full service, you can have a wedding planner take charge of everything, including stationery designers, photographers, a web page with your wedding details, and many others for $2,200 – $6,800.
Florist
For small and medium-sized weddings, you will spend an average of $1,500 on flowers, while a large wedding will cost over $5,000. Therefore, you can dedicate about 8% -10% of your budget to flowers. The bouquet for the bride will cost about $150 -$350. Those for the bridesmaids will only cost slightly less.
Photographer
Your choice of wedding photo styles, editing, and touch-ups will determine how much you spend on photography. Wedding photographers charge up to $100 -$400 per hour to capture your big day. So you can't go wrong with a budget of $1,000 – $4,000 for a complete wedding collection.
And you'll likely want to have a creative wedding hashtag to use in your decor and store all your photos in one online social gallery. Hiring a professional hashtag writing service could be an additional expense of $35. There are also wedding hashtag generators that are free, but paying for a unique hashtag is worth it in the long run! 
Videographer
This is another significant expense, but saves you from yet another family home video and watchers wondering why your uncle has the camera fixed on his shoes. A videographer will cost you an average of $1,200 to $2,500. Luxury here means you're ready to budget $7,000 – $12,000 on videography.
Wedding Food Cost
The cost of food and drinks depends on the number of guests you expect on your big day. It also depends on whether it is a sit-down dinner or a barbecue and tacos menu (which is cheaper).
A sit-down dinner can cost as much as $40- $70 per person. It's much popular in 2021 due to Covid. You should have an estimate of 1,800 to $7000, depending on your choice of meal.
Open bars are expensive. So, you can join many other couples in saving beverage costs by providing just wine and beer, or wine, beer, and a signature cocktail.
A tiered cake will cost about $400 to $500. You can also have a smaller slicing cake at the cake-cutting ceremony and serve different cupcakes and cookies for dessert.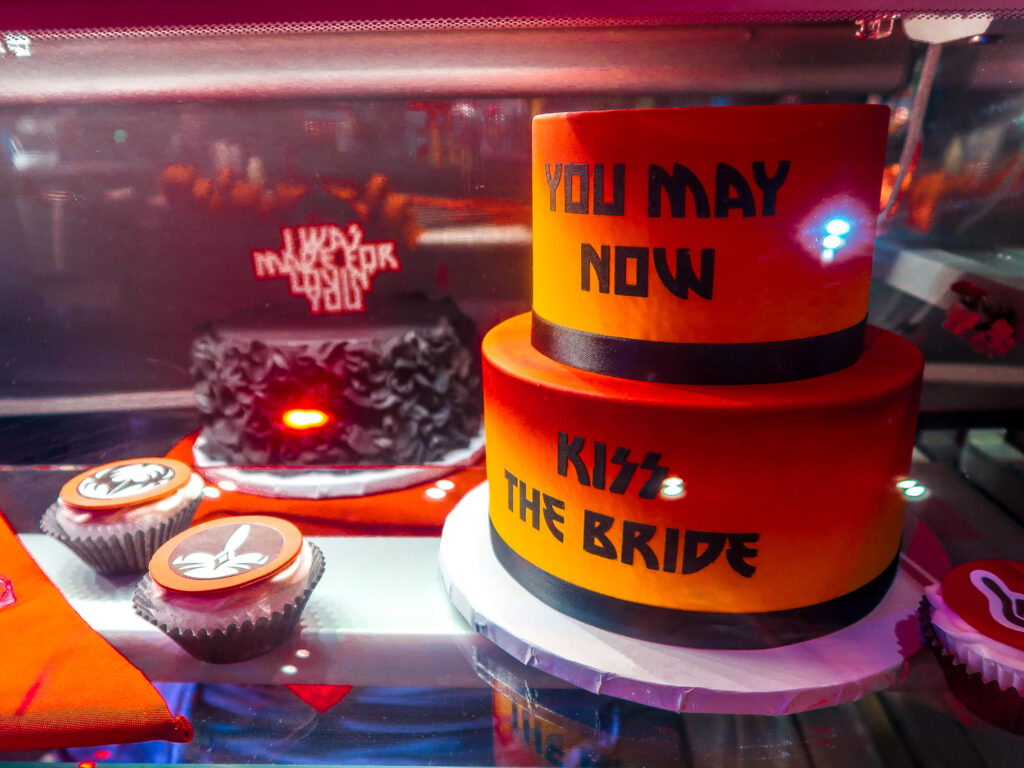 Wedding Entertainment
Getting a wedding band will cost up to $4500, while a DJ is close to $1,300. Well, you can just cut all the costs and plug in your laptop and DJ yourself or ask a relative to help. With that arrangement, you don't technically have to pay for wedding entertainment!
Miscellaneous Wedding Costs
When it comes to weddings, there can be many unexpected miscellaneous wedding costs. And these items can quickly blow your budget. It's important that you don't allow yourself to get caught up in wanting everything. But knowing some of these miscellaneous costs at the beginning can help you factor it into your overall budget. Here are a few that you should definitely add to your budget.
Invitations
Many couples spend an average of $400 to $1000. It may seem a little too much, but wedding invitations are the first impression and glimpse of your color and themes. Your creative choices and the size of guests determine how much you'll spend on your wedding invitations.
Wedding Favors
The bride and groom give wedding favors to the guest to appreciate their attendance and witness their momentous day. It'll cost between $200 – $300. 
Top Tips To Cut The Cost Of Your Wedding In 2021
You have a picture of what you want your wedding to look like in mind already. That's your first step to planning. But you must prepare for reality. As you thread on with the planning process, you begin to add more and more thousands of dollars to your initial budget. This means that you have to learn how to say ''no" to specific thoughts and ideas to avoid overspending. Use these tips to reduce your wedding cost in 2021.
Get Creative With DIY
Adopt a Do-It-Yourself approach to décor and wedding favors. You can find tons of wedding DIY tutorials online that help you look like a pro. For example, you can pick up decoration ideas from arranging your bouquets to accessorizing baskets instead of spending on florists. You can also use fresh florals and greenery to give yourself a grand traditional entrance.
Another excellent décor idea is using vintage rugs for the entrance and turning barrels to tables. There are hundreds of DIY decoration ideas online that will help you prepare for your special day. Adding DIY elements to your wedding day is a great way to personalize your ceremony and reception areas. And put your own stamp on how you say "I Do."
Go Digital
An incredible way to cut costs when planning your wedding is by going digital. Using as many digital aspects of the wedding as wedding invitations, hosting a virtual bridal shower or bachelorette party, and even using a free wedding hashtag generator online.
Use Your Connections and Resources
When you start wedding planning, have a conversation with your fiance to see if there are possibly any connections you may have that can save you money. Are any of your friends' florists or photographers that could offer a discount for their services? Or maybe a family member is great at planning events and would love to help plan your special day. Brainstorm together to see what services they can offer to cut down your expense on time and money.
There are so many ways your family and friends can help. For example, your old classmate may be a caterer, or your cousin a hairstylist; connect with them to support their business and save yourself some money in the process.
Consider A Micro Wedding
No rule says you can't have a small wedding with only your closest friends and relatives as a witness. Cutting down the guest list and having micro-wedding is one of the best ways to cut down the budget. Micro-weddings are super trendy right now as they not only save money, but they also allow you to spend more quality time with your guests!
Celebrating Love Doesn't Have To Break The Bank
"How much does a wedding cost?" is a great question and can be answered in many ways. And we believe that celebrating love shouldn't break the bank. Even if the cost of wedding planning increases every year, there are ways to keep the costs down. You should consider taking your eyes off specific luxury items or experiences and keeping the guest count down. An unforgettable wedding experience doesn't have to come with a huge price tag. So, make your budget and stick to it. But remember, the cost of things shouldn't discourage you from planning the wedding of your dreams.