My love for cooking has always been very strong, however for many of us, we get complacent, order takeaways, eat out frequently and only seem to cook a rotation of around 5 different 'signature' meals. Since our favourite restaurants are shut, and nights out become a distant memory and a hope for the future, I've been spending some time creating some Homemade Quarantine Meals.
Deciding to create delicious restaurant-style dishes to keep my mind busy during this time, and to ensure that we're now a zero-waste household, I'm been finding creative ways to use all of our food and create dishes that are easy to make, require basic ingredients and are restaurant standard, so that you too, can look forward to dinner each day.
All of the meals we cook in our house are made in under 30 minutes. That's the rule if it takes longer than that we don't have it. With the exception of Sunday Roasts and anything made in the slow cooker. So it doesn't matter if you're a novice or an expert, you don't need to be in the kitchen hours.
Spinach & Cream Cheese Cannelloni
With a bag of spinach on the turn, we created this rich twist on an Italian classic in the slow cooker for incredibly tasty and authentically flavoured results.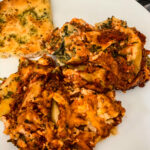 Spinach & Cream Cheese Slow Cooker Cannelloni
Twist on the traditional Spinach & Ricotta favourite, substituting the sweet cheese for cream cheese and cooking no fuss in the slow cooker
Cook Time
2
hours
30
minutes
Ingredients
6

tubes

Cannelloni

gage this depending on whatever size your tubes are

2

tbsp

Cream Cheese

35

g

Grated Cheese

1

knob

Butter

500

g

Passata

300

g

Spinach

1

medium

Onion

3

cloves

Garlic

3

tsp

Garlic Powder

2

tsp

Dried Basil

2

tsp

Dried Parsley

1

tsp

Red Wine Vinegar

Salt & Pepper to Taste
Instructions
Add butter to a hot pan, melt and stir in 1tsp of garlic powder, sweat the spinach for 2-3 minutes.

Transfer spinach to a blender, add onion, garlic and cream cheese and season. Blitz but keep relatively chunky. Set aside

In a pan add the passata, red wine vinegar, basil, parsley (you can add 1 tsp oregano here too for added flavour) and remaining garlic powder. Place on medium heat and let simmer and thicken for 5 minutes.

Spoon a layer of the sauce onto the bottom of the slow cooker, take your cannelloni tubes (you don't cook them beforehand, they will cook perfectly in the slow cooker) and stuff them with the spinach mix. Lay them into the slow cooker.

Spoon over the remaining sauce and top with grated cheese, place the lid on and on low heat for 2-3 hours. Your dish is ready to serve on its own or with garlic bread and a side salad. You can put slow cooker pot under the grill for a couple of minutes before serving to really crisp the cheese if you wish.
Recipe Notes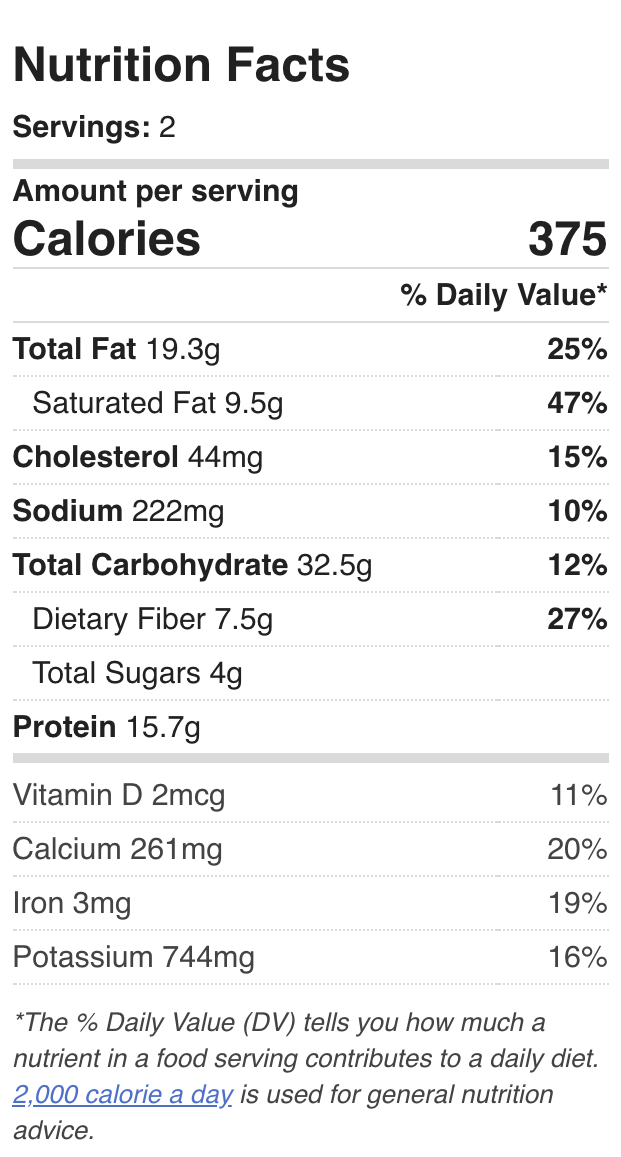 Homemade Calzone Pizzas
This is a favourite weekend 'takeaway' treat. We buy frozen dough from The Northern Dough Co available from Sainsbury's, Waitrose, Ocado, Booths and Whole Food Market for ease. Take it out the morning of making your pizza to defrost. Of course, you can create any pizza you wish, but here is our take on a calzone.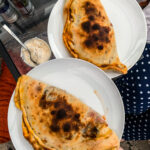 Homemade Calzone Pizzas
Freshly made, full folded pizzas without the use of a pizza oven
Ingredients
1

ball

Pizza Dough

per person/pizza

400

g

Chopped Tomatoes

40

g

Grated Cheese

(you can use mozzarella)

8

slices

Chorizo

50

g

Mushrooms

(can substitute for other vegetables)

1

medium

Onion

chopped

1

tsp

Butter

1

tsp

Dried Basil

1

tsp

Dried Parsley

2

tsp

Garlic Powder

1

tsp

Red Wine Vinegar

Oil Spray

(something like Frylite)

Salt & Pepper
Instructions
1. Turn the oven on to around 250 degrees around 15 minutes before you begin prepping. Roll and stretch the dough into a circular shape roughly the size of a dinner plate, spray a tray with a couple of squirts of your oil spray.

2. To a pan add your chopped tomatoes, 1 tsp of garlic powder, the parsley, basil and red wine vinegar. Let simmer on a medium heat for 5-7 minutes, stirring frequently

3. In another pan add the butter, the remaining 1 tsp of garlic powder, the onion and mushrooms, stirring frequently until softened for around 3-4 minutes

4. Once your tomatoes have thickened and become a little more sauce-like spread evenly on only one half of your pizza base, leave around 1cm space from the edge. Turn your oven down to between 180-200 degrees

5. Add the cheese and your toppings and season (again only to the half of the pizza with sauce on). Then take the top half and fold over onto the base with the toppings. Roll the bottom edge over the top edge to seal. Spray top of your pizza with a couple of sprays of oil

6. Place calzone into the oven and let cook for 10-15 minutes until the dough is golden. Enjoy!
Recipe Notes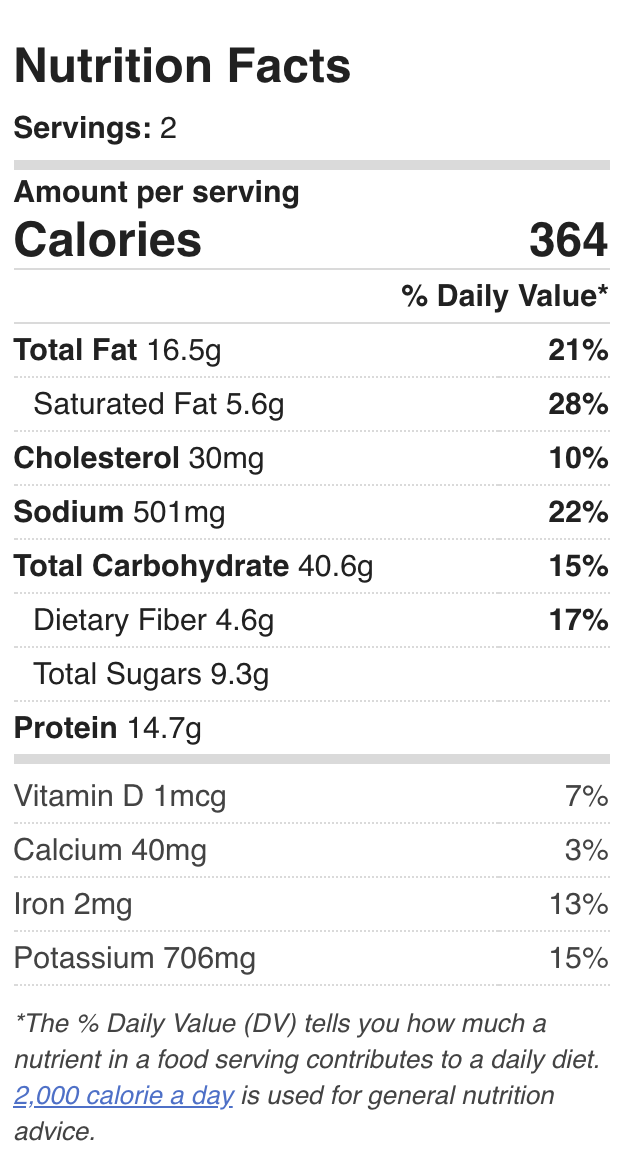 Butter Masala Curry
My signature dish and the first time I've actually shared the recipe that I've spent the last year or so really perfecting. This can be made mild or Madras hot depending on how spicy you like your food. No kidding, I once made this that hot that I drank a WHOLE bottle of wine while eating it!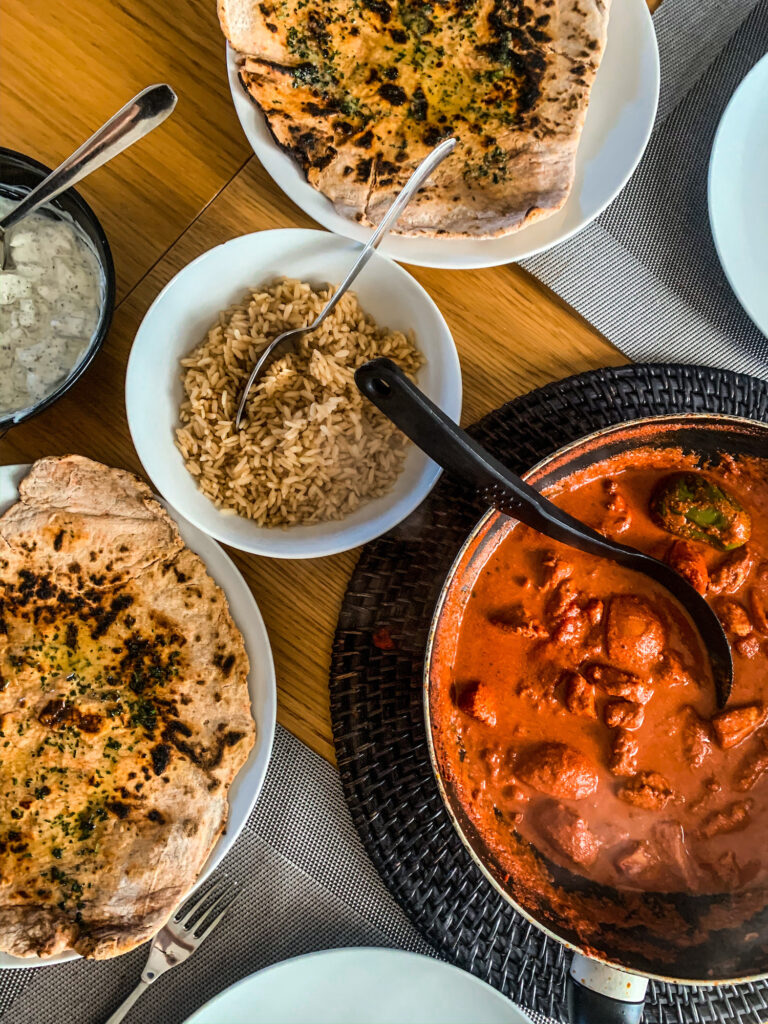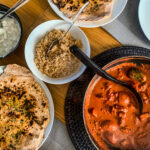 Butter Masala Chicken Curry
A fresh take on a traditional chicken curry, easy to make and with less calories than your local restaurant it is a great Saturday night family 'fakeaway'
Ingredients
2

Chicken Breasts

diced

200

ml

Natural Greek Yoghurt

400

g

Chopped Tomatoes

1

tbsp

Tomato Puree

1

Onion

chopped

3

cloves

Garlic

crushed

1

tbsp

Butter

1

Red Chilli

1

tbsp

Garlic Powder

2

tbsp

Tandoori Masala Powder

1

tbsp

Cumin

1

tbsp

Garam Masala

1

tsp

Tumeric

2

Cloves

2

Cardamom pods

Fresh Coriander

chopped

2

tsp

Olive Oil

Salt & Pepper

Splash of Water
Instructions
1. Marinade the chicken for at least 6 hours. Place 1tbsp of garlic powder, 1tbsp tandoori masala, ½ tbsp cumin, ½ tbsp garam masala and 1tsp Tumeric into an airtight box give the spices a quick mix and then add the chicken, place the lid firmly on the box and shake well, place in the fridge and go back every couple of hours and shake the box so that the chicken is fully coated

2. In a pan on medium to high heat, add the oil and let warm before adding the remainder of the spices along with the cloves and cardamom pods for 30 seconds before adding your diced onion and the chicken pieces that you've marinaded, let them cook for 2-3 minutes before adding a splash of water to help a paste form. Keep stirring.

3. Let the chicken brown a little more while you keep stirring the paste then add the crushed garlic and chopped chilli as well as the yoghurt. Ensure the paste is well mixed with the yoghurt and all of the chicken is coated, the yoghurt should turn a light red or orange colour.

4. After around 2-3 minutes add the tin of chopped tomatoes and the tomato puree and stir well. Reduce the heat to medium to low and stir in the butter until melted, season and let simmer for 15-20 minutes as the sauce thickens, stirring occasionally to stop any sticking to the pan.

5. Just before you take the pan off the heat to serve stir in the chopped coriander. Best served with rice and homemade flatbreads
Recipe Notes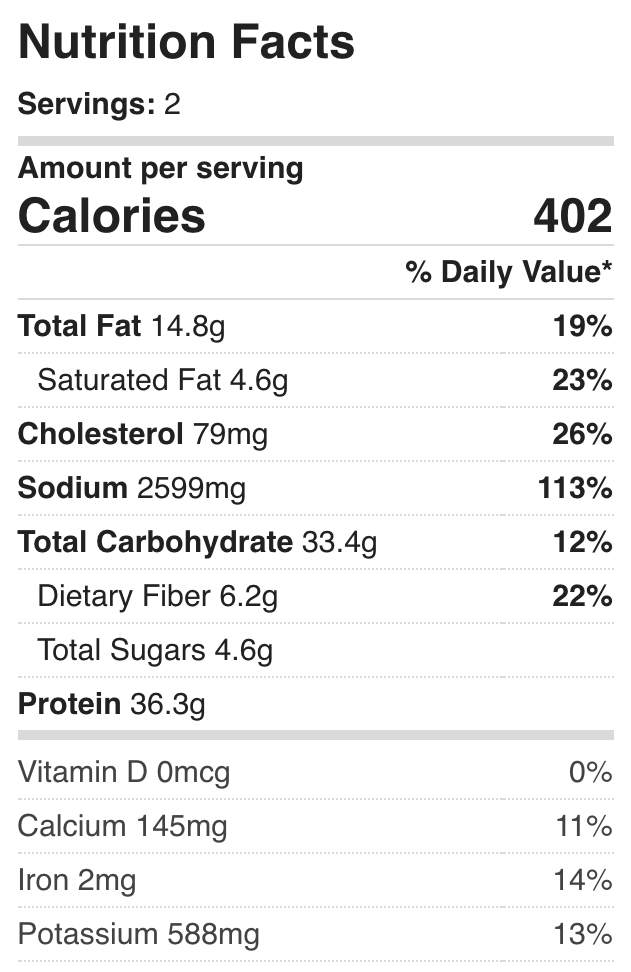 Salmon & Prawn Luxury Fish Pie
If you're going all out and looking for a totally luxury fish treat then this luxury fish pie is going to become a firm favourite of yours (like it is ours!). Simple to make and absolutely incredible, adding Saffron really is the secret ingredient to give it a real Saltwater Fish Company taste.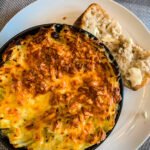 Salmon & Prawn Luxury Fish Pie
Give or take 1 or 2 ingredients this luxury fish pie is pretty much bog-standard store cupboard items that you can totally transform into a restaurant-worthy luxury hearty treat meal
Ingredients
2

fillets

Salmon

10

King Prawns

deveined and chopped

400-500

g

Potatoes

peeled and chopped

1/2

pint

Milk

35

g

Cheddar Cheese

grated

1

tbsp

Parmesan Cheese

1

tbsp

Cream Cheese

1

Onion (or 2 Shallots)

finely diced

Pinch of Samphire

1

tbsp

Plain Flour

2

cloves

Garlic

crushed

1

tbsp

Butter

1

tbsp

Garlic Powder

1

tsp

French Mustard

(other mustards are fine)

1

tsp

Dried Parsley

1

tsp

Dried Chilli Flakes

1

tsp

Olive Oil

3

strands

Saffron
Instructions
Place the peeled potatoes in a pan to boil 10-15 minutes before you start to make the sauce

To make the parsley sauce, add the butter to a pan and melt, stir in the flour until a thick paste forms, slowly stir in the milk. Let thicken as you stir, add the mustard and dried parsley.

Whilst you're making the sauce to another heated pan add oil and the salmon (skin side up) with the garlic powder, allow this to cook for 2-3 minutes before flipping over for another 2-3 minutes. Transfer to a plate and slice the skin off before returning back to pan and adding chopped prawns and onion. Break the salmon down from fillets into flakes into the pan and add the garlic, chilli flakes and saffron (you may need another little slurp of oil here). Keep stirring the pan so the fish doesn't stick.

Once cooked add the fish to the sauce and add the samphire. Stir in on a low heat for 1-2 minutes and then set aside

Drain your potatoes but keep a tiny bit of the water (20ml max) in the pan and over low heat add cream cheese, a pinch of the grated cheddar a little bit of butter, a splash of milk and cracked black pepper. Mash it until it is completely smooth with no lumps and is creamy in consistency.

In either a large dish or separate servings add the fish in the luxury sauce give it a twist of cracked black pepper on the top before you add the mashed potato. Use a fork to create small peaks before adding the mix of parmesan and grated cheese (mix this in a bowl before topping). Place in the oven (or under the grill) for 10-15 minutes to make sure that it's heated thoroughly and the cheese forms a crusted top. Serve with a crusty bun and a glass of white wine and enjoy.
Recipe Notes
Herbed Chicken with Creamy Leeks and Crushed Potatoes
A more sophisticated beige plate, never-the-less still a beige plate but a really hearty and filling meal which is easy to make and it a take on the classic chicken in white wine sauce.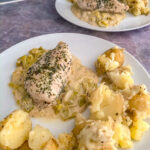 Herbed Chicken with Creamy Leeks and Crushed Potatoes
A low calorie and easy to make twist on the classic chicken in a white wine sauce for if you're looking for a tasty rich chicken dish with fewer calories
Ingredients
2

Chicken Breasts

200

g

New Potatoes

1

Leek

100

g

Spinach

1

tbsp

Cream Cheese

1

tsp

Dried Coriander

1

tsp

Dried Basil

1

tsp

Dried Parsley

1

tsp

Chilli Flakes

1

tsp

Garlic Powder

1

tsp

Olive Oil

1

tbsp

Butter
Instructions
Place your chicken breasts on tin foil and season with coriander, basil, parsley, chilli flakes and salt and pepper, wrap and place in the over at 180-200 (Gas Mark 4 or 5) for 30 minutes

At the same time put your potatoes, skin on, into a pan of boiling water and let boil for the same amount of time

20 minutes after putting both your chicken and potatoes on, add oil to a pan and add your chopped leeks and garlic powder, let soften for 3-5 minutes. Add your spinach and let sweat, once a little bit of the water from the spinach has evaporated stir in your cream cheese and let melt into the natural juices of the vegetables. Stir on a low heat

Drain your potatoes but keeping around 20ml of the water, return them to the pan and over a low heat (with a splash of potato water) use a fork to gently crush your potatoes, stir in some butter and season

Remove chicken from oven and serve on a bed of creamy leeks and spinach and then add the potatoes on the side
Stacked Turkey Mince Nachos
Turkey mince seems to be readily available both online and in-store whenever and I think it's massively under-appreciated. It holds so much more flavour and contains significantly less fat and fewer calories while being slightly higher in protein than beef mince, we love to use this to top our nachos for a really stacked filling dinner. Scroll further down for the homemade Guacamole and Salsa recipes.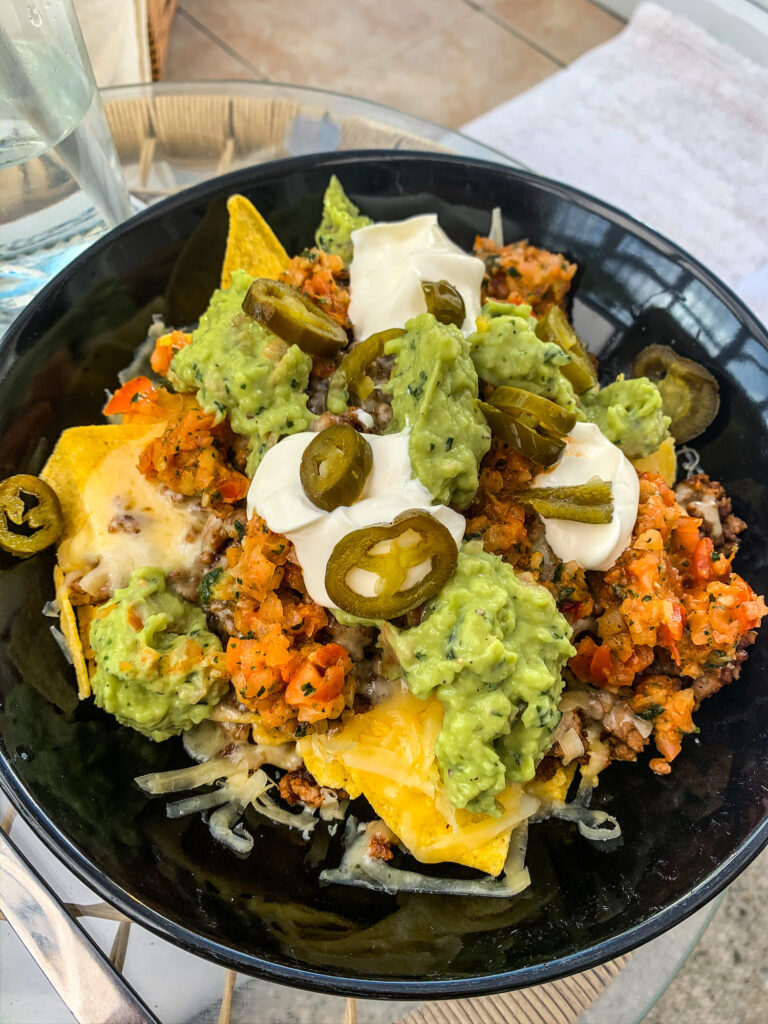 Turkey BBQ Burgers
The sun is out and we've got half a packet of leftover Turkey mince out of the freezer (from the Nachos above we made) so there's only one thing to do and that's have a BBQ. Let's make Turkey Burgers and get that grill on, being at home doesn't have to be boring. You can use any other minced meat you like.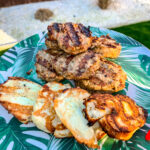 Homemade Turkey Burgers
Lower in fat and higher in protein than a beef burger and can be just as delicious on a BBQ espeically if you're counting calories.
Ingredients
250

g

Turkey Mince

1

Egg

1

Onion

optional

1

Water Cracker

1

clove

Garlic

1

tsp

Olive Oil

1

tsp

Dried Coriander

1

tsp

Dried Basil

1

tsp

Dried Parsley
Instructions
Add all the ingredients into the blender and blend until the mixture is smooth

Shape into 4 even-sized balls and then flatten into a burger shape, cook on the BBQ for 3/4 minutes each side
Recipe Notes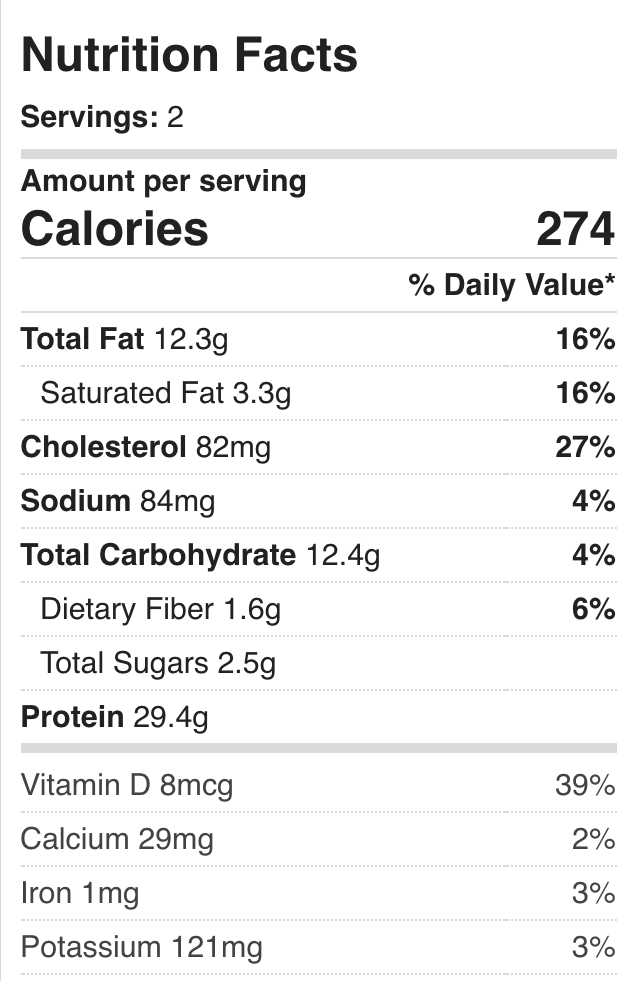 Chicken & Chorizo Paella
If your holiday to Spain has been cancelled (like two of mine) then this 20-minute meal will have you ready for a Fiesta. The best part of it, you don't even need Paella rice, because right now, it's whatever you can get on your delivery order right?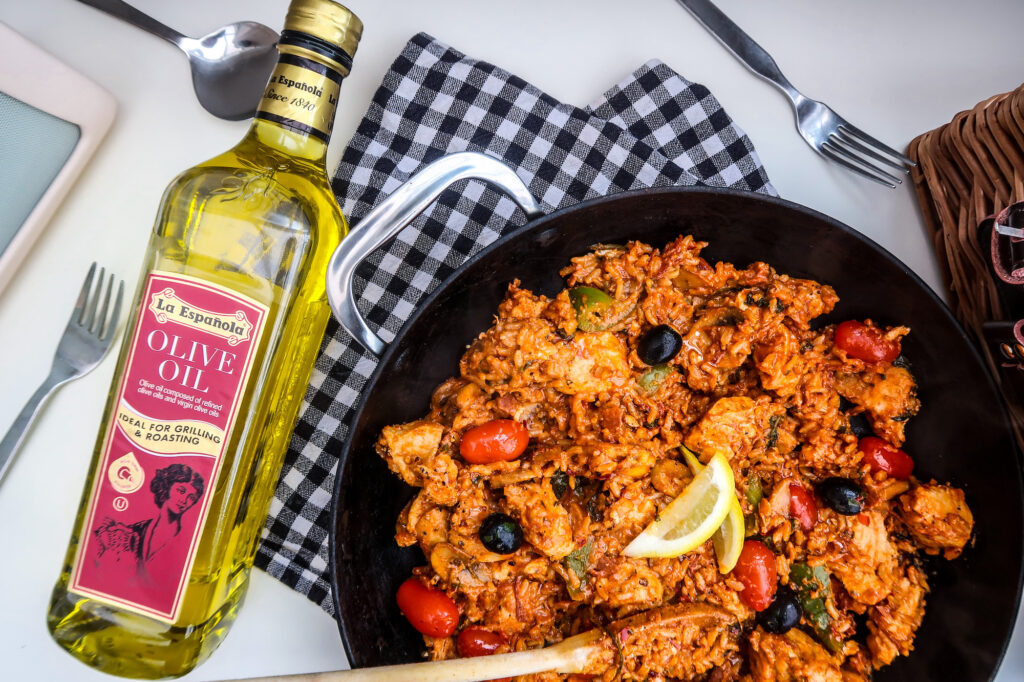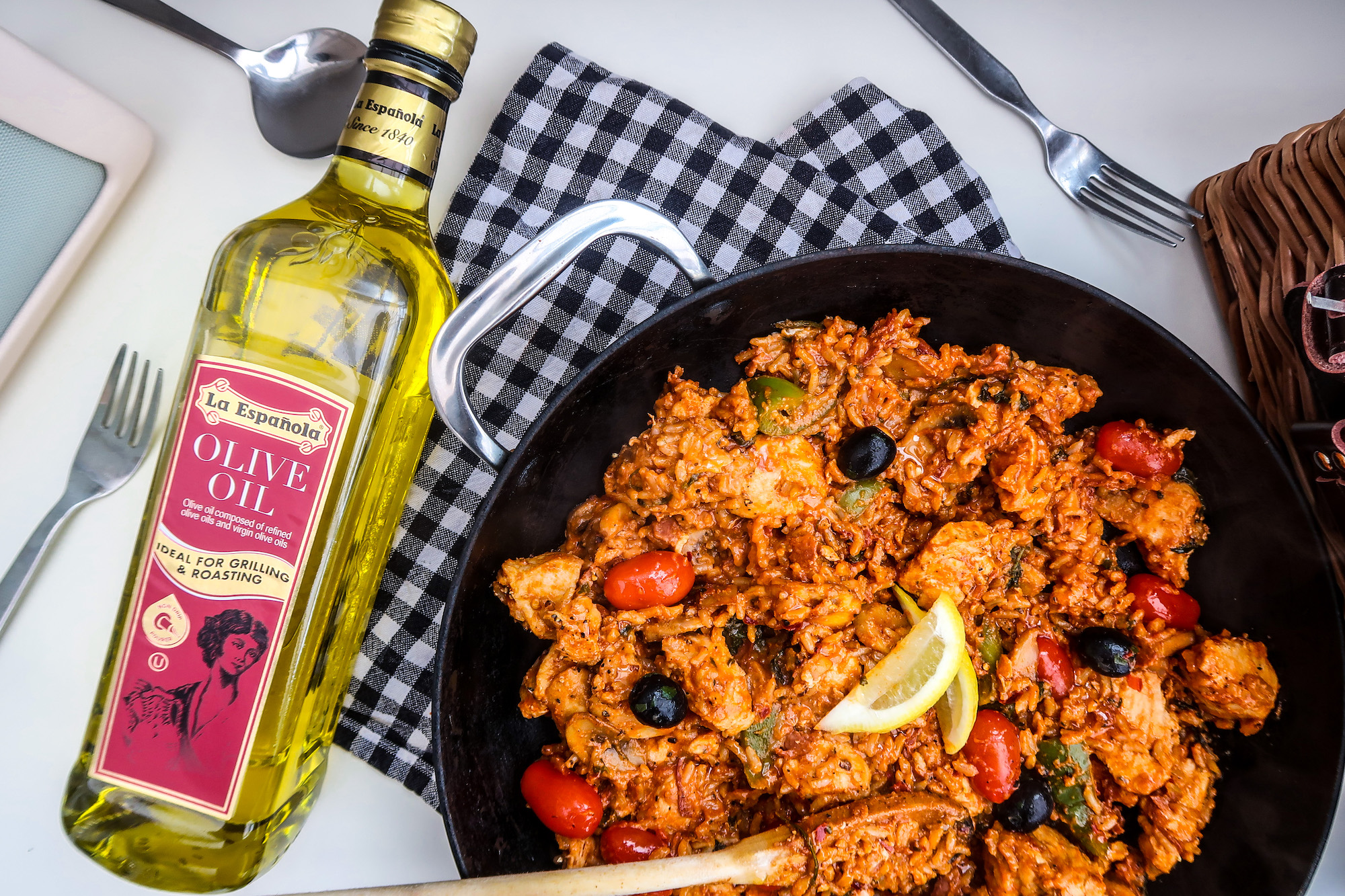 Chicken & Chorizo Paella
A classic Spanish favourite, this chicken and chorizo dish doesn't reply on hours of cooking or even Paella rice
Ingredients
2

breasts

Chicken

diced

6

slices

Chorizo

chopped

½

Green Pepper

6

Plum Tomatoes

4

Mushrooms

sliced

1

packet

Microwave Brown Rice

2

tsp

Olive Oil

1

tsp

Garlic Powder

1

tsp

Chilli Flakes

1

tbsp

Tomato Puree

1

tbsp

Tomato Ketchup

1

tbsp

Cream Cheese

Fresh Coriander

30

ml

Water

Salt & Pepper

to taste

Olives and Lemon Wedge

to garnish
Instructions
1. Heat a pan on medium heat then add the oil, add in chicken breasts, chorizo, chilli flakes and garlic powder. Allow chicken to brown for around 5-8 minutes, stirring frequently so it doesn't stick

2. Add the peppers and stir in the ketchup and a splash of water 

3. Heat your rice in the microwave for 1 minute and then transfer it into the pan, add another splash of water and the tomato puree and stir (continue stirring for another 2-4 minutes)

4. Then the coriander and plum tomatoes and stir until tomatoes slightly soften

5. Finally, stir in the cream cheese until melted and season (1-2 minutes) then serve with olives and lemon to garnish. ¡Provecho!
Recipe Notes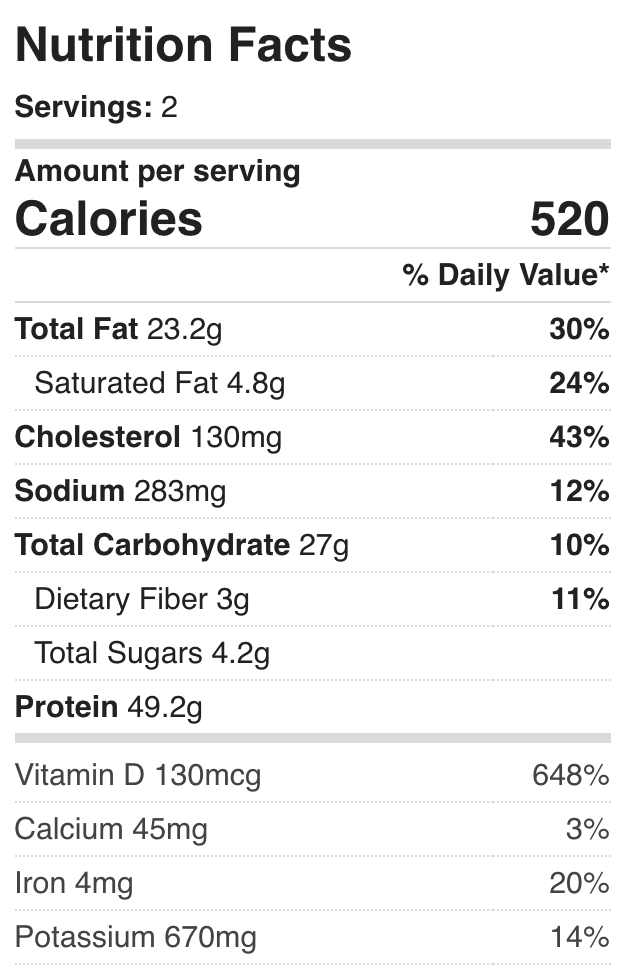 Truffle & Garlic Mushroom Pesto with Tagliatelli
Okay, so chances are you probably aren't going to have Truffle Pesto lying about but add this Truffle and Artichoke Pesto into your basket the next time you do an online shop to use as the base of the dish (you're only going to use a little bit so will get 2 or 3 dinners from this one jar.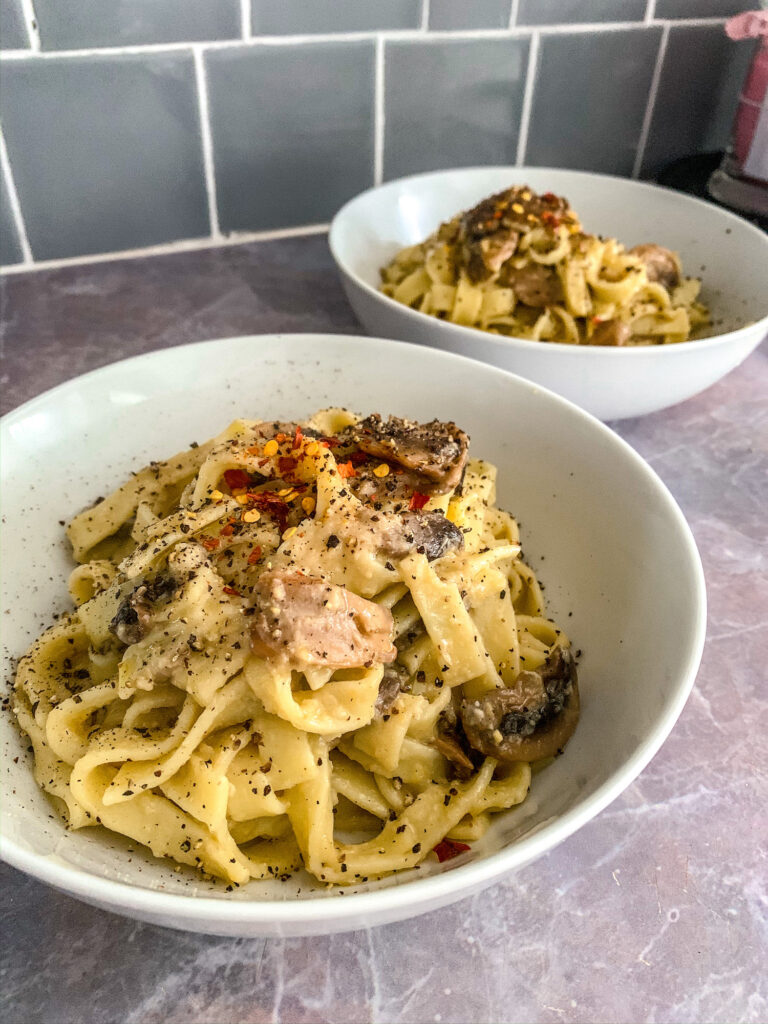 Spaghetti Bolognese
A classic favourite dish, but unless you're making it properly (and not out of a jar) then you may as well not bother! My boyfriend tells me I make the best Spag Bol (and curry, and poached eggs, and chicken kievs…and can we see a pattern here) but why not try my delicious recipe and then tell me for yourself.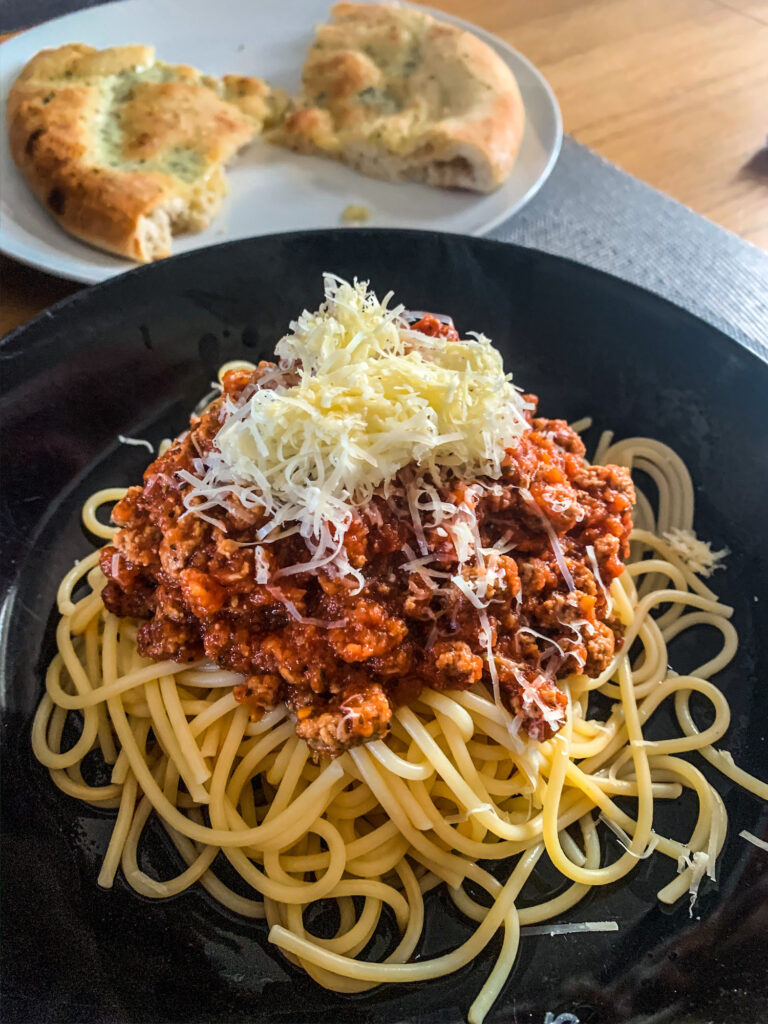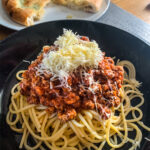 Vegetarian Spaghetti Bolognese
A simple, yet delicious vegetarian bolognese for a hearty Italian favourite
Ingredients
200

g

Spaghetti

150

g

Quorn Mince

(you can use beef/turkey/other meat)

400

g

Chopped Tomatoes

1

tsp

Garlic Powder

1

medium

Carrot

diced

1

stalk

Celery

chopped

1

medium

Onion

chopped

1

tbsp

Tomato Puree

1

tsp

Dried Parsley

1

tsp

Dried Basil

1

tsp

Red Wine Vinegar

1

tsp

Olive Oil

Salt & Pepper
Instructions
1. Add the oil, celery and carrot into a pan and sweat on a medium heat for 5-7 minutes. Making sure the vegetables don't stick or brown. When the celery and carrot begin to soften add the chopped tomatoes (and a splash of water around 10ml)

2. On a low-medium heat stir the vegetables and chopped tomatoes and add the basil, garlic powder, parsley, red wine vinegar and season. Place a lid on your pan and let simmer gently for around 15-20 minutes, checking on the sauce frequently

3. Boil water and add to a pan with your spaghetti around 10 minutes into your sauce simmering. In a separate pan add oil and your onion and mince (if you're using beef mince add a tsp of soy sauce to help brown), cook until onion softens and meat is cooked through

4. Take your sauce off the heat and using your hand blender, blend the sauce until all veg has been blended. Then transfer the onion and mince and stir into the sauce. Keep on a very low heat

5. When pasta is cooked, drain and then serve with sauce. Enjoy
Melt in the Middle Salmon Fish Cakes
Got potatoes that need to be used? Or really want to switch your fish dishes up? These luxury melt-in-the-middle fishcakes are one of my favourite comfort food dishes. You can also freeze these fishcakes so batch make them (this recipe makes 8 generous ones or 16 smaller fish cakes) and you have instant good food, just pop in the oven and watch them brown. I prefer creating 8 generous fishcakes and having one as my main meal.
You can also check out our Tuna & Cod Homemade Fish Cakes Recipe here
Breakfast, Snacks and Sides
Easy Omelette
If you're looking to keep your calorie intake down during this time where you're not able to go out out, then this easy omelette is perfect for you as it only uses 1 egg and 1 white. Lowering calories and fat. You can add any topping you like, but here's a variation of two different delicious omelettes.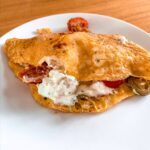 Easy Egg White Omelette
Create a lower fat easy to make omelette with no fuss in minutes
Ingredients
1

Egg

1

Egg White

Your choice of topping
Instructions
1. Crack 1 egg and add it to a pot with an airtight lid, split an egg white from its yolk. Discard yolk and add egg white to the pot. Season and place lid on firmly

2. Shake pot vigorously for 30 seconds whilst heating a pan with a little oil in

3. Pour egg mixture into the pan, from as close to the pan as possible (this is the secret to a great omelete)

4. Add your toppings and allow to cook for approximately 2 minutes, use a spatula (silicone if possible) and turn the omelette over to cook for a further 2 minutes. If it won't turn completely or you're using cheese or cream cheese fold in half, let cook for 2 minutes on one side and then flip for another 2 minutes on the other
Recipe Notes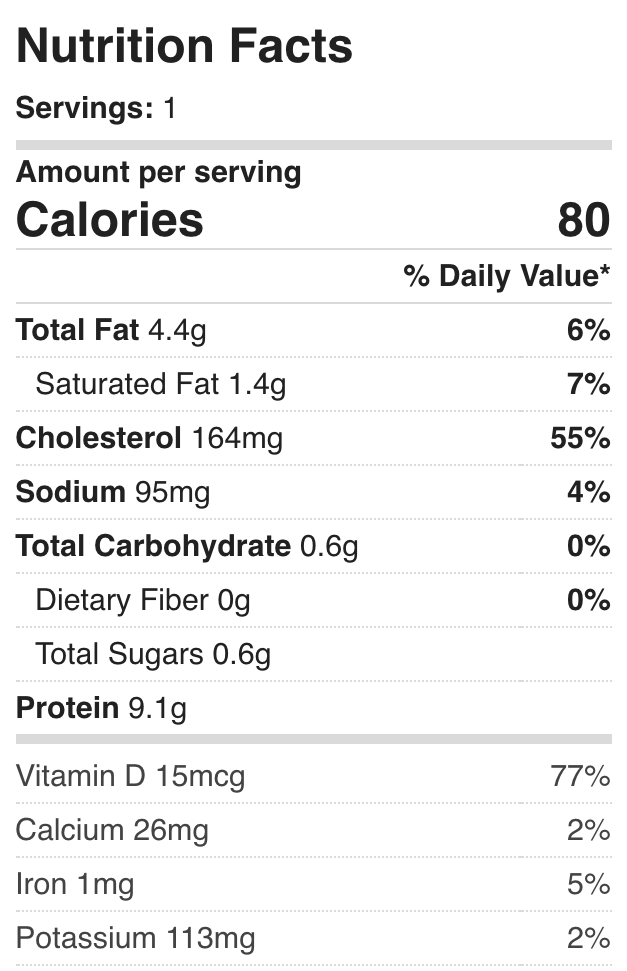 The Perfect Poached Eggs
Don't you hate when the yolk isn't runny? You don't need fancy gadgets that make your eggs look weird. I'm going to show you my foolproof way to create the perfect poached eggs every, single, time.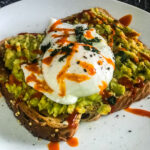 Perfect Poached Eggs
A one I ALWAYS get asked, how to always get the perfect poached egg with nothing but an egg and a pan. The trick is in the water and I'm going to show you how.
Instructions
Use a deep pan and make sure that your boiling water fills around 7/8th of the pan. Turn the heat to medium and wait until the bubbles are looking like champagne bubbles (this is the most important part) – they need to be tiny and fast flowing

Crack your egg into a ramekin and then pour it in as close to the surface of the water as possible in an even movement. Don't put more than 3 eggs in at a time

Now leave it, don't touch it or swirl it. Let it do its own thing for about 2/3 minutes (3/4 minutes if you don't like a runny yolk) and then scoop out with a slotted spoon
Recipe Notes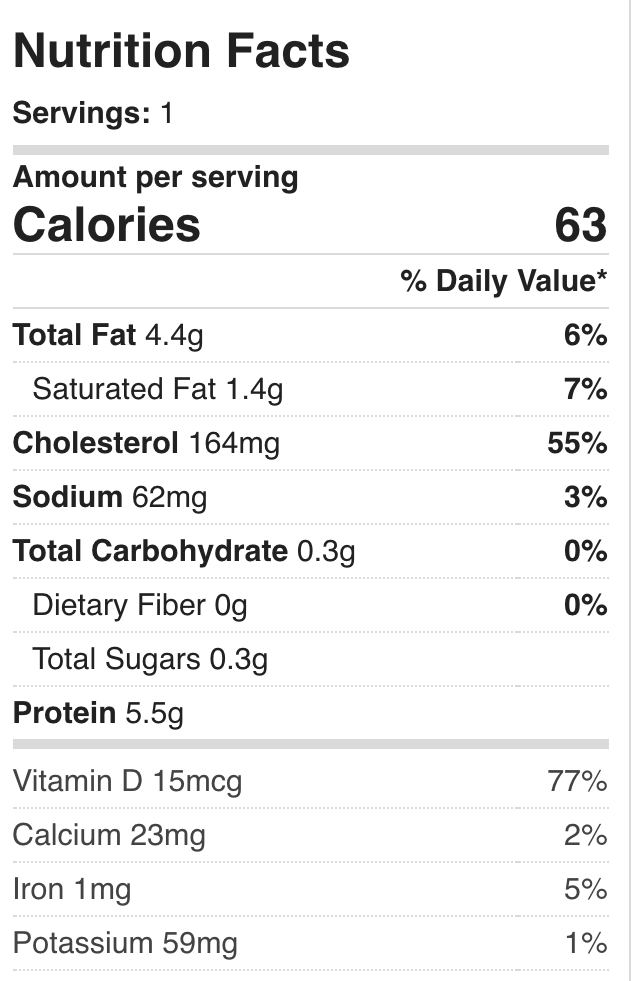 Homemade Hummus
A pantry cupboard should always be well-stocked with random items like chickpeas, I always have a couple of tins of chickpeas in my pantry because homemade hummus is far tastier than shop-bought. Here's my 2-minute simple hummus recipe to enjoy with chips and dips.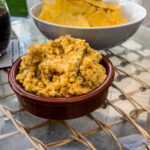 Homemade Hummus
If you're looking for something for a healthy snack, then team this homemade hummus with crudités or toasted pitta bread. Alternatively, serve with tortilla chips for that delicious treat
Ingredients
400

g

Chickpeas

tinned and drained

3

tbsp

Olive Oil

3

tbsp

Tahini

2

cloves

Garlic

1

Lemon Freshly Juiced

Pinch of Salt
Instructions
Add everything into a blender, blend until consistency of your choice (I prefer chunkier hummus), give it a quick stir then refrigerate until cold
Fresh Guacamole
If you're after fresh guacamole for chips and dips or to accompany your Stacked Turkey Nachos then this recipe is really simple and super fresh tasting. The secret to the best guacamole (even if you want to use somebody else's recipe and not this one that's here right now in front of you) use super ripened avocados. The softer the better do not use under-ripe hard avocados. I cannot stress that enough.
Fresh Guacamole
An easy (and super tasty) fresh avocado guacamole to accompany Mexican dishes, to add to toast and poached eggs for a tasty brunch or to serve with chips and dips
Ingredients
2

Avocados

over ripe

1

Onion

1/2

Tomato

1

clove

Garlic

1

Fresh Chilli

1/2

Freshly Squeezed Lemon Juice

1/2

bunch

Coriander

stalks removed
Instructions
Add everything into a blender, blend until smooth, give it a quick stir then refrigerate until cold
Recipe Notes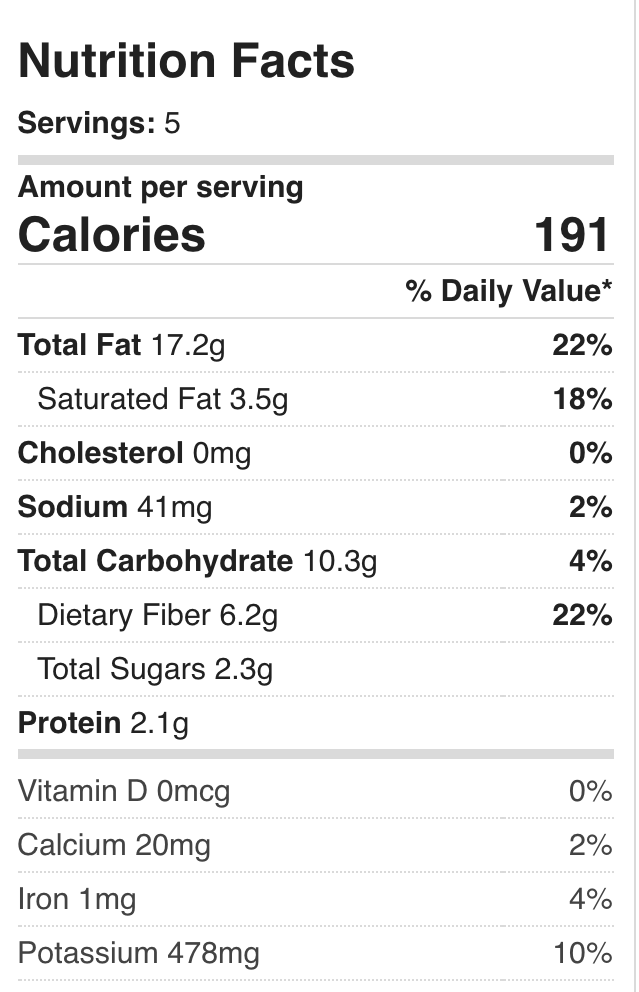 Party-Time Salsa
Add salsa to any party, whether that be with your nachos, on the side of a Mexican breakfast dish or just with dips in the garden before you fire up the BBQ. This 2-minute salsa is a twist on a traditional tomato sauce-based side and has a serious kick (and is super fresh)
Party-Time Salsa
Quick 2 minute fresh salsa that you can make for the top of nachos or with chips and dips for BBQs and even Mexican nights
Ingredients
1

Onion

2

Plum Tomatoes

1

Fresh Red Chilli

add 2 if you like spice

1

tsp

Olive Oil

1/2

bunch

Fresh Coriander

1/2

Lime Juice

freshly squeezed
Instructions
Add everything into a blender, blend until chunky, give it a quick stir then refrigerate until cold
Recipe Notes
Garlic & Coriander Flatbreads
If you're looking for a 3 ingredient flatbread to accompany your homemade curry then this is it, plain flour, water and a splash of oil will create an undeniably delicious flatbread that is simple and easy to make.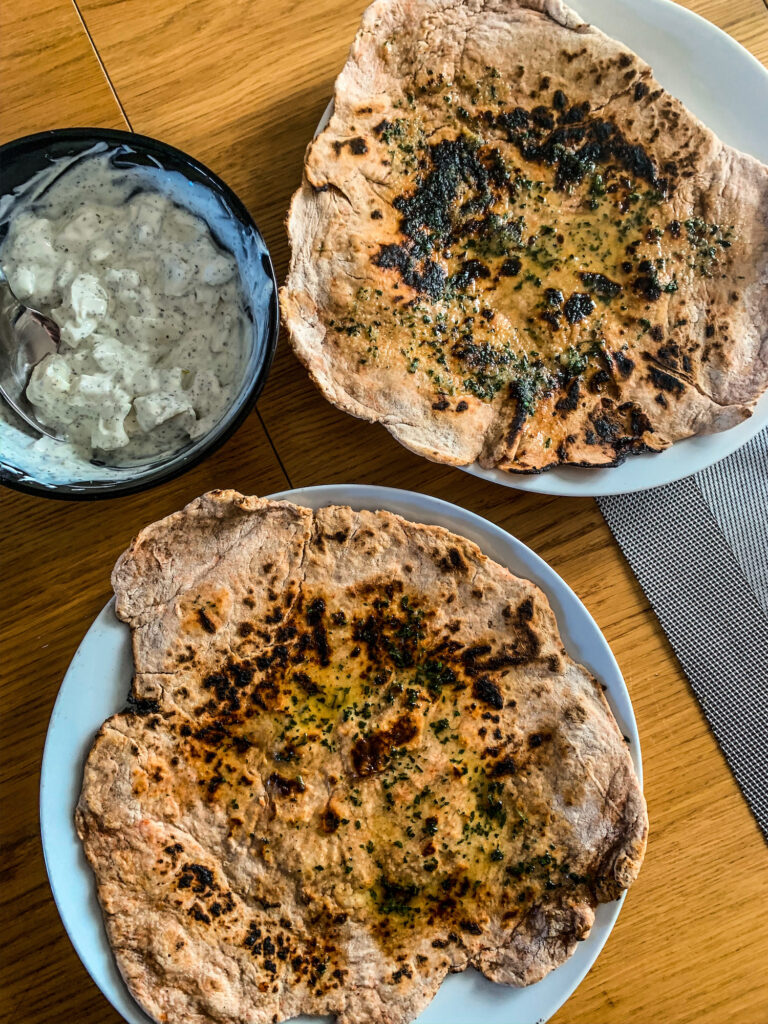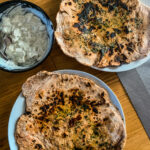 Garlic & Coriander Flatbreads
Quick and tasty flatbreads for either creating a wrap with, or as an accompaniment with your curry
Ingredients
Flat Bread
100

g

Full Fat Natural or Greek Yoghurt

50

g

Plain Flour

3/4

tsp

Baking Powder

1

tsp

Cumin

1

tsp

Garam Masala
Finishing Touches
1

tbsp

Butter

2

tsp

Garlic Powder

1

tsp

Dried Coriander
Instructions
Add the flour, baking powder, cumin and garam masala to a bowl and mix, then add the yoghurt bit by bit and mix with a spoon or spatula until a dough starts to form

Once formed use your hands to really bring the dough together. One the dough is formed into a smooth ball, place it on a floured surface and split the dough in half

Next roll out the dough as thin as possible to ensure that it cooks evenly on both sides

Heat your pan up for 2-3 minutes and place your bread in the dry pan cooking for about 2-3 minutes on each side

In the meantime add garlic powder, coriander and butter into a ramekin and place in the microwave for 15-25 seconds. Brush this over your flatbread just before serving
Recipe Notes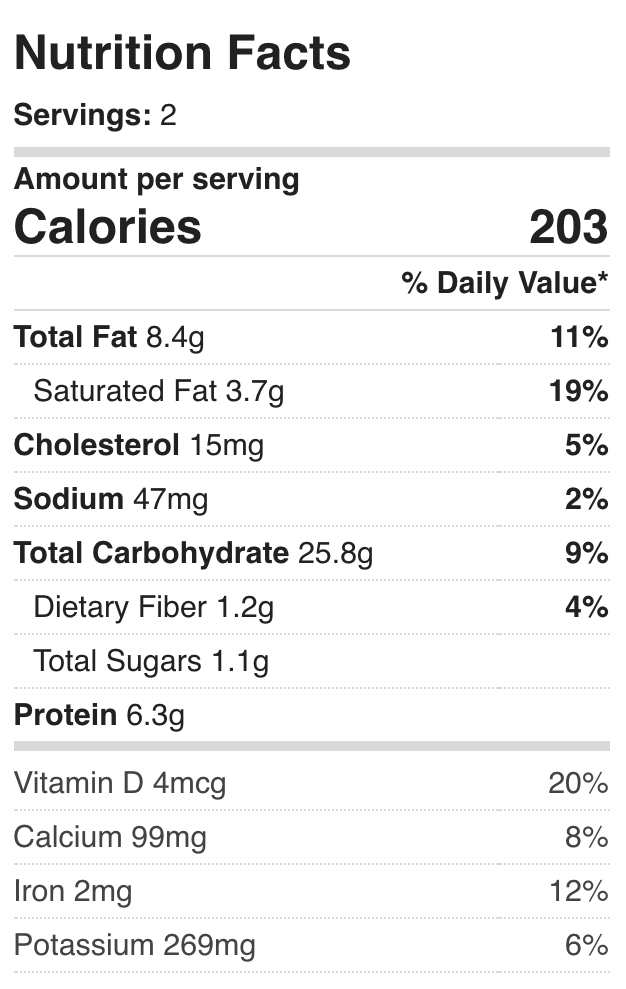 Have you got any other meal ideas for lockdown? Or any time. We'd love to know them in the comments section below. And as always, if there's a recipe you like the look of or have tried, we'd love you to share this article with your friends and family across social media.