So Jesmond is back to being full of the student buzz and the bars and restaurants are finding different ways to attract attention. With the recent launch of the Bottomless Brunch at Parichat at SoHe, we headed along to check it out.
I've previously visited Sohe a number of times and actually had very different experiences each time. You can read about these below;
Related Read;
I really like the vibe in SoHe, the decor is gorgeous. Kudos to my friend Bobo1325 who is the genius behind the soft furnishings she certainly has created a beautiful feel. There's been a shift and a few changes in the whole SoHe operation since my first visit, however, I feel they've now got it perfected.
Welcomed by a lovely waitress, we were seated at our table and she explained how the brunch menu worked. I opted for an Aperol Spritz and my mum a prosecco as we decided upon what we wanted. We also enjoyed some Prawn Crackers with a Tamarind dip. You get 90 minutes from your arrival where you can have as many drinks as you wish with your meal and then when the 90 minutes is up brunch is over.
Firstly, the Bottomless Brunch menu is concise and I really liked that. To start you get a selection of starters to share this includes;
Chicken Satay with Peanut Dip
Vegetable Spring Rolls with Sweet Chilli Sauce
Salt & Chilli Squid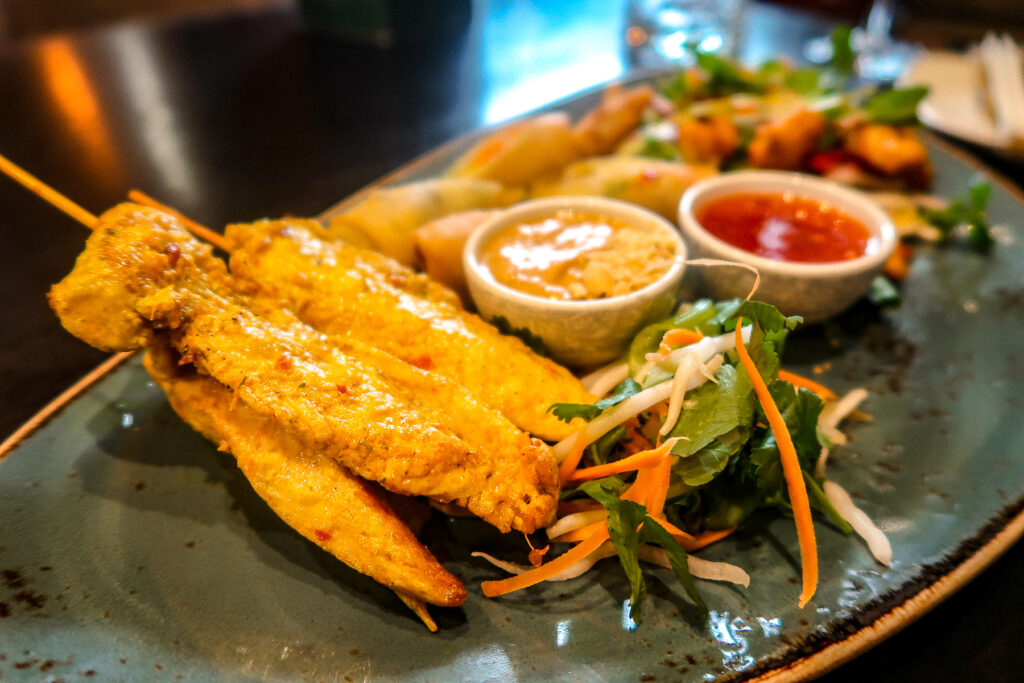 For mains, there is a choice of;
Thai Green Chicken Curry
Katsu Chicken Curry
Tofu & Broccoli in a Yellow Bean Sauce Stir Fry
Lamb Massaman Curry
King Prawn Singapore Vermicelli
The set price for the 90-minute Bottomless Brunch is £25.95 which I certainly think is exceptionally reasonable and good value for money.
We had selected the Katsu Chicken Curry and the Lamb Massaman Curry to share. They both came with rice however we did opt for 2 sides. These were the Tempura Sweet Potato Chips with Plum Dipping Sauce (£3.95) and the Stir-Fried Pak Choi, Chilli, Garlic and Black Beans (£4.50).
The sharing starters were full of flavour and the fresh chillis and onion added to the fresh and delicious taste. If you've previously read about SoHe you'll know that their Chicken Satay is the best! This was my favourite followed by the Salt and Chilli Squid. The squid was lightly dusted and melted in your mouth.
The SoHe Main Event
Once we had finished our starters and our drinks had been topped up, it wasn't too long before our main courses were ready. We popped them in the middle as we were sharing these too which was a great idea to get a taste of more than one curry.
The Katsu Chicken Curry was presented well and had an ample amount of curry sauce. The chicken pieces were perfectly breadcrumbed and the garnish on the top of chillis and coriander really added to the flavour. This was served with Jasmine rice (my favourite rice ever) and was a good hearty portion.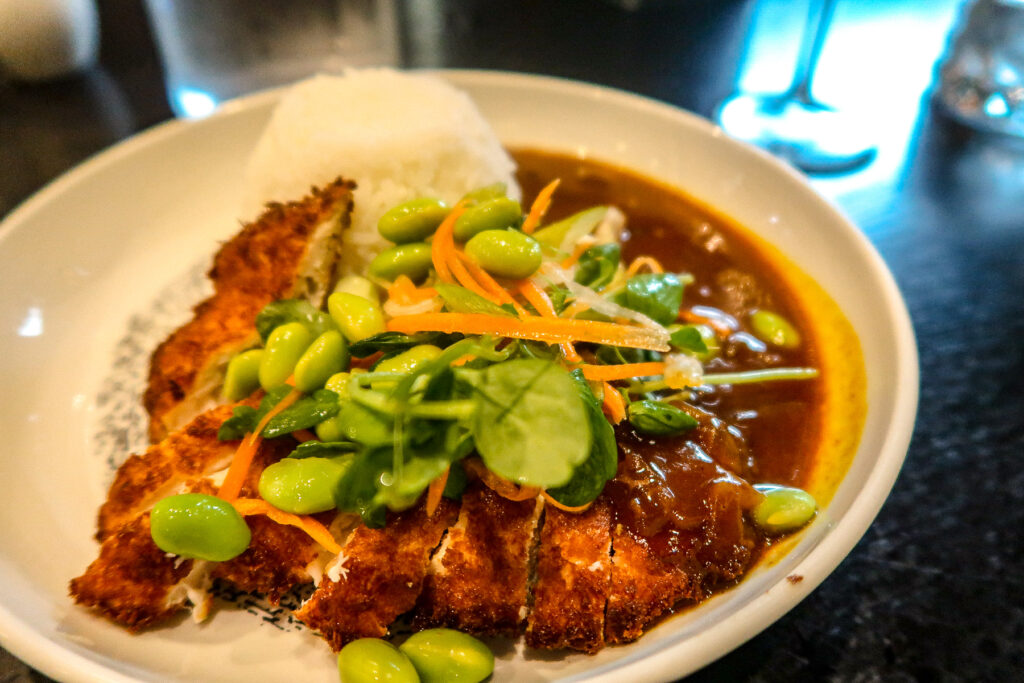 Lamb isn't my favourite meat, however, in a curry it's a completely different ball game. The Lamb Massaman Curry was again served with Jasmine rice. As this was a liquid-based curry it was consequently served in a bowl. The Lamb was tender and cooked well, whilst the sauce had a little kick to it. It was very nutty, which I didn't mind, however really glad that we had shared as this alone may have been a little overpowering.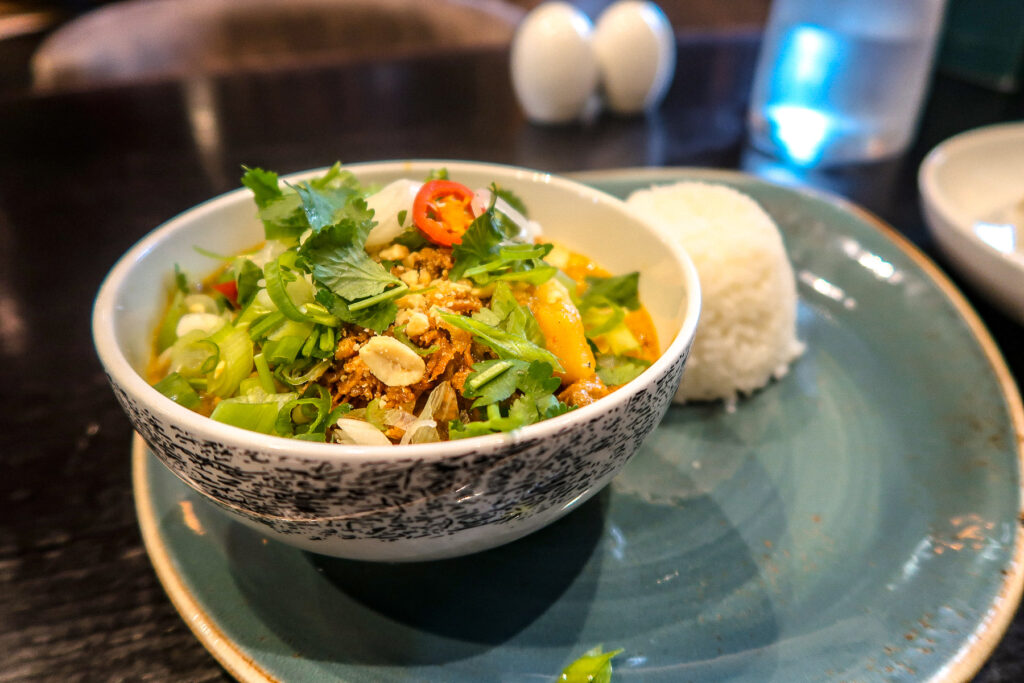 A little side dish
I adore Pak Choi and this side dish was no exception, again with garlic and chilli the flavour of the stir-fried vegetable was incredible, but what really made the dish was the black beans, they were simply divine!
The Tempura Sweet Potato Chips were a lovely change too. They mopped up the curry sauce that the rice didn't. Although hilarious to eat when using chopsticks as they were huge in size. They again were full of flavour and the Tempura was and not oily at all.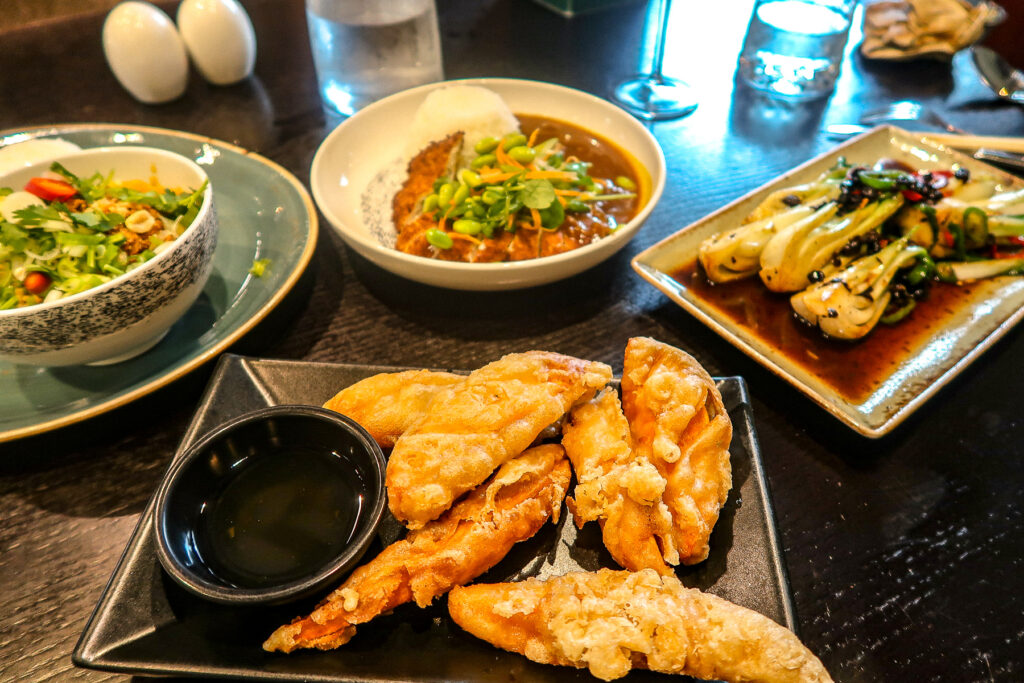 The Bottomless Brunch was really lovely and has totally restored my love for SoHe after my previous experience. The change in staff has really been welcomed as they are all so friendly and helpful. They're also amazing at keeping those glasses topped up! The food is simply delicious and the brunch is great value for money. If you're looking for somewhere to eat in Newcastle, why not head a few minutes out to the luxe district of Jesmond.
SoHe is now open Sundays for Brunch too!
Have you been for Bottomless Brunch yet? I'd love to know your thoughts below.