The Algarve is often seen as one of the most luxurious sun holiday destinations to visit in Europe. We recently headed to Albufeira Old Town to stay at Hotel California with On The Beach for a week. Having explored the town (and surrounding towns) as a couple we discovered some hidden gems as where is best to eat in Portugal for couples.
Having arrived late on a Monday night in Albufeira Old Town it was bustling with holidaymakers, bright neon signs and music from the surrounding bars, I chose to stay in and just have some Keto Feast. The Old Town is a lot quieter than the New Town or 'The Strip' which I've previously stayed. The Strip is a favourite of hen and stag parties is much more lively and wild than the Old Town so as a couple who were looking to relax our location was a welcome break.
On our first morning, we headed out early to explore the town, discovering gorgeous golden beaches, little souvenir shops up winding streets as we headed up the hill. Do note that there are lots of restaurants and bars all trying to coax you in from the early morning.
With not so much to do in Albuferia apart from lounge by the pool or at the beach, enjoy food and drinks from over 700 restaurants and bars or just explore the cobbled streets for quirky gifts, Peri-Peri and Port.
If you're looking for some of the best places to eat in Albufeira, here are our favourites;
Shalom II
We visited Shalom II on our first evening in Albufeira after positive recommendations by a couple of friends who visit annually to try here.
Located up a cobbled pedestrian side street, Shalom II is famed for its all you can eat ribs. After watching the England match we made our way to the restaurant and took a seat outside. Ordering a bottle of house red for less than €10. My boyfriend opted for the all you can eat ribs which were priced at €13.99 and I went for the Ribeye Steak at €16.99.
Usually, I like a fillet, hanger or sirloin steak and wouldn't typically opt for Ribeye, however, this and T-Bone were the only steaks on the menu. Instead of chips, I opted for rice.
For starters, we had garlic mushrooms and garlic bread which were both served swiftly, freshly cooked and they both were really tasty.
Our mains arrived and my boyfriend's rack of ribs were large and full of meat. Not a rib lover, I did taste them and the meat was delicious and rich. Once he had finished this rack, another rack was brought over, smaller than the first but equally as tasty. He kept them coming at least another 4 times.
My steak was large, and cooked well. The meat was tender and cut easily and it was full of flavour. There was very little fat on the cut, which is what I was most concerned about. It was really flavoursome and such a size I couldn't finish it.
We both thoroughly enjoyed our meal at Shalom II and highly recommend dining there. We probably had of returned back for another meal had we been staying longer.
Urban Pizza
We stumbled upon Flavours, a bar just off the beach which sells €1.75 beers and €5 cocktails all day. We enjoyed the atmosphere there so returned frequently during the day. The breakfasts always looked good, however, we just ate at Hotel California each morning.
Flavours is part of a collection of restaurants in the Old Town. Urban Pizza being the other. Really fancying a pizza we headed to Urban Pizza on our second evening. Sitting outside to enjoy Golden Hour, we enjoyed a bottle of house wine (around €10) which again was really nice. The wine in Portugal was really delicious and well priced! 
For starters, we had bruschetta and garlic bread. The bruschetta was nice and fresh, the tomatoes were delicious. How do tomatoes in other countries taste so good? The garlic bread, on the other hand, lacked garlic!
For our mains, I selected the Quattro Stagioni which came with egg, peppers, pepperoni and mushrooms. The base was thin and the pizza was packed with topping, just the way a pizza should be.
My boyfriend went for the Pepperoni and kept it simple. With lots of topping again on his pizza. We asked for some chilli oil because let's face it, you can't eat pizza without chilli oil!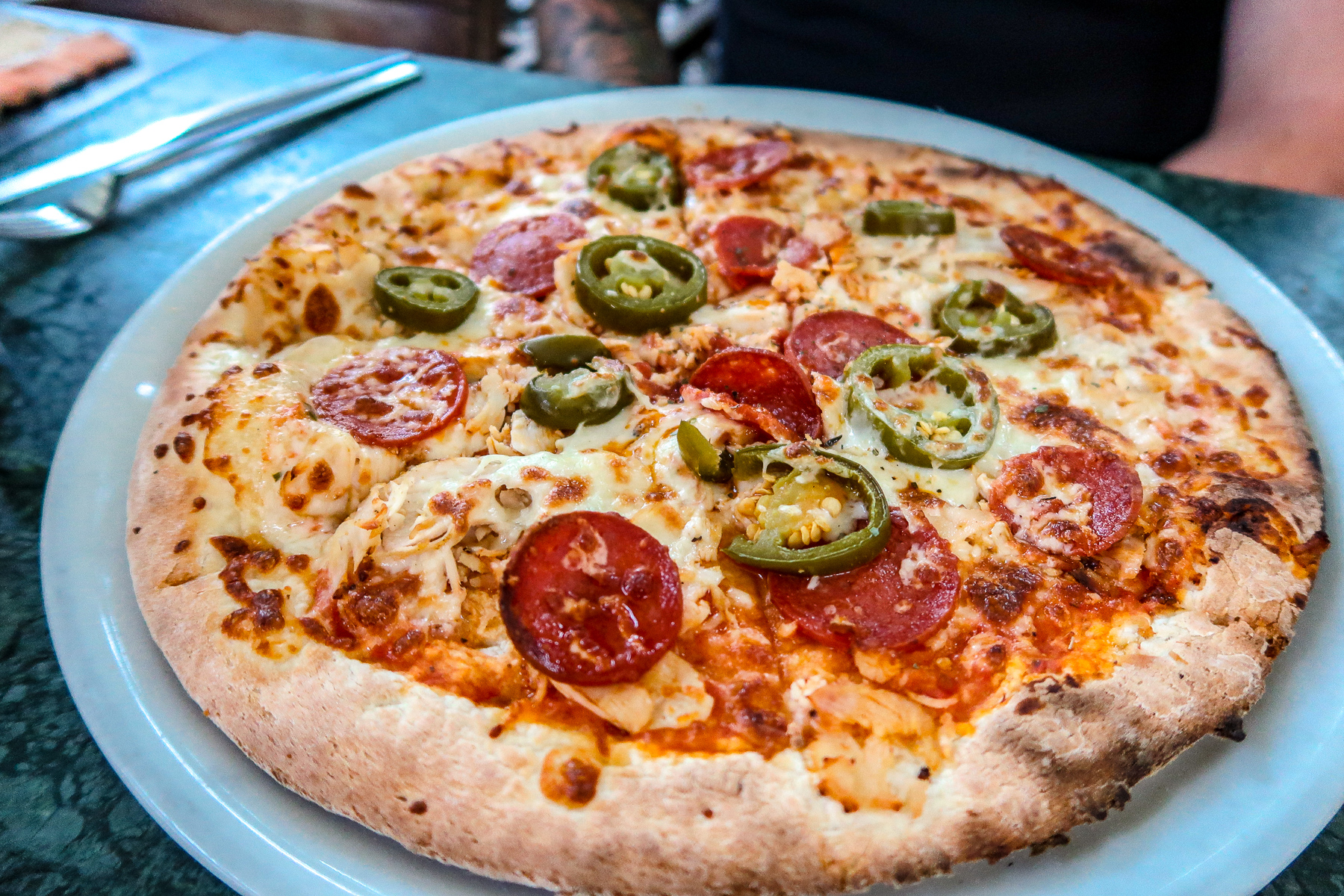 I generously drizzled it all over my pizza without first checking the bottle. Called the Scorpion and rated hot, this Peri-Peri chilli oil was spicy! It was really good, just incredibly spicy!
The meal at Urban Pizza was good. We both enjoyed it and there's a good vibrant atmosphere as it's on a busy corner.    
La Locanda Dei Sapori
Probably my favourite meal of the week we visited La Locanda Dei Sapori at the halfway point in our holiday. Having passed it on a lunchtime looking busy when we were out for a walk heading to the beach. This little Italian restaurant looks a little more high end than others you may find just off the main 'bar street'. However, their prices are really reasonable.
Again opting for bruschetta and a garlic bread alongside a bottle of house wine. We began to relax after a day of exploring the little streets. In all honesty, there's very little to do in the old town apart from eating, drinking and relaxing. So if you're looking for activities perhaps try a different part of Portugal such as Porto or Lisbon. 
Our starters were both good. The garlic bread had just the right amount of garlic on for the Goldilocks of the garlic bread world I seem to have found myself on holiday with. My bruschetta was really crisp and full of chopped tomato and fresh herbs. There was the perfect amount of drizzled olive oil too.
I had chosen tagliatelle vodka al salmon which I knew was going to be incredible. And Garlicilocks had chosen chicken and ham pizza for his main meal. 
The restaurant was busy without being too frenetic, it was vibrant without being too much and it was relaxing without being quiet. Our mains arrived in good timing and my tagliatelle was served with a tomato and cream sauce with lots of flavour and full of salmon. I couldn't quite taste the vodka. However, I think it may have hit me later!
The chicken and ham pizza came on a perfectly cooked base, clearly fresh from a pizza oven, with a generous amount of topping.
We both agreed that this was our favourite meal of the entire holiday and had we been staying any longer, certainly would have returned.  
Cais 44
After wandering around in circles for at least 20 minutes in one of those 'can't be bothered to eat any more' stupors that you get on holiday after so much food we eventually decided to head to Cais 44. 
Located just across from The Old Barrel, this upstairs restaurant with small veranda is tucked away but is a great place to people watch. A steakhouse and gourmet burger restaurant the decor is modern and the staff are incredibly welcoming.
Another round of garlic bread and this time mushroom gratin…and you guessed it a bottle of the house wine. Again priced at around €10. We're becoming too predictable with starters here right?
For mains, I opted for the Cais 44 Steak which was fillet in a garlic sauce with sliced potatoes. The steak was incredible, one of the best steaks I've had in a long while and the garlic sauce was more of a garlic gravy in which the steak sat in. The sliced potatoes were more like flat chips. My meal was delicious and probably one of the best dishes from the week-long stay.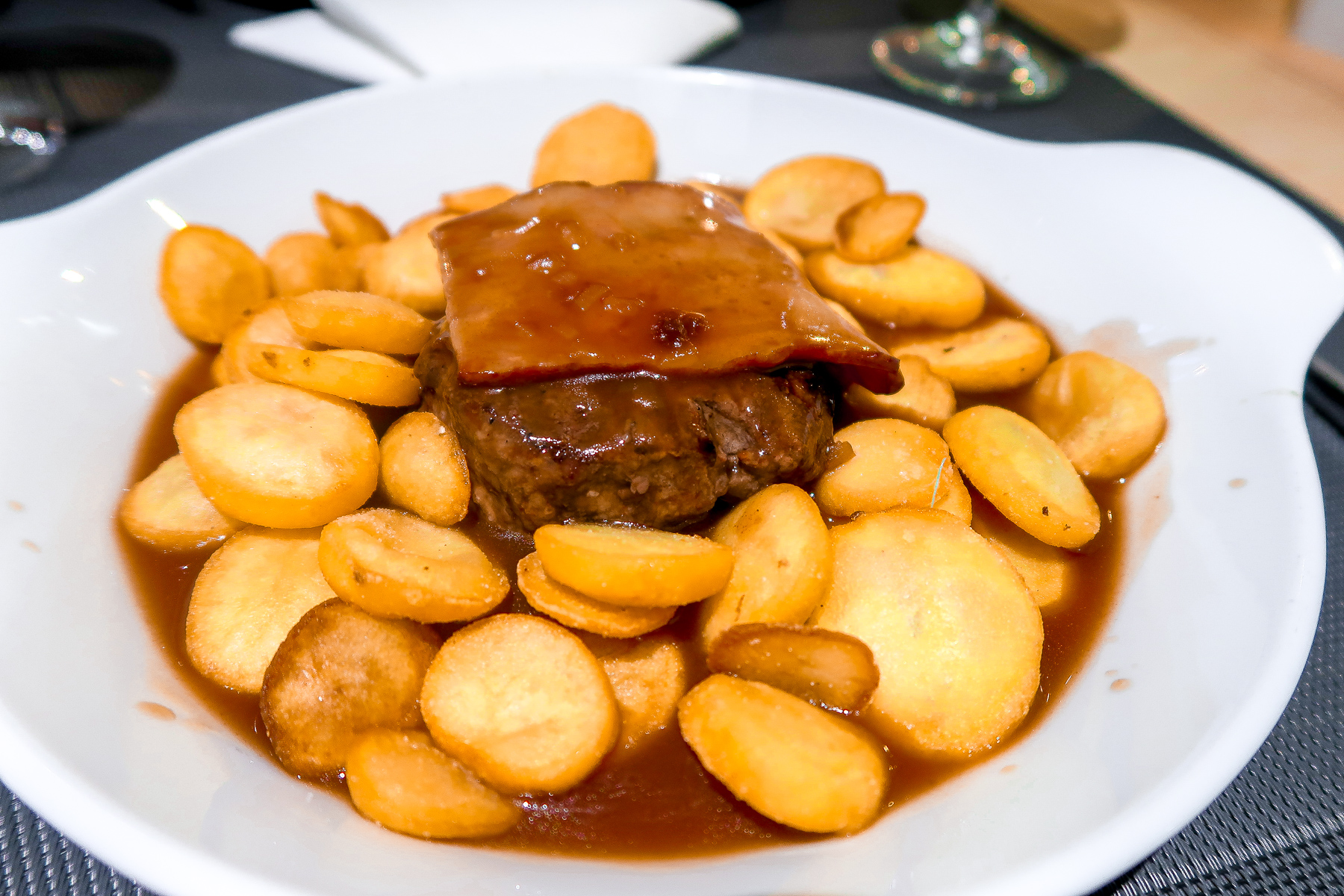 My boyfriend had opted for the chicken kebab (not sure why at a steak restaurant, this guy loves his steak too?!) His dinner arrived on a skewer and was served with chips. He did say it was tasty however I think he was a little disappointed and wished he had steak. 
The restaurant and staff were lovely and the food quality was probably one of the best meals we ate whilst in Albufeira. Cais 44 comes highly recommended.
Ricardo's Pizzaria
Every evening we'd head past this small Italian just off the seafront and there would be a queue outside. On our final night, we had decided to wait in the queue as it obviously was worth it right? 
After choosing to sit at any table inside we waited only a few minutes and realised the queue was for seats on the roof terrace. 
I ordered half a bottle of wine, as we perused the menu. No points for guessing garlic bread and bruschetta! They both arrived relatively quickly. They were okay. Nothing special. My bruschetta was large chopped tomatoes and needed more seasoning and the Garlic Bread King thought his needed garlic bread. He rated it a 4/10.
For mains, we had Chicken Tagliatelle and Fillet Steak and chips which again were okay but nothing special and again required a lot of seasoning.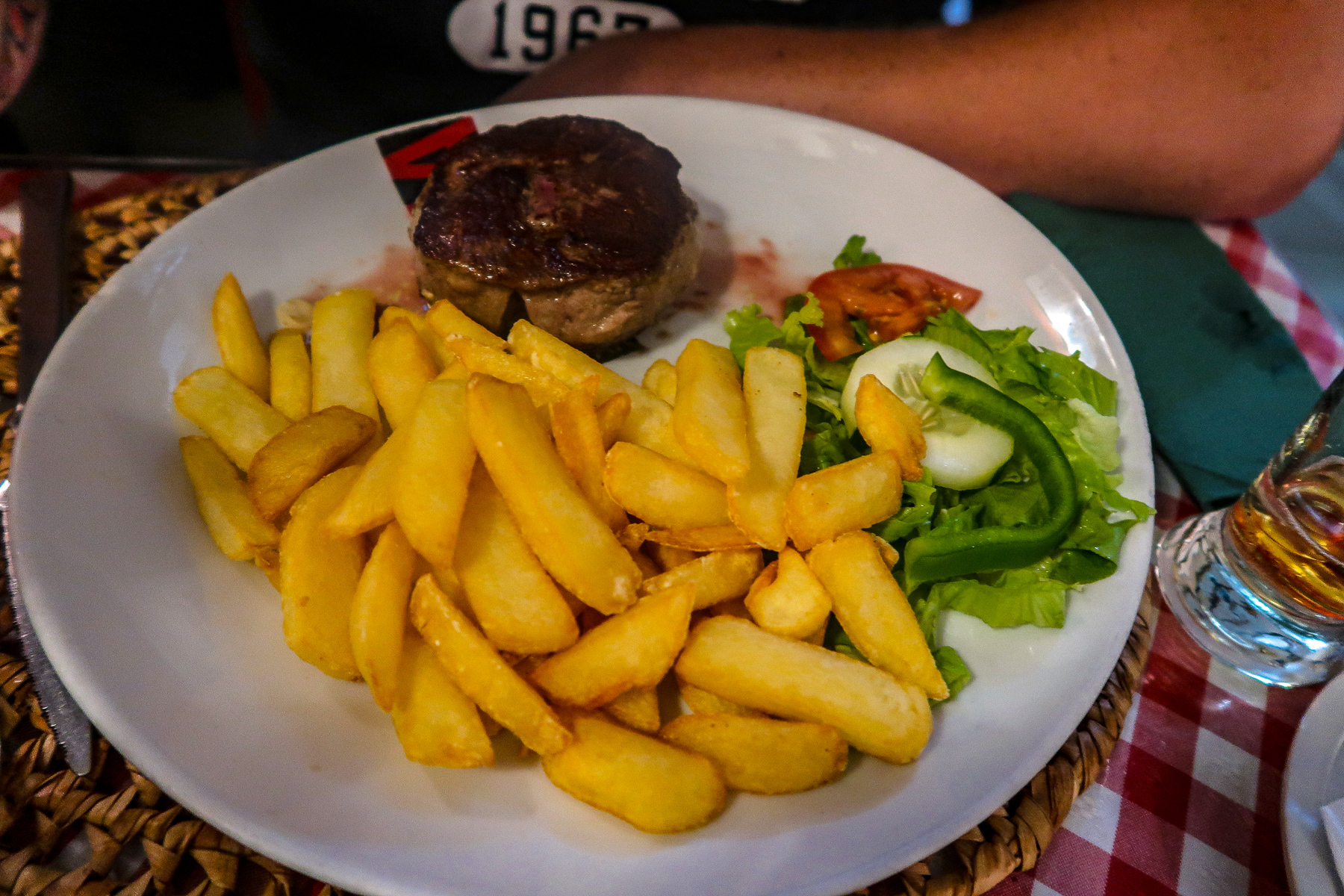 Our meal was fine but was probably my least favourite of the week. If you're looking for a really lovely Italian restaurant for the same price then I'd recommend La Locanda Dei Sapori a couple of doors up.
Bars in Albufeira Old Town
We visited a couple of notable bars in the week and admittedly realised we are bar snobs. Staying away from the raucous bars full of groups of stags and hens and 'lads on tour' our 4 favourite bars for couples in Albufeira Old Town were. 
The Old Barrel
Located parallel to the beach on the street behind this corner bar shows live sport, offers cheap drinks and has a good atmosphere. They serve a small selection of food. We ate here one afternoon (the chicken curry was so good!) and they also have a more formal restaurant upstairs for evening dining.
Flavours
Our favourite beachfront bar, Flavours serves the cheapest beer we found in the whole of the old town. It again serves food and although we didn't eat here, the food looked good especially breakfast. The vibe is chilled with good views.
Infinity
This bar is just down from The Old Barrell and is a great pit stop through the day and also a must-go place at night. Spanning across the street they have live music on. The Neil Diamond tribute is the most hilarious thing in the world and will have you shouting SO GOOD for weeks to come!
Downtown
Located at the main square of the Old Town in Albufeira, Downtown is not only a restaurant but also further down the street offers a really nice cocktail bar. Serving up slightly more aesthetically pleasing cocktails than other bars which serve sparklers, long straws and other plastic tat in the glass. It's a great place to go and relax.
No trip to Albufeira is complete without a journey to the New Town or 'The Strip' so on our final day we took the little train along to explore. Stopping for lunch at Fredi Pizzeria.
We chose Peri-Peri Chicken and Chicken Breast with Diane sauce and chips the waitress was so lovely. Our food was really delicious and if staying on The Strip is worth a visit.
Have you been to the Old Town Albufeira? I'd love to know where you recommend to eat below?