Last year we delved into 'Top Places to eat in San Antonio' and instead of updating our original post, because let's face it, we've come a long way in a year right? We're bringing you a new 'Where's good to eat in Ibiza' instead. You can read the original top places to eat in San Antonio here.
Evissa is one of my favourite islands to spend a few days in the Summer, previously we've been to O Beach, stayed in Cala Vadella and Portinaxt as well as the Rosamar in San Antonio Bay and of course the Marco Polo. The island is far more than just extreme partying. There are gorgeous beaches, little towns and ports to visit as well as Ibiza Old Town which boasts some traditional Ibizan heritage. The island has something for everybody. But for now, let's see where's good to eat in Ibiza.
Before we get into food, there are two Instagammable places in San Antonio that you most certainly should visit.
Wi-ki-Woo Ibiza
Located at: Carrer Ponent, 14, 07820 Sant Antoni de Portmany, Illes Balears, Spain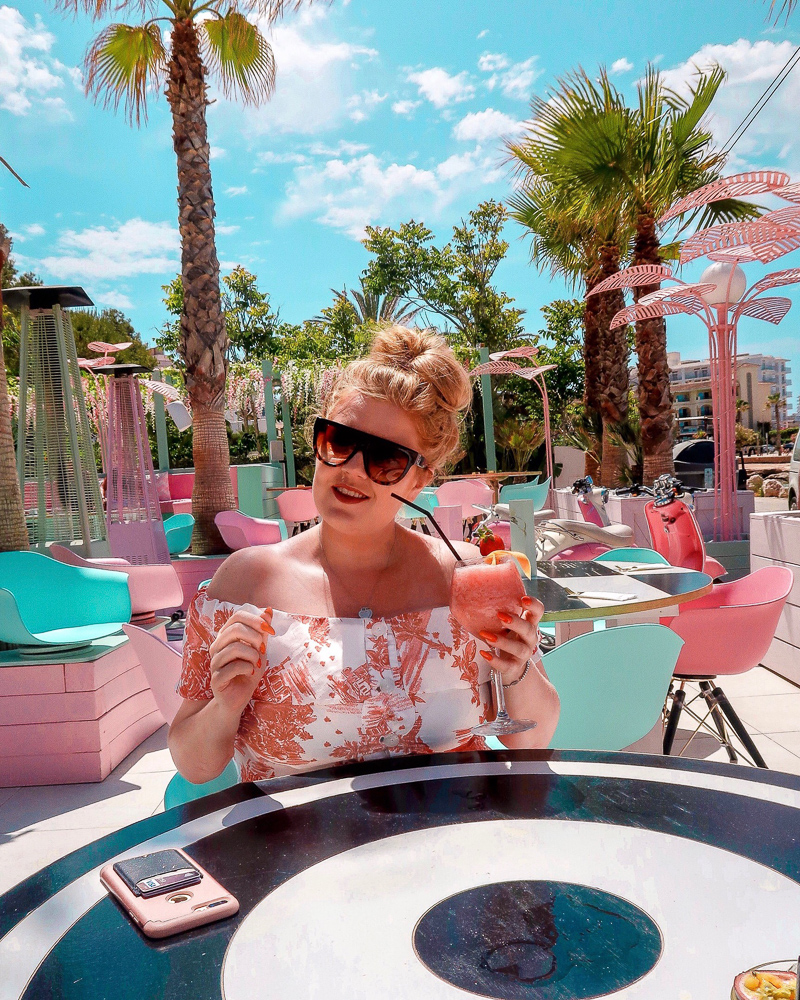 Wiki-Woo is a Boutique Hotel that radiates art-deco glam with a modern twist. One of the most sought after locations in the whole of Ibiza, it emulates Miami Beach colours and vibes and has a gorgeous outdoor bar. Greeted by Pink Vespas and a very Dr Seusse colour palette, every aspect of the hotel has been meticulously planned out. Including the food and drink menus. The cocktails start at around €15 and are elegant twists on classics. 
We just visited for a mid-morning cocktail but it's certainly somewhere we'd go back to eat in Ibiza on our next visit.
O Beach Lounge
Located at: Carrer des Molí, 12-14, 07820 Sant Antoni de Portmany, Illes Balears, Spain
The new for 2019 little sister of superclub O Beach Ibiza is located just next door. With aesthetics to match O Beach, this lounge serves up cocktails and snacks. With drinks offers including 2 cocktails for €12, you can't really go wrong. Look out onto the Bay and take in the sights, or choose it as a meeting spot before a day at the world-famous Beach Club, it certainly is a great place to take and share snaps and make your friends back home envious.
---
---
Where to eat in Ibiza
Ibiza Rocks Diner
Located at: Avinguda del Doctor Fleming, 6, 07820 Sant Antoni de Portmany, Illes Balears, Spain
Located on the front Ibiza Rocks Diner serves up food all day. We headed for a meal before the England game, as we were looking for somewhere quirky but also lively later on. The menu serves up Mediterranean twists on Diner classics.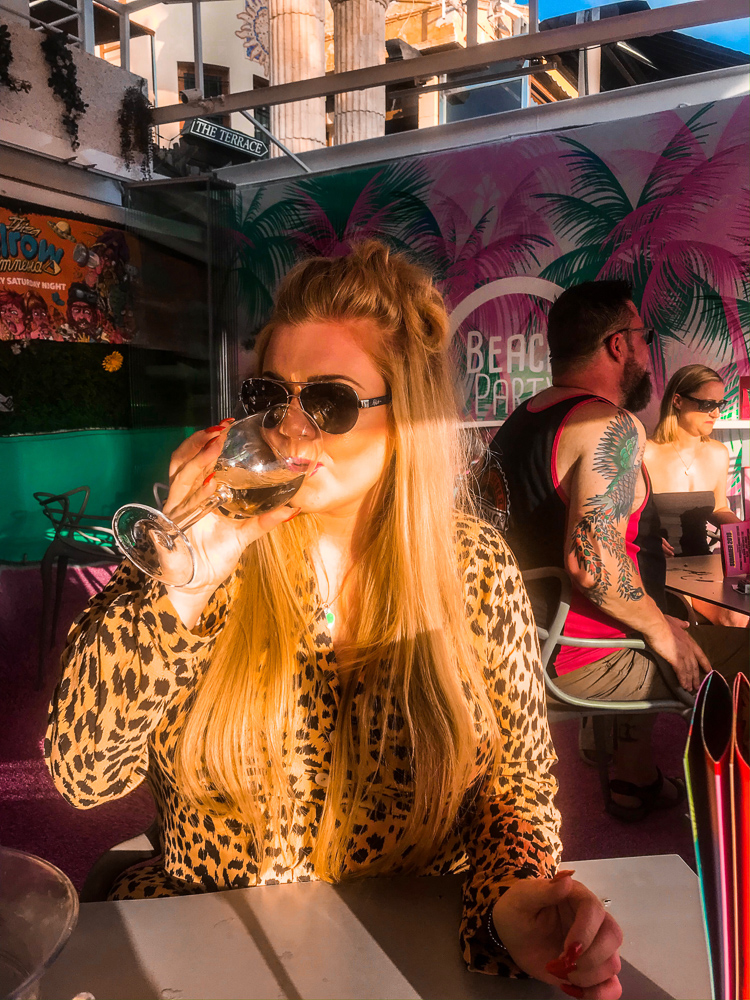 Opting for the Chicken Pitta which was served with a choice of two sides, we chose the Loaded Wedges with cheese and jalapeños and a Caesar salad. We also ordered the Tuna Steak burger which was served simply on its own. The two sides were enough to share.
The food was fresh, flavoursome and really enjoyable. With a surprisingly really reasonably priced menu too! We shared the chocolate brownie to finish and enjoyed a couple of cocktails.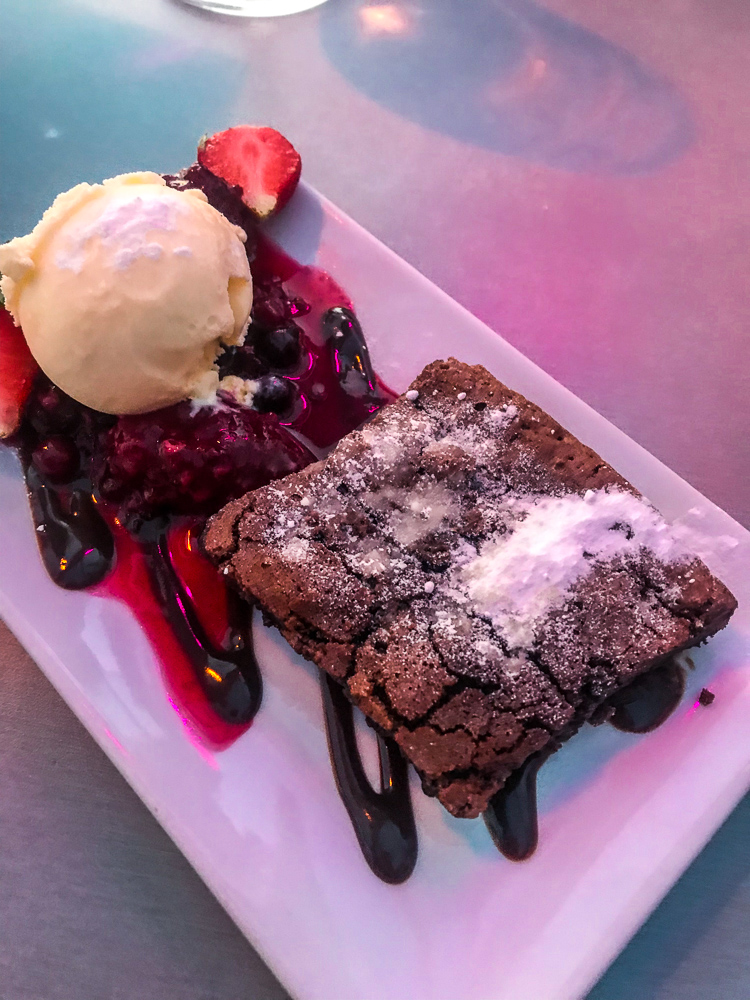 The atmosphere was electric and it's a great place to dine, enjoy the bustle of people walking past and look out onto the Bay.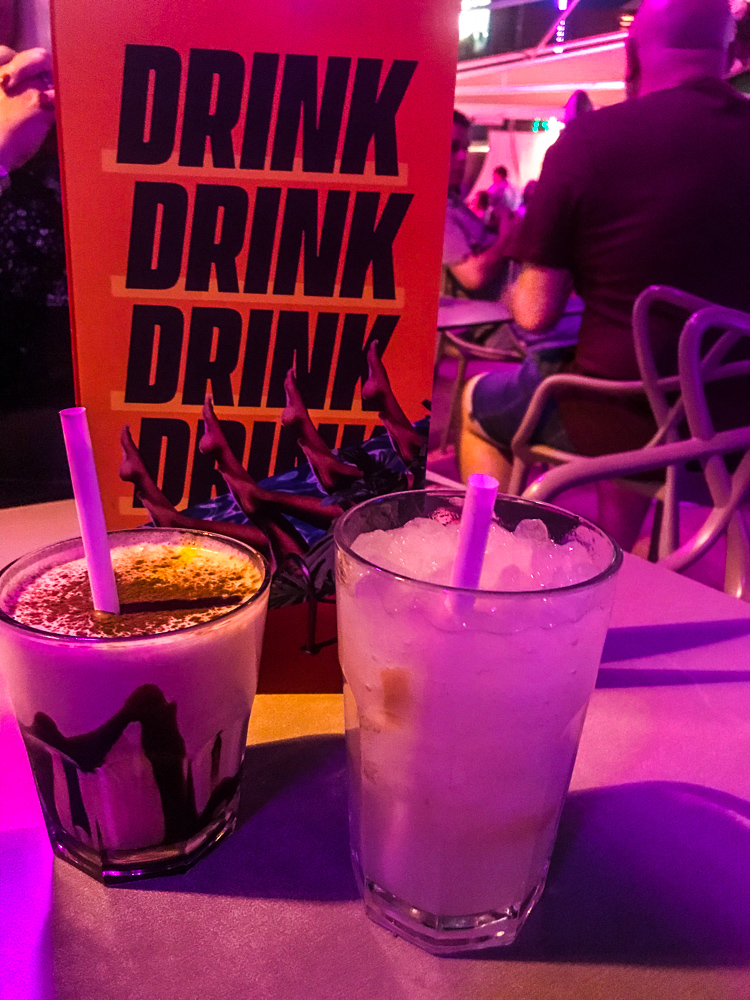 Leopard Ibiza Rest
Located at: 07820 Sant Antoni de Portmany, Balearic Islands, Spain
You may have seen this from last year's trip. In fact, you'll notice that the dishes were exactly the same. This is an ideal spot for a bowl of pesto pasta and a bottle of wine at lunchtime, whilst watching the world go by. Look out onto the Marina as you watch the boats and yachts coming and going. Enjoy the vibrant atmosphere and soak up the sun. With really reasonable prices (two bowls of pasta, a bottle of wine and bread with aioli costing less than €35) it's a great place for lunch or dinner.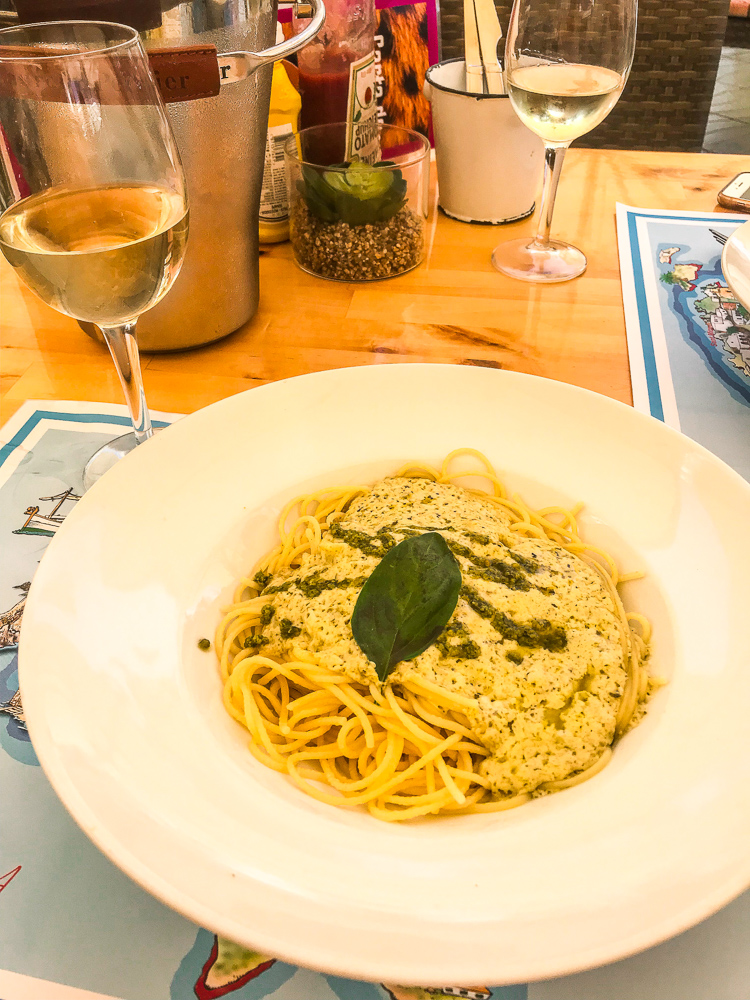 Bondi
Located at: Passeig de ses Fonts, 07820 Sant Antoni de Portmany, Illes Balears, Spain
Next door to Leopard Ibiza is Bondi, a Cafe Mambo owned bar, having previously visited when we voyaged on one of their Sunset Cruises. Serving up clean and healthy meals and log fire pizzas the menu is small but packs a punch.
Selecting the Chicken Thighs with potatoes and vegetables and the Serano Ham pizza with a bottle of wine. The chicken was exceptional, skin on and sumptuously moist the potatoes were cooked well and although aubergine and courgette are two of my least favourite vegetables, they were really tasty. Not something I'd usually go for on holiday, however really satisfying.
The pizza was packed with topping and was a decent size. The underneath was slightly overcooked, however, they are made to order so this goes in Bondi's favour for added taste.
We finished off with Cheesecake and Strawberry and Nutella crepes. Both desserts were delightful and the views, similar to Leopard are great watching the streets towards the West End get a little bit more vibrant and lively.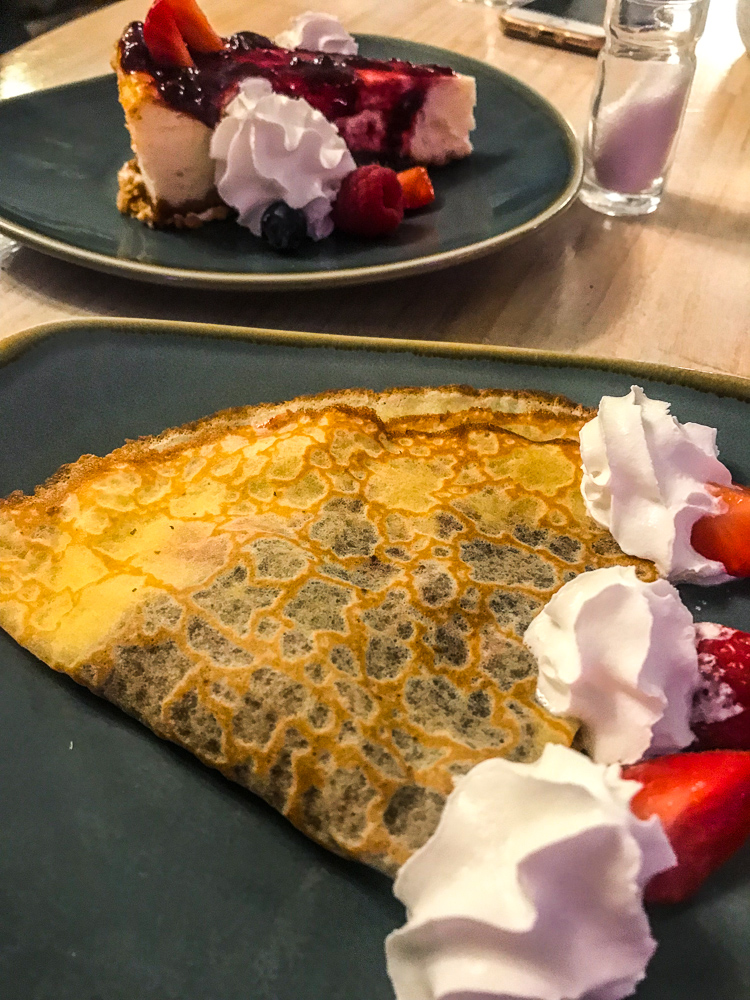 Kalissol (Santa Eulalia)
Located at: Carrer Juan Tur Tur, 13, 07840 Santa Eulària des Riu, Illes Balears, Spain
We made use of the excellent bus system on our visit to Ibiza and headed from San Antonio to Playa D'em Bossa followed by a stop to Santa Eulalia, a small beach town to the East of the Island. Only around a 35-minute bus journey from San Antonio.
Walking along the more prestigious front which is hailed as the culinary district of Ibiza, we stopped at Kalissol with the promise of their €5 cocktails and €10 dishes of Paella. An essential Spanish holiday dish!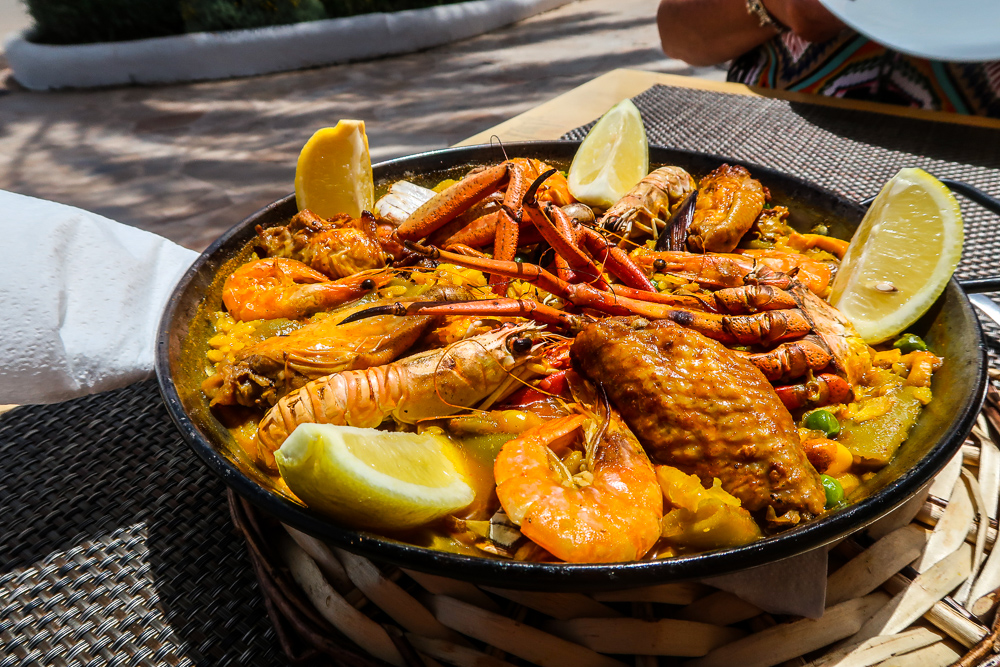 The service was exceptionally slow, which we didn't mind on this occasion and the food was average. I've enjoyed much more piquant Paella dishes elsewhere, in particularly the time Omar Allibhoy cooked me his speciality Paella or when in Tenerife.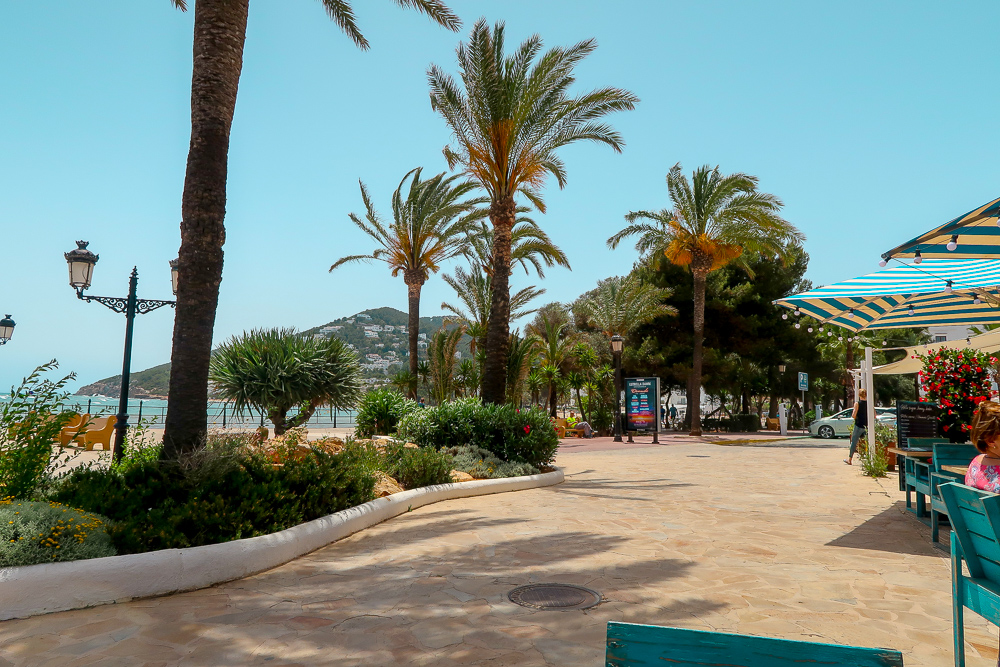 The views were lovely, and the food was very reasonable, however, it's not somewhere we'd rave to return to.
Savannah Ibiza
Located at: Carrer del General Balanzat, 38, 07820 Sant Antoni de Portmany, Illes Balears, Spain
Top: SimplyBe, Glasses: Celine
Another Cafe Mambo owned bar and restaurant, located on Sunset Strip offering a slightly different menu to Mint Lounge and Cafe Mambos. We were lucky enough to bag a second-row table when we arrived along the strip to watch the sunset.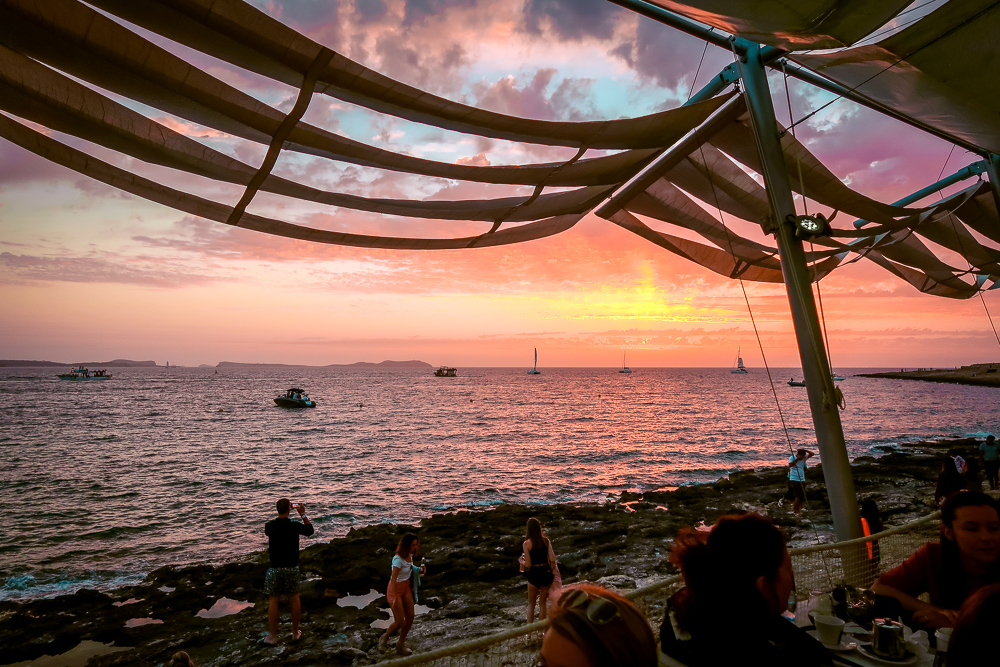 Which is essential when you're in Ibiza. Everything about the sunset is incredible, the atmosphere and vibe, the music, the togetherness and of course. If you catch a sunset like this, it's a beautiful end to the day. I quite like to make this the last night of any trip to Ibiza as it ends the trip perfectly.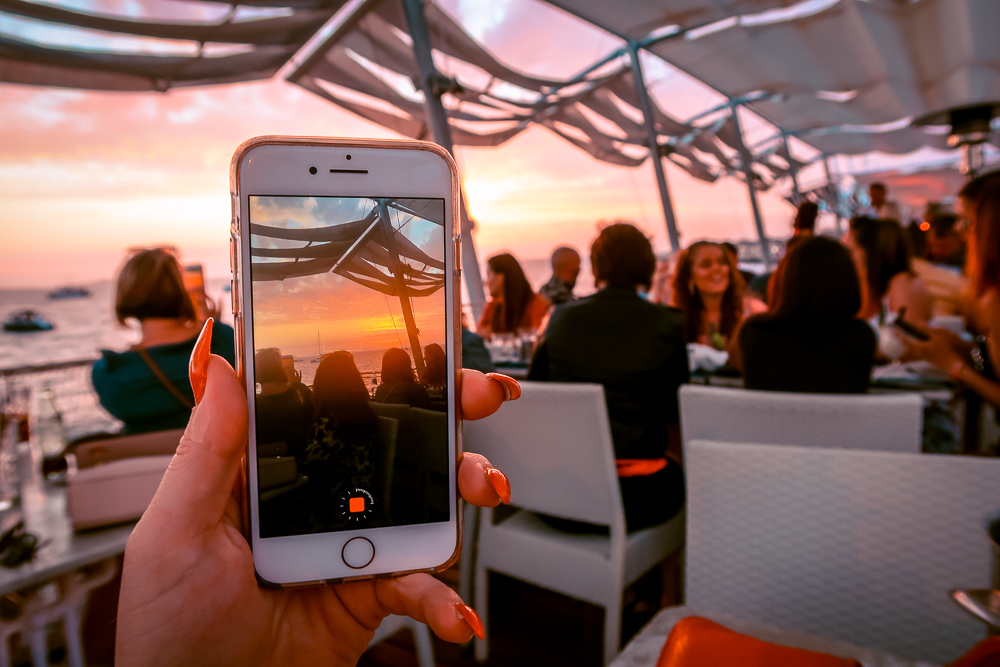 Taking our seat at our table with an amazing view, (it's recommended booking during peak season) we ordered a bottle of wine (€20) and some Nachos to start (€10), when they arrived they didn't look much, however, they were packed with cheese and the salsa, guacamole and soured creme had oozed down into the nachos making them a great start.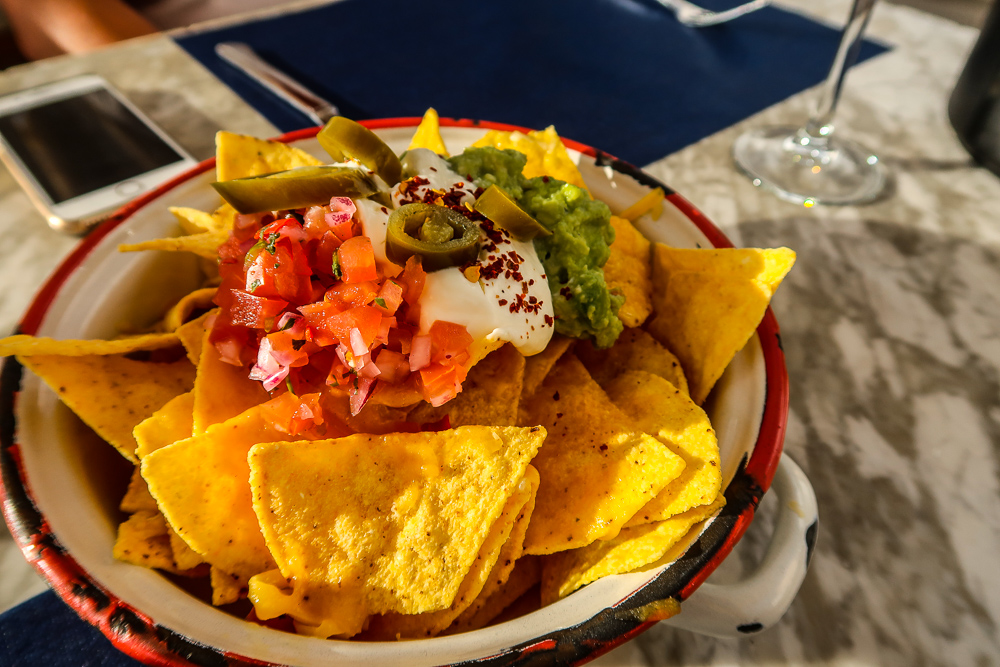 We both then opted for the fillet steak served with mushroom and tomatoes (€30) with a side of chips (€2.50). The fillet was cooked perfectly medium, and the sides were the perfect accompaniment. The food was great and it was enhanced massively by the atmosphere and the beautiful sunset. Would highly recommend booking a table at Savannah for your next Ibiza trip.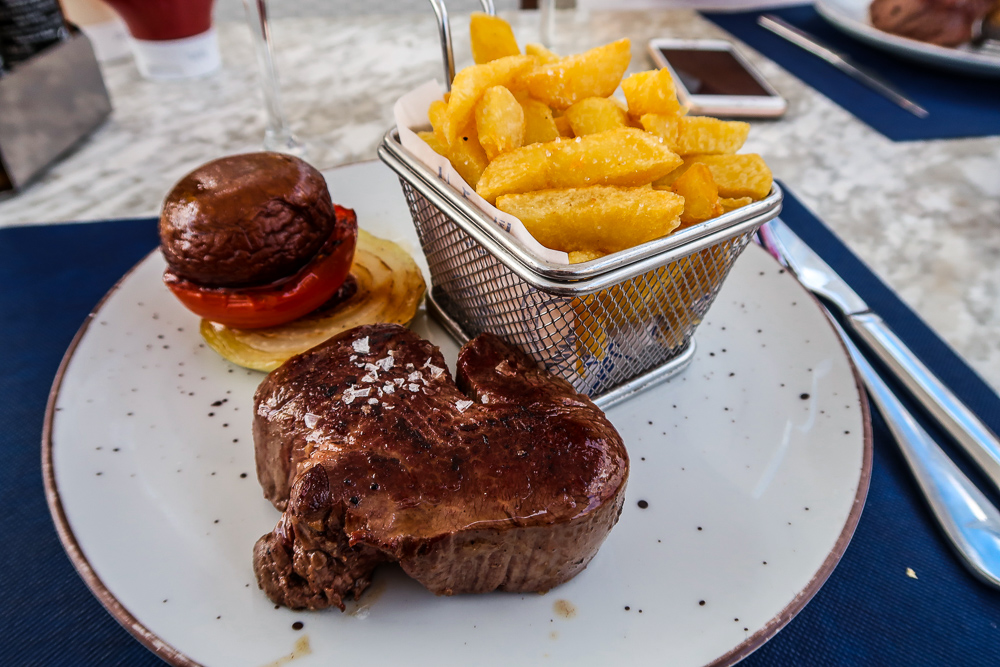 Have you been to Ibiza? I'd love to know where you think is best to eat in Ibiza, let me know below.
Discover more Ibiza
Having been to Ibiza on many different occasions we've featured some of our favourite best bits. There's more to discover about Ibiza on our site.