Have you ever travelled to faraway lands and wanted a gorgeous memento of your travels that fits in with your home decor? Alvar Carto has the solution. They have created a personal cartography service where you can choose a destination close to your heart. You can then choose how 'zoomed in' you wish to go on your map. Then choose the style and colour.
The results….absolutely stunning.
I'm going to talk about my pair of prints before telling you how you and a friend can win an Alvar Carto print too!
I have a lust for travel. From staycations in Cornwall, London and Liverpool. To European breaks, Ibiza being a real favourite. To long haul faraway travels such as New York and Boston in America. But Laura you have an unhealthy obsession with Las Vegas (you even have your own Vegas Instagram @vegasatlast that I should follow) and you've failed to mention it?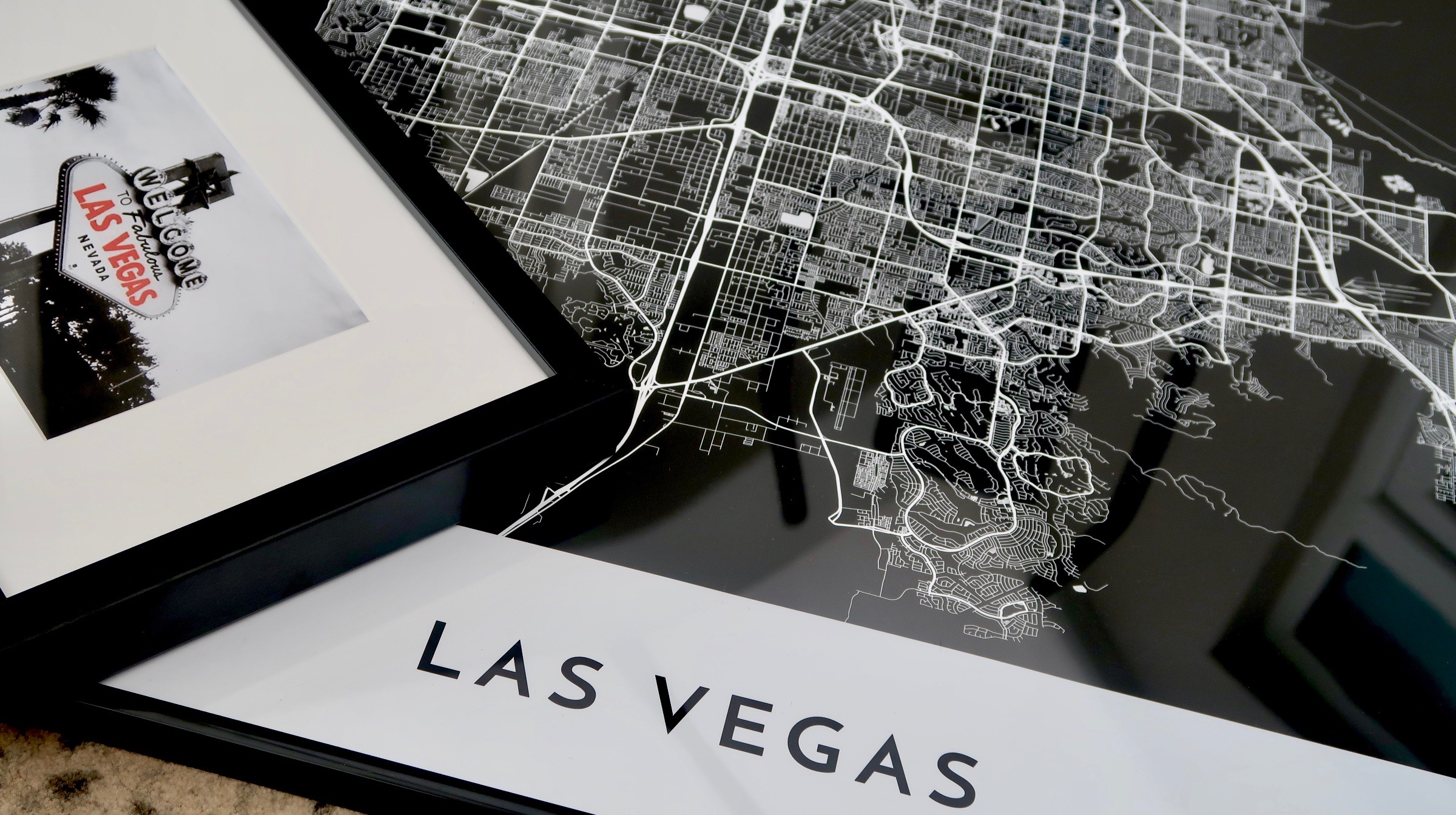 You are absolutely right, yes I did. And why? Because of that little grid. That 4-mile strip of casinos, neon lights, over the top opulence. It now proudly sits on my bedroom wall in 70cm x 100cm view. When I was thinking of two places I'd love to have prints of without hesitation Sin City was my first thought. Naturally.
My love
The desert. A place founded in 1901. The place that is my home away from home. I headed to the Alvar Carto site clicked 'Create a poster'. Added Las Vegas to the bar and pressed enter. Up popped a grid with the main line straight through the middle. It felt like home. I zoomed my map in a little. To remove the outskirts. Played around with different colours and styles and finally selected my own style.
Added to the basket.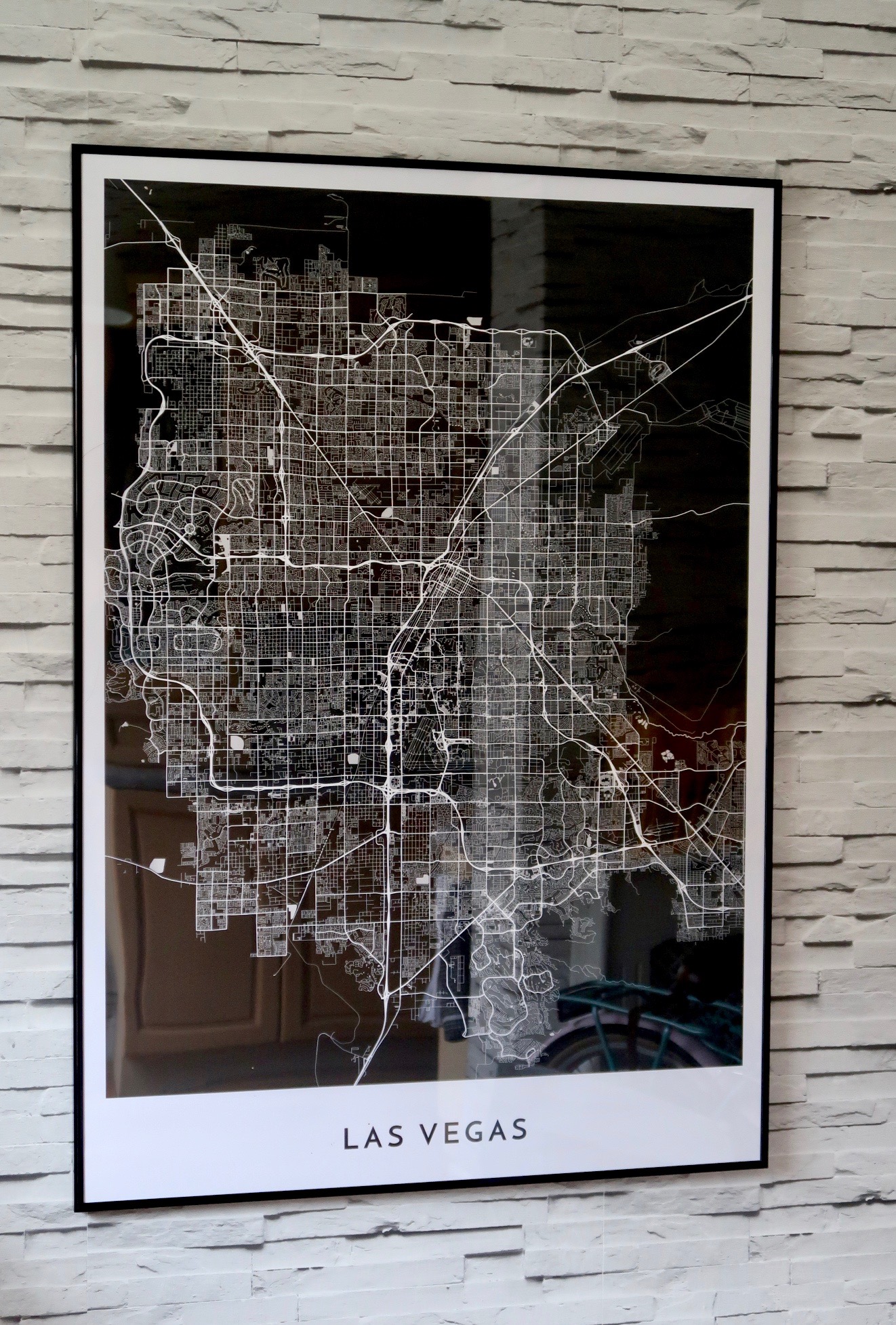 My heart
Next up. Again it was somewhere I'd not have to think about. If you've ever met anybody from Newcastle you'll know the passion for our city they have. If you've ever met anybody who's been to University in Newcastle, you'll know they'll have never moved back home. And of course, there's no bigger accolade to these people than being honoured as an honorary Geordie.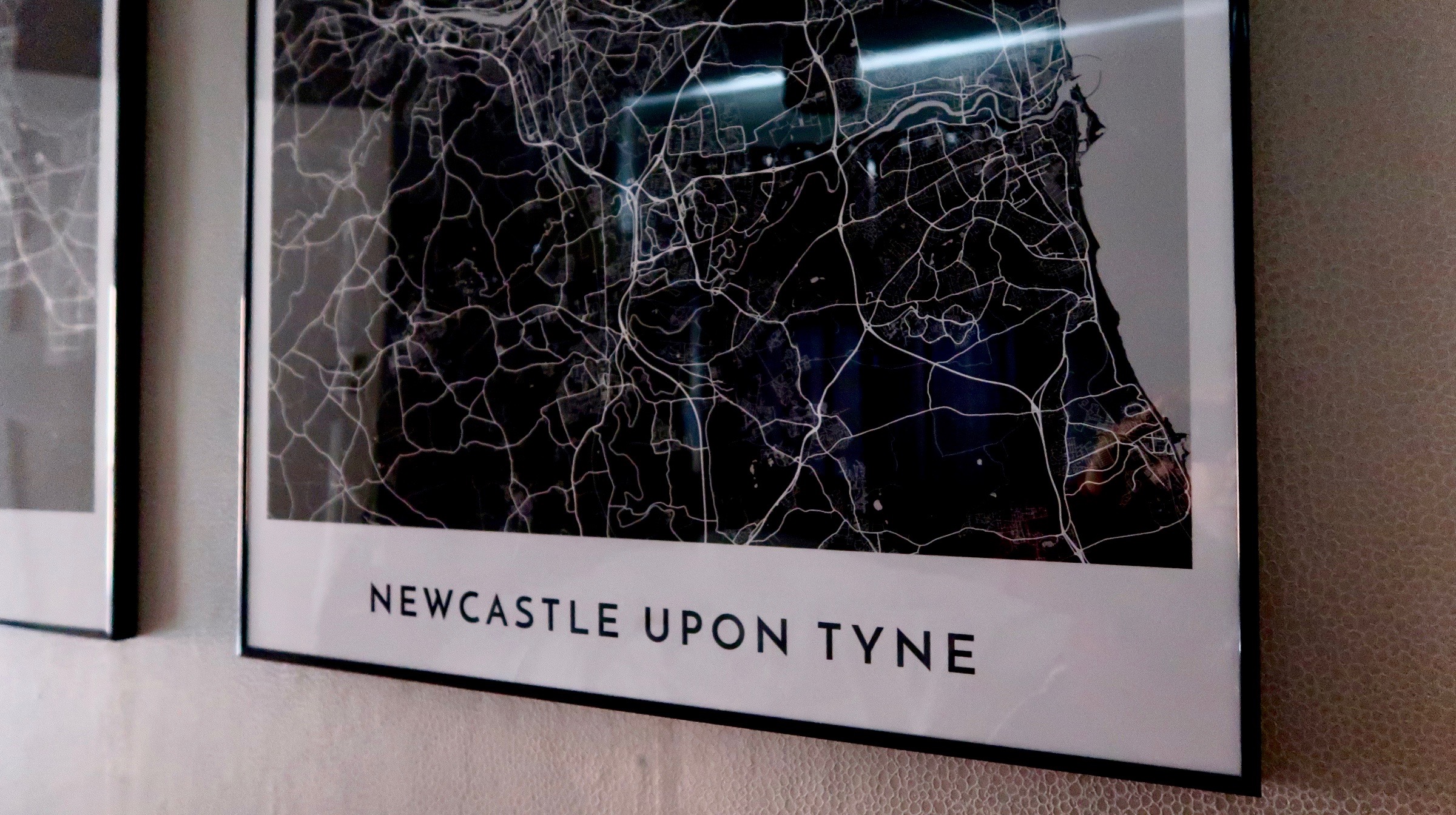 Newcastle always has and will always have my heart. It's my home.
"To Rockaway Rockaway from Cullercoats and Whitley Bay out to Rockaway." – Dire Straights, Tunnel of Love.
If you've ever listened to Tunnel of Love, and let's face it as a 20-something, why would I right? Wrong. Dire Straights are rooted deeply into our heritage here, in Whitley Bay. Vera, filmed on Whitley Bay Beach. The Great North Run. Yup here.  The Angel of the North. Yup here. Newcastle United, Byker Grove, Ant & Dec, Alan Shearer, Gazza, Sir Bobby, Cheryl whatever-she's-now-known-as Tweedy. Auf Wiedersehen Pet. Brown Ale. 24-hour Greggs. Yup 24-hour Greggs you read that correctly. Also Greggs Outlets, bouncers at Greggs and Greggs Cafes. Let's not get too excited, they're real people. Get Carter. A bunch of words but all 100% summing Newcastle up. Jimmi Hendrix was discovered by a Geordie in NYC and brought him to Newcastle, so thank us for his music. Okay? Lucozade. You know that great sports drink? Yup, invented in a small pharmacy in Newcastle and originally called Glucosade.
1908, Gladstone Adams dreamt up the windscreen wiper when he was on the way home from a Newcastle United Cup Final….
First inner-city railway. Thanks to Sir George Stephenson, a Geordie for that.
Catherine Cookson. A sand dancer (somebody from South Shields), you better believe it. There's something in the water.
THREE TREBLES FOR A FIVER!!!!
Just forgive me while I take a minute to be proud of where I've come from.
Anyways, Newcastle and Vegas, Newcastle and Vegas. I designed my prints to fit my decor and checked out. Within less than a week my personalised prints had been delivered.
Framing prints
Now listen, if you're going to order a 70cm by 100cm print, realise that those sized frames are not readily available from a generic Scandinavian store. I ordered the following frames from Amazon and they are gorgeous although question? Why do we no longer have glass in frames and stupid 'plexiglass'?
[amazon_link asins='B00DS6990A' template='ProductCarousel' store='serenhomeinte-21′ marketplace='UK' link_id='43c04eaf-c40f-11e8-8a60-a5527b89e78f']
Framed and styled I have fallen in love with Alvar Carto and the service they offer. Sure you can get generic prints elsewhere but what about prints that are personalised to you. Your special place? The prints are an amazing quality and are really striking in any decor. I kept mine with a monochrome look so that they can be the feature of my room.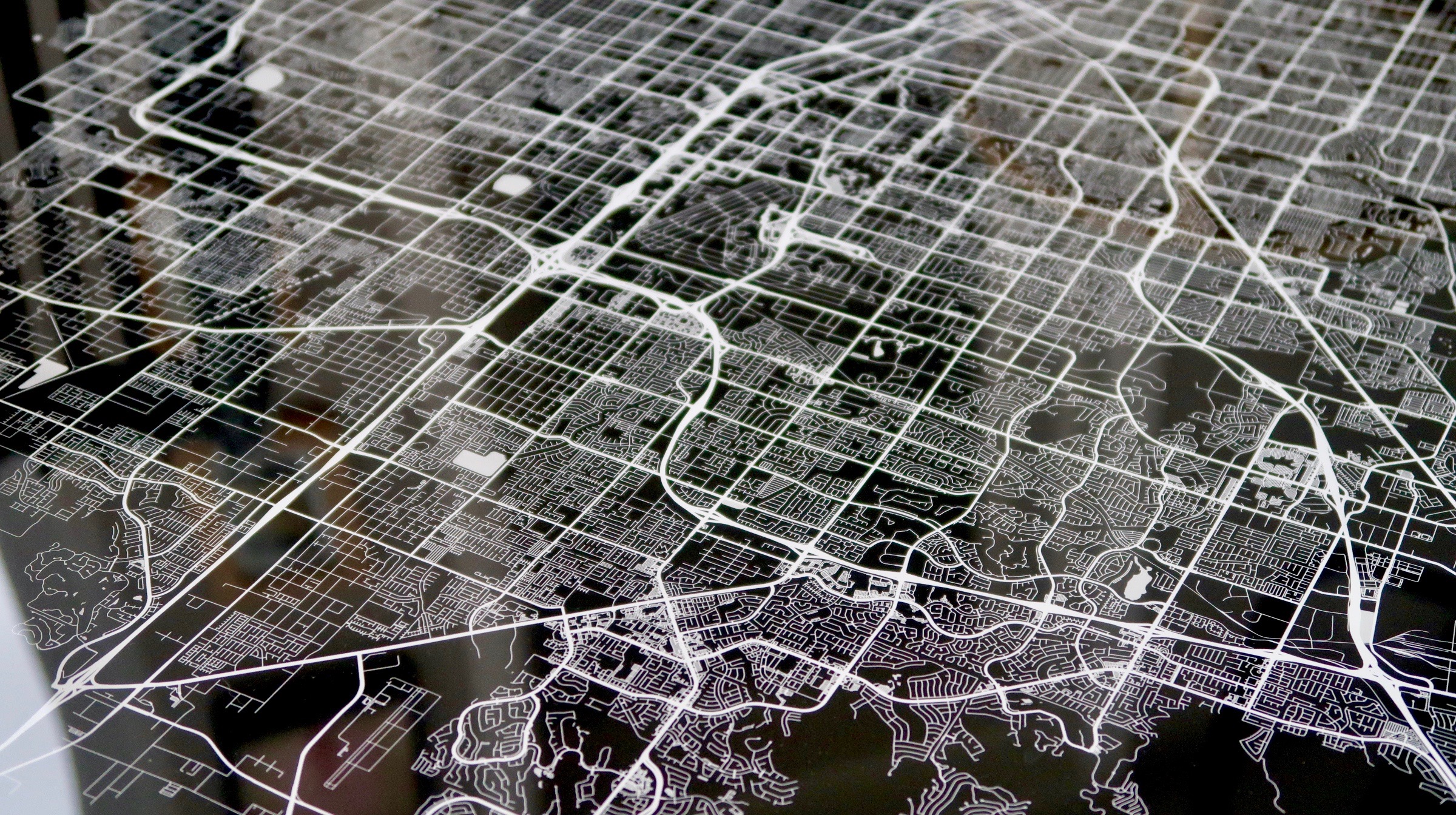 They really make me smile whenever I look at them. So now you're wondering how you can get your hands on an Alvar Carto print, aren't you?
Giveaway
To enter the competition to win a print of your choice for you and a friend it's super simple. All you need to do is click on the Instagram post below, open it up. Make sure you're following both my Instagram @laurajdawson26 and Alvar Carto's Instagram and tag your friend who you want to share the prize with – do tell me which destination you'd pick too! You can enter as many times as you wish and the competition closes Friday 19th October 2018.
Good luck boo!           View this post on Instagram                  
? GIVEAWAY ? I've teamed up with the AMAZING @alvarcarto to help you tell your story through a print of a place that is special to you. We're giving you the chance for you and a friend to win a print each values at €69. Entry is simple; 1) Make sure you're following ME – @laurajdawson26 2) Then make sure you're following @alvarcarto 3) Tag a friend who you'd like to win a print too – why not tell me which print you'd choose too? You can enter as many times as you wish in separate comments. Competition ends 19/10/18 at 6:30 GMT. No cash alternative. Not endorsed by Instagram. #elleblonde #alvarcarto #giveaway #competition #prize #freebies #prints #mapprint #cartography #home #homeinterior #homedecor #homedesign
A post shared by Laura Dawson (@laurajdawson26) on Oct 15, 2018 at 5:30am PDT
Disclaimer: These items were provided complimentary, all views are our own. Read more about disclosure here.