Santa Stop Here: Carbs To Fuel Your Christmas At The Laundrette
[NOW CLOSED] December is a time for too many cocktails and a carb overload. It's service as usual at The Laundrette though, all be it with a little twist. With a Christmas menu of dreams, you'll certainly want to head along for your helping to one of the three locations this festive period in Newcastle, Manchester and the flagship location Chorlton.
I visited The Laundrette when it opened in October and have consequently been back a few times since this girl loves her carbs! You can check my full round-up here.
With a Christmas menu designed for ease, you can enjoy a three-course dinner meal for £28. A two-course lunch will cost you £23 and a three-course lunch menu is priced at £25.
For starters select from the following;
Wild boar meatballs in spiced tomato sauce topped with Grada pandora and fried sage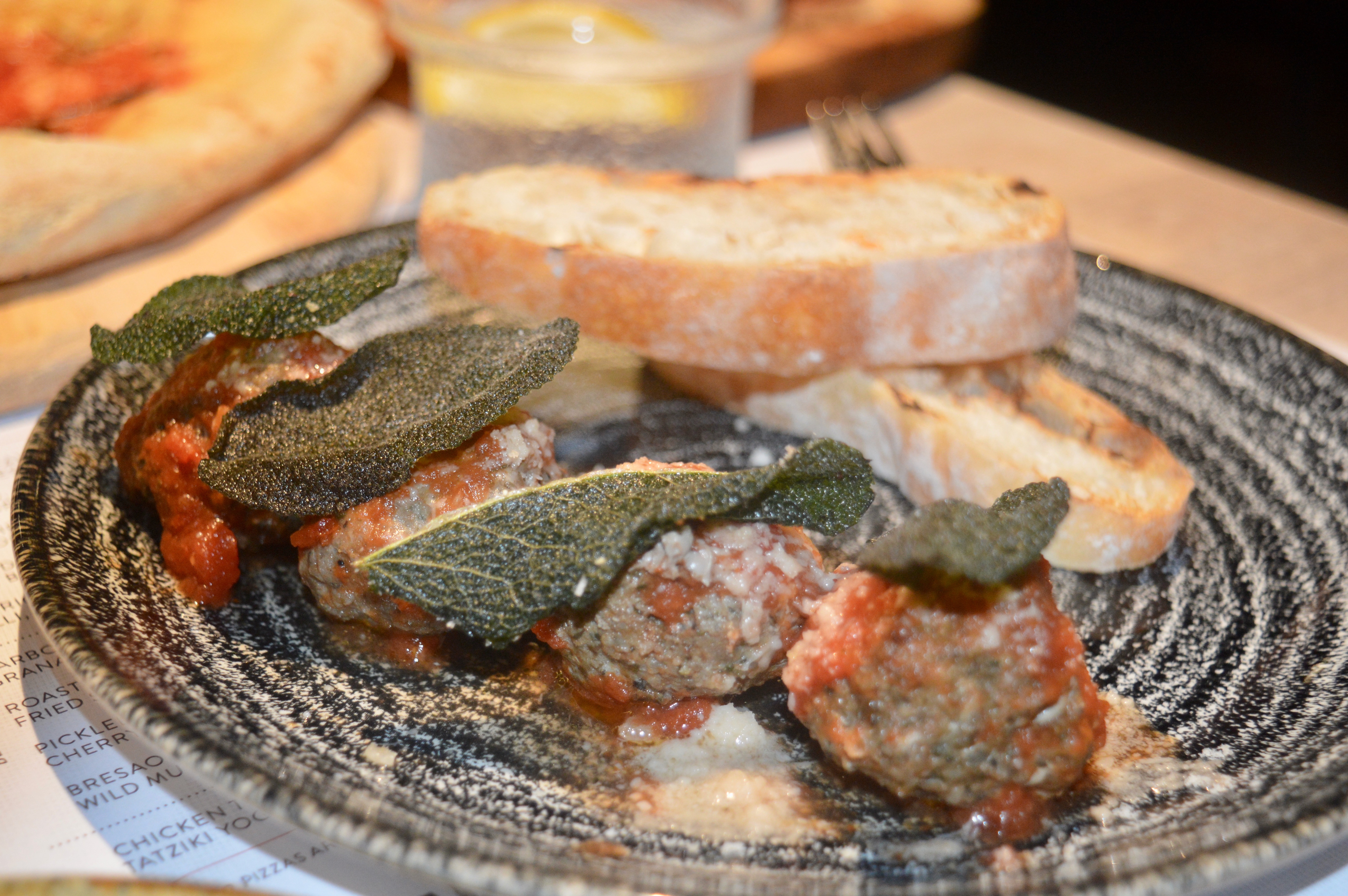 Potted Bloody Mary prawn cocktail with pickled cucumber and crostini
Other Newcastle restaurants that you might also enjoy;
River Beat: Award Winning Food on the Tyne
Soul Sundays: Revolution Newcastle
Smashburger arrives in Newcastle and is an immediate smash hit
Dough balls served with a dipping smoked truffle cheese fondue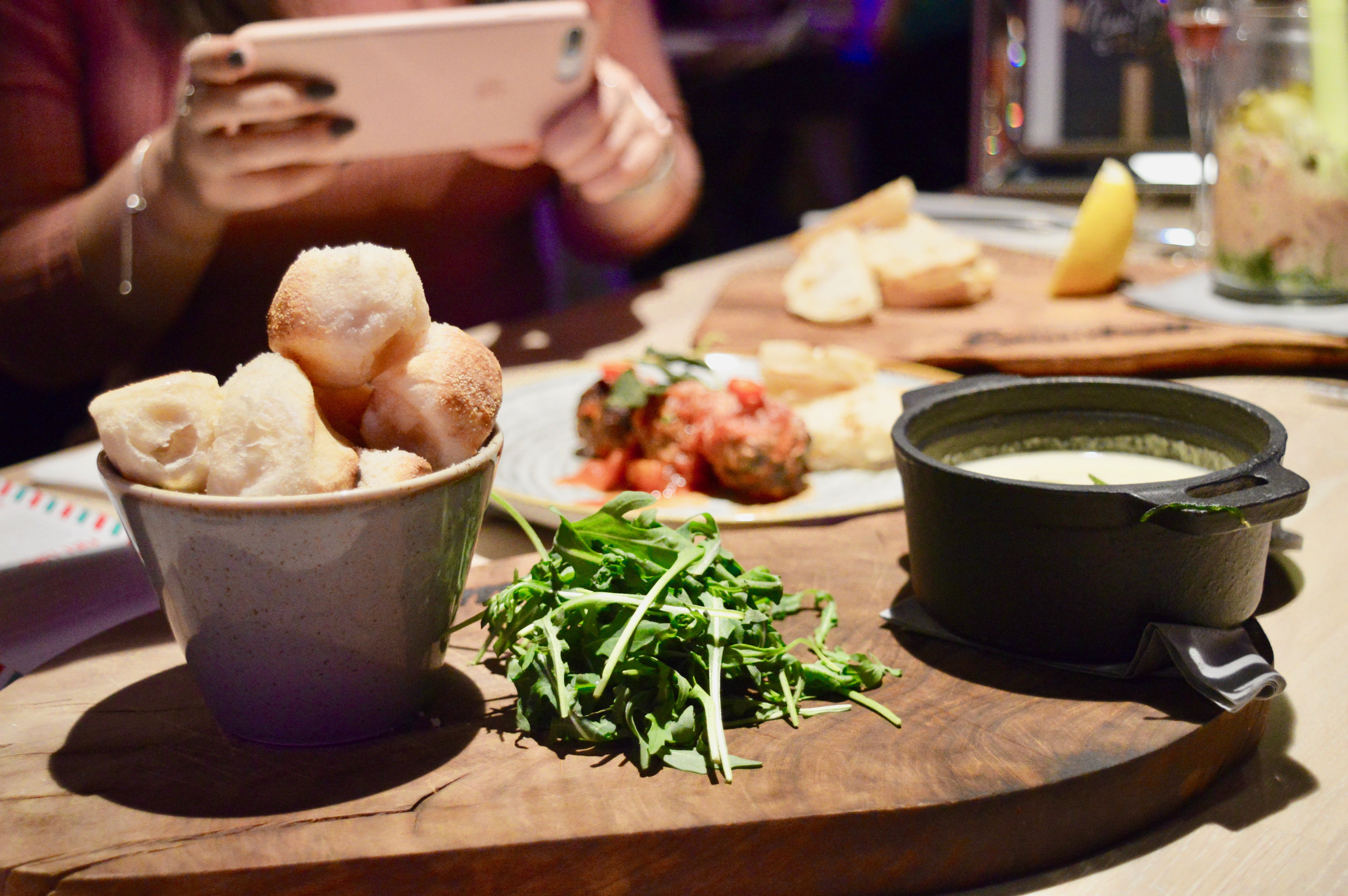 Buffalo mozzarella Caprese salad with a pickled walnut vinaigrette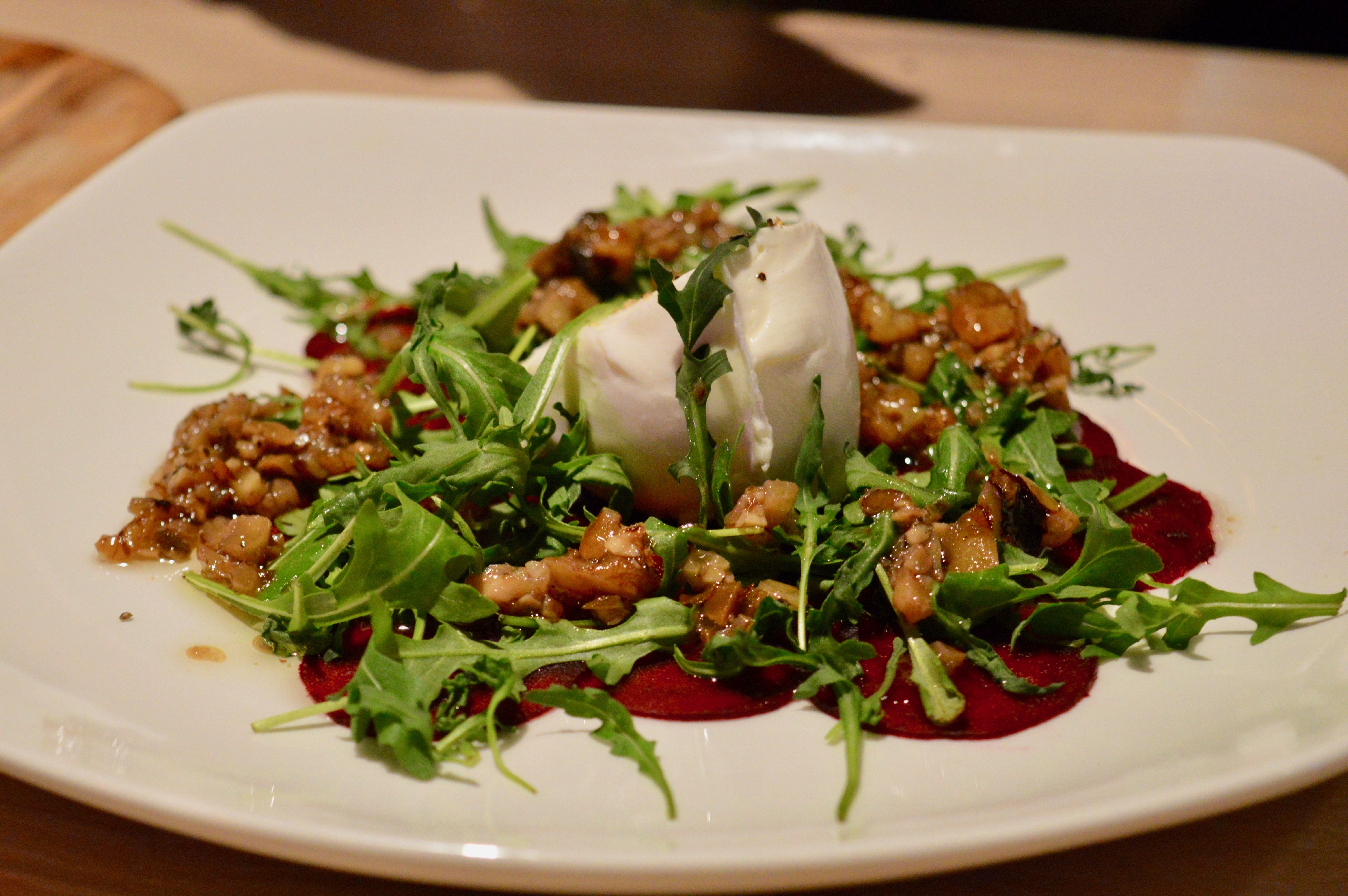 Chicken liver pate, cranberry marmalade and crostini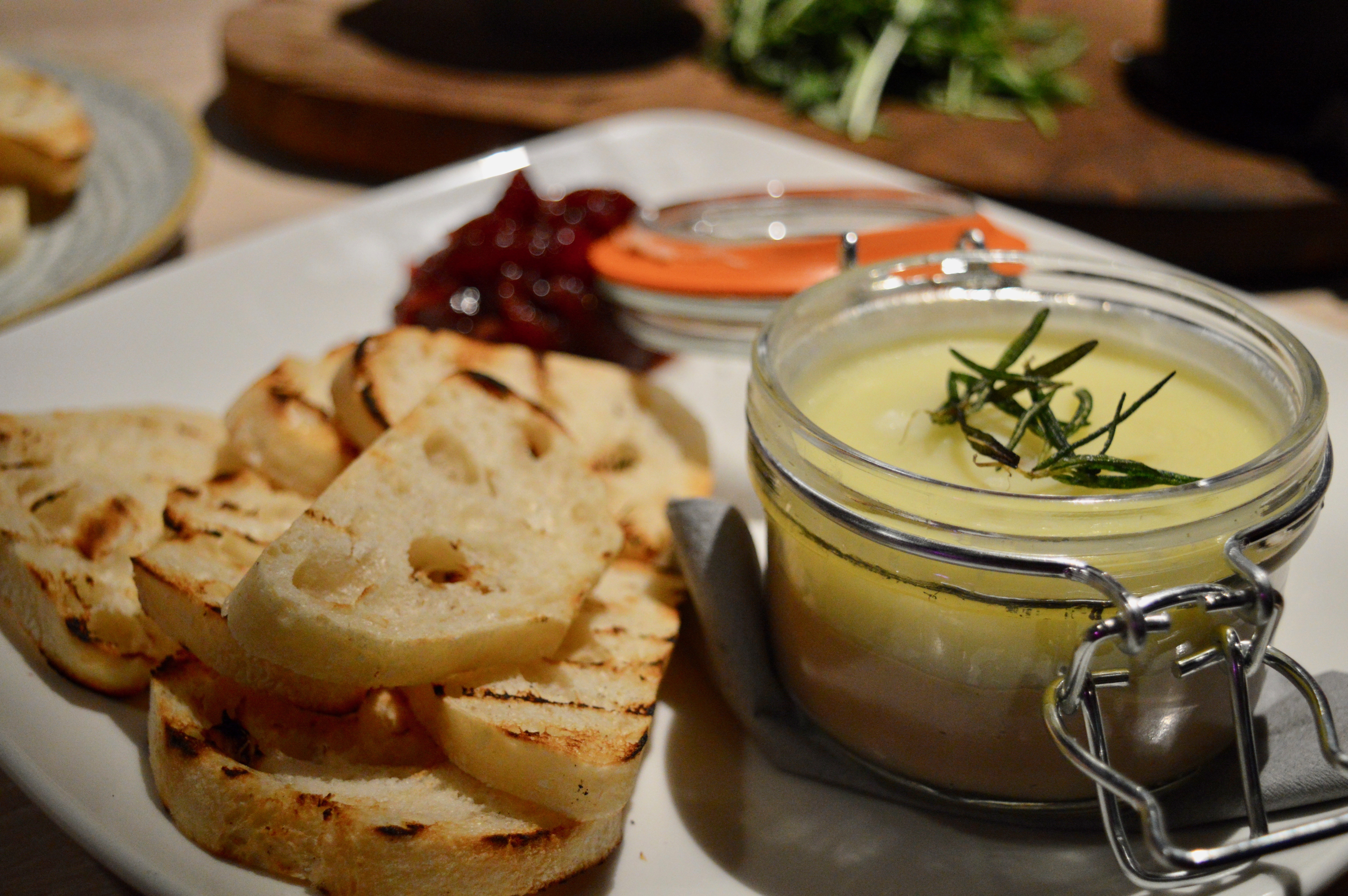 Top choices: I've previously enjoyed the meatballs and this time they were just as delicious. They are really rich, however, so advisable if sharing to opt for this 'Small load'.
The dough balls are served piping hot and the fondue is the current talk of Newcastle, so it's not to be missed – I'd love the recipe for the fondue as it's seriously so good! So, so good!
Pizzas are The Laundrette's holy grail, you can choose from the following;
Polenta & paprika chicken, tomato salsa base, mozzarella, red bell peppers, guacamole, sour cream topped with fried tortilla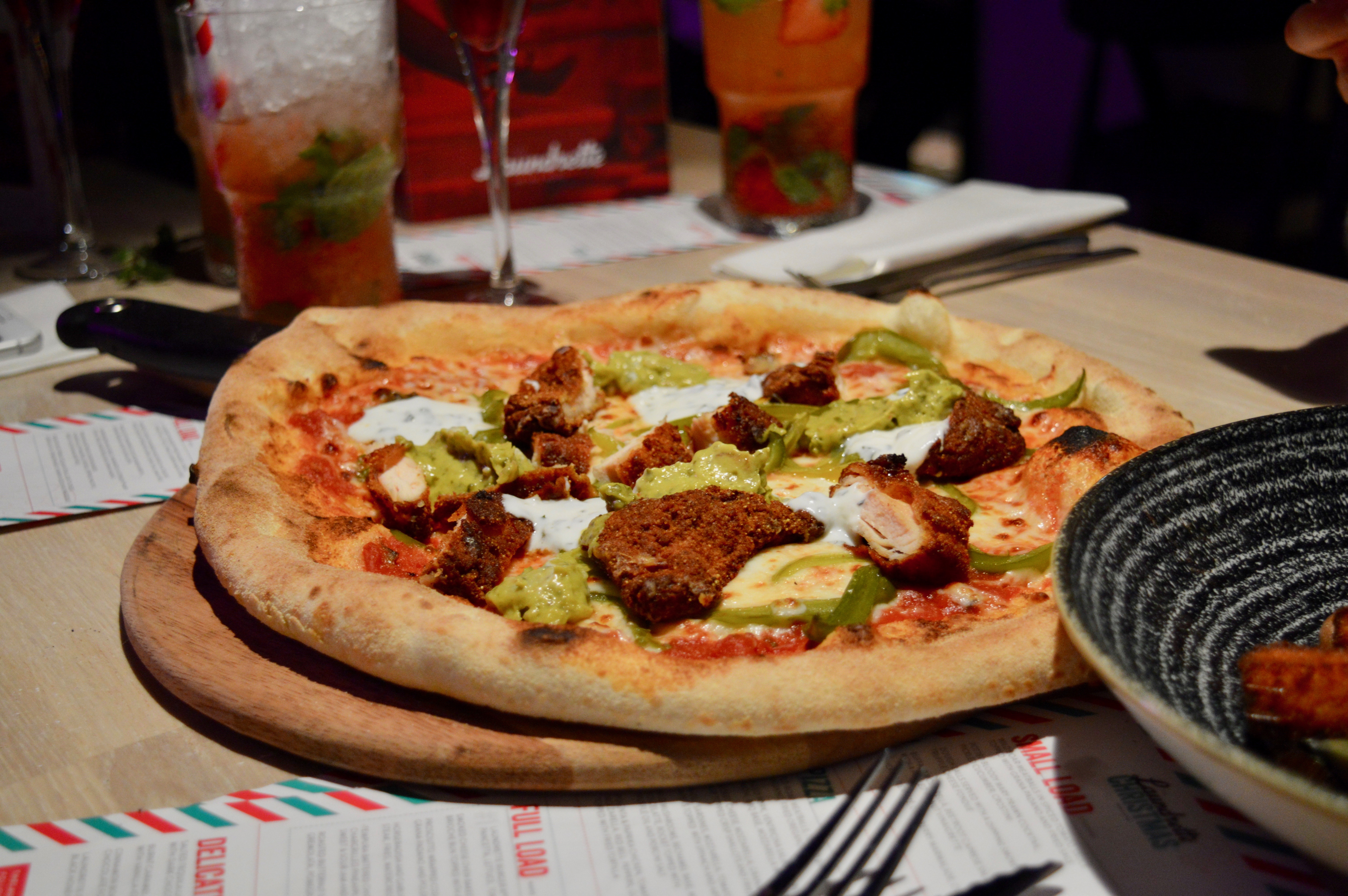 Pulled pork, Ventricina salami, pepperoni, caramelised onion, mozzarella with pork crackling on a BBQ base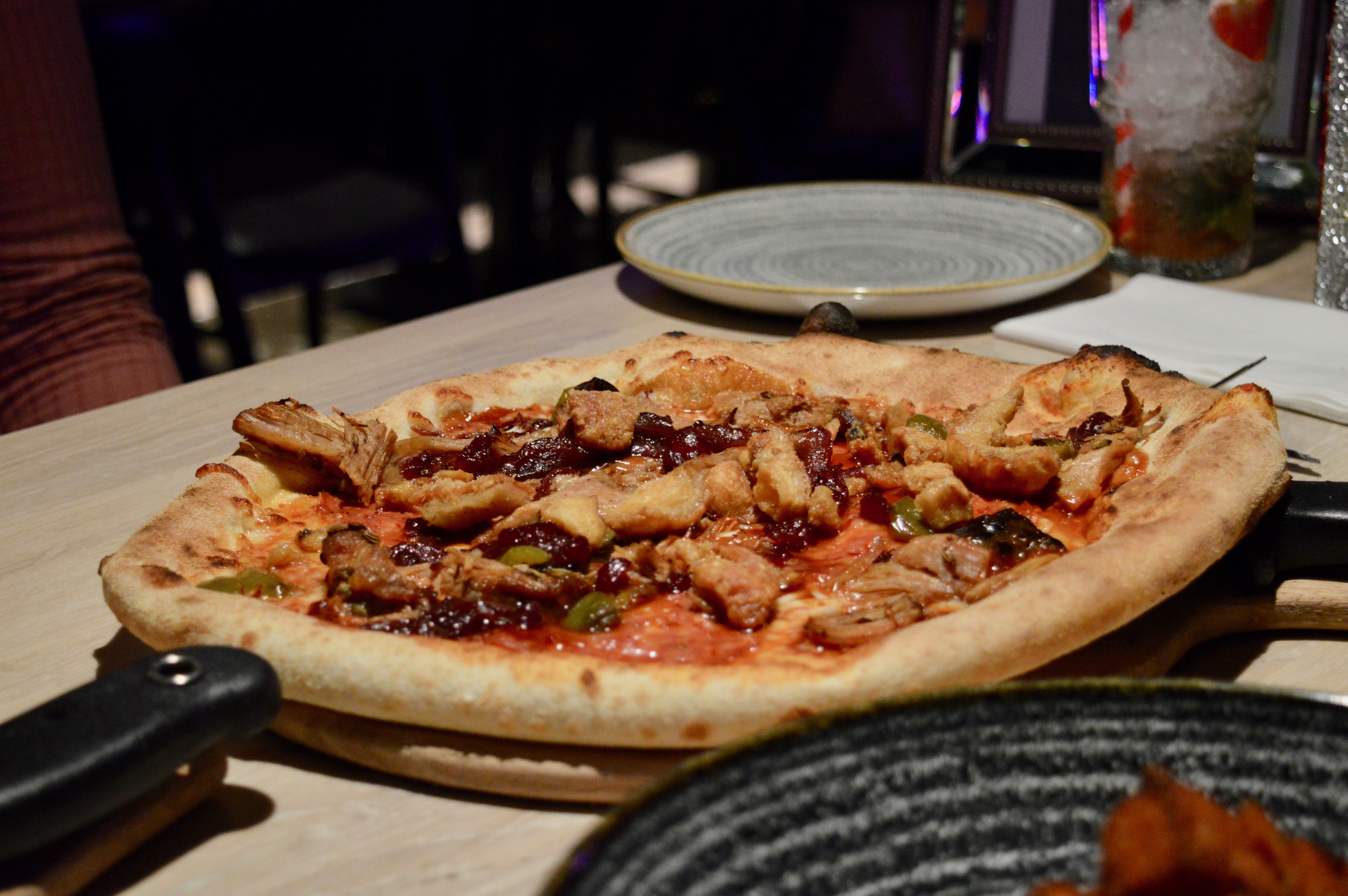 Whole sardines, mozzarella, tomato base, pinhead capers topped with spinach and artichoke tartare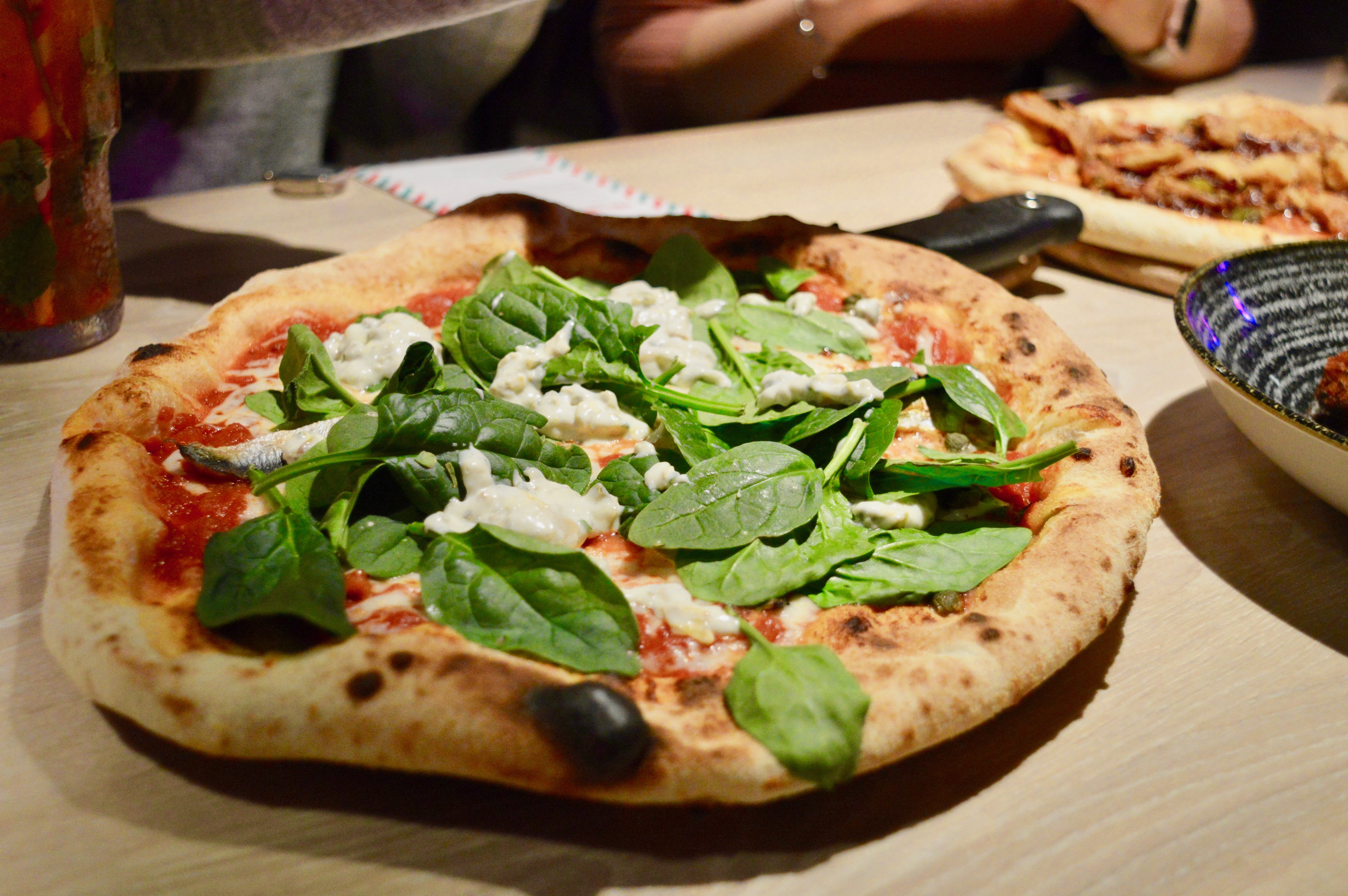 My choice: The polenta & paprika chicken is absolutely delicious. If you like Mexican cuisine this one is for you. The guacamole is absolutely delicious and makes for a great feast.
Why not order one of each between your party and share?
For the Full Loads (mains) you can select from the following;
#1 Laundrette burger 8 oz beef burger, served with cheese, pancetta, lettuce, tomato, gherkin mayo & fries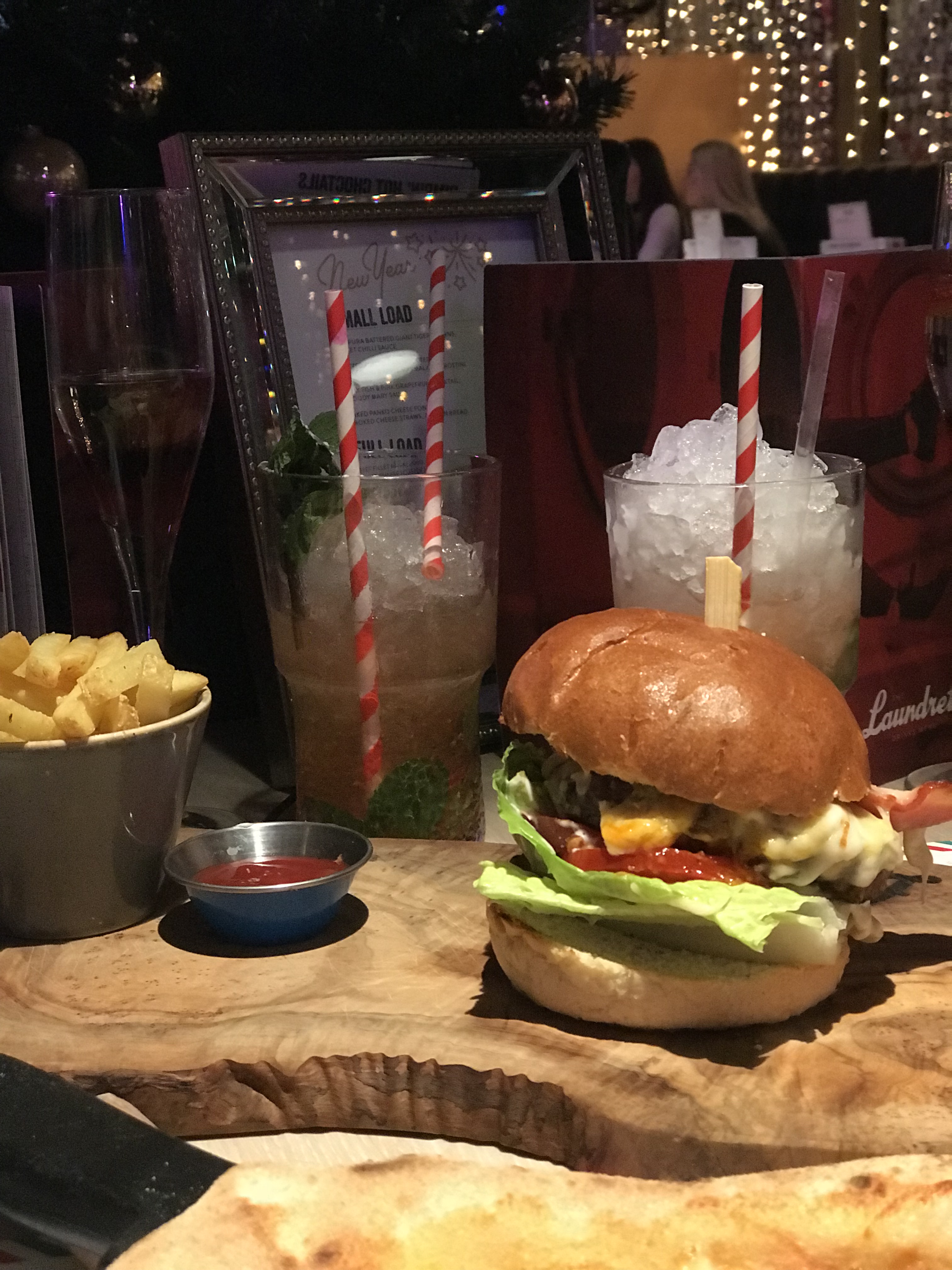 Smoked cheese oven baked served on a toasted brioche bun topped with apple slaw, chilli jam & fries
Prosciutto wrapped cod Tuscan bean broth, Grana Padano and polenta chips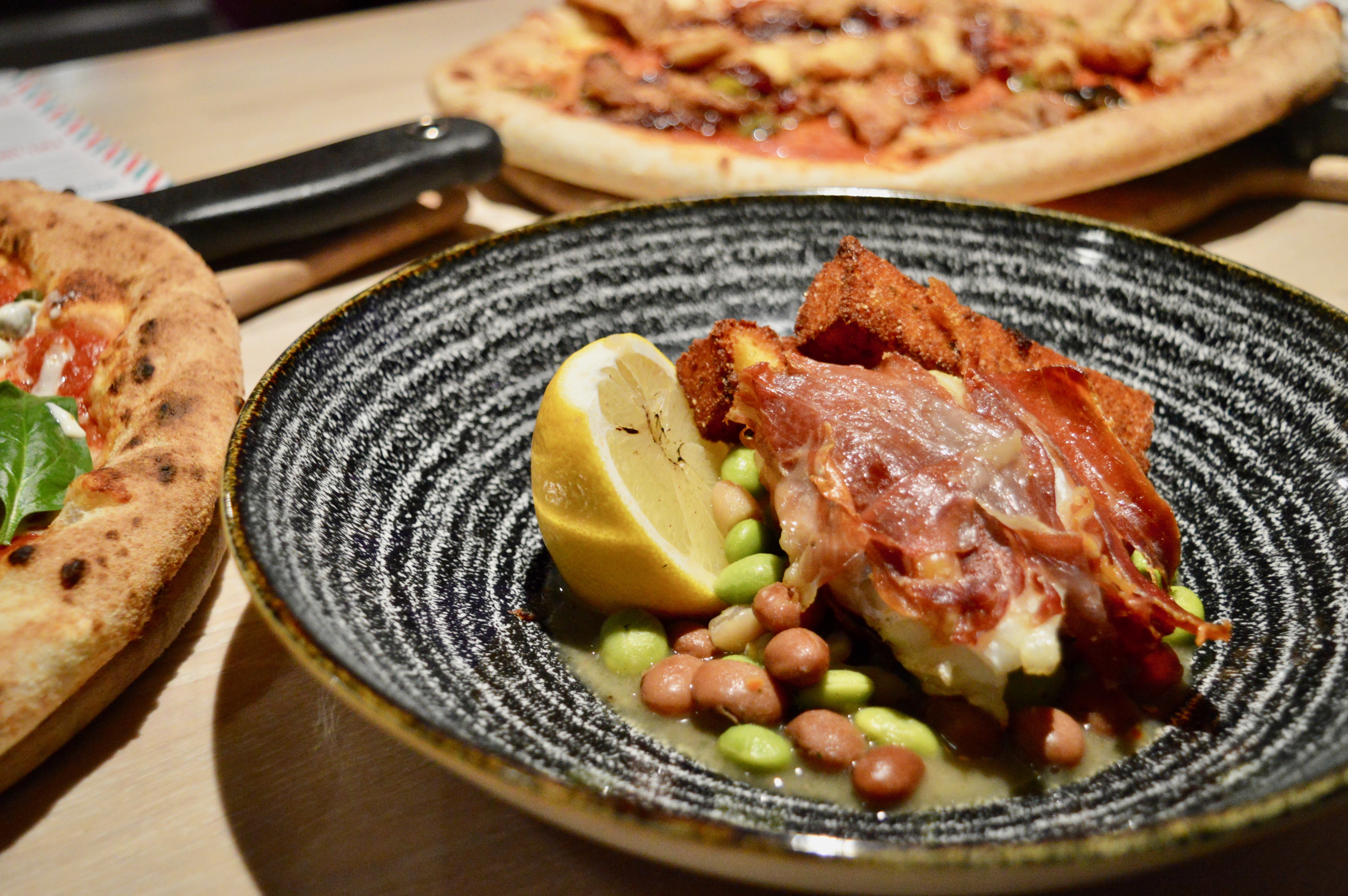 Horseradish and garlic marinated flattened 6 oz rump steak fries, watercress and Grana Padano
Tempura battered chicken burger chargrilled pineapple, red bell pepper, pak choi, sweet & sour jam and fries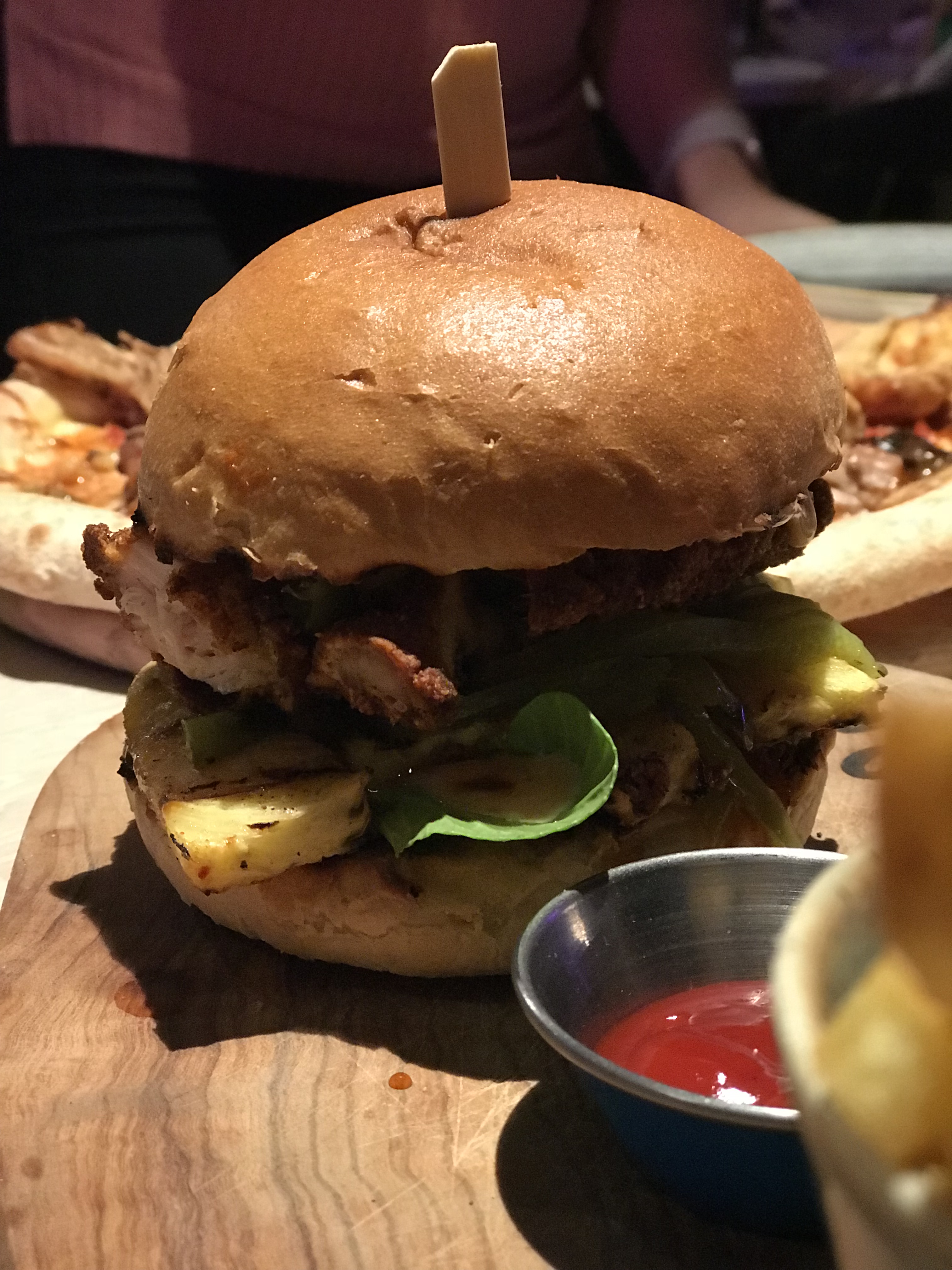 Roasted butternut squash steak, goat's cheese gremolata pomegranate, pumpkin seeds and watercress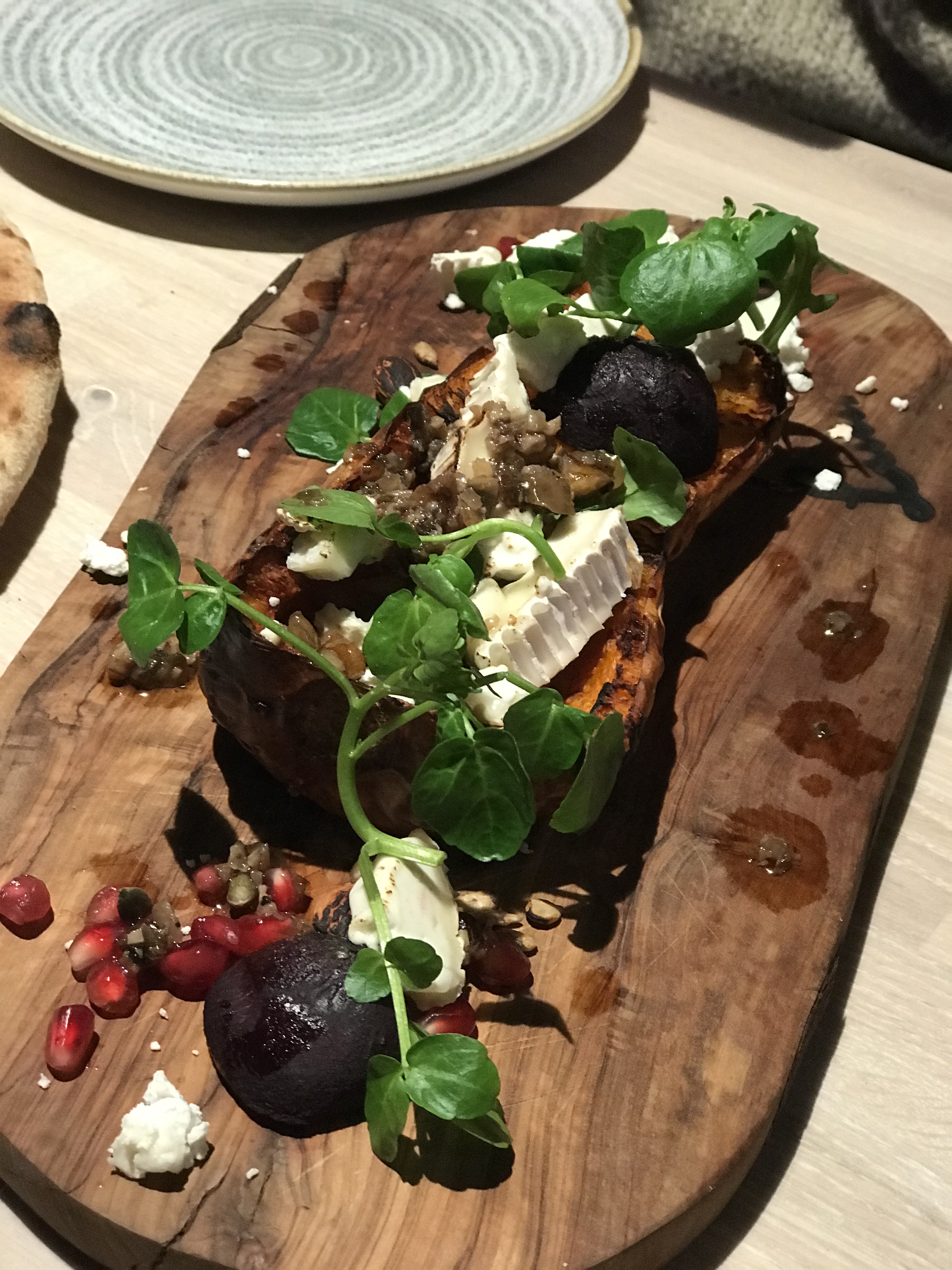 Full load selection: if you're a fan of a burger, The Laundrette are experts when it comes to rustling up the perfect burger. With prime cuts of meat, the #1 is the number one choice this festive season
Delicates, also known as the desserts (if you have room!)
Salted tequila lime cheesecake with dark chocolate whipped ganache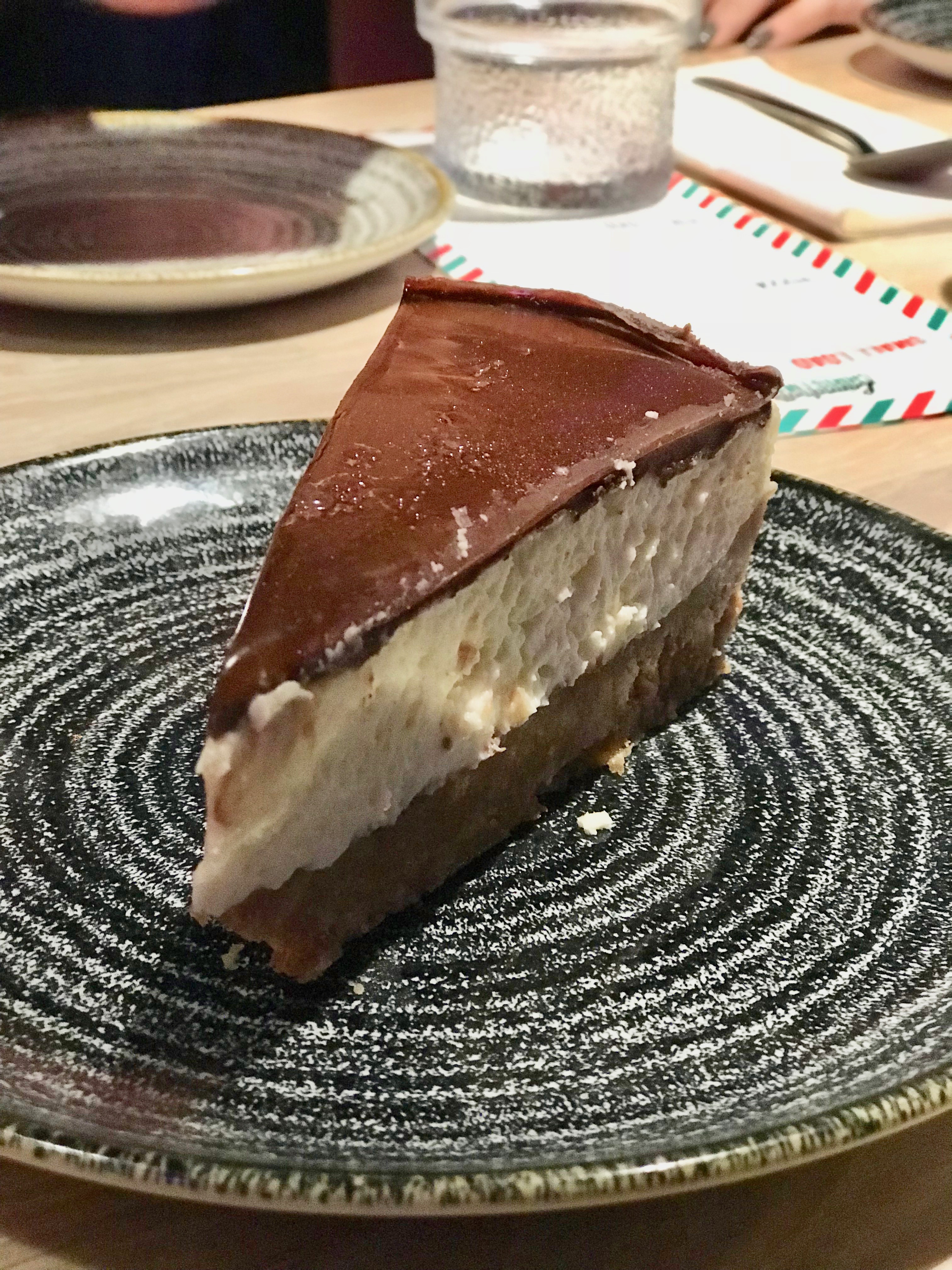 Burnt caramel apple and panko crumble with vanilla ice cream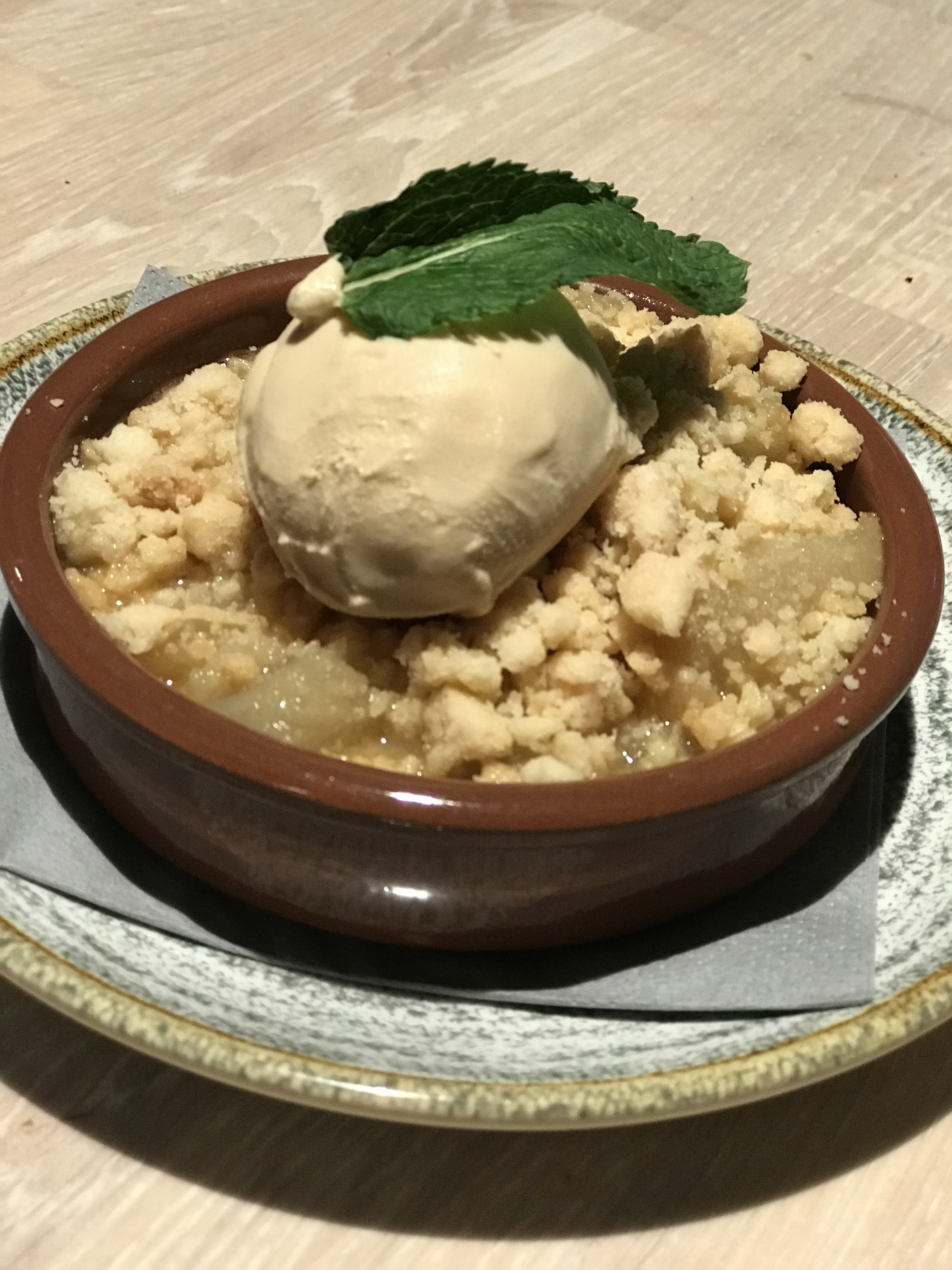 Cinnamon bombilini doughnut balls, chocolate fondue, whiskey cream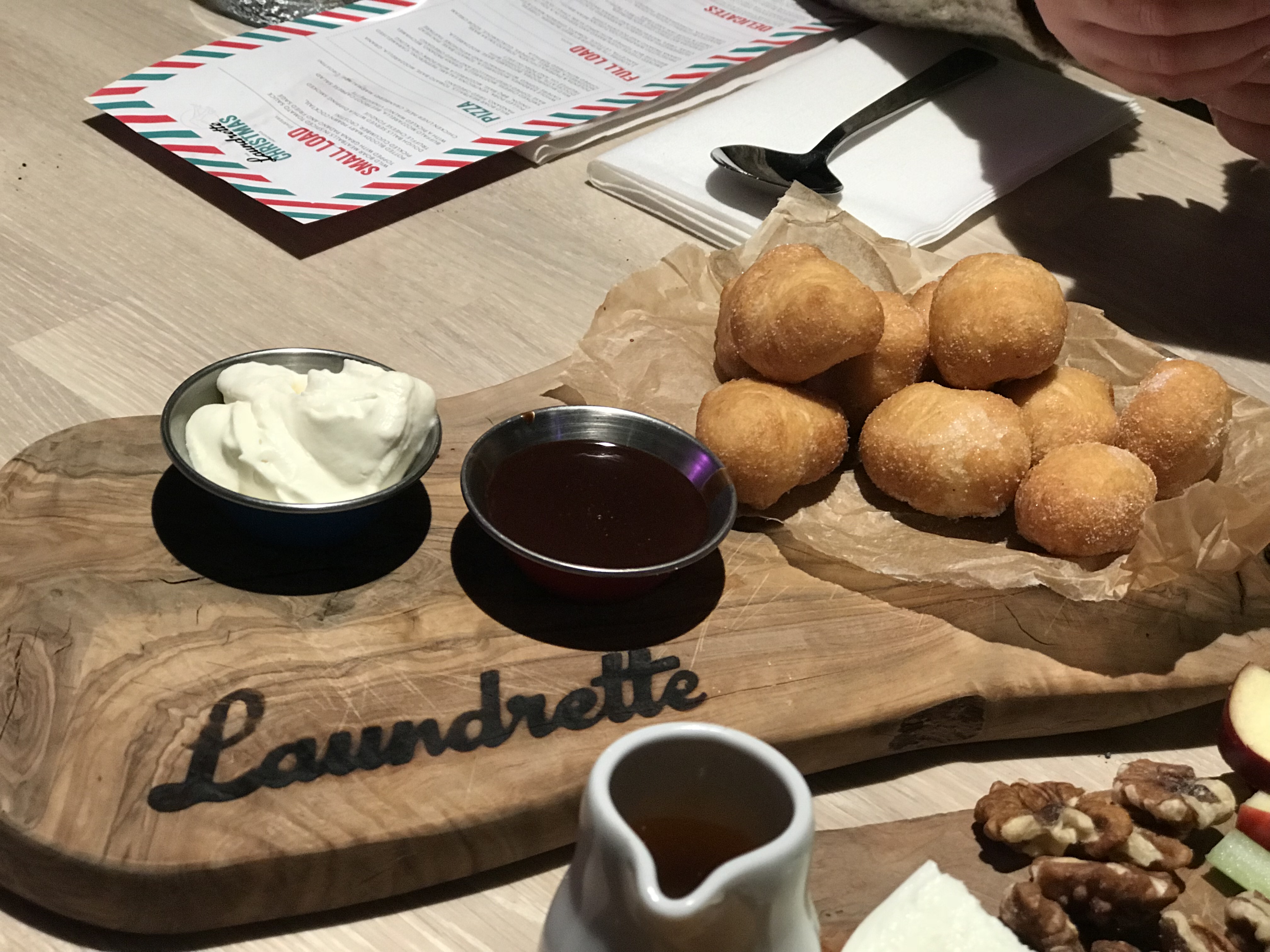 Laundrette cheese board water biscuits, black honey, walnuts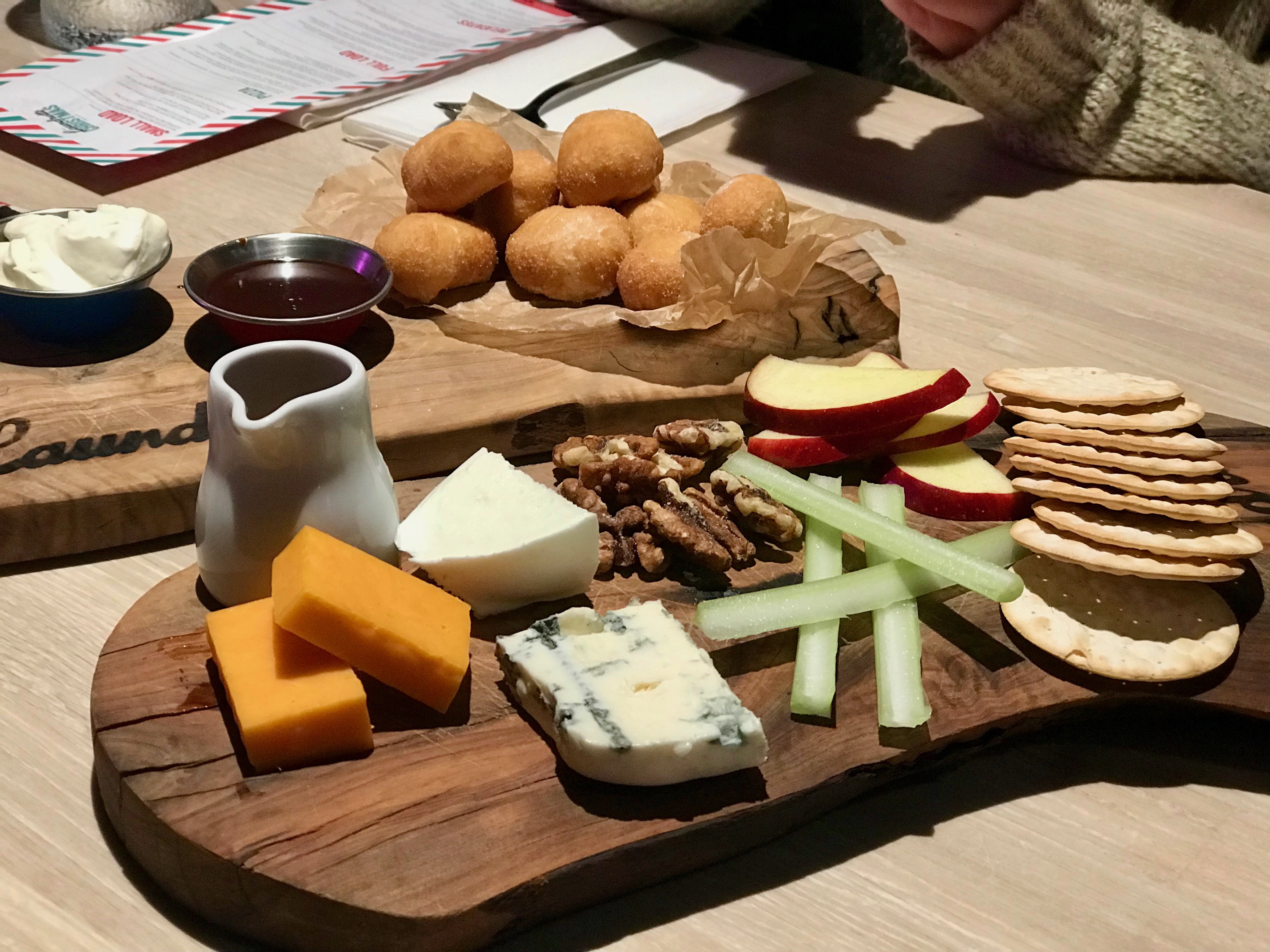 Top choices: The doughnut balls are literally to die for. They're served warm and coated in sugar for that true carb overload. The chocolate fondue really finishes these off and they're perfect for sharing.
As a savoury fiend and not a great lover of desserts I know a good cheese board when I see one. The Laundrette don't disappoint with theirs. A selection of three kinds of cheese, a blue, soft goats and an orange cheese is served with a generous accompaniment of honey, walnuts, celery, apple and biscuits. I highly recommend pairing your blue cheese with honey and walnuts for that decadent taste.
Now we've covered the carbs, for the holidays The Laundrette is adding a Christmas twist to their cocktail menus – highly recommend the Christmas MILF. Especially if you're a fan of a fruity cocktail.
Ring in New Year in style at The Laundrette
The Laundrette are running their Christmas menu from now until the 30th December. You can also book your New Year's Eve here where they're serving up a more refined menu for bringing in the New Year in some serious style!
The Laundrette are offering 25% off your whole bill if you book a table online.
Shop the cocktail flairing range like The Laundrette use below
[amazon_link asins='B075NKZYXB,B073S4SBJ1,B00YPOCOI8,B0756BG264,B073S4VYJ5′ template='ProductCarousel' store='serenhomeinte-21′ marketplace='UK' link_id='9ef6c71d-da93-11e7-a0f1-c914cd4a64d1′]
Pin me for later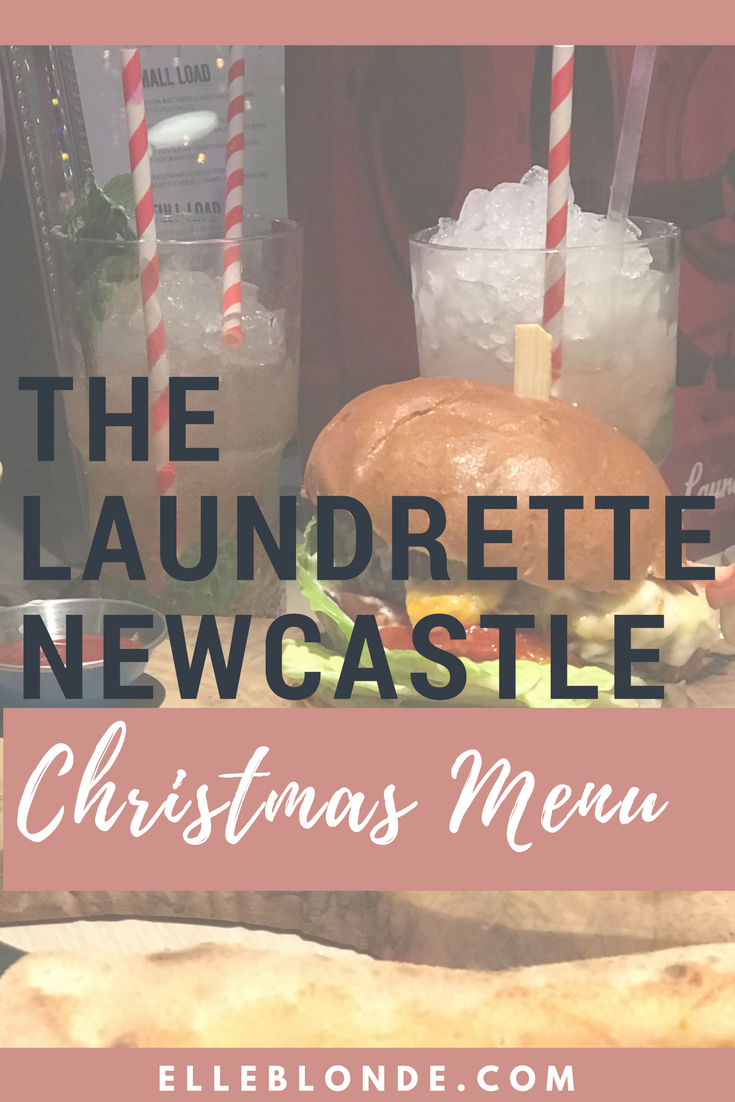 Disclaimer: This meal was provided complimentary, all views are our own. Read more about disclosure here.
Tagged:
Burgers
Carbs
Christmas Menu
Cocktails
food
New Menu
newcastle
Pizza
review
The Laundrette