The Palm is a quirky 5 venue destination located in Sunderland. It is ideal for the perfect night out all whilst staying in one place. With a selection of different restaurant, a bar and club as well as outside street food and entertainment, The Palm has your day or night covered. Visit with friends or enjoy a more intimate date night, there's something to eat and drink for everybody.
You may have already seen our previous visits to The Palm, if not you can discover them here:
This time, we headed to Liberty Brown the Steakhouse Kitchen & Cocktails which, if you don't know is the original destination that the site has been expanded from.
Without a doubt this is the busiest of the destinations inside The Palm, we were about to discover if it was because it's the most well known or for the food. We did notice however that Liberty Brown was a destination where there were a lot of larger groups celebrating birthdays. It was very child-friendly too, with an expansive menu.
Steakhouse Starters
Having perused the menu, which caters for gluten-free, and vegetarian diets we had decided upon the Pulled Pork Flatbread (£6.95) served with mozzarella, jalapenos, cheese and chipotle sauce. As well as the Grilled King Prawns (£8.95) which were accompanied by a pomegranate and chilli salad, avocado and mango.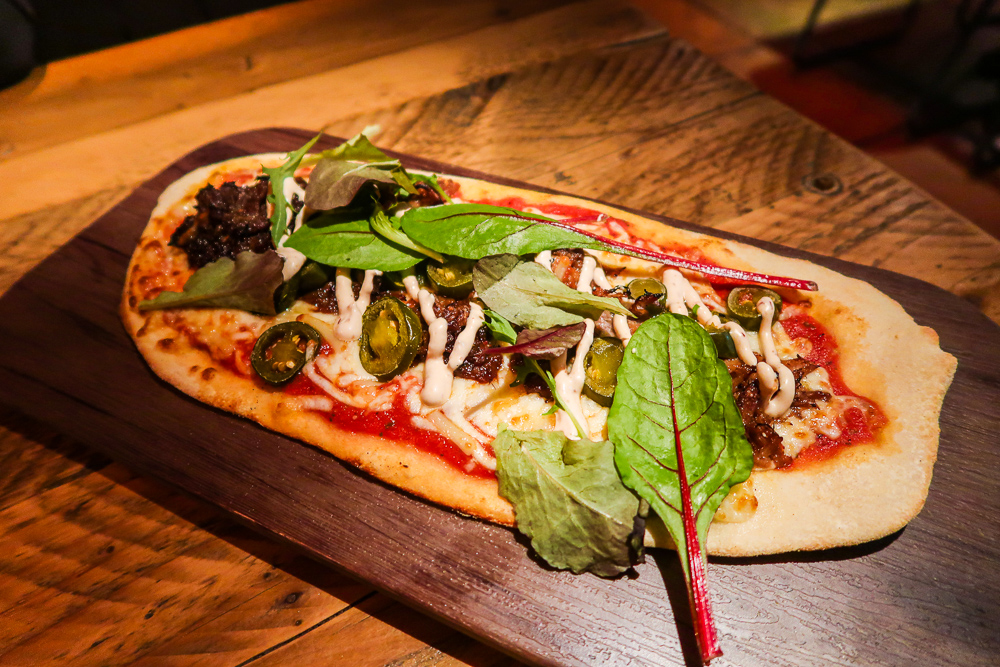 The flatbread was served on a perfectly thin base and cooked to perfection. With an abundance of toppings which were full of flavour including tender, melt in the mouth pulled pork, this was a great choice. Ideal for a sharing starter if you're looking for tapas style sharing as it is substantial.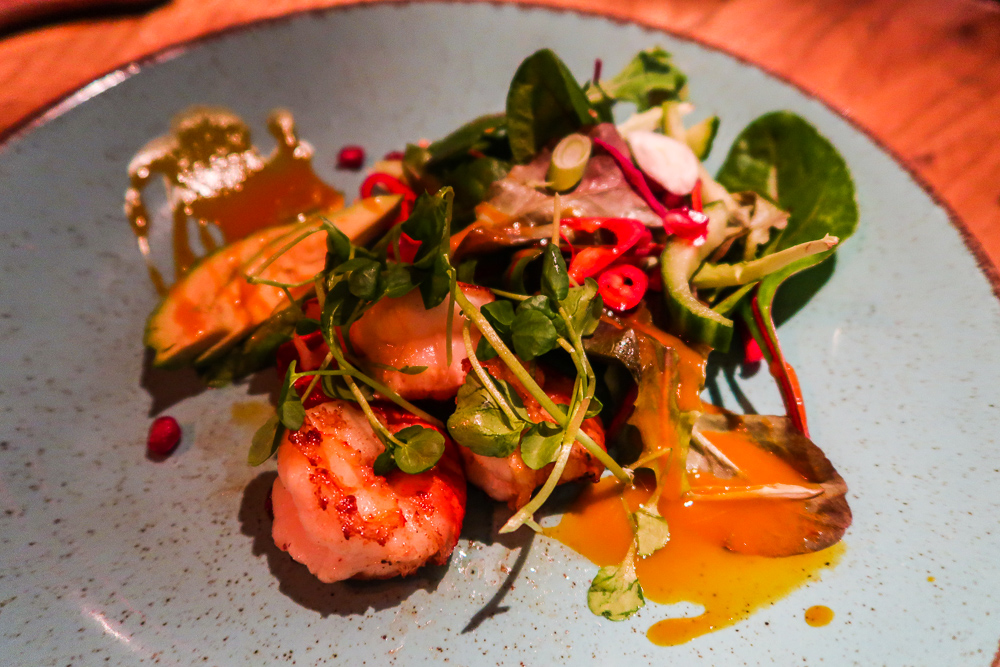 Similarly, the King Prawn salad is a good choice if you're being good and looking for something a little less calorific. The 3 meaty King Prawns were large with a fresh flavour which is always pleasant to see. The salad again was fresh and was generous with the avocado and pomegranate, which sometimes you find other places skimping on. The portion size was really good and I would certainly opt for this starter again.
Want to discover more restaurants in and around Newcastle City Centre? We've got you covered with our 'Ultimate Newcastle Food Guide'.

Meaty Mains
I love steak, since becoming a fully fledged carnivore after 20 years of being a vegetarian I fully embrace a steak whenever I can. Having enjoyed the Steak and Lobster from Wildernest a few weeks before I was eager to see how the steaks at Liberty Brown compared. Always opting for a fillet (unless hanger steak is on the table) I selected the 8oz Fillet (£25.50) with beef dripping gravy and a side of Mac 'n' Cheese (£3.95). We also had the Spicy Philly Steak Burger (£14.95).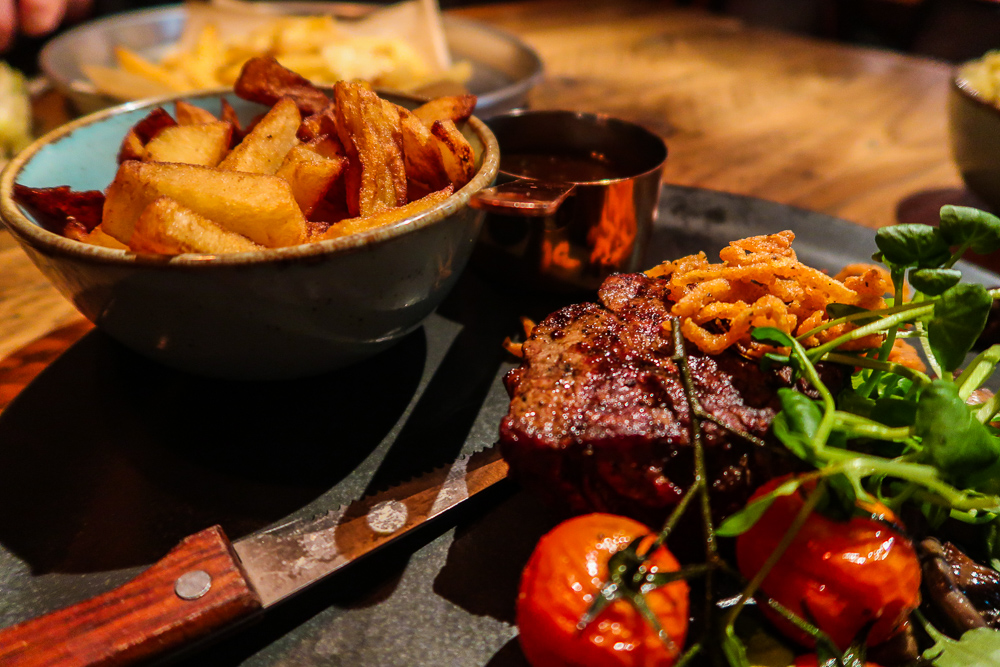 The steak was served with beef dripping chips, crispy salt and pepper onion strings, mushrooms and vine tomatoes. The chips were amazing, they're like proper old fashioned homemade chips and were totally delicious. The steak was cooked medium and the cut of meat was really divine. In fact, for the cut, I found the price of the steak really reasonable.
However, my only criticism was the beef dripping gravy, only in so much as it was totally different to the gravy at Wildernest and contained rosemary randomly and this totally spoilt the gravy for me. It was, however, nice to see that the steaks although the same on both the Wildernest menu and Liberty Brown menus, were served with an individual twist.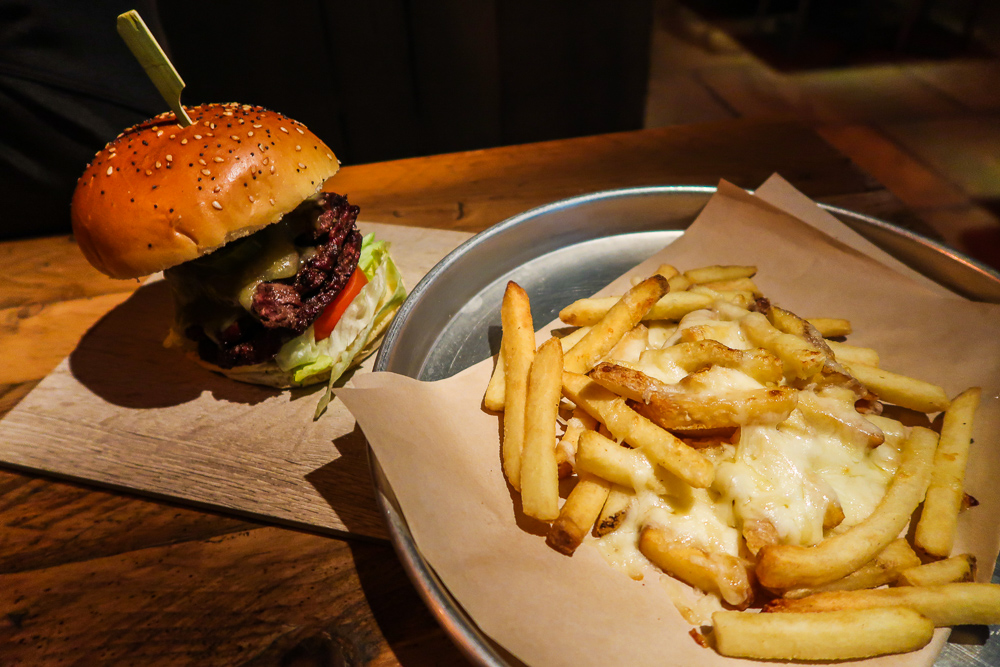 The Spicy Philly Steak Burger was served with an upgrade of Cheesy Chips (£1.50). However, we did both comment that this wasn't a good value upgrade and the chips weren't as good as the beef dripping ones, nor were they as good as the chips served the other week from Wildernest. The burger, however, was full of flavour and packed full, with tender beef patties that were exceptionally tasty. In terms of Liberty Brown's burgers, they are an ideal choice if you fancy something meaty without choosing a steak.
Gluttony
Finally, desserts. The desserts appear to be the same throughout the whole of The Palm. We opted for the Honeycomb Cheesecake (£5.95) and the Salted Caramel Brownie (£5.95).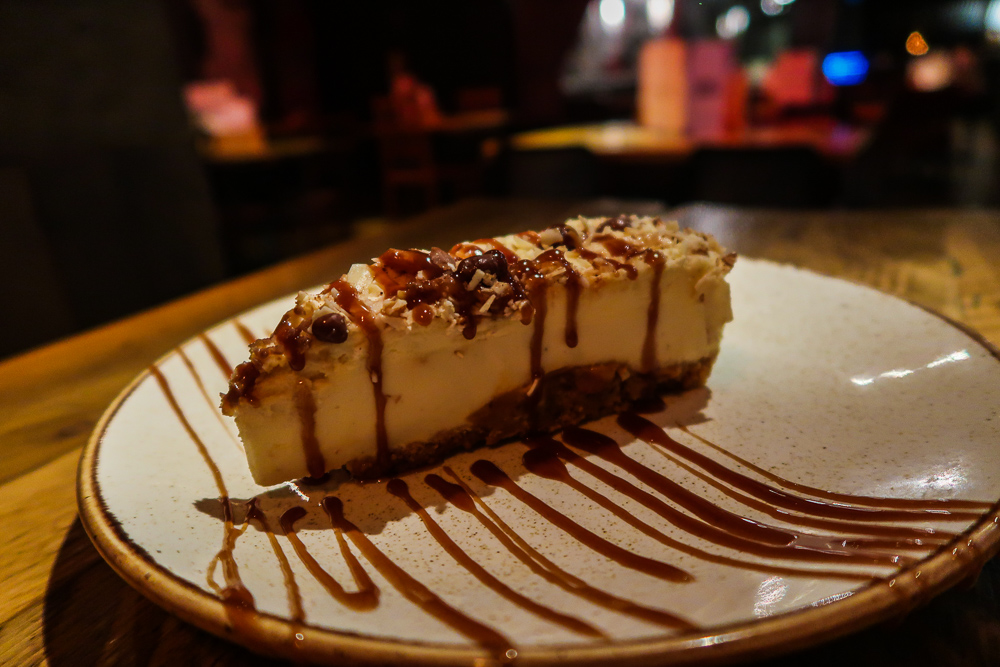 Meanwhile the cheesecake, served simply was a huge slice and had a delicious biscuit base, the cheesecake itself was light and fluffy and packed full of honeycomb. It was very American and we both decided that it would fit in perfectly in the USA. We did both prefer the brownie though, served with lashings of caramel sauce and a huge scoop of ice cream this was right up our street and a dessert we'd both have again.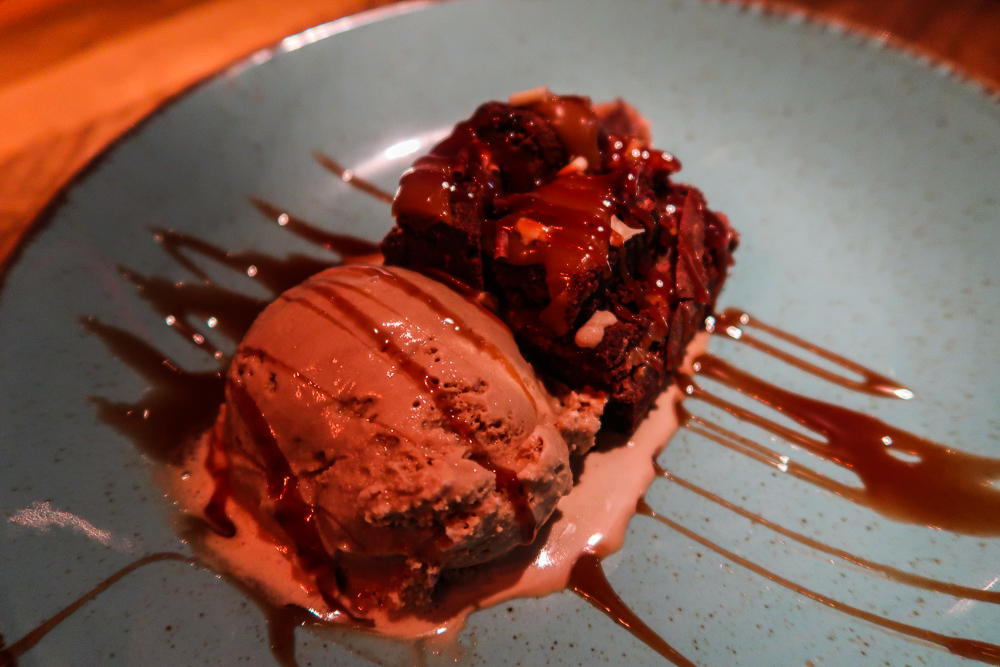 Above all, in conclusion, Liberty Brown is a really nice destination in terms of rustic, American style decor and a really great atmosphere as it's busy and the busy tables around create a welcoming vibe. Most importantly the staff are really attentive and super friendly and the food is really good. It's somewhere we certainly will be back to again in the future.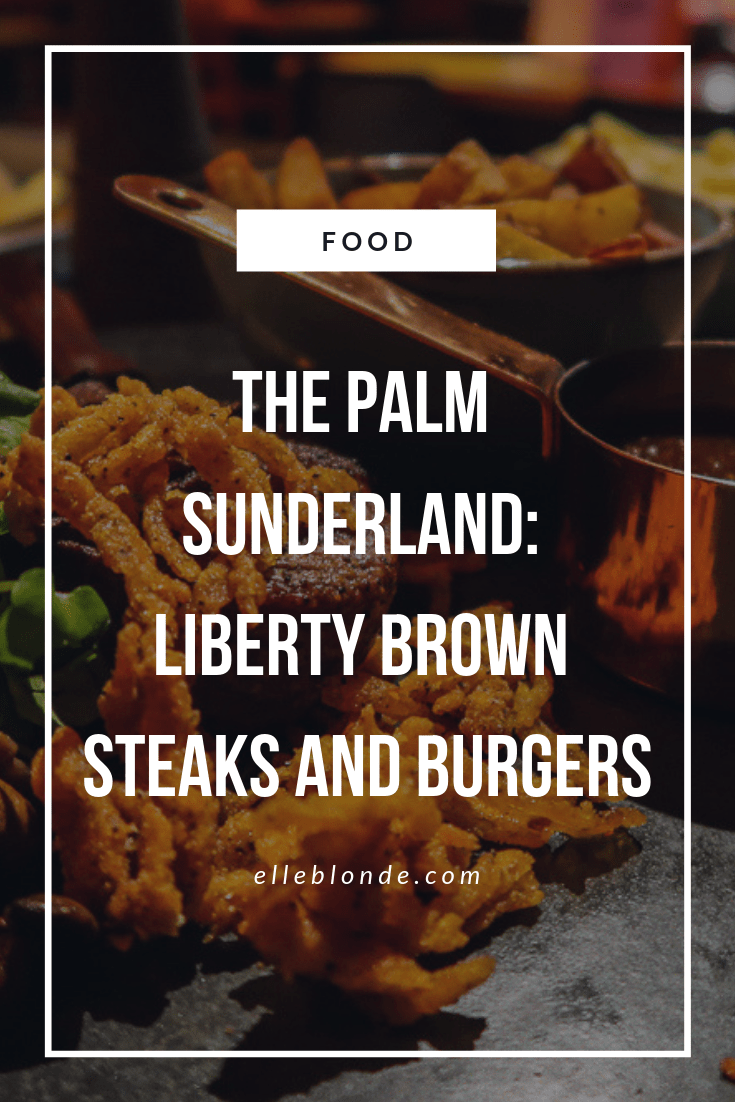 Disclaimer: This meal was provided complimentary, all views are our own. Read more about disclosure here.