You may remember last Summer we wrote about one of the most talked about restaurant bars in Newcastle at the time, The Botanist. Located in the old Monument Mall, where cafes serving up grey tea and desolate shops once stood. Transformed by The New World Trading Co. This beautifully designed restaurant spans across two floors with a rooftop terrace for those warmer days in Newcastle. Who are we kidding? It's never warm but in true Geordie style, the terrace is always full of typical Northerners without coats. You know what though? A year on from our last review and The Botanist is still very much the talk of the Toon.
Newcastle Eats
An amazing achievement considering The Grey's Quarter recently made a home for over 20 big brand restaurant including Omar Allihbhoy's Tapas Revolution, Thai Luxury at Chaophryra and of course the Botanist's newest rival for themed cocktails, The Alchemist (which you can read all about here).
With Summer on its way, this is one of our favourite times of the year, why? It's new menu launch time. So when we were invited to test the newly launched Summer menu. We couldn't wait to see what delights the Agatha Christie style potting shed had in store.
Arriving through the front door downstairs with the soft green facia we clambered into the lift and up to the first floor. Entering the restaurant at the bar area. The big central tree with twinkling lights which is surrounded by a wooden bar serving up a worldly concoction of botany style cocktails.
Table with a view
We were shown to our table, a different table from each time we've been. Which is refreshing as you get to experience the fabulous restaurant from different views and atmospheres. Taking in all of the intricate decor details. This time we were seated in the conservatory area with the most breathtaking views of Grey Street and the Monument. This light and airy part of the restaurant juxtaposes itself from the inner bar area. Which is lit by hanging element lamps and twinkling lights. Our table though was the ideal place for people watching down below and for looking out at the gorgeous architecture of the Georgian buildings. Which was voted the best street in the UK in 2010 by BBC Radio 4. Which run from the city centre to the Tyne Bridge.
Partial to a Tom Collins, the first order of the day was a Lemon and Jasmine Collins. With a garnish of lavender, this number was refreshing and the lemon and jasmine paired really well. Potentially it's even a contender for being up there with our personal favourite. An Elderflower Collins. Alongside the Collins, we ordered a Plum & Thai Basil Mojito. Reading it on the cocktail list we didn't know how this would work, but it did and oh my life it was seriously moreish. Muddled together the Thai Basil was refreshing whilst the Plum was devilishly sweet and tasty.
Cocktail o'clock
As our drinks were served we looked over the new Summer menu. With a selection of meat and vegetarian starters, we opted for a baked camembert and a favourite choice of starter, calamari. A chicken liver & rum pate, sesame coated falafel, smoked haddock fondue and gambas pil-pil some of the other contenders for selection in the starter stakes. With a choice of ten different dishes, there's something for everybody.
Taking in the atmosphere, which was a little more relaxed and calmer than the centre of the restaurant our starters were brought out. We always find when dining at the Botanist that the kitchen staff are seriously efficient. With all food being served pretty sharp this is a great selling point for those shopping and looking to grab a bite and go.
Really cheesy
Served on a wooden board the individual camembert with a bacon crust was paired with stacked bread, apple and celery. A radish garnish really added to the potting shed botany feel of the whole place. Concerned when ordering how the baked camembert would be achieved. Knowing that it was a starter for one we were instantly pleased. This small but perfectly formed round had just the perfect amount of cheese for a starter. With a real cheesy taste, this was a one for cheese lovers. Our only recommendation would be a little butter to accompany the toasted bread.
Next up the calamari, served with garlic sauce in a round tin dish. The attention to detail with the crockery is second to none as we saw boards being brought past with chips served in mini wheelbarrows and desserts on shovels. Back to the calamari, the breadcrumbs on these rings of squid were light with that all important crunch. The squid was tender and extremely fresh tasting.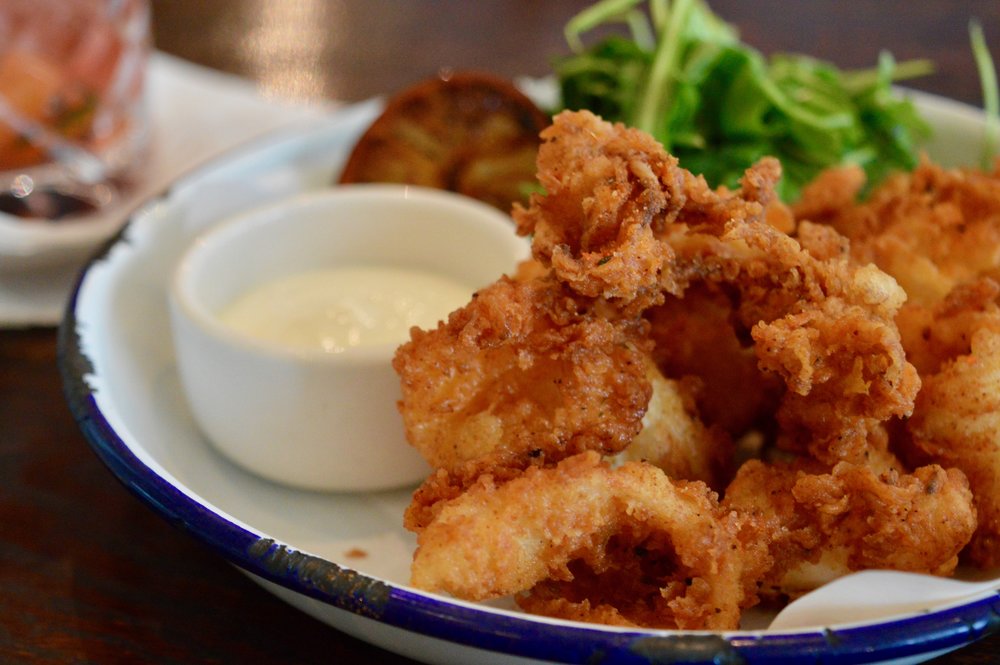 Once we had finished our starters and our plates were cleared by the lovely hostess. It wasn't too long to wait until our main course were served. Struggling to select from the menu of hanging kebabs, steaks, pies and burgers to name just a selection. We opted for the chicken & leek pie with chips and the Malaysian Curry with coriander rice.
The main event
First up the pie, having had the pie before with a different filling, we knew what to expect. This deliciously creamy filling was jam-packed with chicken, ham and leek and seasoned to perfection. The pastry of the pie was crumbly and flaky like a good homemade pie should be.
With a focus on comfort foods, The Botanist perfectly execute pie artistry. Served with skin on chips, mushy peas and gravy. Admittedly, the peas looked like they were straight out of a tin, down to personal preference we like to save mushy for weaning babies and prefer a crushed pea. All in all, this was a proper homely dish and thoroughly enjoyable.
With a Thai basil mojito in hand and a Malaysian curry in front of us it was clear to see that this traditional English menu had a middle eastern twist to heat it up. Served on a wooden board with blue and white patterned dishes the coriander rice was dwarfed by the humongous bowl of curry set before us. The sauce was evidently a coconut base and was more like a soup consistency, packed full of an array of vegetables including curried potato, which is one of our favourites and broccoli, the curry was served with a mountain of chunky chicken.
The Botanist Flavour of the month
The portion of rice was more than sufficient and the flavouring worked well with the curry. With the right amount of kick, it was neither too strong nor was it too spicy for the average diner. This dish was selected upon recommendation from the host and to say she knew her dishes would be an understatement. Instead of playing it safe with a traditional burger it was the right choice to go for the curry and from us, it comes highly recommended.
The food was certainly extremely tasty (minus the mushy peas) and the service was friendly and swift. Views, well you can see how phenomenal they were for yourself and as always The Botanist, you delivered on your cocktails. Having seen new restaurants creep up around this very popular watering hole it's safe to say that The Botanist continues to grow and flourish. Their Summer menu will certainly be a big hit amongst hungry city centre goers so make sure you check it out.
Disclaimer: This meal was provided complimentary by, all views are our own. Read more about disclosure here.