I vividly remember our trips to Italy, to Milan and to Rome and the pizzas being like no others I've ever experienced.
The scent of freshly cooked pizzas dancing around your nose wherever you sauntered.
There's absolutely nothing quite like a freshly stone baked slice of deliciousness. As you regular readers will know I'm an advocate of home cooking, freshly prepared food full of goodness. I like to know that my food is not only made and prepared with love but that it too is made with quality fresh ingredients.
With the only worthy pizzeria nearby being award winning Italian gelato cafe on the seafront which is home to awesome traditional pizzas and the best ice cream I've ever tasted a great pizza here in the North East is hard to find.
Enter the Pizza Steel. Close your eyes, think of the delicate smell of that piping hot, freshly baked base with that authentic tomato pizza base sauce, lashings of gooey mozzarella and a generous helping of your favourite toppings. Imagine if you could bring a little bit of Italy to your home. Even turn your own oven into a pizza oven?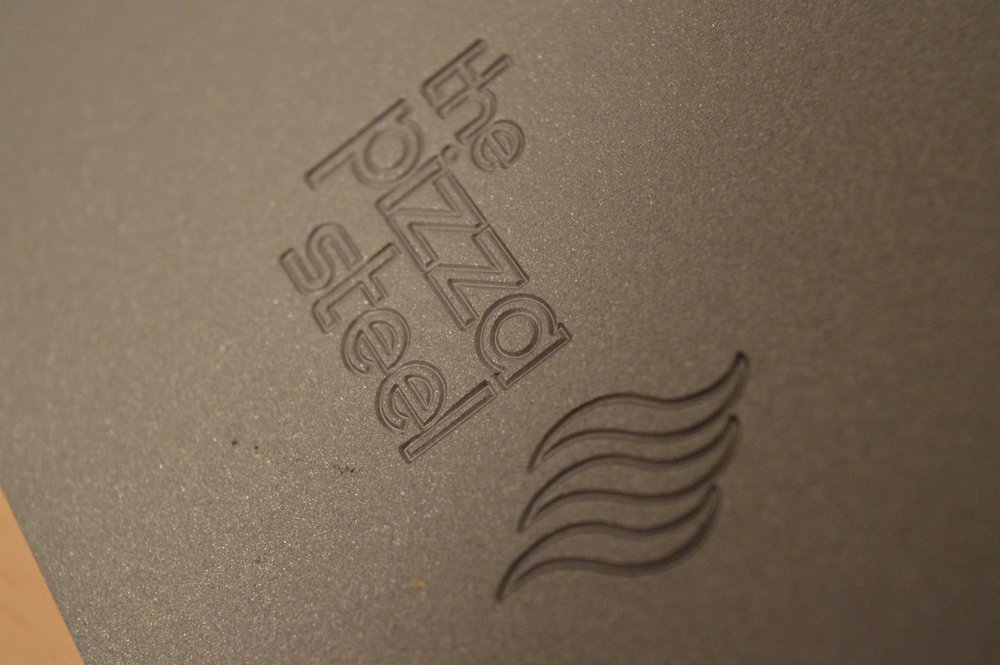 Pizza making just got serious!
The Pizza Steel has been created for just that! The steel plate has been meticulously designed to cook any dough to perfection. From pizzas to loaves, rolls to scones the list is endless. With steel being about 18 times greater at absorbing storing and transferring heat than stone is.
The first Steel was sold in Denmark in 2015 and since then Brian, the creator of this utterly wonderful kitchen essential tested and improved the steel to what it is today. 6mm of cooking delight.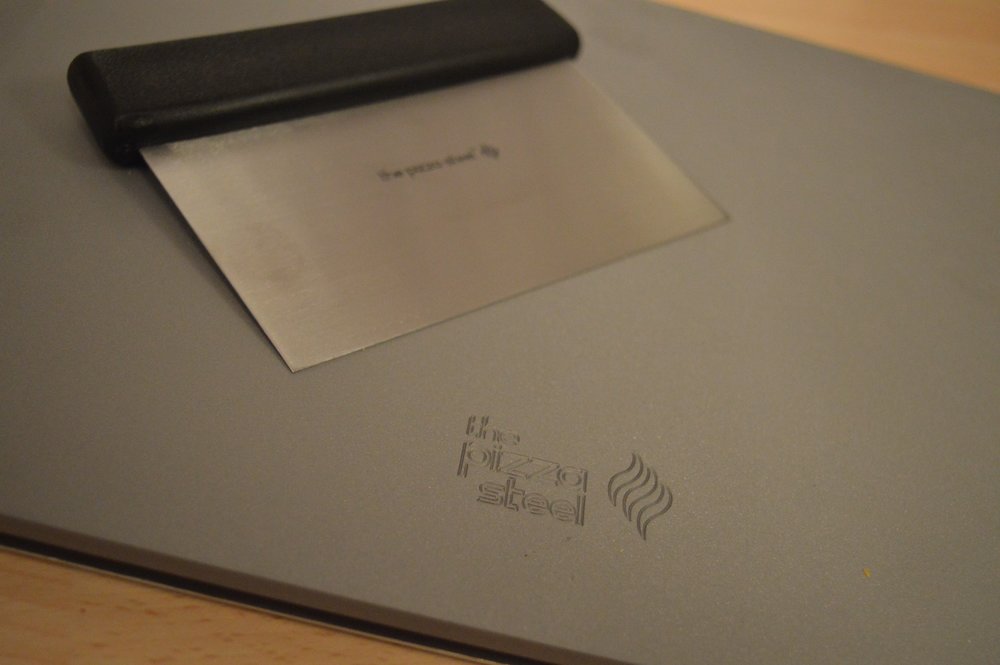 It is evident to see that a lot of love, time and passion has gone into creating the Pizza Steel and by the smiles on his wife and two little girl's faces on their website, they are incredibly proud of their dad and his ingenious creation!
This small family business has a huge vision for the world of pizza lovers and not only pride themselves on their fantastic product but they offer the most speedy service too. From order to door in less than 24 hours you really cannot fault how much care and effort is put into their business. I am a lover of small businesses and I am a massive believer in supporting the dreams and passions of others to ensure that they come to life and are the most successful dreams they've ever dreamt!
Using the Pizza Steel is simple. Super simple, the first few times you use it you seal it with either rapeseed or olive oil and then place the Steel in the oven for an hour. Once the Steel has sealed you lay your dough on the top of the flat steel and close the oven. Admittedly, I eagerly watched the gluten-free pizza dough become something you'd expect to see come out of a wood-fired stone oven as you know I love to know how things work and watch things come to life. The base developed that hearty Italian crust that I was desperate to see and the pizza, well that was magnifico!
To say I was impressed wouldn't give the Pizza Steel all the credit that it's due. The Pizza Steel is absolutely outstanding, it has the capacity to change a very mundane British oven into an Italian style wood-burning stone pizza oven with very little effort and for a fraction of the cost. I mean it's not every day you have pizza, is it?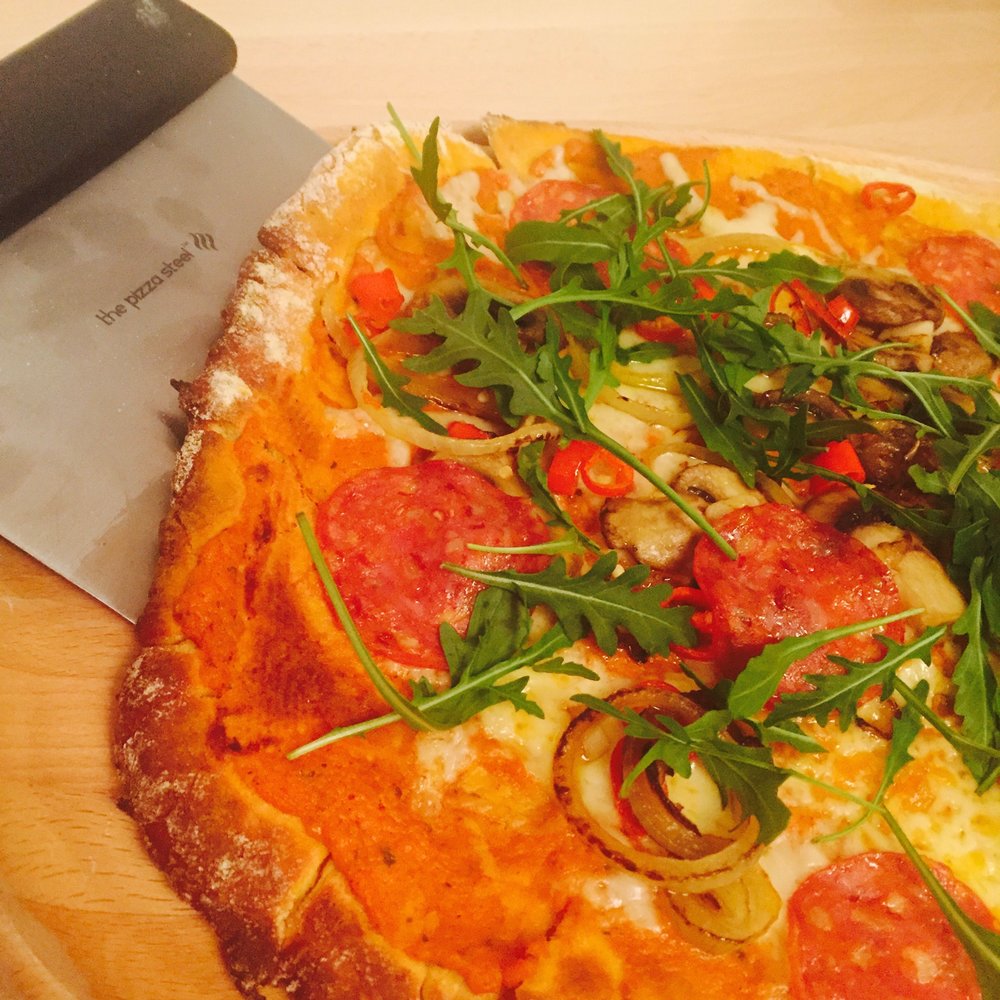 The base was absolutely exquisite and I'm already planning a pizza and prosecco party as I speak just to show off my new Pizza Steel! After all, I am the great-granddaughter of a baker…
Want to know how I made gluten-free pizza dough?
Method
Preheat the oven to 220ºC. Place a PIZZA STEEL in the oven to heat up.
Heat the milk in a small pan over a low heat until lukewarm, then place 50ml into a jug with the yeast and sugar. Mix well, then set aside for a few minutes until starting to bubble.
Meanwhile, sieve the flour and salt into a large bowl, create a well in the middle. Add the egg, 3 tablespoons of olive oil & the remainder of the milk, pour this into the well, along with the yeast mixture. Bring the mixture together gradually with a fork until it forms a smooth dough.
In a small cup, combine the bicarbonate of soda and vinegar, then quickly knead it into the mixture. Place the dough into a lightly oiled bowl, cover with a damp tea towel, then leave to prove in a warm place for around 1 hour, or until doubled in size.
Once doubled in size, divide the dough into four equal-sized pieces on a flour-dusted surface. Roll out until roughly 30cm in diameter and 2mm thick. Place the pizza bases onto the preheated PIZZA STEEL (you'll need to do this in batches), then spread over the tomato sauce, cheese and toppings of your choice, leaving a rough 2cm gap around the edge. Pop in the hot oven for 10 to 12 minutes or until golden and crisp. Enjoy.
Ingredients
250 ml semi-skimmed milk
7g dried yeast
2½ teaspoons caster sugar
400g gluten-free flour, plus extra for dusting
1 teaspoon fine sea salt
1 large egg
Olive oil
½ teaspoon bicarbonate of soda
2 teaspoons cider vinegar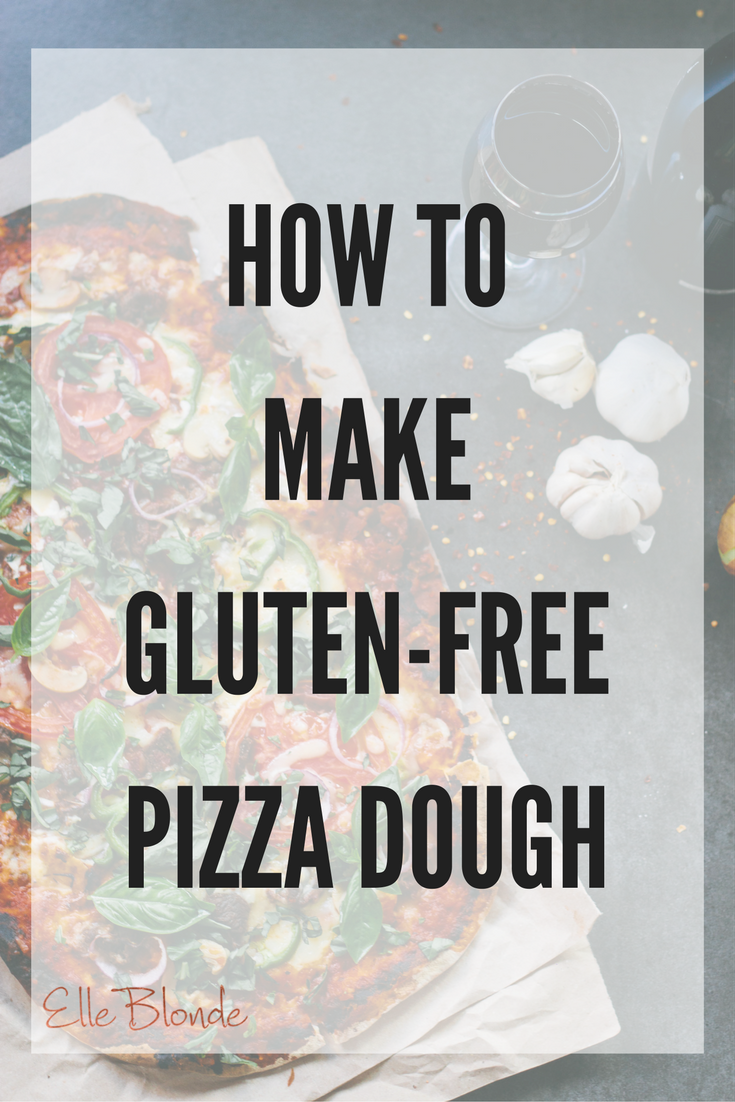 Disclaimer: These items were provided complimentary, all views are my own. Read more about disclosure here.