Towards this time of year, I start planning for the new year ahead which is fast approaching and this year I'm excited as I'm compiling my Christmas Gift Guide and have some amazing present ideas to share with you very soon. It's also an exciting time too as we are all steam ahead with our new ELLEfluence platform which if you're a blogger or influencer (and even a brand) then you can sign up here.
Anyways I digress, I love stationary and in particular, I adore a brand new unused planner so when Unique Planners asked me to design my very own for the upcoming year I was in total heaven.
Heading straight to their website I selected an A5 size, they also do A4, however, I love to throw my planner in my handbag so it's a perfect size for me personally and selected my start date for January 2017 as Unique Planners by Pirongs also sell an academic planner.
Once I had selected my size and start date next up was the page layout, I selected columns down as I much prefer to organise my time downwards instead of across, however, there are three-page options to choose from.
Once this has been selected you can either choose one of their designs from their library and customise with details and images or you can upload your own. I chose to create my own and upload it (of course I did, I like to be different) so sticking with my favourite patterns at the moment I selected a pink marble with pink and gold geometrics on the bottom and a slogan to keep me motivated because I've already decided next year is going to be the best year ever!
Unique Planners
Inside after the date section, you can personalise your planner pages so you can choose to add notes, contact pages, shopping list pages, finance and budget pages and more, there's a choice of around 50+ different pages to choose from and you have 30 spaces to freestyle how you like. You then add a back cover and you're ready to check out. I created a matching back cover to my front as I'm a little bit anal like that and like things to be matching and symmetrical.
Once you head to the checkout you can customise the finer details such as the ring binder colour, the page marker fabric, the elastic binder (I chose gold to coordinate with my gold cover!), you can then add stickers and page dividers and lots more options to completely personalise the planner to you!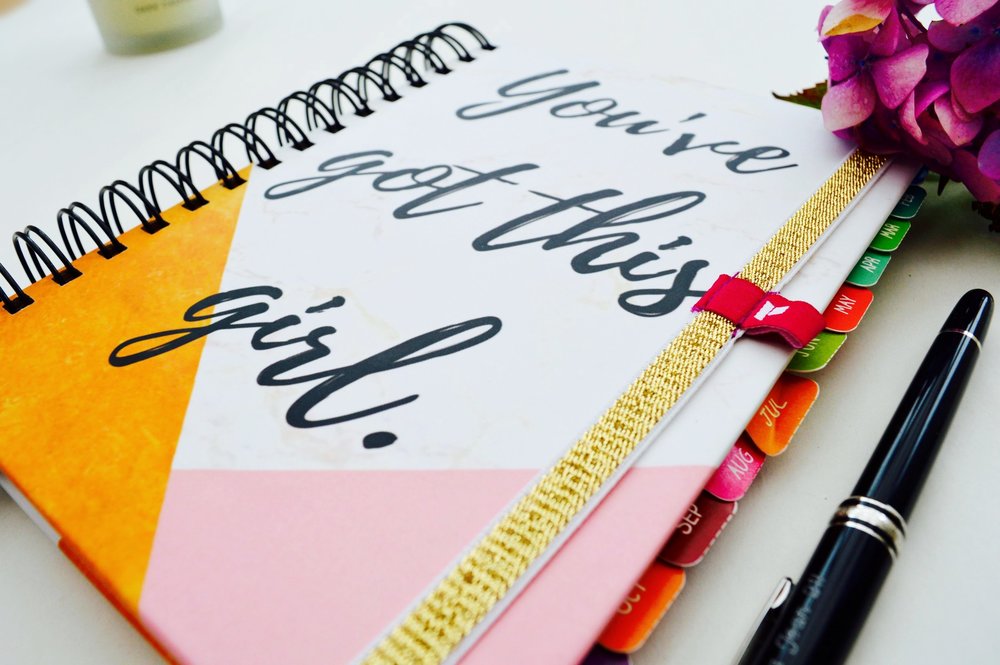 It's a really exciting and therapeutic experience and I always love creating things, watching my ideas come to life! It's truly amazing. The planner was ordered and shipped, it arrived within days which is an amazing service – priced at just £20 it's a great gift for somebody's Christmas if you're looking for inspiration. There are additional costs for added extras, however, the end product is amazing.
If you're looking for a discount code to save you 15% – just enter 'ELLE15′ at the checkout. You can thank us later!
We have one Unique Planner up for grabs too in our giveaway which runs until the 31st October and the winner will be announced on the 1st November – to be in with a chance of winning your design your own planner simply enter below.