Tea lovers. I'm back with another great tea and you will LOVE this one; Unicorn Magic Happiness Tea.
Yes, I kid you not. The babes from Newport Skinny Teas sent me a bag of this happy loose leaf tea and I am blown away by how much I love it.
The tea is a blend of:
Jasmine Green Tea – helps to fight inflammation and increases fat burning even while you sleep
Spearmint – which naturally elevates moods and helps the body digest food better
Hibiscus Petals – studies indicate hibiscus tea may surpass green tea's metabolism boosting possibilities, it shows a protective property to the liver and the overall high antioxidant profile boosts immunity.
Cinnamon – one of my personal favourites and it helps the body regulate blood sugar more effectively
Chamomile Flowers – these flowers are a natural stimulant and provide energy and polyphenols
Ginger Root – this enhances circulation of the blood. Increased blood flow and circulation typically lead to a small increase in body temperature, called the thermogenic effect, which promotes metabolism and burns more calories, extremely beneficial to metabolism and digestion
Hawthorn Leaf & Berries – This an all-purpose tonic for the heart, both physically and spiritually
Rose Petals – Again has weight loss properties, relieves stress & depression, helps to treat acne and rose petals also naturally lighten lip colour.
Damiana – this is served to uplift the spirit, improve digestion, relax the nervous system; can have aphrodisiac qualities
Stevia – adds sweetness without any sugar or impact on blood sugars, helping keep blood sugar stable
Lemon Balm – spiritually lemon balm has been used to uplift the spirit and mend broken hearts, plus attract new love, balances mood and is good for the skin.
The guys have an array of different teas all with different but great benefits and offer a nutrition programme too so if you have a body goal that would give those on Venice Beach serious body envy.
Newport Skinny Tea
I absolutely love loose leaf teas because they release so much more flavour and goodness to that of bagged tea, my only recommendation would be a tea strainer included with the tea for those who are new to loose leaf teas. I have an amazing silicone tea bag from Lakeland that comes highly recommended for loose leaf teas.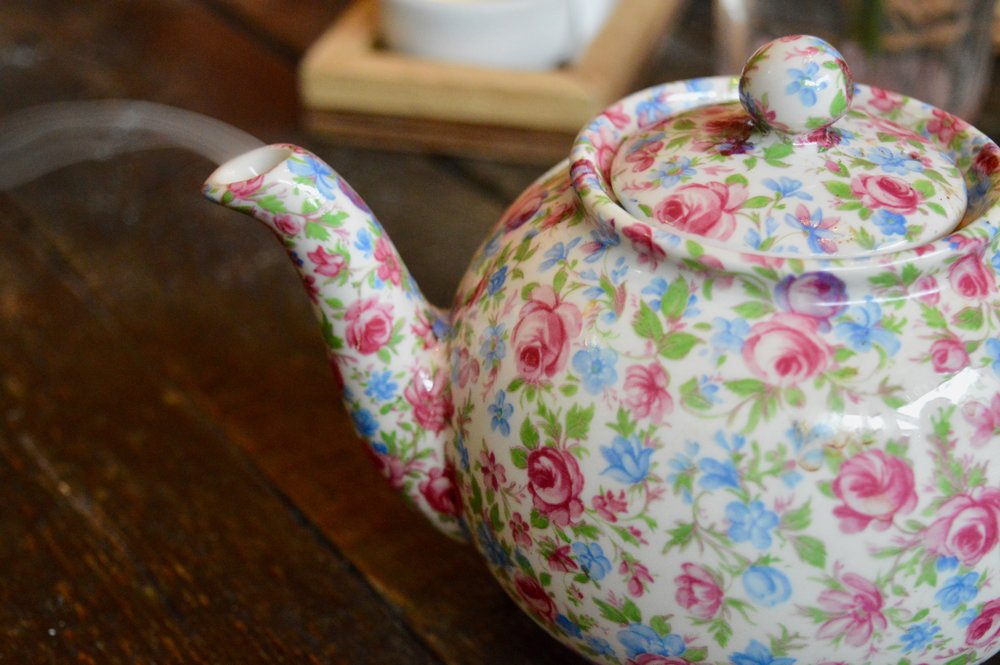 I must drink between 5-10 cups of green and herbal teas a day and after my morning Matcha I have a cup of Unicorn Magic about 11ish to keep me happy through the day.
The aromas that come from the tea are absolutely divine, partly from the jasmine and partly from the floral mix of hibiscus in the tea blend. This tea comes highly recommended
You can buy Newport Skinny Tea here.
Loose leaf teas are great, however to best enjoy them either a tea strainer in a teapot gives the perfect brew. If you're not looking to brew a whole pot and instead wanting to brew only a cup for yourself then you can buy silicone teabags that you simply fill with your loose leaf tea and brew as you would a normal tea bag.
We have also managed to get our hands on a single serve tea brewer which you brew as normal and then place the tea brewer ontop of your cup or mug and simply push down. Your freshly brewed tea then dispenses through the bottom of the tea brewer into your cup.
Have you tried Newport Skinny Tea or have you already got a favourite loose leaf tea brand and flavour? We would love to hear what your favourite is in the comments section below. If you have found this article of any value we would absolutely love for you to share this with friends and family across social media and beyond!