Belgium is one of the smallest countries in Europe. The country hosts numerous historical sites. And, chocolate consumption is the order of the day in Belgium.
Regarding fun, most cities in Belgium do not match cities in most top European countries. Nevertheless, there are still some cities that you will love in Belgium for their fun-filled atmosphere.
So, if you are moving to Belgium from the UK and love fun and event-filled atmosphere, here are the five most fun cities you can live in. 
Most Fun Cities for UK Migrants to Live In Belgium
1. Brussels
Brussels is the capital and the largest city in Belgium. Although French and Dutch are widely spoken in Brussels, you will easily find people speaking English here. In Brussels, you can never go hungry for once as there are both cheap and expensive restaurants with local and international food.
You can do many fun things on a day out in Brussels. For instance, Brussels is home to some of the historical buildings in Belgium. So, you can visit some of them. In Brussels, you will find the Nemo33 pool – one of the deepest swimming pools in the world. You can go swimming there.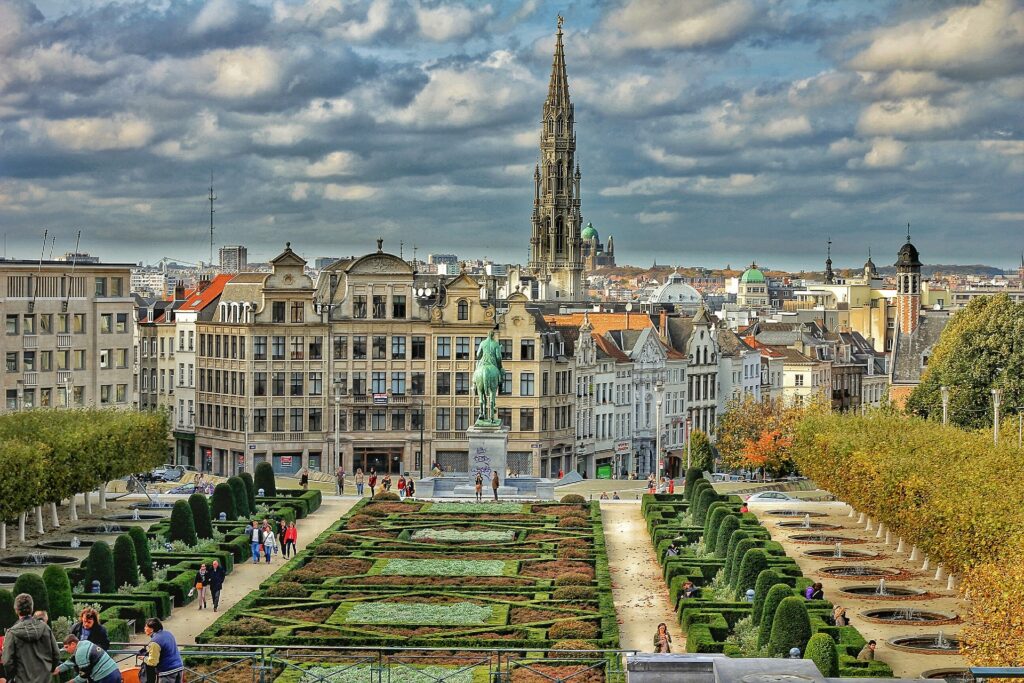 Despite these, the cost of living in Brussels is low compared to its equivalent European cities. In fact, the cost of living in Brussels is 41% cheaper than in London. Amazing. 
However, the crime rate in Brussels is relatively high, so you must stay alert whenever you are on a day out in the city. You can also consult the best immigration lawyers for a guide on how to be safe in Brussels. 
2. Ghent
Ghent is a city you will love to stay in as a UK migrant. Like Brussels, the city also hosts people from different nationalities, including the Brits. This means you will quickly adapt to life in Ghent.
Whether you're a night owl or a day-lark, you will enjoy the fun at its peak in Ghent. If you're fond of art and scenery, the port city has lots of them. On weekends, you can spend the day at the Saint Bravo Cathedral or the Gravensteen Castle.
Besides, the educational city has lots of exciting cultural events. For instance, the prominent 10 days off music festival and international film festival are celebrated in Ghent.
In Ghent, you will find lots of pubs and restaurants. In the local restaurants, you will get food like French fries, Mastel – a doughnut-shaped bun, praline chocolate, and lots more.
You can barely see criminals or witness any violent-related crimes in Ghent. In fact, according to Numbeo, the percentage of theft or an armed robbery-related crime is just 17.61%. Of course, this figure is small compared to what you have in cities in the Ghent category. So, you can rest assured of your safety while in Ghent. 
3. Antwerp
This is another fun city you should consider if you are relocating to Belgium from the UK. The port city hosts a vast English-speaking population compared to other cities in Belgium. And you can never be bored while staying in Antwerp. 
You can always visit the Antwerp zoo. In the Zoo, you will see the iconic valley of great Ape, which houses animals like Gorilla, Chimpanzee, and Kaola Bears, to mention a few. You can even take a road trip and explore most ancient buildings and museums that are scattered around the city.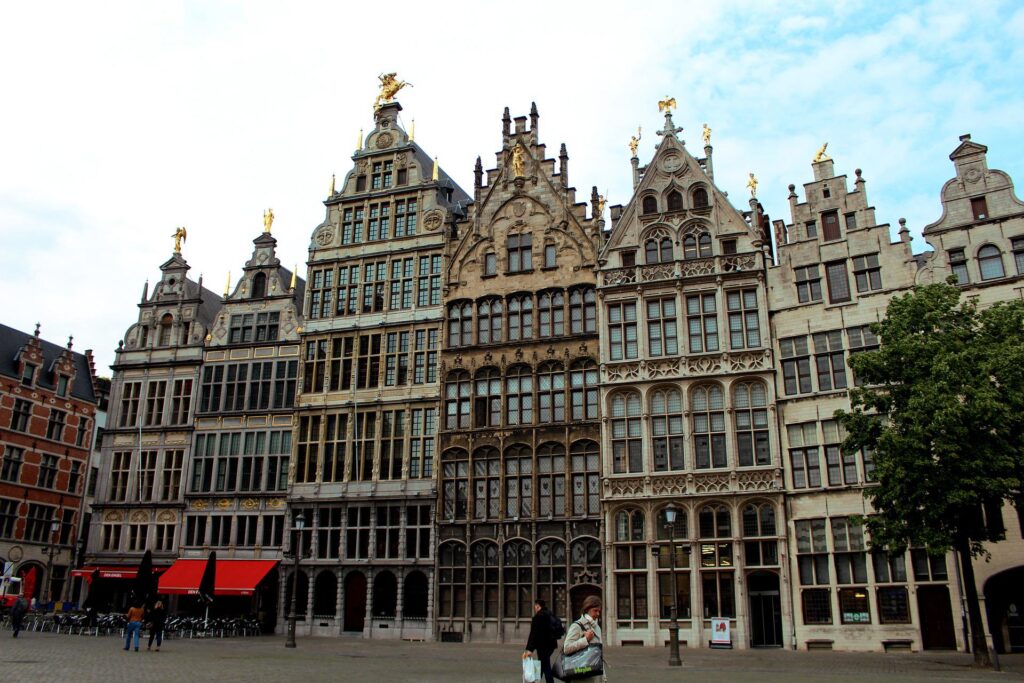 If you are a night owl, Antwerp is the best destination for you. In Anterwap, there are places like Mechelseplein and Grote Markt, which host traditional and modern pubs with restaurants that sell both local and international food. 
4. Bruges
You can't get it wrong when talking about a fun-filled atmosphere with a splash of beauty and serenity in Bruges. The city packs a lot of things to glamorize your stay. Firstly, the city hosts both modern and traditional pubs and hotels. The restaurants here are top-notch compared to other cities in Belgium.
So, whenever you are hungry, you can visit either the hotels or the restaurants to have a taste of the Belgian traditional food and beer. Interestingly, most of the hoteliers in Bruges understand and speak English fluently. Besides, the meal cost in these restaurants is lower compared to London and other top cities in the UK.
Like many cities in Belgium, you will find many eye-catching architecture and arts in Bruges. For instance, Borg Square and Belfort will leave you feeling paradise on earth when you visit them.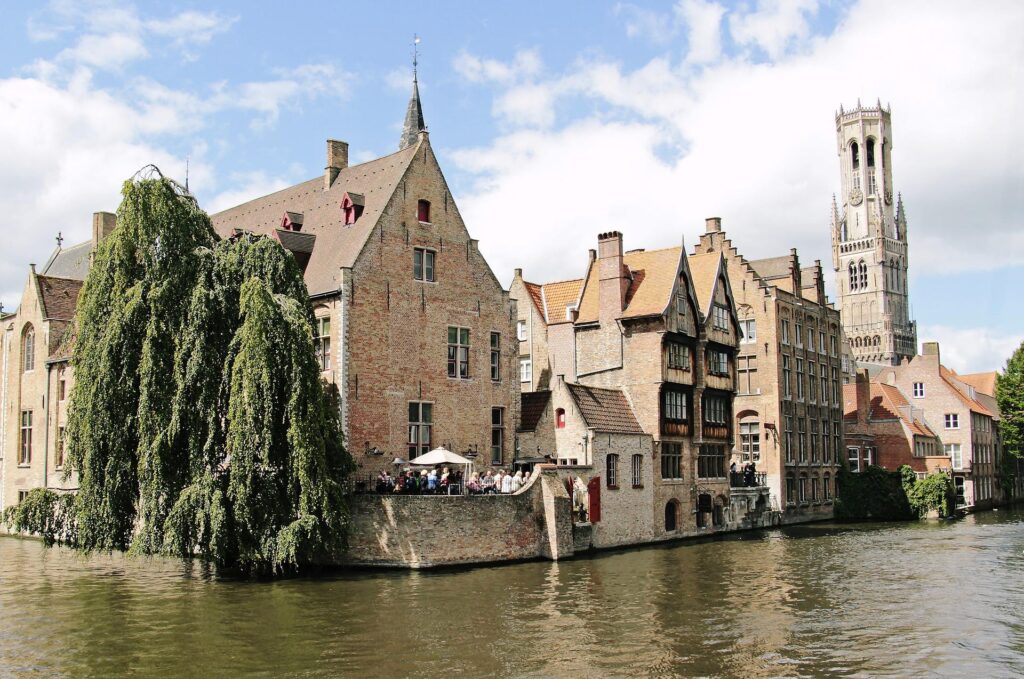 5. Anderlecht
Anderlecht is a fun place to be. Due to the city's proximity to Brussels, you will enjoy your stay there. In Anderlecht, the locals are friendly, and you will find many things to do in your pastime.
One of the things you can do when in Anderlecht is to pay a visit to some iconic medieval like the Erasmus house, the Jean-Claude Van Damme Statue, or the Beguinage of Anderlecht.
If you are a soccer fan, you can watch a soccer match at the Anderlecht football club stadium. And there are many pubs and restaurants to spice your day out. You can taste the Belgian fries, waffles, chocolates, and waterzooi blended with sparkling Belgian beer.
However, the cost of living in Anderlecht is not as cheap as you think. The average cost of living here is around $1336, making it the 7th most expensive city in Belgium. But, this shouldn't be a problem for someone from the UK.