There is no reason not to look your best when you are in the garden. Many designers and labels are starting to dive into the world of gardening and creating ranges that are not only incredibly stylish but ultra-practical too.
Whether you're a casual gardener or spend every day pruning your plants, these are the most stylish gardening garments to match with a pair of Blundstone boots.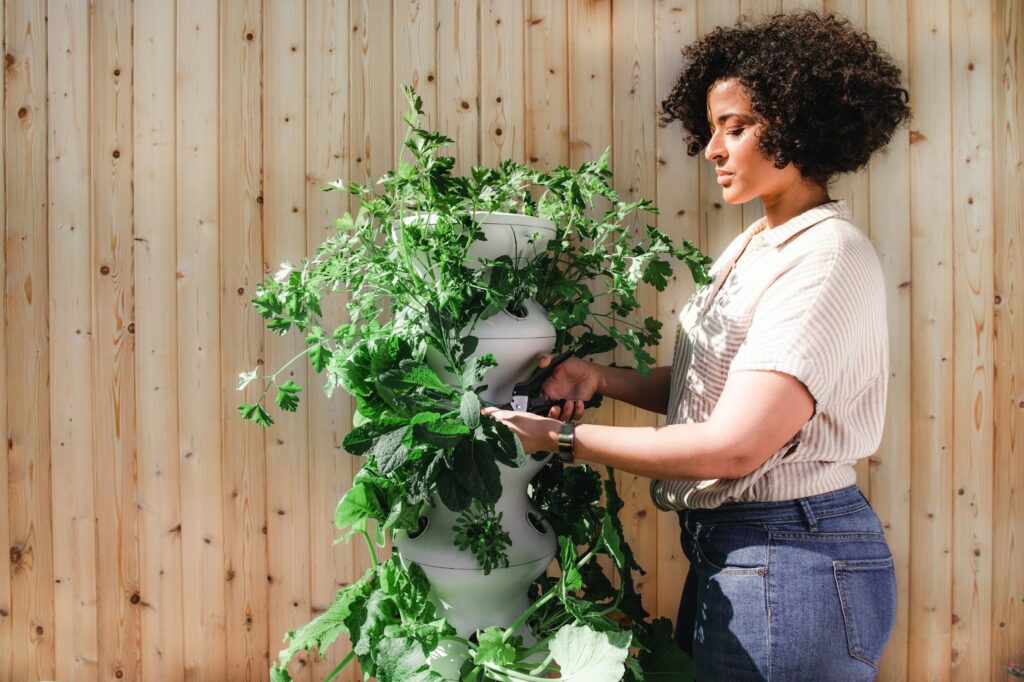 How to Choose the Right Items
When it comes to choosing gardening clothes, there are a few things you need to remember. Your gardening clothes can look good while still being practical, and this is the one aspect that many people look for.
Gardening clothes need to be well made, comfortable, breathable, and depending on the season, will either keep you warm or keep you cool. They also need to be sturdy, as they will be getting a beating if you garden a lot.
The Sun Hat
Sun hats are one of the trendiest items out there right now and one of the most useful when gardening. Straw hats not only protect your face and neck from the sun, but they also allow air to get in and keep you cool.
A straw hat is also something you can wear anywhere; it is suitable for a day at the beach and equally at home at a Summer wedding. Everyone should have at least one sun hat in their closet.
Basket
A cute basket isn't just for a scene in Pride & Prejudice but is very useful and versatile gardening essential. If you have a garden full of fruit trees and vegetables, while you can just carry them in a bag, a basket adds that extra level of sophistication.
A basket is also a great way to store and display what you got out of your garden. You can give your kitchen that country cottage feel by adding a basket filled with fresh fruit and veggies.
Sundress
A sundress is one of the best Summer items whether you are a gardener or not. They come in all shapes, sizes, cuts, patterns, and colors and are suitable for almost anyone. Sundresses are also incredibly comfortable and perfect for warm days. 
While they may not be the first thing you pull out of the closet when heading into the garden, they really should be. They will protect you against the sun, keep you cool, and then can be worn out for lunch or a day out.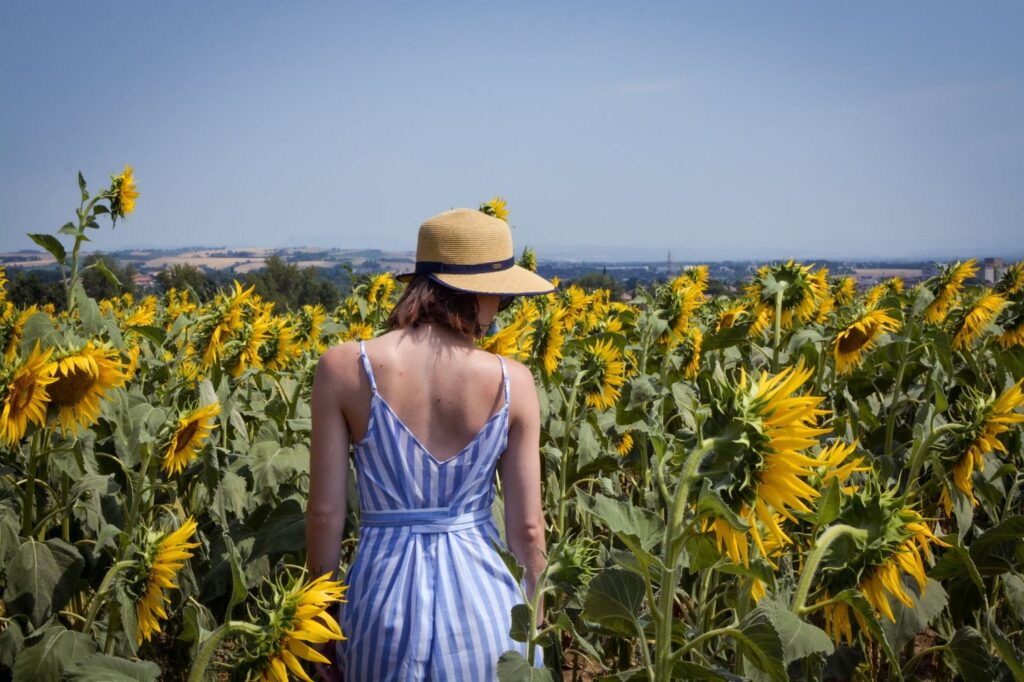 Dungarees
Dungarees were one of the most popular items for kids and parents alike in the 90s. Nowadays, brands such as Levi's and Carhartt have taken the humble dungarees and transformed them into uber-stylish workwear. 
Dungarees are also very practical; they protect the legs and knees when kneeling, they keep you warm on colder days, and they are also covered in pockets, perfect for carrying around all your tools.
Apron
An apron is the gardening accessory you had no idea you needed. The well-crafted but straightforward aprons aren't as big as a kitchen apron but can hold your tools, seeds, plant food, and whatever else you may want to keep on you.
Utility Bag
If you are someone who wants to do less fruit picking and more work in the garden, you are going to need a utility bag. Once again, you don't have to settle for an ugly construction site bag, but a simple and chic one.
They also come in so many different colors and patterns, so not only can you find the one you like, but you can find one that matches what you already own.
Comfortable Pants
One of the best pieces of garden wear that you should be a staple for anyone is a pair of comfortable jeans or pants. The cliche of workers wearing jeans every day exists for a reason; they are built to be used outdoors.
While a pair of skinny jeans might be a bit impractical, there are so many different styles and cuts available nowadays you can find a pair that is suitable for both the garden and a day out in the town.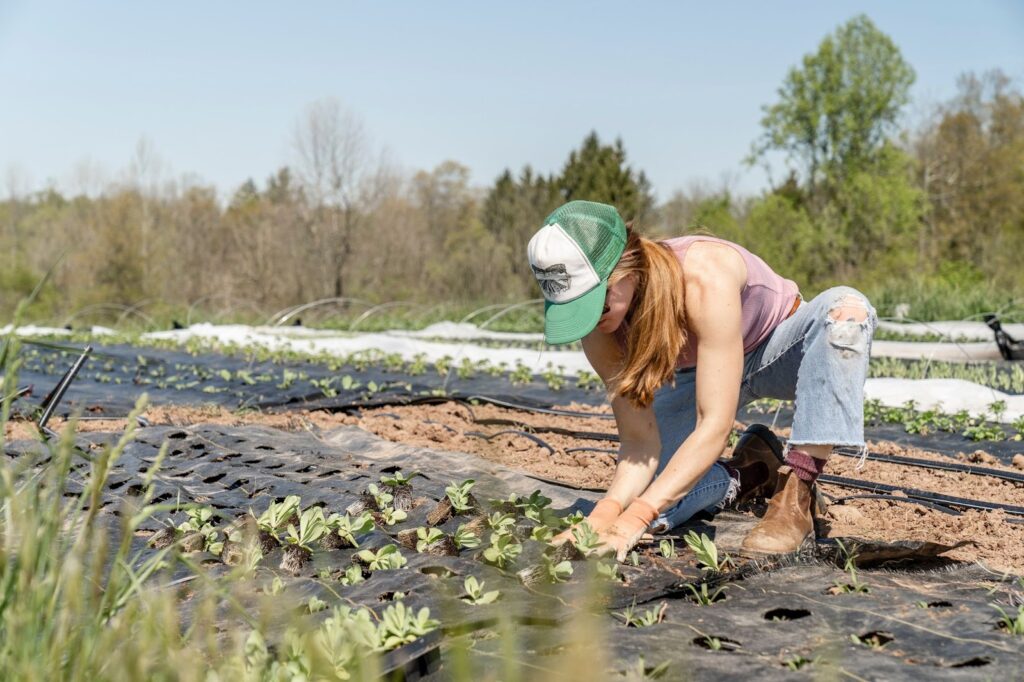 White Cotton T-Shirt
A white t-shirt should be a staple in every single wardrobe. It can be dressed up or dressed down depending on the situation by adding a blazer or wearing a skirt. While white might not be the best color for outdoor activities, you can't go wrong with it.
The best thing about white t-shirts is that they are so versatile but can also be incredibly cheap. There are so many brands that sell them as a staple, and it is more than affordable to pick up a few at a time.
Headscarf
Finally, a headscarf is the ultimate accessory for when the weather just isn't right. It can keep the sun off your neck; you can cover your face if it is dry and dusty, and you can wrap it around your head and face to protect against the wind.
Once you leave the garden, you can wrap it around your neck, and you have a relaxed and comfortable accessory that is perfect for both Summer and Winter.