Food delivery services have been available for quite a while now, but the surge in their popularity could be easily traced back to the pandemic's lockdowns. While we all can go to the supermarket and do our grocery shopping, we sometimes don't feel like risking it or we simply just don't have the energy to do the shopping or cooking.
Your options are to either stock large amounts of food, which isn't really feasible and can affect the quality of the food since it'll be stored for a long time, or just order food when required. Ordering food is most probably the popular vote. To make this process easier for you, we're listing the most popular food delivery services that you'd want to try now.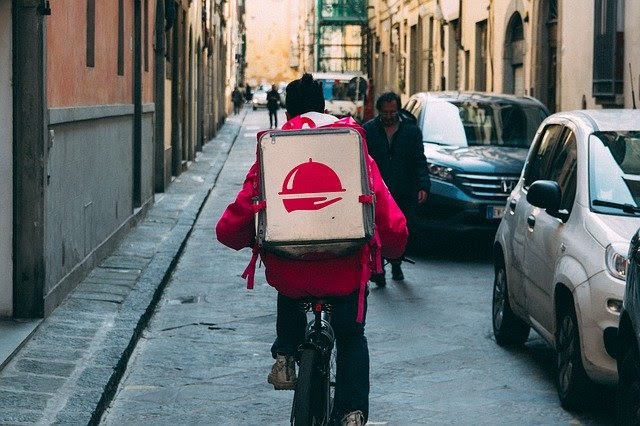 Zomato
Zomato started as a restaurant search platform, originally named Foodiebay. They quickly started working on becoming an online food platform that resembles an ecosystem, with social media features and reviews. Zomato is available in 25 countries, including the US and India. They've been constantly incorporating new features to improve their user's experience, such as quick reviews and customisable searches. It's worth mentioning that Zomato bought Uber Eats in India for $400 million, which goes to show how big it has become.
Uber Eats
Uber Eats is easily one of the most available food delivery service providers in the world. With over 100 cities around the world, it's hard not to find your favorite restaurant on Uber Eats. One of its major benefits is the short time it takes to get your order. Once the restaurant makes it, a delivery partner heads your way immediately.
There is absolutely no shortage of restaurants that you can browse from, especially when you consider that the restaurant itself doesn't need to offer any standalone delivery services because Uber provides the drivers. So as long as there is Uber, you'll get your food. Even though Uber Eats has been around for a while, they're still offering discounts and promo codes for their users around the world, including Australia. As mentioned on fintys.com.au/deals/uber-eats-promo-code/, these promo codes could save you a lot of money. Their contact-free delivery is certainly a godsend for people who want to avoid getting in contact with people during this pandemic.
Grubhub
Grubhub was launched in 2004 in the US, which gave it more than enough time to start partnering with a lot of restaurants in the area. They've recently merged with Seamless, another food delivery service. They currently have over 30,000 restaurants on their list and have their presence in more than 800 urban communities in the United States. The app and customer service are both available 24/7. You can either browse through a huge list of different restaurants partnered with Grubhub in your area or type in your favourite food in the search bar.
DoorDash
DoorDash combines many elements from the best popular food delivery services in the market and presents them to you in one compact application. You'll get to order food from small and less known restaurants to huge chains in your area. Similar to Uber Eats, you'll get to order from restaurants that don't have their own food delivery service. The app has a lot of positive reviews online and a huge fan base around the world. What makes it smart is that they use a system to suggest restaurants that you'll probably like based on your previous orders and search history. They also give their restaurants a Yum Score that helps tell you how quick their delivery is.
Caviar
Unlike many other food delivery services, Caviar specializes in offering amazing restaurants for health-conscious users. You'll be able to order from local and independent cuisines, and you'll get to choose whether it's a delivery, pickup, or for an event. They offer a list of hidden gems in the city, which are mostly restaurants that don't offer delivery services. If you're a vegan, you'll have a blast browsing through their nutrition-curated collections.
Swiggy
Swiggy has been gaining a considerable amount of momentum and popularity in the last few months. The app is very simple and easy to use which makes the ordering process uncomplicated. Quick delivery, order tracking, and zero minimum order price make it a pretty good choice for people who are looking for the most convenient ways to get their food at their doorsteps. It's available in most major cities and constantly offers various discounts. The seamless UI/UX helps differentiate it from the competition.
Once you decide to order food through a delivery service, you will be overwhelmed by the choices and different providers available. The list of providers we've gathered here should help narrow down the best options in your area and provide you with a great, seamless experience in ordering your favorite food in no time.