I've been writing on this site for over 2 years now and to be honest, there are hundreds of posts that I've written in the past, promoted and then just left to do nothing. Could you imagine the impact that it would have on your site and business if you could gain momentum and drive traffic from your old posts?
I have implemented 10 simple things (although it's taken me forever and a day to get through all my past posts) to increase my traffic by 300% without even adding new content. Want to know how? Keep reading honey.
Have you ever looked at your first posts and literally thought OMG what was I even thinking? I know right me too. I actually wanted to delete them all at one point, then I had a eureka moment. Instead of deleting them, and creating a whole bunch of 301 error pages, what if instead I just made them better and reposted them? Nothing ventured is nothing gained and all that right?
My posts at the beginning were raw and honest, very much like they still are today. They were short on information and the word count, well let's just say 300 words was the cut off for me! Not to even touch upon the imagery, the aesthetics and the whole format of the posts were just so wrong. It's all just a learning curve though? I know my style and my brand has moved on so much since my early posts, but I have posts from the early days which make up a large bulk of my traffic to this day still.
Updating my old posts literally increased my traffic by 300% in the space of 2 weeks. This was only because I had taken the time to ensure I had done everything right this time!
Now if you're anything like me and have hundreds of posts it is going to be so (so so so so so so so so so so….okay you get the point) time-consuming, I set aside an hour a night to go back through my old posts and usually can get between two and three revived and reworked.
If you follow these 10 simple steps I can guarantee your traffic will increase too, after all, it makes sense to make your past work, still work for you!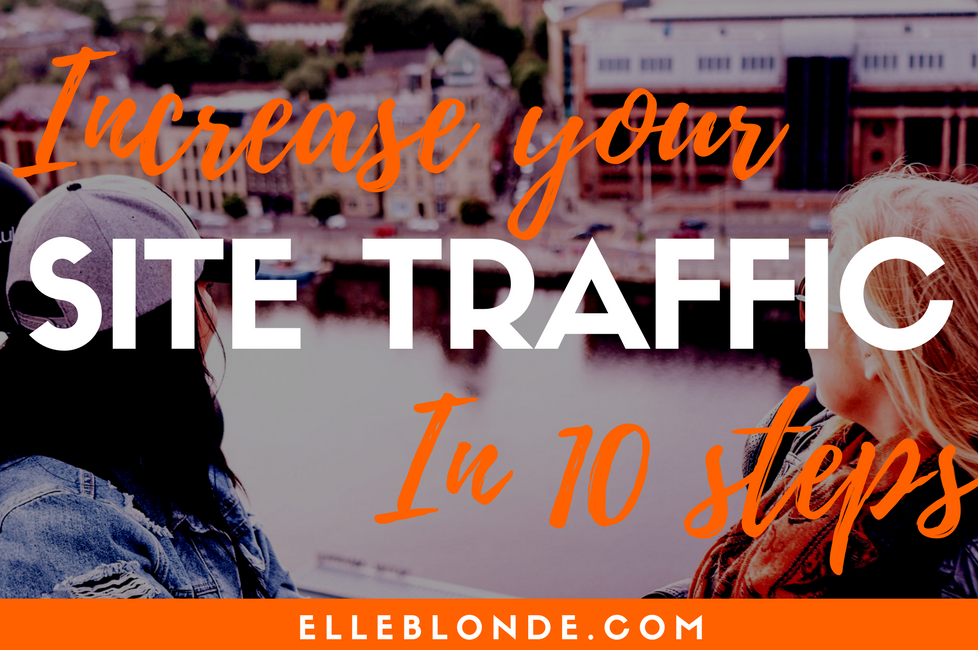 Spelling & Grammar
Now, don't get me wrong, occasionally I make some rookie errors when I'm typing quickly or I struggle to spell a word. I couldn't live without Grammarly, which reads your written work like a human and suggests changes to your grammar and of course, corrects you when you're wrong (just like my Mother). Best of all it's free.
I'm a sucker for leaving somebody's site and never returning if they haven't had the common sense to run their work through spell check. When your sentences are structured correctly and your words are spelt properly, search engines can 'read' what you're writing, which makes it easier to pull up in searches.
In simple, the greater your spelling and grammar and the fewer errors you have, the more likely you are to climb the search engine ranks.
Out of date, update.
It's so simple we often overlook this. If your post is outdated or there's been a further development, a new collection or product tweak why don't you share this with your readers? It's a perfect opportunity to research and add your own personal experiences to the post. It will also increase your word count, and lo and behold, longer posts improve the SEO of your site.
Great SEO is imperative for ranking higher in search engines and bringing you a higher volume of organic traffic.
Featured pins & quality images
This is a big one, and a really important one. Nothing freshens up old content than clean, crisp images. This was a huge contributing factor into how I increased my Pinterest referrals to my site by over 1000% in just one month.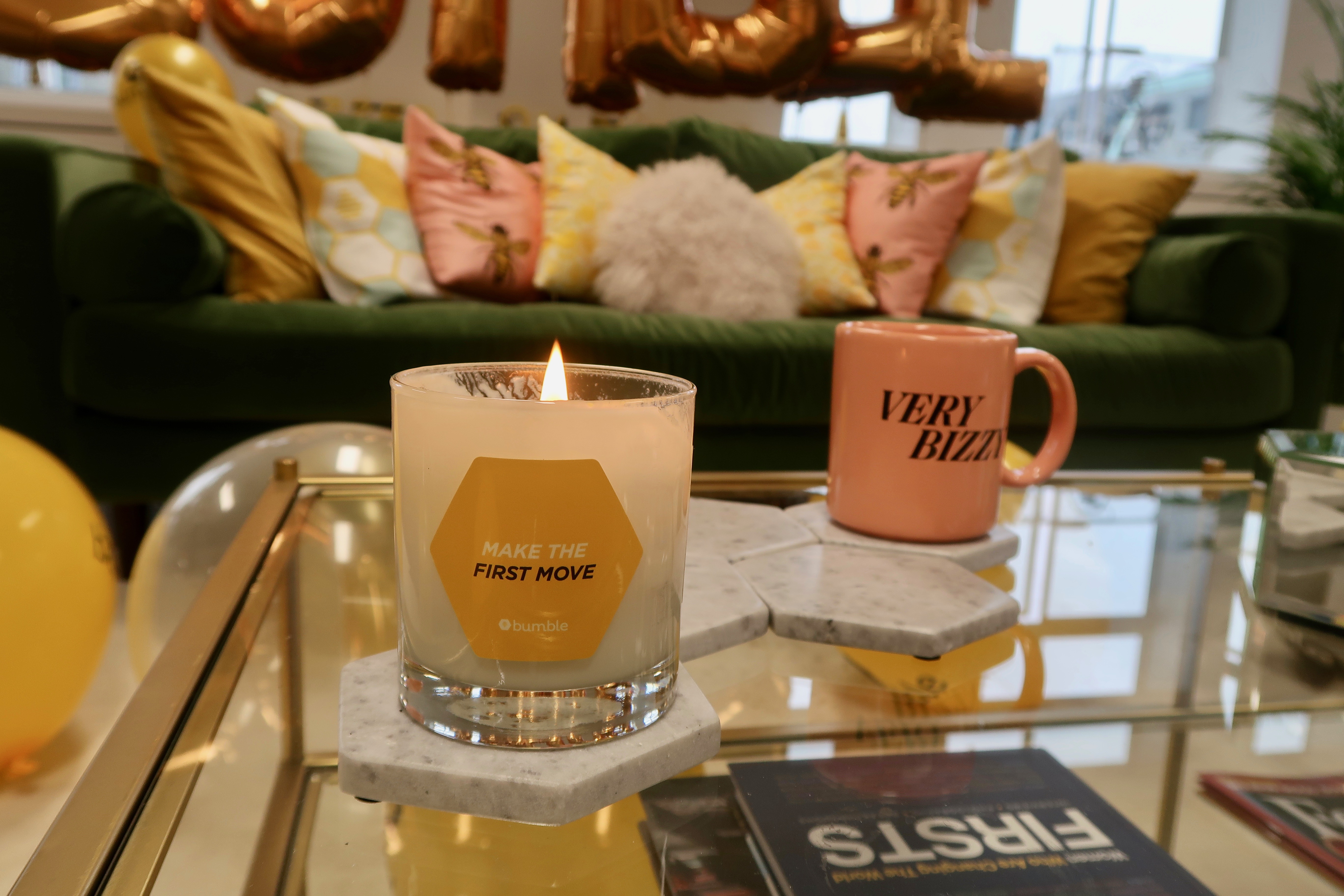 As I went through each post, I created 1 or 2 'pinnable' images and catchy headlines for Pinterest images. I also removed all old photographs and added new and improved images. After all my photography has vastly improved. If I was adding the same image again, I'd ensure that the image was suitably named. This is because search engines do not see images, they can only read them by their names.
You're more likely to have your images found with names such as;
Pinterest-graphic-increase-website-traffic-with-old-posts-how-to-guide-blog-tips-elle-blonde-luxury-lifestyle-destination-blog.png
Rather than;
Image-1.png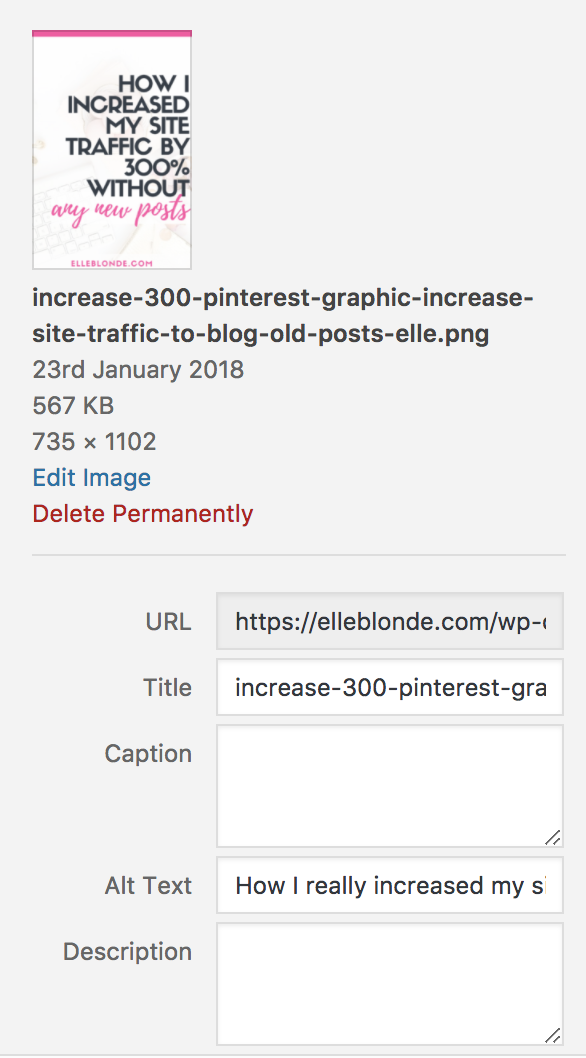 ALT Tags, the bane, but the banker
ALT tags are the bane of my existence, they're also one of the most important things to remember to fill in properly when you're adding images to your posts and updating older posts.
One of my largest sources of traffic is Pinterest, this search engine (notice I didn't say social platform) scrapes your ALT tag information from the image when somebody pins your post to their boards. People don't want to fill in these descriptions every time they pin your images, similarly, you don't want a blank description either. If you correctly insert ALT tags you'll only be doing yourself a benefit.
Use keywords and hashtags for discoverability and to get your images off to the best start on both search engines and Pinterest.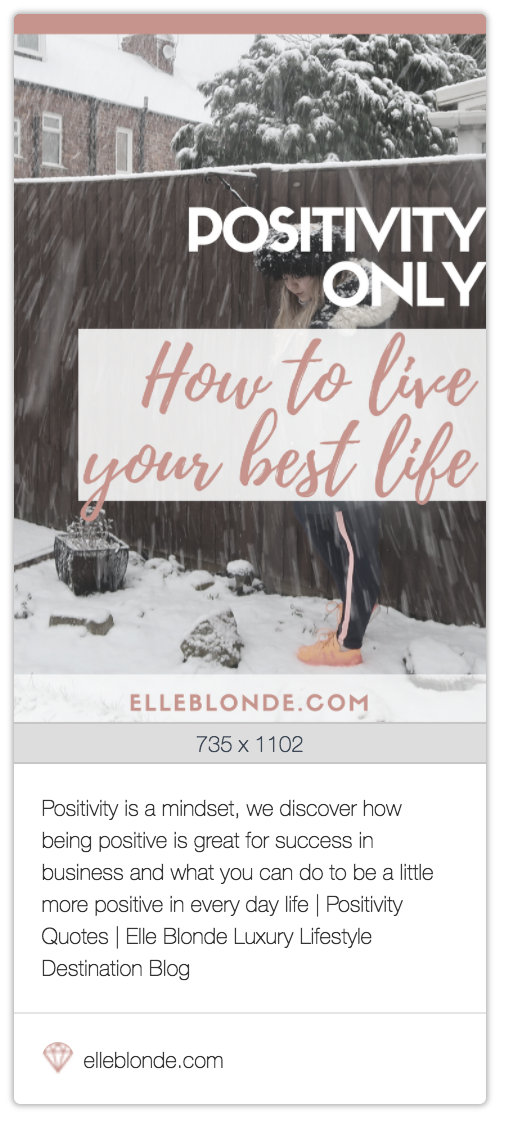 Update Keywords & Meta Descriptions
A good SEO strategy is vital for being found on search engines. Chances are when you started your site you didn't really know much about SEO, or even now if you're still flummoxed just know it is the most important factor for organic traffic!
If you use WordPress then you'll need to download Yoast if you don't already have it (and utilise it). This has been one of the most fundamental parts of my strategy for old posts  growing my organic traffic by 300%.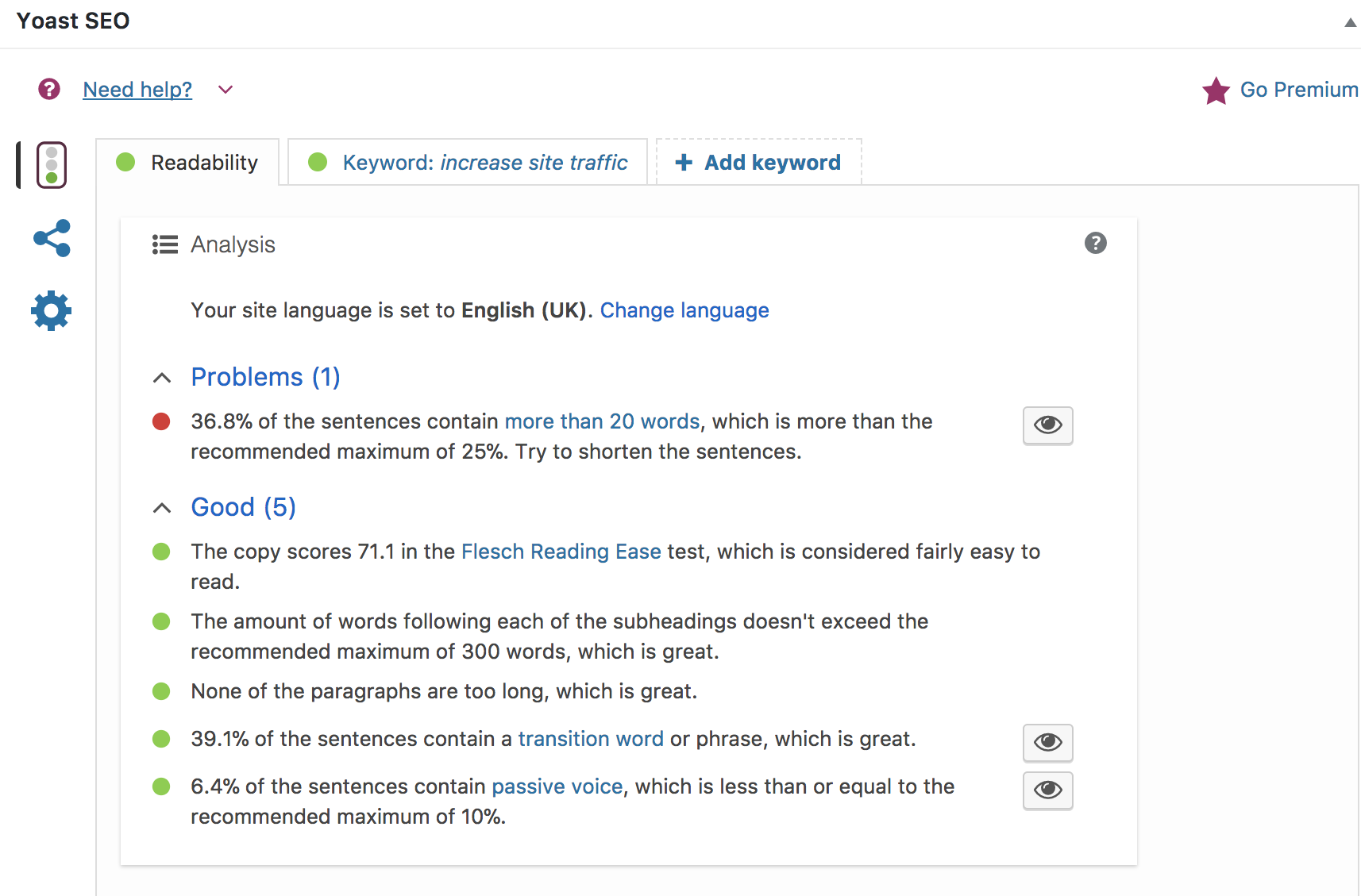 Yoast helps to optimise keywords which increases site visitors from Google and Bing. Another great factor of Yoast is it helps with readability.
When I was going through and updating older posts I would only be completely satisfied if both the Readability Score and the SEO Score both had green lights signalling that my SEO was perfect.
If you're seeing red and ambers on Yoast, for the sake of SEO and discoverability I highly suggest you working on your errors so that you're all green.  It makes sense to do a full job instead of half a job if you're going through the trouble of fixing your old posts, doesn't it?
Update your title
Ever thought your title wasn't catchy enough? If you've been writing for a considerable length of time and not receiving the traffic you should be, perhaps something is amiss. Titles can literally be the difference between a post succeeding or failing.
Two things that you need to understand about writing a good title;
Catchy – a good title makes someone click and read.
No clickbait – a good post completely satisfies expectations and provides a solution to the title.
If you're not receiving the number of page views you want, why not change up the titles. I recently started using the Co-schedule Headline Analyzer which is great for giving you a headline score of how well your headline is going to be received.
Below you can see the difference between my initial working title and my actual title. To take my score from an average 56 to green and an excellent 75. I've used this tool for all of my older posts to help create a greater received and more catchy headline.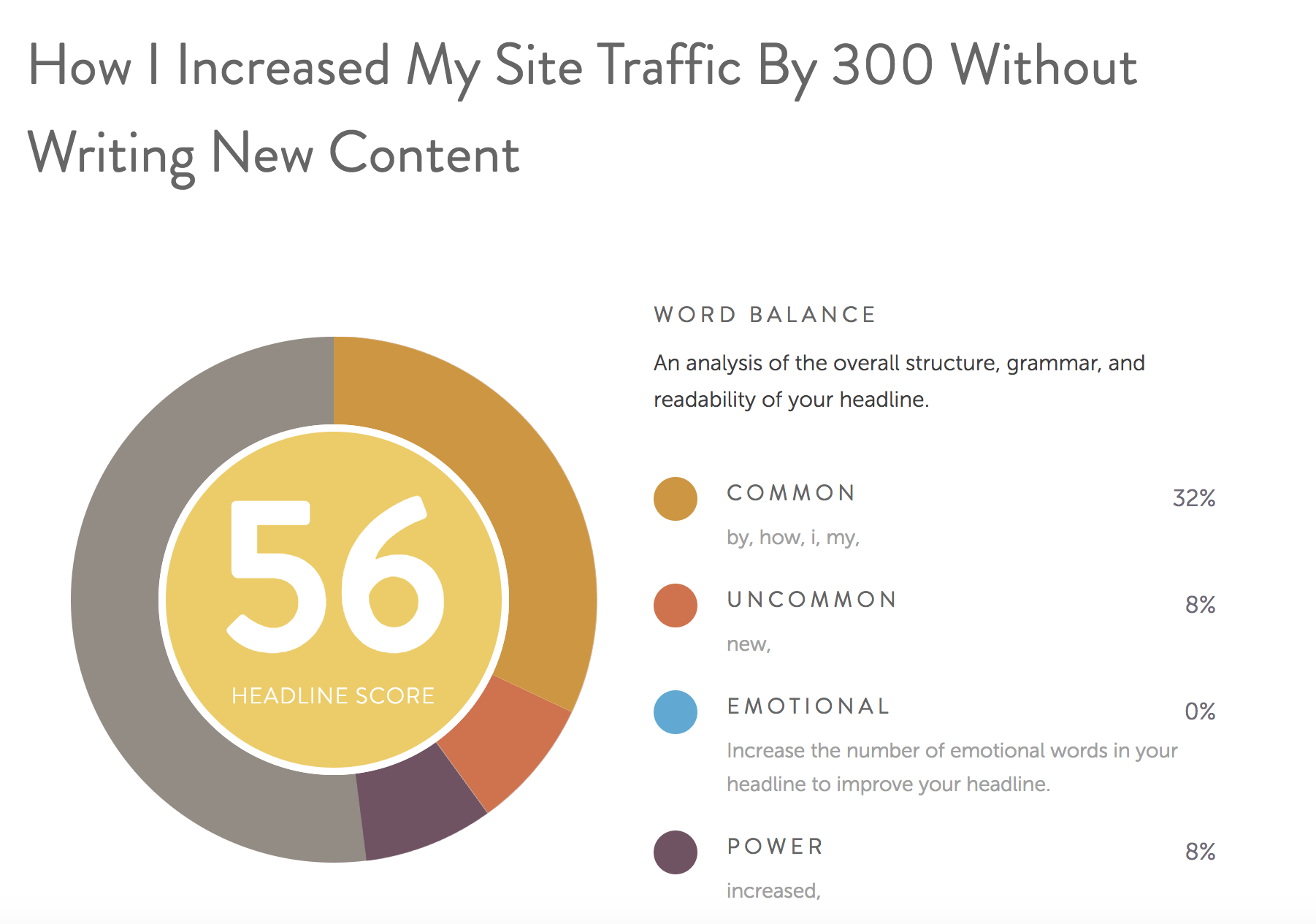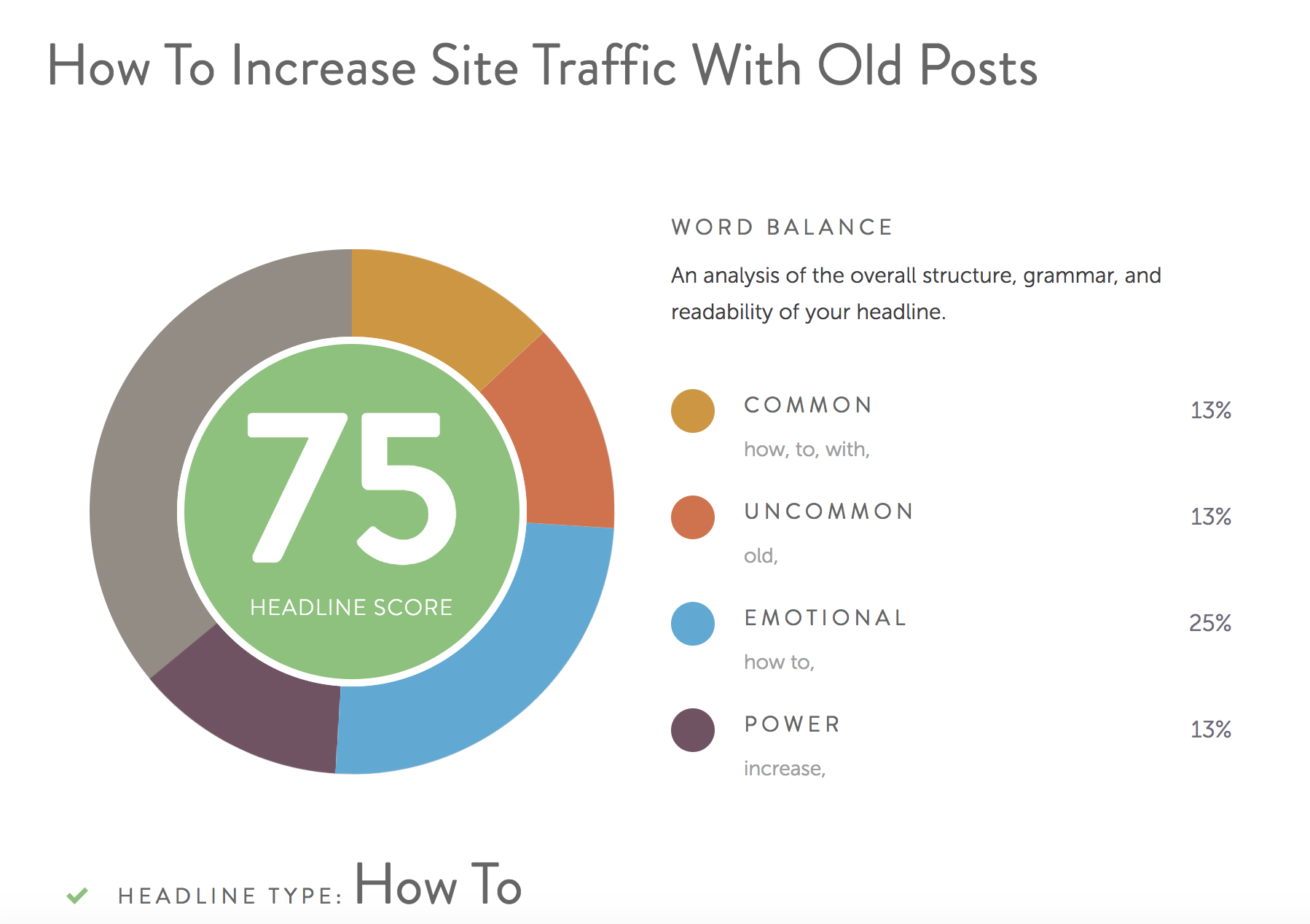 Internal links
You clearly can't see into the future, so when you write a new post what you should do is go back and link to old posts too, ensuring you have no orphan content on your site.
What's orphan content? To simply put it, it is posts that don't link anywhere. Think of your website as a spider's web. The more links you have going between all of your posts back and forth and to different posts make your site stronger.
I aim to link to about 3 other posts on my site. I tend to search the keyword to see which posts are showing that word and then link them to each other. Yoast offers a premium extension for their plugin which shows all of your orphan content, again improving your SEO.
What it's also great for is keeping traffic on your site. The more pages readers view, the lower the bounce rate will be. If you link your posts to similar posts those people reading can click through to read other content, increasing page views and lowering bounce rate. A lower bounce rate indicates your site is significant and relevant to your readers.
Do be aware though, if you're linking to another post, use keywords of the post you're linking to and not just 'click here'. This increases your SEO too and helps drive more site traffic.
In and out.
Adding external links is an exceptional way to boost your DA (Domain Authority) which in turn pushes you higher up search engines. By linking to other reputable sites in your post such as Forbes, Huffington Post and other sites with authority that have similar keywords to your site you boost your own DA and SEO.
For example, if you write a fashion blog, linking to Lydia Millen would be great for your niche. Zoella if you're in beauty. If you're in personal finance Making Sense of Cents is a perfect authoritative figure for linking to. If you're giving coaching advice Lewis Howes or Melissa Griffin are perfect examples of authoritative figures in your niche.
Would you like fries with that?
Enhance your whole site and older posts by providing new information to your old posts by adding upgrades or opt-ins. Think about how much additional revenue McDonald's generates every year by always asking 'would you like fries with that' – if you're serious about your business you need to be leveraging everybody who lands on your site. Have multiple opt-ins for different topics to help build your list.
I offered a FREE Goal Setting PFD in my '6 tips to owning the hustle' and I also offer an exclusive tip based newsletter for my subscribers who opt-in (I think you should join us if you don't already!) – I'll send you an awesome FREEBIE too when you subscribe.
If that's not enough and you're looking for Social Media Guidance on how to strengthen your business I want to send you it now. Enter your details below.
Grab your FREE Social Media Strategy Guide
Drop your email address into the box below and we'll send you our free Social Media Strategy guide immediately to help you create an impacting marketing strategy for your business now. 
Sharing is caring
Share the life out of your post, add your post to your sharing schedule, you need to get eyes on your older posts which are now new and improved.
You should use the 80/20 rule. 20% time creating content, 80% promotion.
I use Revive Old Post for sharing posts on Twitter & Facebook, however, you can use Buffer and other automated scheduling software.
Tip: If you're looking into Pinterest scheduling tools I highly recommend Tailwind – you can get a FREE account here
It is long. It is tedious, however, I can assure you it is worth it in the end. If you're struggling to write new content, why not go back and reinvent your old content. It's a great way to help increase your traffic and ensure you're still getting those views, even when you're not writing new content.
How many of these do you already do? Have you implemented them on your older posts? Would love to know your thoughts below.
As always, I'd love for you to pin this to your Pinterest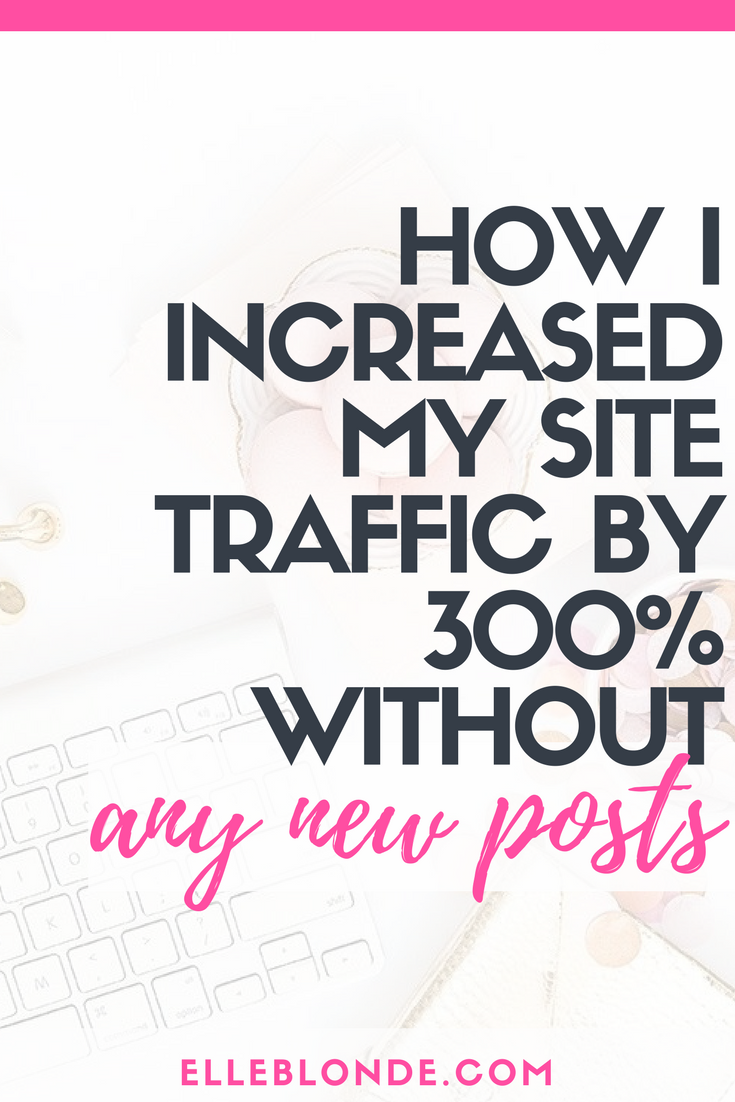 Tagged:
Blog Tips
Blogger Tips
Blogging Tips
Business
Business Advice
Old Posts
Pinterest
Site Growth