Accessorizing has the ability to transform any outfit. Adding the right hat, bag, or jewelry can take an outfit from drab to glam in a matter of seconds without taking off or putting on any piece of clothing.
If you aren't sure which accessories you should have, there is no need to fret because The DOM has you covered. Here are all the accessories you should definitely have in your wardrobe. 
Berets
Berets have never quite reached the mainstream in a way that they should outside of France. The simple hat can be worn in hot or cold months and is one of the best things to hide a bad hair day. If you want a hat that can be worn at night, then a beret is for you.
Wide Belts
Even though they might be straight out of the 2000s, wide belts and Y2K fashion is all the rage right now. You can wear them with a dress, skirt, or pants, and while they don't do the job of a belt, the hit of leather adds an edgy touch.
Cross-Body Bags
Cross-body bags aren't just for mail carriers anymore, and while they are something that was all the rage a good decade or two ago, there's a reason they have maintained a level of popularity. They go with almost any outfit, they are more than big enough to store everything you need, and you can keep them close if you are worried about safety.
Oversized Tote Bags
Oversized carry-alls are the bag of choice this season. Not only are they incredibly versatile and can be used as a day or weekend away bag, but they offset a simple outfit with a more "extreme" accessory.
Layered Chains
Jewelry has always been the go-to accessory choice for many people. However, one trend that so many have ignored is layering. Combining a short chain with a long one adds drama to your neckline and is a step up from the normal single chain or multi-chain look.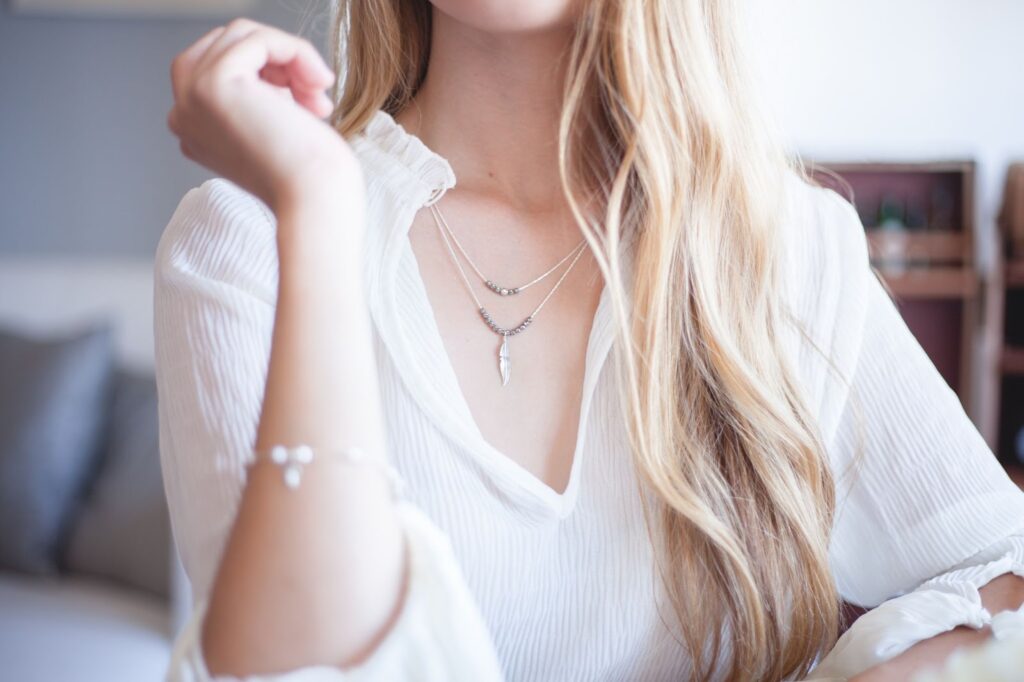 Socks
Socks have become a way for many people to express their style and creativity in a more subtle way. Companies like Stance have produced some incredible designs and themes that quickly take a simple, monotone outfit and make you stand out from the crowd.
Wide-Brimmed Hats
Wide-brimmed hats are another item that has become a firm favorite this season, not only offering you protection from the sun but also a layer of class and style you would see at a royal event, without the rest of your outfit needing to be at the same level.
Hair Clips/Ties
Hair clips and different hair ties are a great way to add a touch of color and fun to a part of the body not often accessorized, your hair. You can add a bow for a classic 50s look or go a step further and add a headscarf if you want a timeless Audrey Hepburn-inspired style.
Sunglasses
Sunglasses have always been viewed as one of the best accessories to transform any outfit. You can choose a pair that is petit if you want a simple, chic look, or you can choose a bold frame if you want more of a statement piece.
Clutch Bag
Clutch bags have sometimes had the reputation of being a bit pointless due to not being big enough to carry everything you need. However, if you don't mind this aspect, a clutch is a quirky addition to an outfit, especially if it's a bright color or pattern.
Sneakers
While not an accessory per se, sneakers are often overlooked as a way to update or change an outfit. Classic designs like Air Force 1's or something similar add a streetwear touch to even the most glammed-up outfits; sneakers and dresses are a combination begging to become more popular.
Watches
Watches, especially high-end ones, have been viewed as luxury accessories for decades now. A well-made Rolex or Audemars Piguet is going to be eye-catching no matter where you are and will add a massive hit of high-fashion to even the most casual outfit.
Rings
Rings are another piece of jewelry that both men and women have used to add some shine to any outfit. While you shouldn't cover every finger in rings, wearing the right combination of petite and bulky rings can make your hands stand out and add a subtle hint of glitz to your out; ring chains and multi-rings add drama to a normally simple accessory too.
Stud Earrings
Studs and smaller pieces of ear jewelry are almost always overlooked. Many people will often choose big, bold earrings when choosing accessories. However, much like choosing the right rings, choosing small ear studs can be the cherry on top of a cake, especially if they are something unique like moon shapes or something similar.
Charm Bracelet
Charm bracelets were once viewed as the accessory of choice for grandmothers. Thanks to brands such as Pandora, more and more people have gone back to charm bracelets as a way to express their favorite things. You can also make them as busy or as simple as you choose, with the bracelet itself sometimes being more than enough.