6 Ways To Spice Up Your Old Kitchen Cabinets
A kitchen is a place where you would love to be especially when you feel like cooking. People who have an interest in cooking might spend most of their time in the kitchen and at the same time might need the essential accessories to be kept in a certain manner to make the cooking process smooth.
People who want to cook but might not like to do that might wish to have an alluring kitchen that could insist them to cook. Whatever the case may be but the need to have modern, beautiful, and efficient kitchen cabinets are important.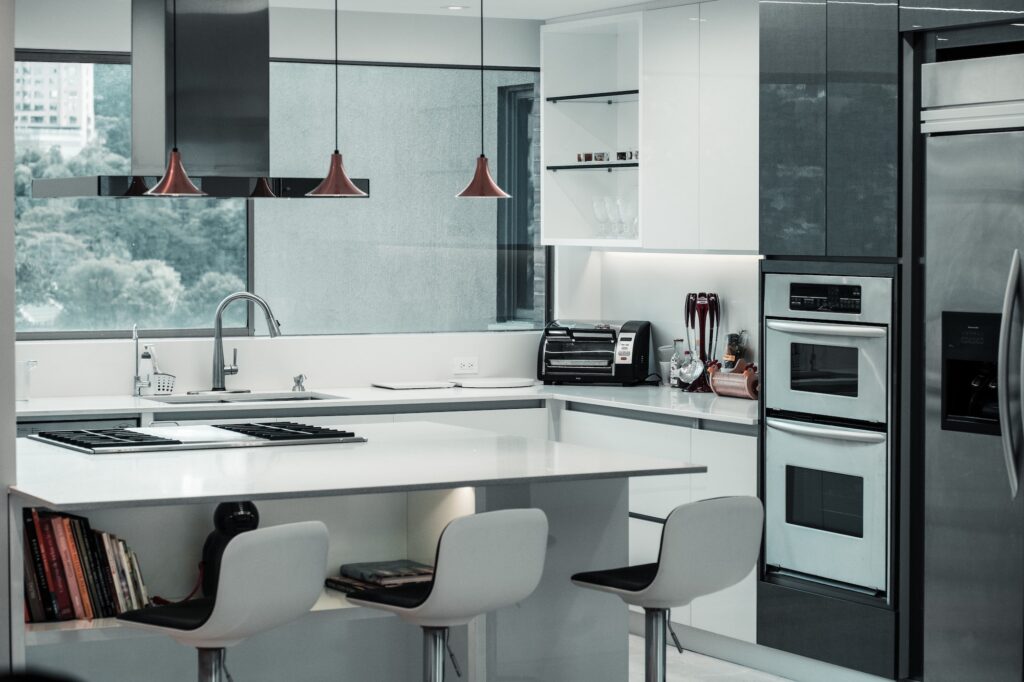 Updating your kitchen cabinets can be as convenient as replacing doors or as complicated as switching all your cupboards and it all relies on the size and style of the cabinets that you choose to redo your kitchen. Listed below are some effective ways you can use to spice up your old kitchen cabinets.
1.Change Doorways and Knobs
An inexpensive and simple method to remodel your kitchen cabinets is to replace the existing knobs and handles or doorways with new ones. Replacing doorways delivers cabinets an immediate facelift and can entirely change the look of your cabinet.
Select doorways for cabinets that are a complementary colour but perhaps just one shade off for any bold contrast. Try to use the same colour but including new doorways of a different style as well.
Selecting a new style or color for the handles and knobs of the cabinets is an affordable way to satisfy a need for change here, and is easy and quick to implement. Switching from old metal or worn plastic to a clean style develops a sleek new look for kitchen cabinets within a few minutes.
If you have white doors, jumping from a dark knob colour to a light one will deliver a phenomenon look to the entire room and take the eye's focus off of the cabinets particularly. If you want to funk up the room, try red or navy blue knobs. You will be surprised how fast the look as well as feel changes.
2.Paint Cabinets
The easiest way to make the old cabinet appear new is to paint it. Painting doesn't take much time. You do not even have to change the colour unless you want. Just re-coating the cabinets will make things look brighter. Colour is considered the most when planning for kitchen cabinet makeover. But colour with a flair can change the appearance of your cabinets from simple to chic, provincial, rustic, or modern.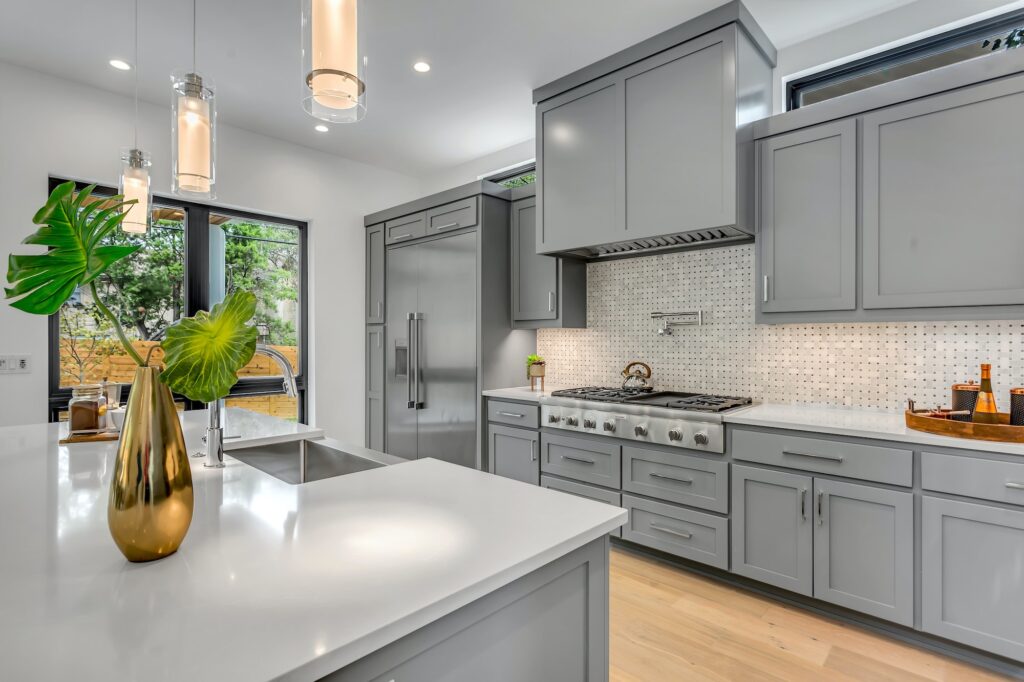 3.Add a Key Piece
To keep things exciting and interesting in a kitchen with matching cabinets, include a standout storage unit. It could be a bright or weathered dresser or plate rack. It will break the rigidity of a single-finish kitchen and make your kitchen grab some eyeballs. You could leave your dishes tucked away behind closed doors. Or, if they are vibrant and interesting, you could make a place to display them, freeing up the storage space and including a splash of colour to your kitchen.
4.High Gloss
Not only will a high-gloss finish decrease the possibility of dirty fingerprints better than any matte (and it is convenient to wipe off), it will also simulate the look of glass or metal in a modern setting. To shine up your smooth and alluring cabinets, paint a high-gloss clear acrylic varnish over your final coat to include the depth and effect of a glassy finish.
5.Stencil Something
Another convenient way to freshen up the look of kitchen cabinets is with stenciling. Not only is stenciling affordable, but it also permits you to present your creativity with your cabinets. When you are selecting a pattern to stencil onto your kitchen cabinets, it is perfect to use a medium-sized or small pattern.
Large patterns on cabinets can cause a dizzying effect and detract from the rest of the kitchen. If you are stuck on where to begin, consider damask patterns randomly placed, stripes, or geometric shapes.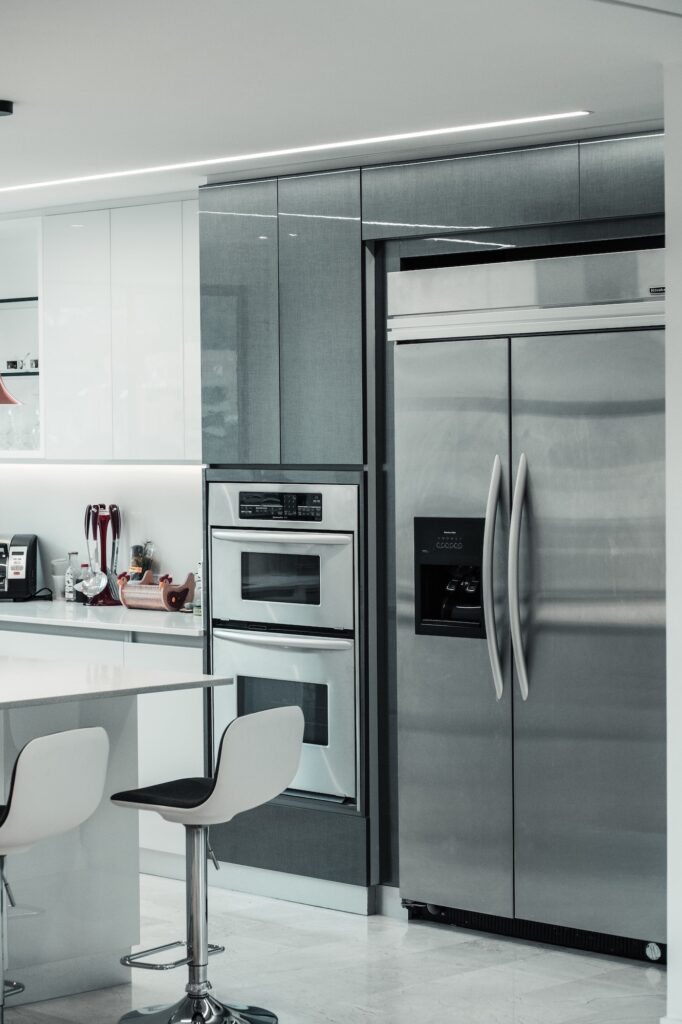 You have two different options for stencilling your kitchen cabinets: buy a premade style or develop your own. Buying a premade stencil is faster and convenient in comparison to designing one yourself.
However, making your own permits you to develop a new look for your kitchen cabinets that would not be found anywhere else. Ensure that you select a paint colour for the stencils that is dark or light enough to make the design clearly visible on the kitchen cabinets.
6.Add Your Own Handles
This kitchen works its magic with easy to hold handles. The handles could be an eye-catching element and pleasant to hold — significant when you consider how often they will be utilized. Open shelving on top combines with a stainless steel countertop that would not be out of place in a chef's kitchen.
You can also consider an alternative to replace the doorways of your cabinets is to utilize a self-adhesive veneer. A self-adhesive veneer is affordable than real wood and has a realistic wood appearance. The veneers are convenient to fit your cabinets and do not need any special technical skills to use.
As with replacing doorways, select a veneer that goes with your cabinets. The most essential detail to keep in mind about self-adhesive veneers is to analyze your cabinets carefully before you apply them to the framework. Even if you are not accurate, however, the veneer can conveniently be trimmed to fit the cabinets.
Spicing up your kitchen cabinets is an enjoyable and creative method. Best of all, it can be done despite your skills with remodelling projects. Today's home improvement projects make the transformation of the old kitchen the easiest. By utilizing your imagination you can plan what to place where which colour to use, and how will the kitchen look afterwards. You can create the appearance of a brand new kitchen without investing much.
Tagged:
Home Decor
Home Design
Home Interiors