Cruising is the new cool – Jon Bon Jovi Cruise
Ever partied on a cruise liner? No neither had we until last week. We joined over 2,000 other Runaways, representing 51 different countries on the Norweigan Pearl. To embark on what would be one of the greatest bucket list adventures for everybody on board. The Runaway to Paradise Tour with Jon Bon Jovi! Sailing from Barcelona to Palma over 4 nights, the concept of cruising just turned a whole new level of cool.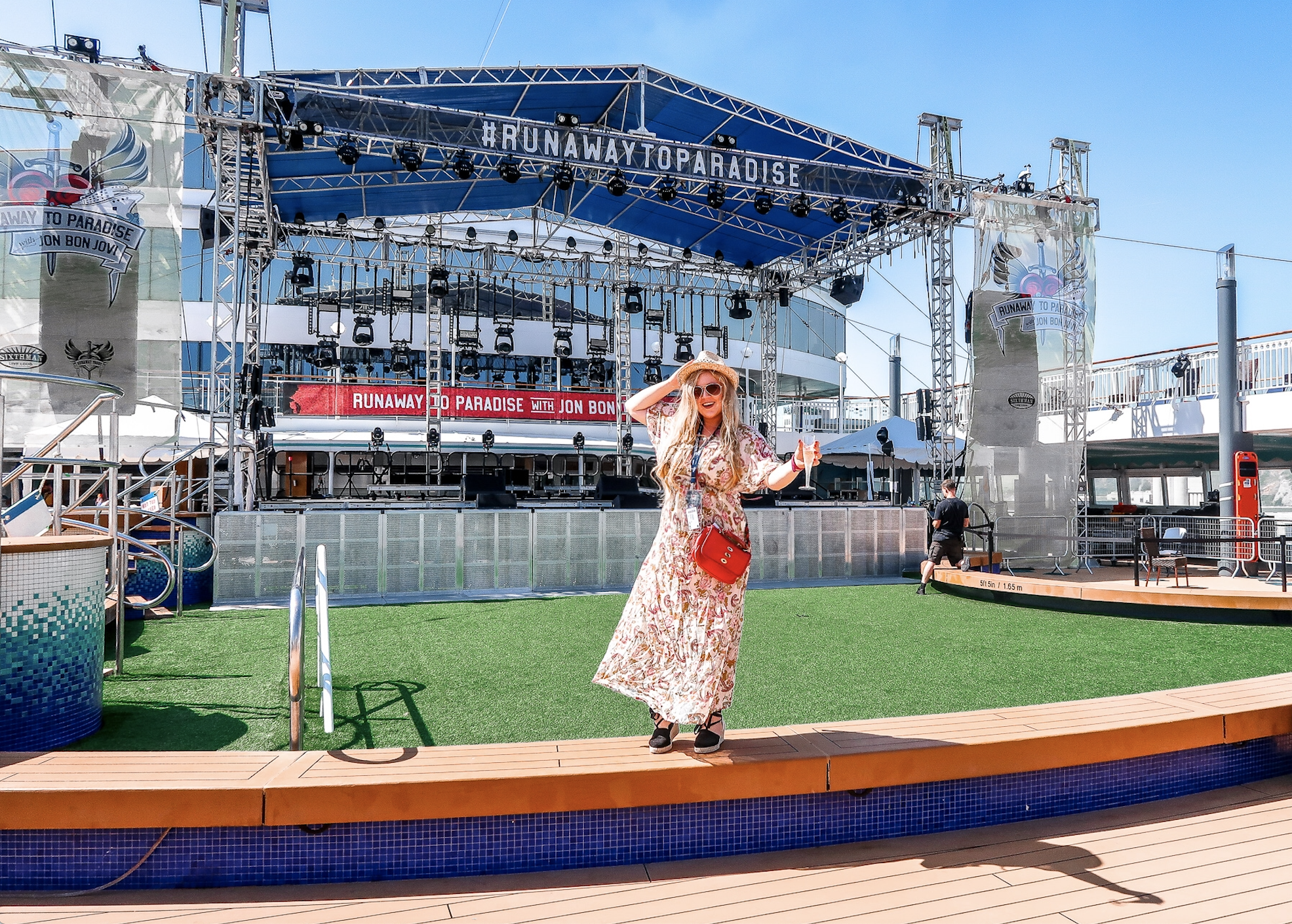 For 4 nights the Norweigan Pearl had been transformed into a Jon Bon Jovi paradise. 
Jon himself performed an acoustic set as well as a full-on rock concert on the pool deck over two nights. If that wasn't enough he was joined by Kings of Suburbia supporting him.
To entertain all of us Runaways when he wasn't on board there were also live sets from Johnny Rzeznik (of the Goo Goo Dolls), Kent Rockers Collateral, Spanish sensation Antonio Rivas, the ladies' favourite Stewart Mac, MMA fighter turned rocker Kris Barras and The Kris Barras Band. The world's greatest Bon Jovi tribute band, Slippery When Wet. Ladies of the ship Betsie Gold and Hannah Wicklund and The Steppin Stones.
Opening the four day festival in the Mediterranean Sea was Barack Obama's favourite Grace Potter. AND if that wasn't enough DJ Dave joined the party and silent disco Shut Up and Dance had the crowd going until the early hours every night.
Festival cruising
With a twist on your traditional cruise, cruising has become the new cool. I mean who wouldn't want to go to a 4 day festival in the middle of the Mediterranean? Boat festivals have seen a rise in popularity over the last couple of years. And with an opportunity to get up close and personal with some of your favourite artists. It's a far greater (and more exclusive) experience than pitching a tent in a muddy field!
Organised by younger brother Matt Bongiovi and Sixthman there was a constant stream of activity and an even more constant supply of Jon and his son Jesse's wine venture Hampton Water, which meant the boat was certainly rockin'.
The entire ship had been transformed into a JBJ lover's paradise. With cardboard cutouts, penny pinchers, stickers and decals everywhere including plenty of his signature heart and daggers logo (and so many people with matching tattoos to boot).
His music played in all of the corridors had everybody singing along together everywhere they went. Every aspect of the ship even down to the napkins were Bon Jovi'ed!
To really complete the experience there were pieces of memorabilia all around the ship. Including some of the rock sensation's most iconic jackets and guitars.
Bon Jovi had even brought his beloved Soul Kitchen on board. A community restaurant with no prices on the menu, simply a suggested donation of $20 per meal. So the concept behind Soul Kitchen is to pay it forward and pay for somebody else's meal too. Someone less fortunate. With the idea that everybody is welcome at the table.
Jon Bon Jovi Exclusives
Every evening with turndown service we were presented with some very exclusive Runaway to Paradise keepsakes. Including autographed posters, a gorgeous snuggly Runaway blanket and a limited edition Runaway luggage tag. Each item placed on our bed nightly with a little note. These small gestures really added to the overall entire experience.
Our room was a balcony stateroom, which was so stunning to sit on the balcony and take in the mesmerising water lapping off the boat after a hectic day. The twin room's decor was opulent and in a teal green was very modern. All of the crew on board were incredibly friendly and extremely efficient. Norweigian really has perfected the look and feel of their cruise liners as well as their incredible staff.
Get to know the man, the legend
To really immerse yourself and get to know Jon further there were showings of JBJ documentaries and an intimate behind the scenes look with David Bergman, Obi O'Brian and of course, his brother Matt. There was an additional added opportunity to see an intimate portrait of Jon with Phil Green.
The cruise set sail from Barcelona to Palma to pick up the legend himself. Battling heavy rain and winds on the open waters the Pool Deck where Jon was supposed to perform his storyteller set was out of bounds. With a quick change to the Stardust Theatre indoors, ever the professional Bon Jovi performed 2 intimate acoustic sets instead with a storyteller Q&A. This, in my opinion, worked out much better as the theatre only held 1,000 so was far more intimate.
Getting a real sense of just what a genuine and humble man this global sensation is. Performing some of his biggest hits such as 'Livin' on a Prayer' 'You Give Love a Bad Name' and 'It's My Life' in a far more raw and broken down style as well as a couple of classic covers including Jeff Buckley's Hallelujah.
Bon Jovi New Album Name Released
In an exclusive Bon Jovi's teased of his new album releasing next year. Titled 'Bon Jovi: 2020'.
Opening up to fans JBJ joked "It's an election year, so why not? I couldn't do any worse." The more poignant reason for the title, he went on to explain, was that he has a "clear vision". After the 2016 album 'This House is Not For Sale'  the New Jersey rock man claimed to have dealt with personal matters and now they're behind him he broke it down further. "Now I have a clear vision moving forward."
With socially conscious themes as the backbone of this philanthropist's new album, songs confirmed will focus on veterans with PTSD and the recent shootings in both Ohio and Texas.
His set was absolutely incredible and the whole ship became even more electric with excitement. With a white party theme for this evening, the Runaway party goers looked stunning in their crisp, white outfits as they sauntered around the ship. A welcome change from leathers and grunge rock black tees.
Cruise in Port
The following day saw a day in Palma for all passengers to explore the historic town in Mallorca. Although there were also movie screenings of JBJ past performances for those that didn't want to get off the ship. That evening saw the boat rock big time as the sun shone and everybody gathered on the Pool Deck for the main event.
Performing some of his all-time classics and some of his favourite covers including his hits 'Bad Medicine', 'Goodbye to Yesterday' and 'Runaway'. Even pulling a couple of fans onto the stage to sing along with him, the crowd went wild. The scenes were incredible of everybody coming together for their love of Bon Jovi on the Pool Deck, even those dancing in the hot tubs (and the crew on the ship who had never experienced a party boat quite like it).
With a whole programme of events, there was something going on all of the time. If it wasn't a set from one of the bands, there were plenty of happy hours and wine tasting with Hampton Water. Brunch and bingo hosted by Norweigan and Collateral. Karaoke with Kings of Suburbia, a Rock & Roll trivia, meet and greets with the bands and even for those who weren't feeling too ropey in the morning, Yoga! 
Throwing it back to the 80s
On the final evening, the whole ship threw it back to the 80s with an 80s fancy dress themed night. Of course, I donned black and white face paint in honour of one of my favourite bands of the 80s and for one night only became The Demon from Kiss. People came out in tutus and neon, Run DMC made an appearance, Axel Rose showed up and there were a few Bill and Teds spotted around. All those dressed up looked outstanding.
Everybody came together for the 80s Jam to kick off the beginning of the final evening of this incredible cruise. All of the bands that were on board rocked out and played covers of their favourite 80s songs. (There were even a couple of random 60s and 70s songs thrown in for good measure).
So regardless if you're a huge Bon Jovi fan or not. The 4 days at sea listening to incredible music, soaking up the atmosphere and the sun in the Mediterranean sea was a once in a lifetime experience and with cruising becoming the new cool, the Kiss Kruise is coming up in October and travels to Falmouth, Jamaica from Miami….it's certainly set to be a good one. Check out the line up now. 
Tagged:
Cruise
Jon Bon Jovi
Press Trip