After a recent relocation to Las Casas, Arona the fabulous Oliver's restaurant has taken up its new residence in the picturesque rolling hills of Tenerife. The dynamic duo of Kath & Chris head up the amazing family run business and sensational dining experience. Which always has bookings as far as a year in advance. Now known as Oliver's Out of Town, they offer an ingenious pickup service from your hotel or apartment to the new location for a small fee.

Anyone who is familiar with Oliver's Out of Town will know that booking well in advance is essential to bag a table at this wonderful restaurant for the evening session. What some may not know is that they have recently extended their service and are now serving up an incredible Sunday Lunch. I guarantee anyone with an ounce of taste will not be disappointed.
Fortunately, we had managed to reserve a spot for Sunday Lunch whilst we were visiting Tenerife for a long weekend at the end of February. With the sun beating down we enjoyed a glass of wine (or two, you know me) in the rustic garden of the restaurant. With plenty of outdoor seating, you are able to fully take in the breathtaking views, especially on a clear day.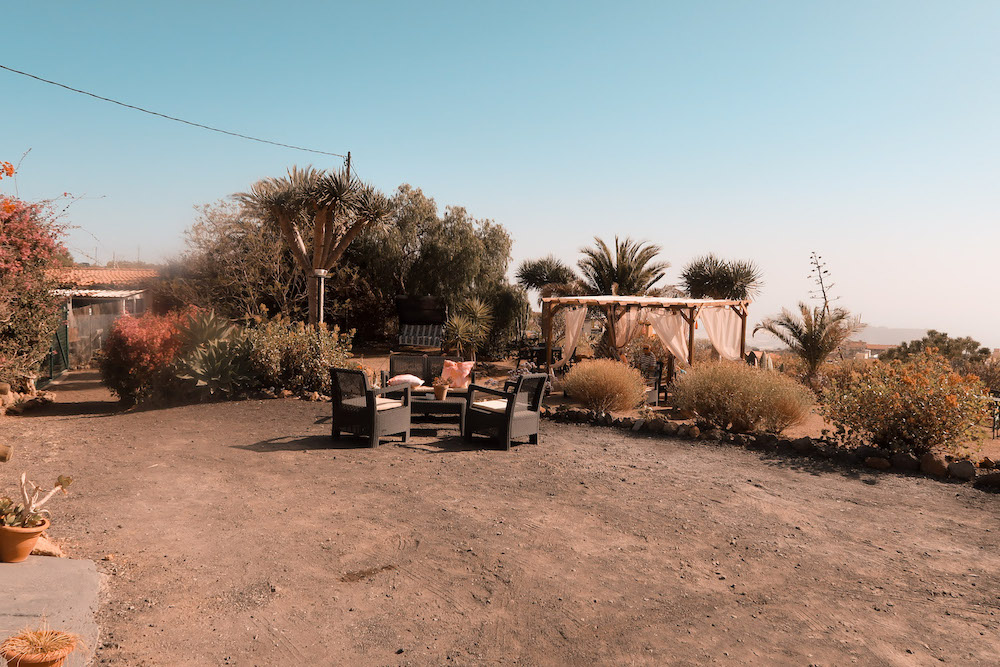 Having decided to dine al fresco due to the glorious weather, we headed to our table after making our selection from the set price two-course menu. With enough choice for everybody (including vegetarians). You can tell that there's been extreme attention to detail when creating the menu.
Food, glorious food
There were four of us dining and for starters. We opted for the cauliflower soup, the mixed seafood starter, the pate and the melon and ham.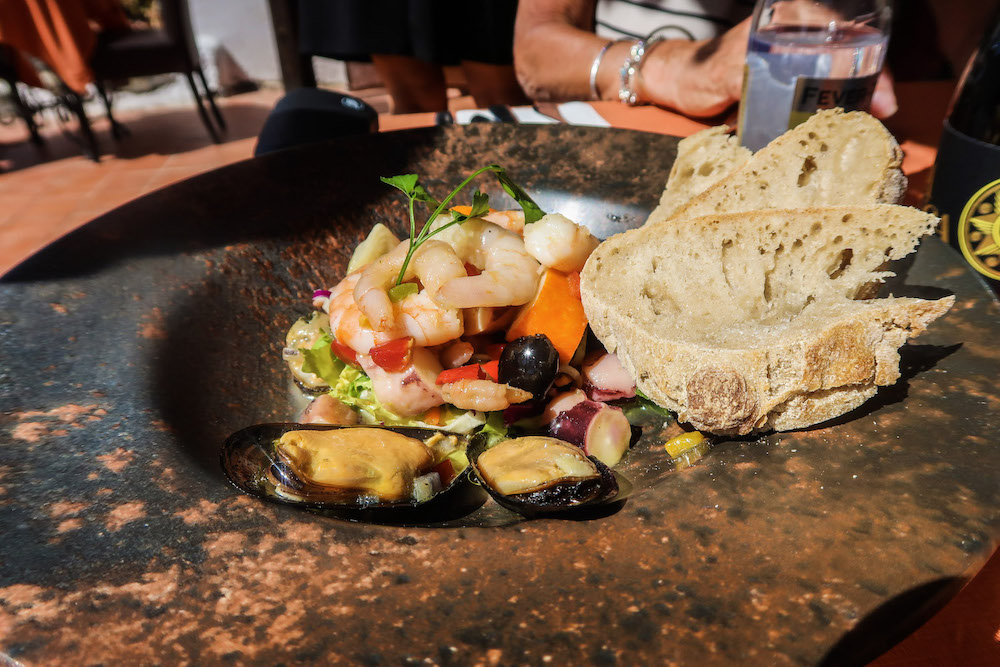 As the starters were brought out the attention to detail was incredible. My soup was served before me. With a breaded piece of cauliflower in the centre of the bowl and the soup then poured at the table around the centrepiece it was a lovely piece of theatrical presentation. The food was well seasoned, therefore there was absolutely no need for any additional condiments. You can tell that Oliver's Out of Town are passionate about good food. No wonder people book so far in advance!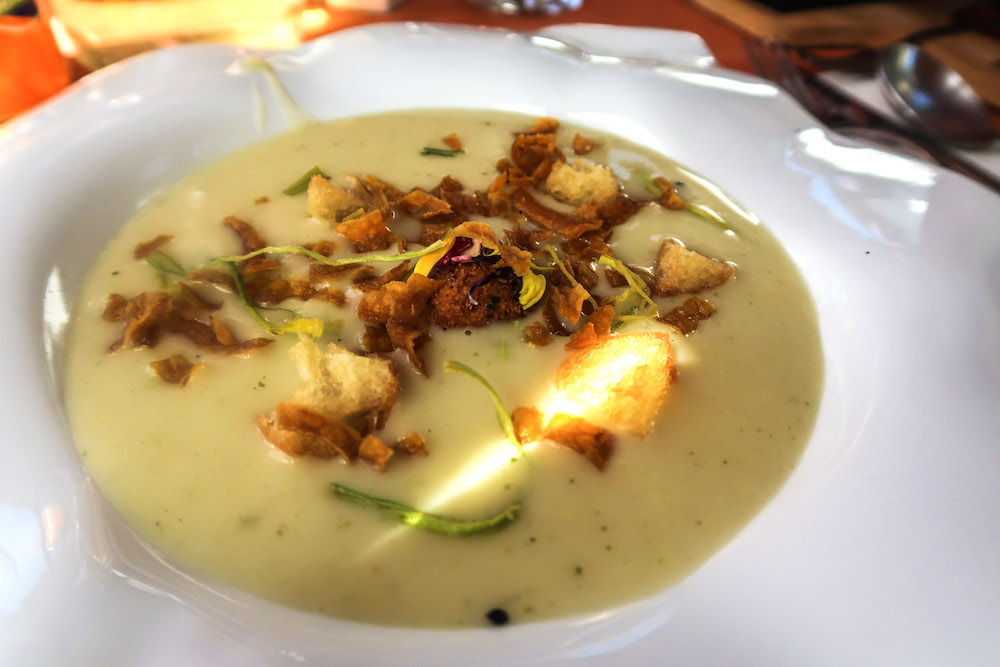 The soup was sensational, it was creamy and rich. With the cauliflower leading the flavour. Served with croutons and crispy shallots I could have easily had a second bowl! It was really that good!
The pate was delicately served, with a miniature Kilner jar containing a delicious onion relish, stacked slightly toasted bread and a fresh salad serving. You can often tell a good restaurant by its pate and this was simply sensational.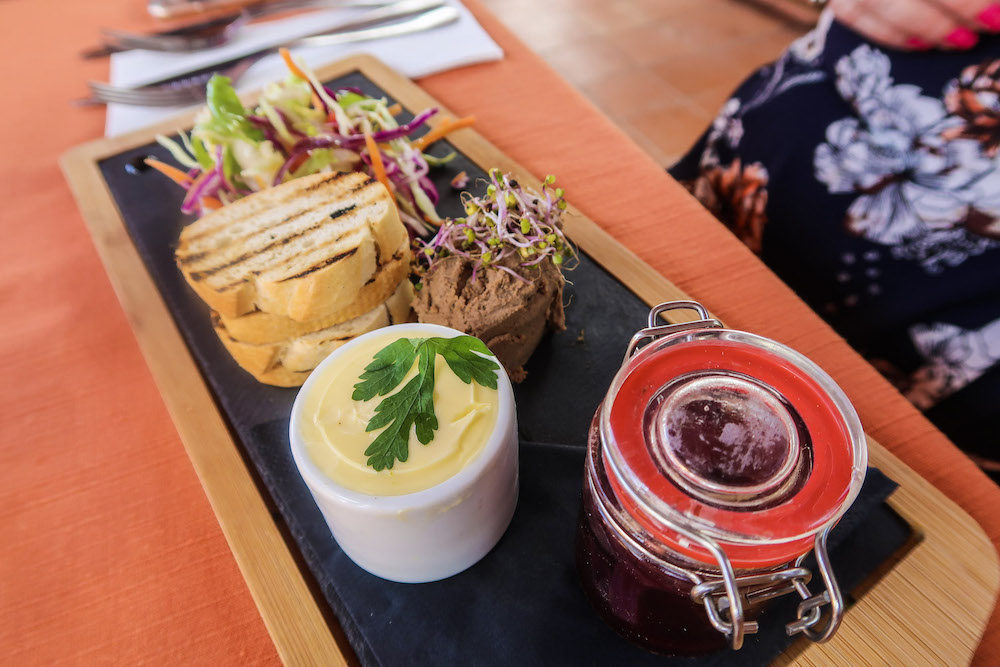 The Best Roast in Tenerife (and maybe even the world)
After we had finished our starters we had a brief rest. Soaking in the sun and the views, and the wine, just before our mains were served. As Oliver's Out of Town is British owned, the Sunday Lunches are full of meat, veg and most importantly huge Yorkshire puddings. Half of the table had chosen roast beef, the other half Turkey.
Our plates arrived piled high. With succulent beef, roast potatoes, a divine mashed potato, carrots, cabbage, parsnip and a red onion accompanied by a Yorkshire served with gravy. You can add a side order of cauliflower cheese and as this is one of my personal favourites I couldn't resist. I can positively say that it was one of the best Sunday roasts I've ever eaten! The beef just melted in your mouth and the mashed potato was incredible. My only slight observation was that I perhaps should have asked for more gravy. But what can I say, Northern Girls just love gravy right!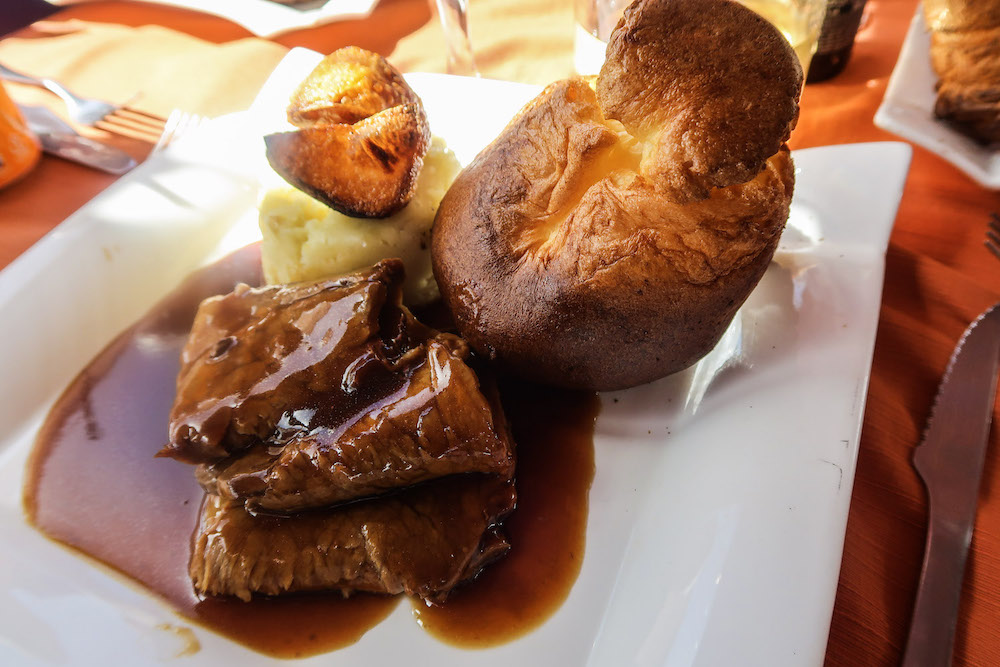 Just Desserts
Feeling suitably full, and probably not in need of anything else to eat we couldn't help ourselves and wanted a little more of this glorious food. Having stated when we arrived that 'I would only have dessert if there was Eton Mess' within 5 minutes of sitting down a pavlova with Chantilly cream and fresh berries passed my eyes. I didn't even require a dessert menu. I knew that I was having my favourite dessert. As too did my Grandma and Granda. The meringue nest was chewy, just the way my Granda and I prefer it. With fresh Chantilly cream and delicious berries, it was the perfect end to the most perfect dinner.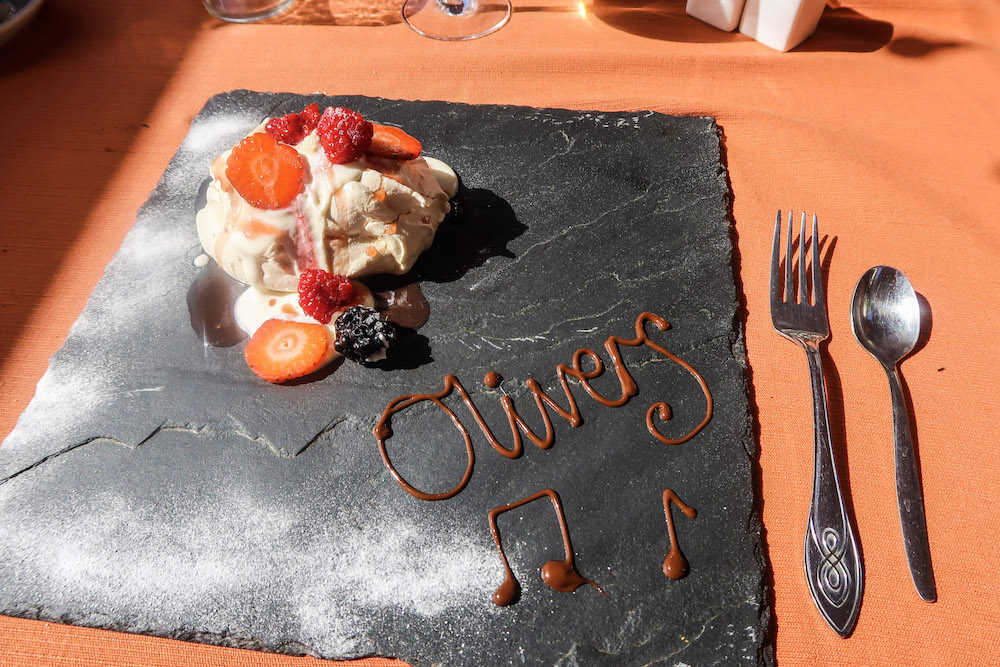 My mum, she had opted for the American Cheesecake. When brought out, it certainly would have given the American's a run for their money. The size of it was huge! My mum confirmed that it was absolutely delicious.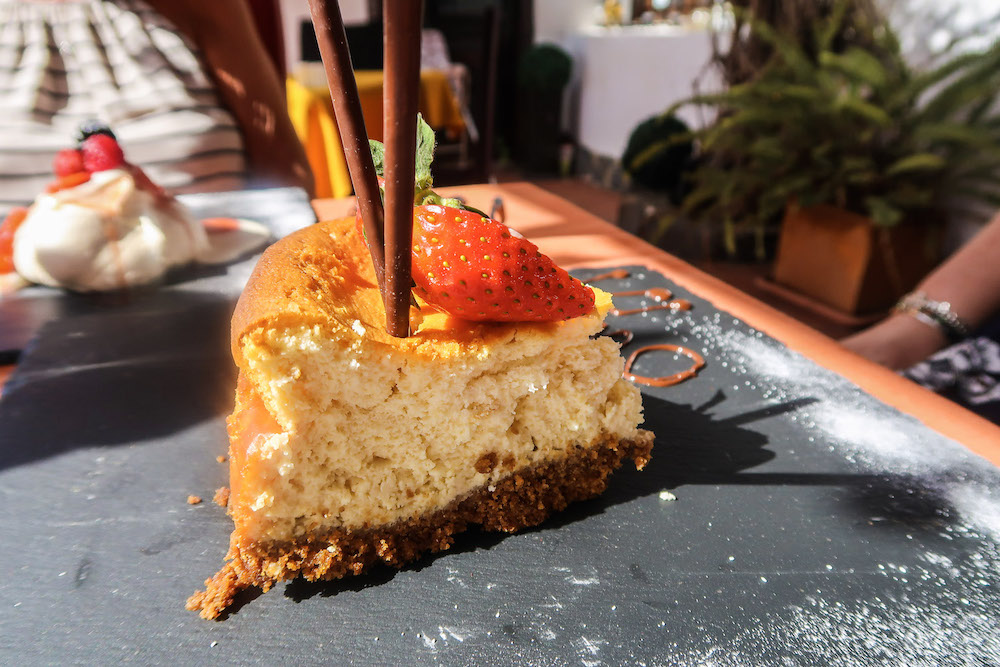 Of course, you eat with your eyes first and to me, presentation is all part of involving all of your senses in the dining experience. At Oliver's Out of Town the attention to detail is incredible. And the dishes are all served perfectly. From the quirky plates and slates and perfectly accessorised cutlery and crockery and Oliver's with musical notes drawn in chocolate sauce on your dessert plate. This is certainly a dining experience you won't want to miss out on!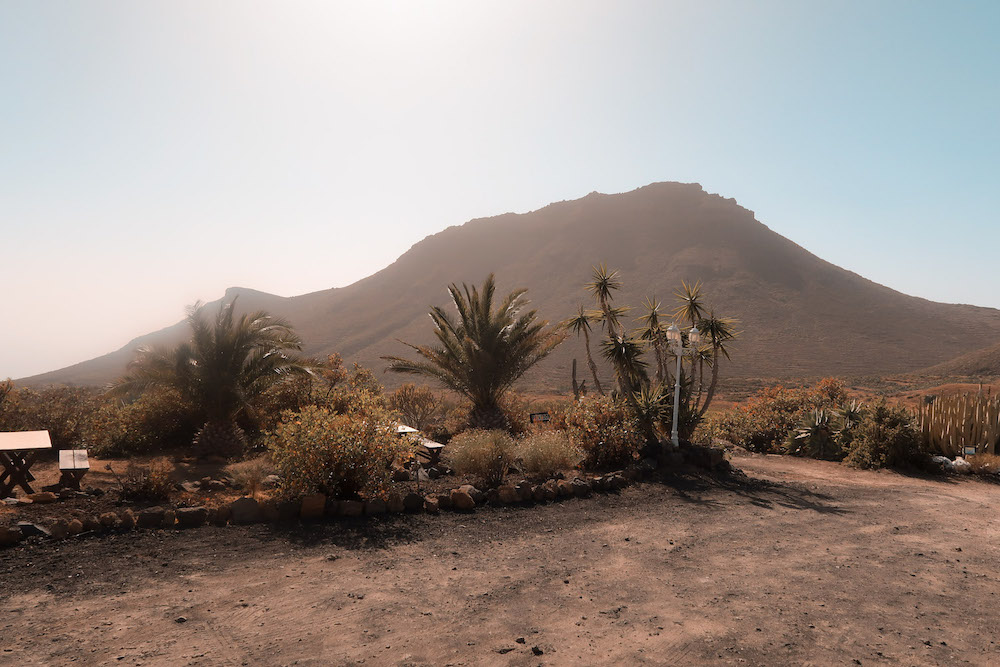 Make no mistake this is one restaurant where we certainly would agree with Fagin; so long fare thee well pip pip cheerio, we will (definitely) be back soon!