Every morning I find myself checking the 'On this day' section of my Facebook page and on Thursday this appeared.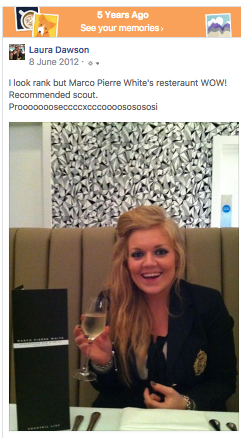 What a coincidence, the same day five years down the line I was heading to MPW to check out Paul Amer's new menu. It must be Happy 5th Birthday too to the restaurant. Which resides in Hotel Indigo on Fenkle Street as we first visited on their first week of opening.
Having eaten here multiple times I knew what to expect. So I was looking forward to the evening ahead and especially to order one of these Summer cocktails with meringue and rainbow dots in.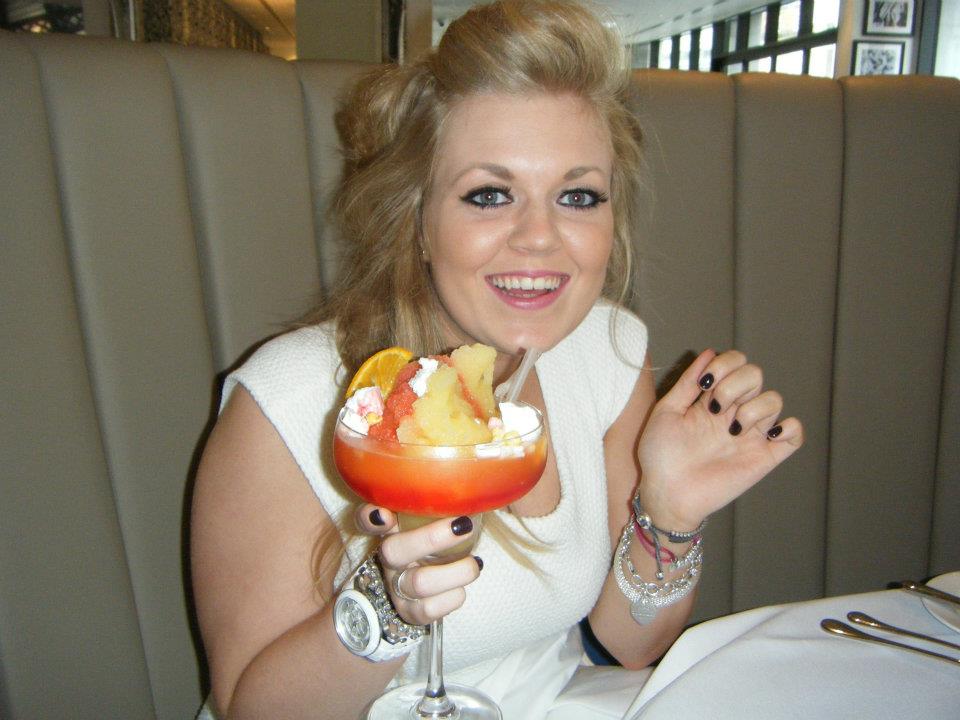 Arriving at Marco Pierre White's restaurant we were shown through to the private dining area at the back of the restaurant. A very simple colour scheme with minimal decor. Huge black and white images of the man himself hang upon the wall. Cream leather booth seating is contrasted with dark wooden chairs. The wallpaper, a geometric flocked paper on the accent wall creates a luxurious and sophisticated feel about the place.
Our table for the evening consisted of some of my favourite ladies to dine with. Mostly for the comedy value. Including of course the Ant to my Dec, Pixie Tee from Fashion Voyeur. The gorgeous Stephanie Fox from the self-titled site. Massively fan girlling over Ami Littlefair from Cranberry & Apricot's Instafeed. That Lady from a Tramp and (should be) comedienne Katie V. The only person to actually understand what the ELLE in our title is for, LB or ellbee from Proper Scrumptious and of course pint-sized princess Gemma from Gemma's Little World.
Pulling up my pew I immediately checked the cocktail menu scanning for a choice of two of my favourites. The cocktail from the photo above (it's gone from the menu) or an Elderflower Collins. Check, raspberry and elderflower were the cocktails of choice.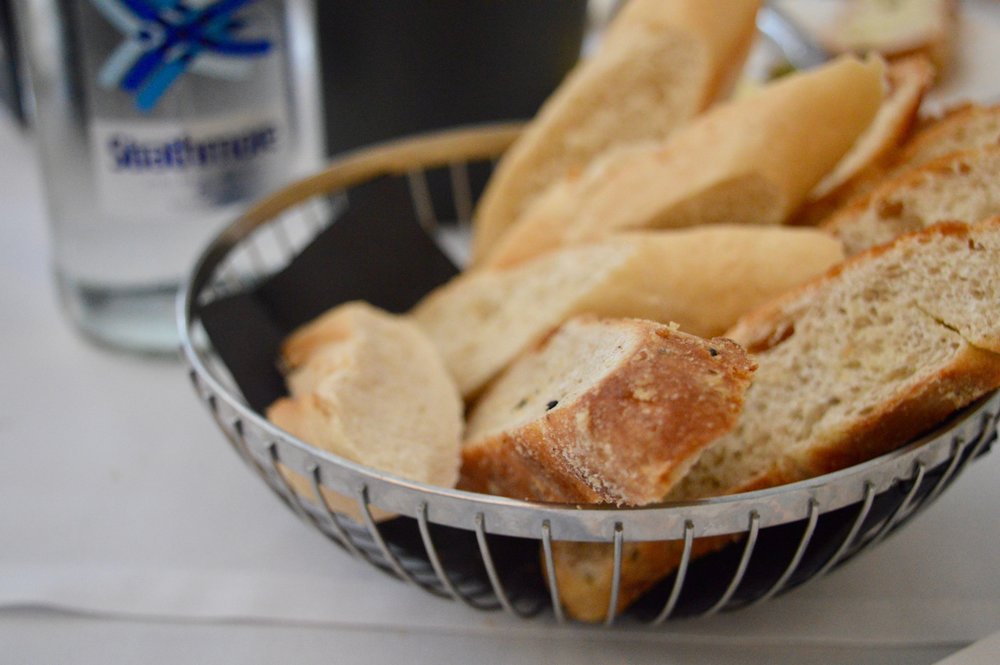 Paul Amer, who is the head chef at MPW had created the 5-course menu for the evening. If you've not heard of Paul before here are some interesting facts. Local lad, he attended Norham High School and owned his own restaurant in Jesmond for 6 years. Making a name for himself in the culinary industry he has worked at Marco's London restaurants before returning to his beloved city to cook up a feast for hungry revellers.
Telling us that our of 130 covers on a Friday night. They serve around about 80 of those steaks you could see the passion in his eyes about creating a fusion of dishes other than steak.
The first course he served for the evening was Smoked Mackerel lightly pickled with seasonal vegetables. I'm going to be brutally honest here. When I saw it was Mackerel I wasn't too keen. I've always been told mackerel is a dirty fish.
The smell of it really turns my stomach. It's just one of those fish I cannot for the life of me get away with, however, when in Rome. This dish wasn't something I'd usually choose from a menu, and it certainly wouldn't be something I'd choose after. It was quite a struggle for a couple of others around the table. I could see this working well with crab or lobster or even salmon, for me though, this opening course was not to my taste.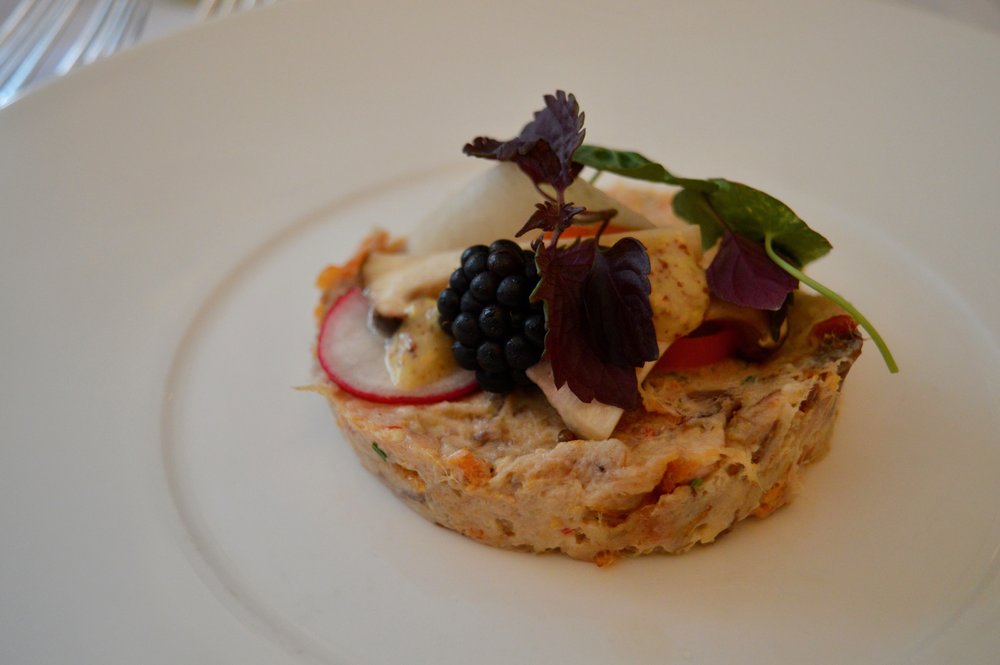 Slow Roasted Tomato Soup with Basil Pesto was the next course. A light palette cleanser, this slow roasted soup was delicate and light. The hint of pesto drizzled in the centre gave it the depth it required to stand out. The tomato soup was well seasoned and made for a nice cleanse after the strong palatability of the Mackerel.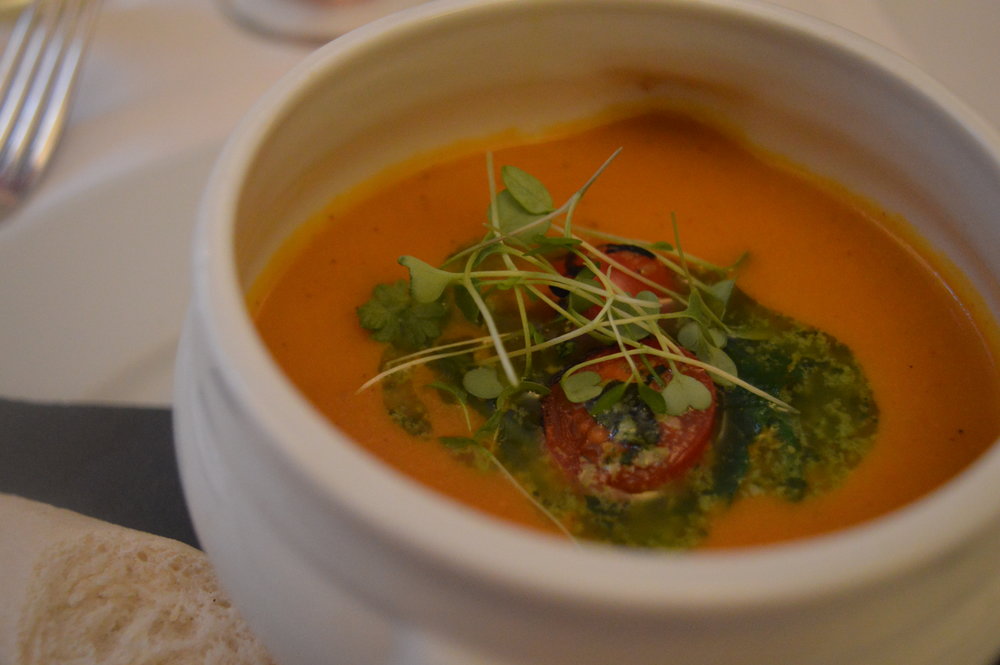 The third course was probably the one I was looking forward to the most. Perhaps as I have put myself on a carb ban for the foreseeable future and probably because risotto is one of my favourite dishes when done right. This Lightly Curried Smoked Haddock Risotto was served with a parmesan crisp.
The dish was mouthwatering, the curried risotto was rich and yellow in colour with peas to break it up. The flavour was rich and ambrosial without being overpowering. The smoked haddock worked well with the curry and I could have easily eaten this as a main.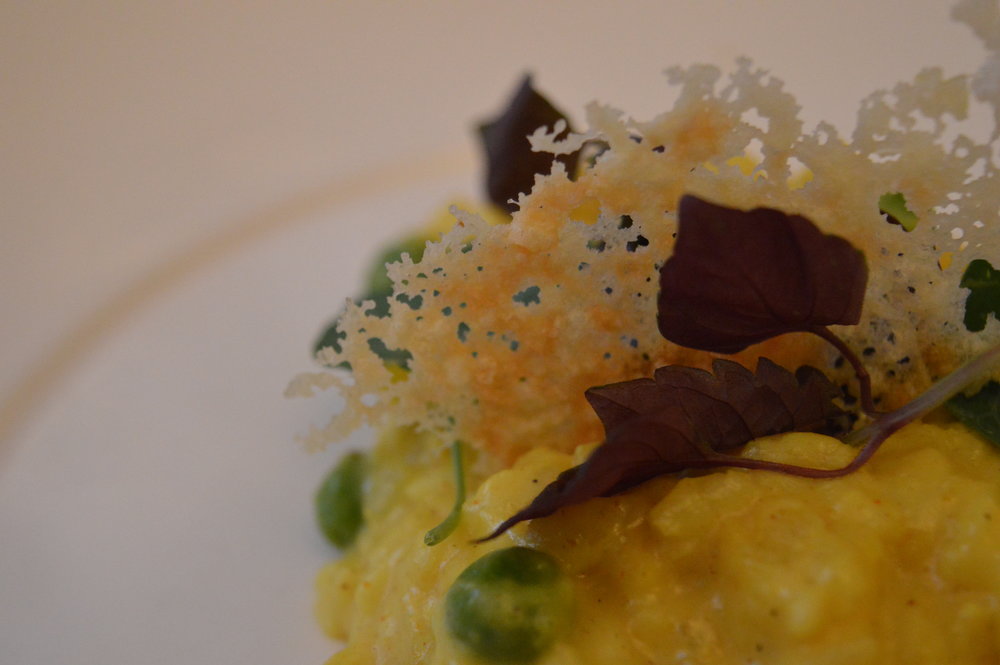 The piece de resistance from Paul's menu was the Slow-cooked Belly Pork, Vale of Mowbray Black Pudding, Pommes Puree, roasted cauliflower and caramelised cauliflower puree.
Having been a vegetarian for 20 years and only transitioning into meat-eating the past year belly pork is one of those dishes that I'm always hesitant to try. I'm not sure why though. The pork arrived with a crackling, it was tender and fell apart, when teamed with the pomme puree it was simply heavenly.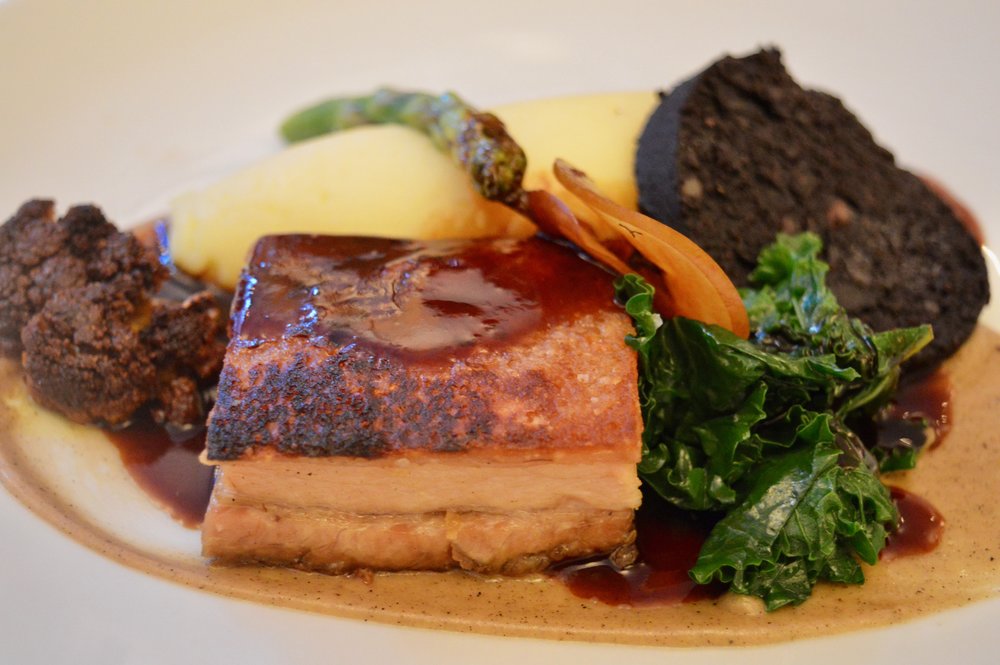 For a restaurant famed for their steaks they really do have a great team behind the pass cultivating high-end culinary masterpieces. Served with kale, one of my personal favourites and roasted cauliflower this feast was devilishly divine without interfering with my extremely strict diet.
The final course was the raspberry & passion fruit pannacotta with raspberry sorbet. Being more of a savoury girl, discovering different desserts is exciting. Tasting a fusion of different flavours.
Admittedly I cannot turn down an Eton Mess (my Godmother makes the best in the world and that is a verified fact!). So when this pannacotta arrived I was excited to try it. A gorgeous pink colour the presentation of the desserts has to be one of my favourite things about MPW they're almost magical and Willy Wonka-like.
Dessert heaven
The soft base of the pannacotta worked well to cleanse the palate after the richness of the pork. Whilst the passionfruit gave it a kick. Which not only made the dessert really stand out, it also opened my eyes to creamier dishes. The portion size of this was perfect. I think perhaps I don't order desserts as they're often too large, this was just the perfect amount of sweetness without being too much.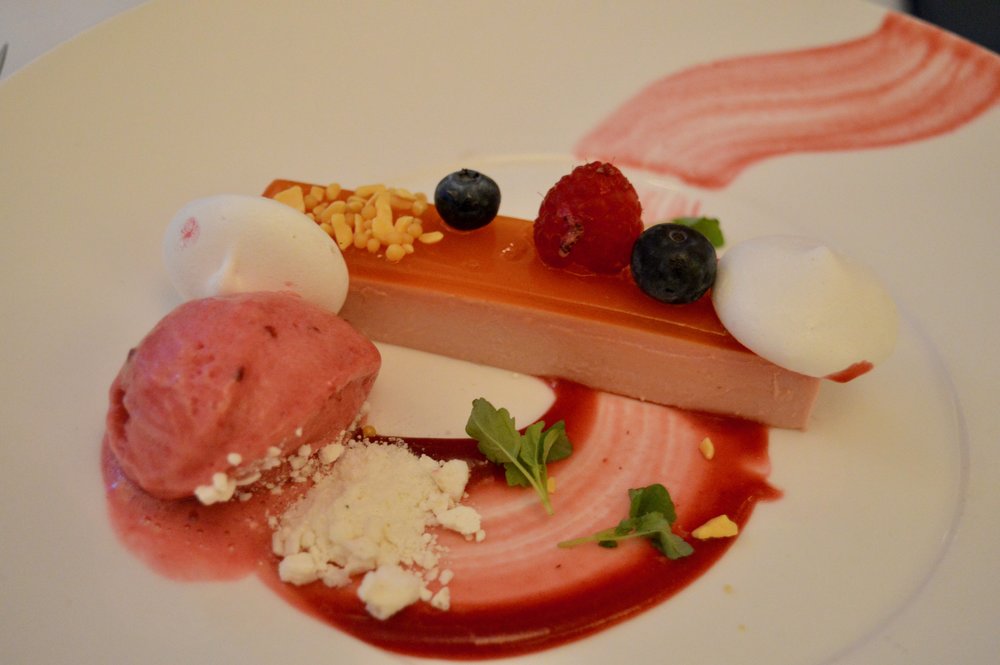 The atmosphere in the restaurant is one of my favourites in the heart of the city. The staff are extremely knowledgeable and helpful (although none of the new members will ever compare to the amazing Gemma & Nicola who were there from the beginning). The passion Paul has for his menu is evident in the finished dishes he sends out.
If you've not been to Marco Pierre Whites before which is located in Hotel Indigo I truly do recommend it. A fan since day one it's a place that I always like to return to. With all this being said though, they are famed for their steaks and you know what they say. If it ain't broke, don't fix it.
Pin Marco Pierre White for later food lover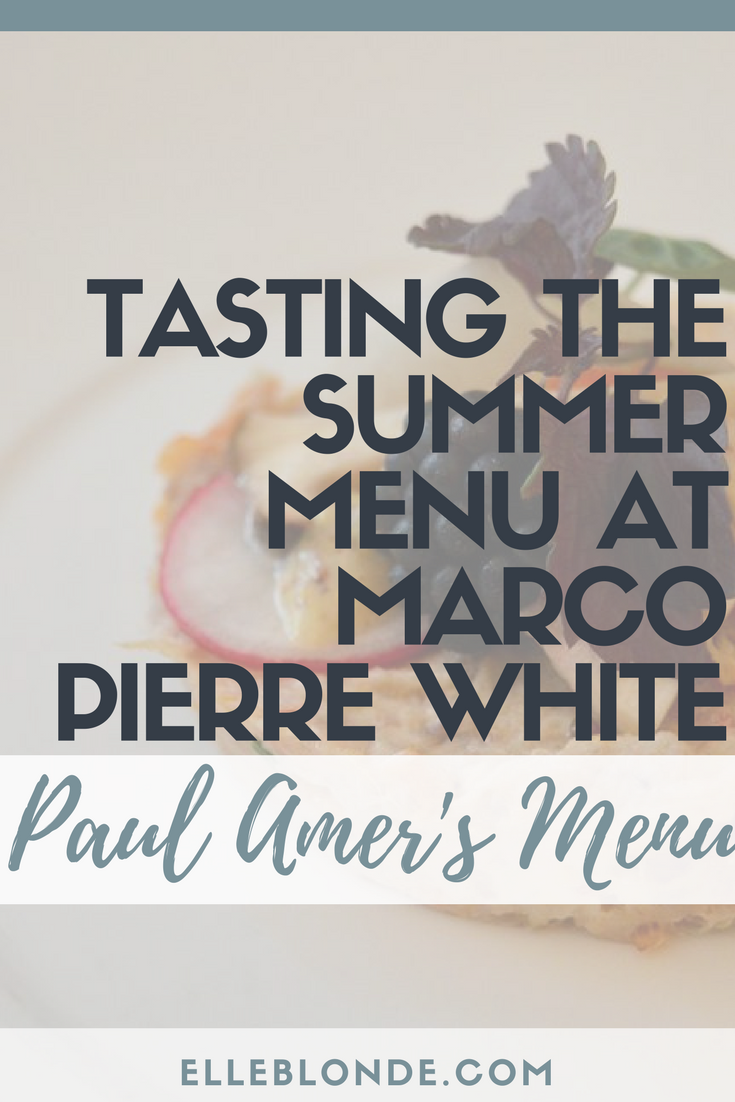 Disclaimer: This meal was provided complimentary by, all views are our own. Read more about disclosure here.