Belfast and Glasgow anarchy has descended upon you, now it's Newcastle's turn for the invasion of a Punkin' good time. So lace up your Chucks and get ready to spike up that hair and go
Pizza Punks is situated on Grey Street, Newcastle. One of the city's premier spots for restaurants and bars. Just a stone's throw from the Theatre Royal and Monument Metro station. It's a great pre-theatre place to eat and convenient to get to. It's also a great starter for an evening indulging in Newcastle's (in)famous nightlife.
The new restaurant can't be missed with its neon signage outside. We headed in to sample their menu ahead of opening. Arriving we were welcomed to our seats and immediately greeted by an enthusiastic waitress who as we were taking off our jackets and getting comfortable quickly ran through the menu before wanting to take our drink and meal order immediately on the spot.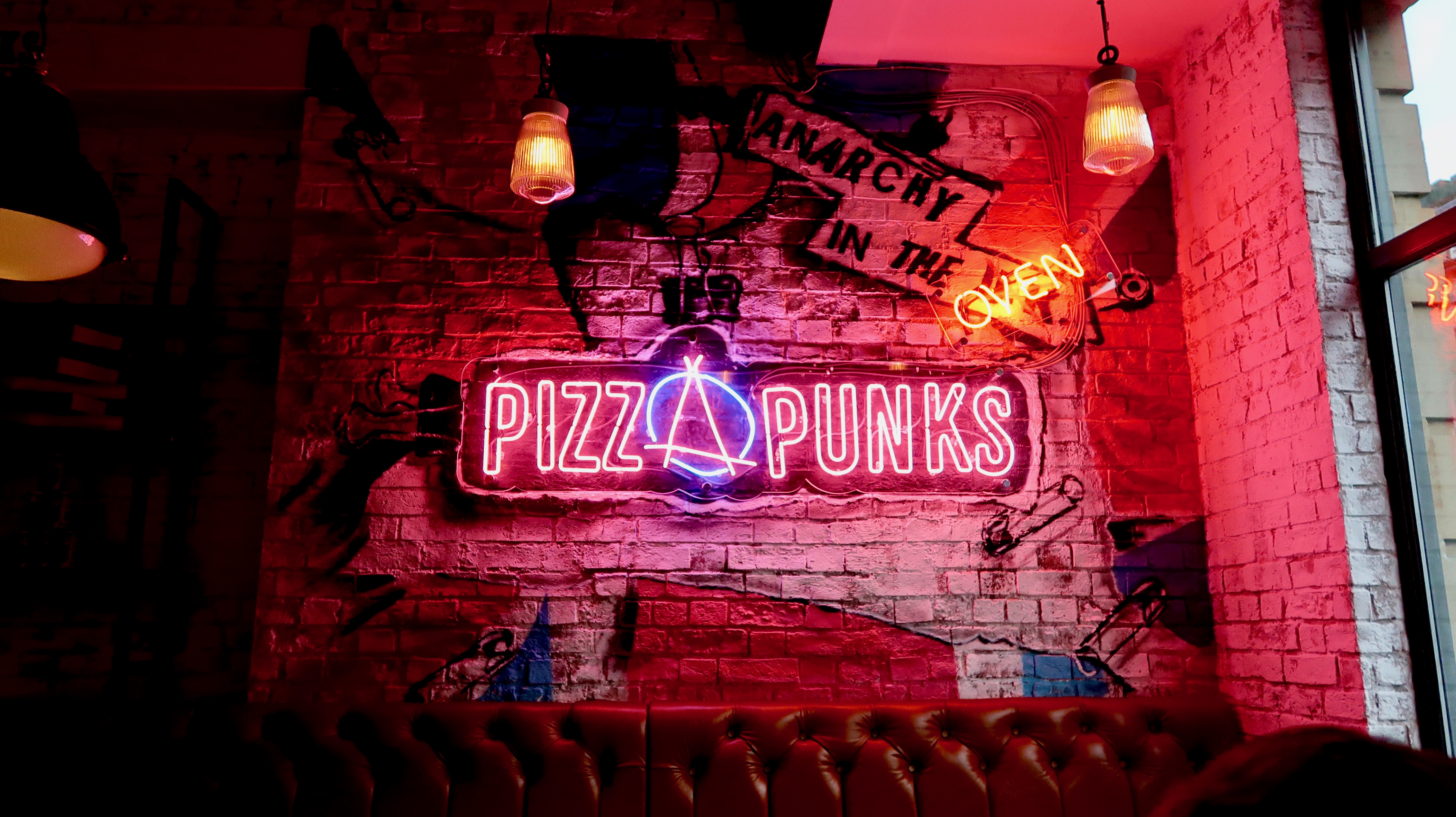 Punk ya pizza
After asking for five minutes and table water she returned as we looked through the menu, still struggling to decide upon what we were after. Pizza Punks is a build your own pizza extravaganza. First, you choose your base of sourdough or gluten-free. I did opt for gluten-free with having an intolerance. You then select which kind of sauce, red, white or bbq. Followed by any cheeses, any amounts of toppings and finished off with herbs. You also can select a dip. If you're northern and you don't choose garlic sauce, who even are you?
Want to discover more restaurants in and around Newcastle City Centre? We've got you covered with our 'Ultimate Newcastle Food Guide'.

The build your own pizzas are exceptional value at £10 each. There's a veritable selection of different starters including Mac & cheese. Chicken wings or garlic bread. If you're not into punching up your pizza you can select an already curated pizza from the menu.
I opted for; gluten free base, red sauce, mozzarella and scamorza. Topped with an egg, veggie haggis, red onion, artichoke, broccoli and Newcastle Brown Ale beef brisket. Finished with some rocket and of course garlic sauce.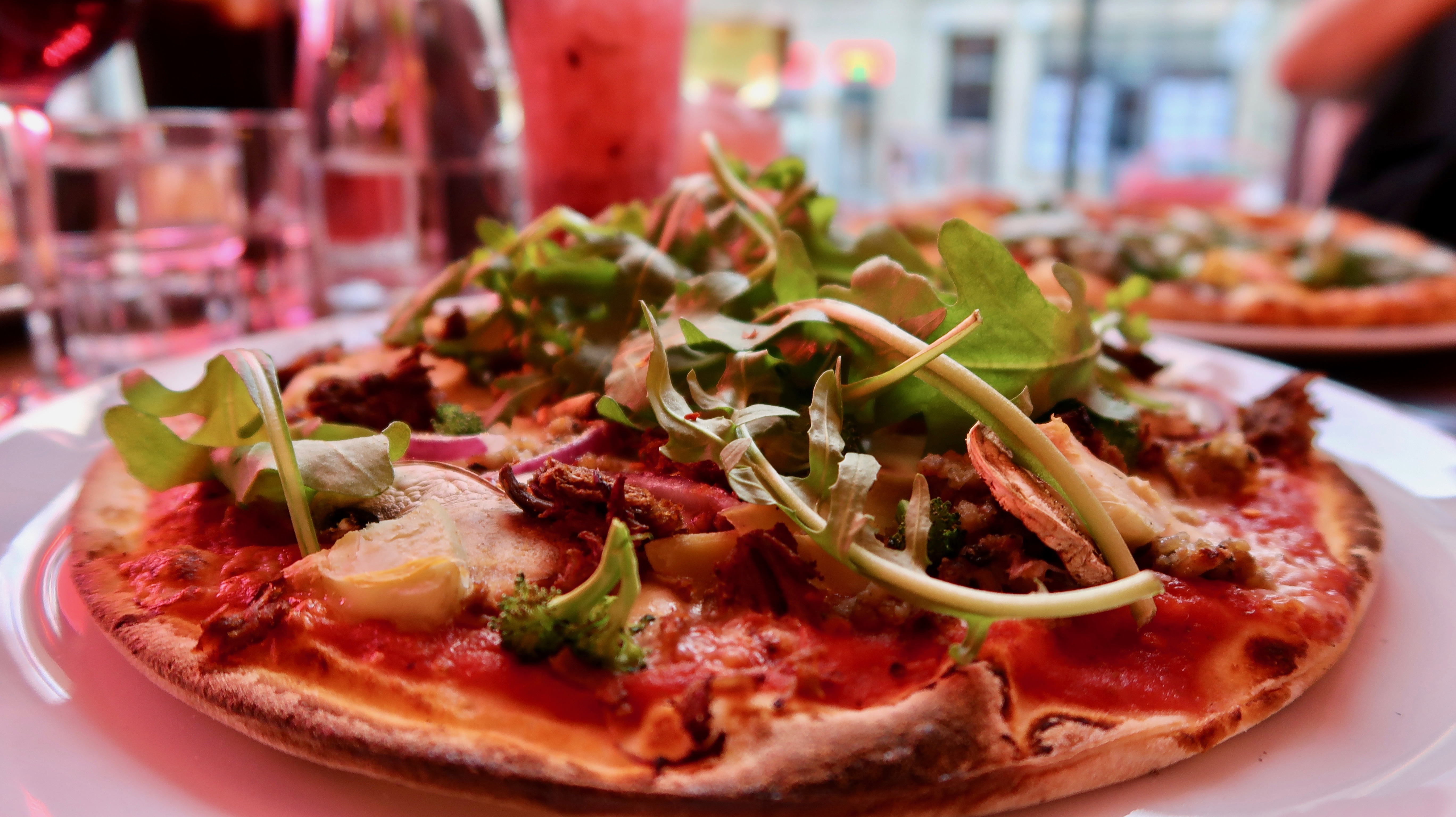 Dining with Newcastle Food Experience and Something so True, the four of us all selected a very different combination of pizzas.
Related Read;
It's 5 o'clock somewhere
Ordering cocktails we selected Garden Fizz and a Loveheart Caipiroska both priced at £7. An average price for a city centre cocktail (contrary to other reviews describing the drink prices high).
We all felt that the initial interaction with our host was a little bit pressured and rushed and then we waited for what seemed like an eternity for our drinks to arrive.
The garnish on the Garden Fizz looked as if it had lost Complete Control and wilted a little early. This was the more palatable cocktail of the two, although very sweet. The Loveheart was exceptionally tart however looked pretty cute.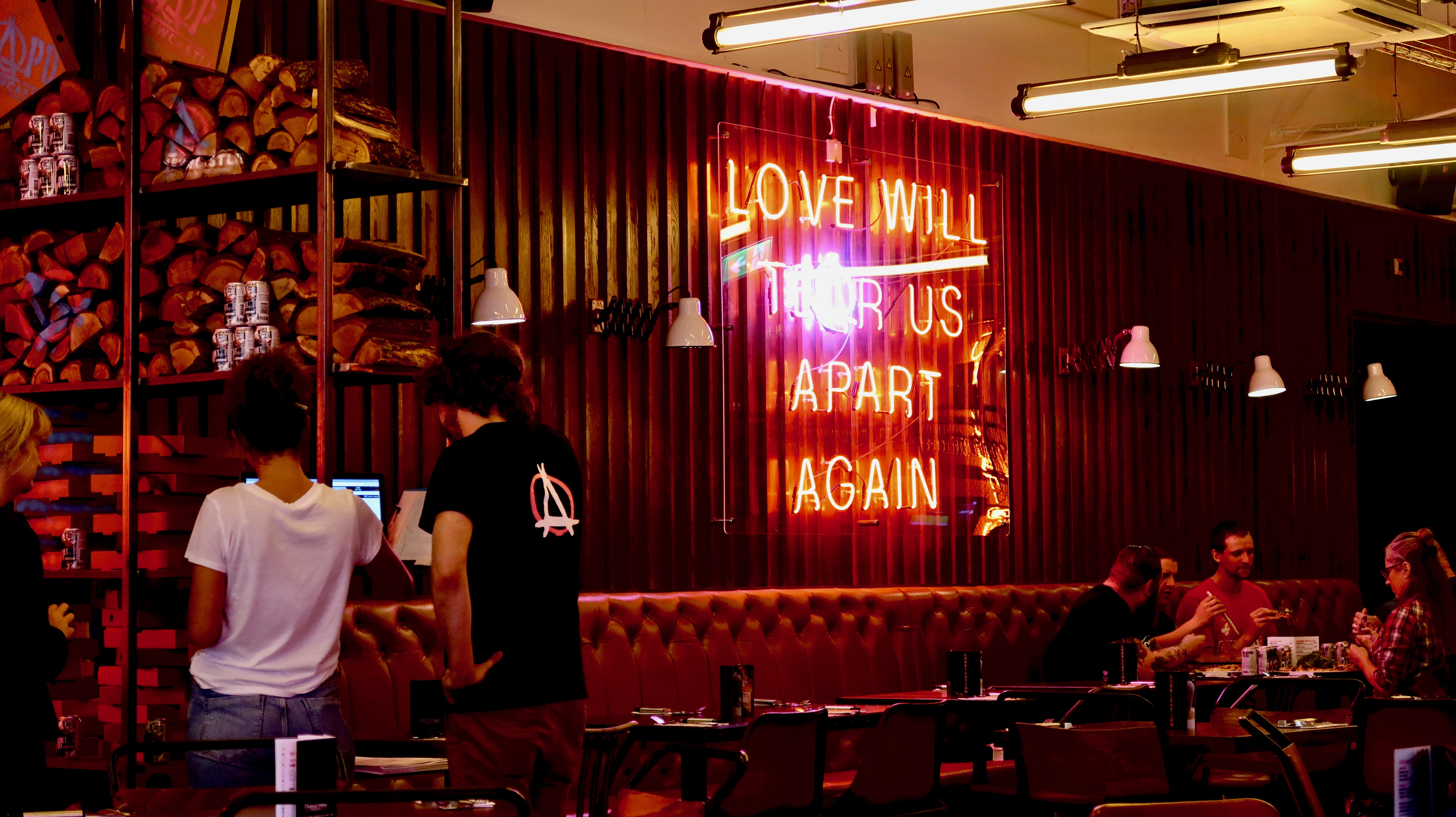 Our pizzas arrived within about 15 minutes of ordering, well three of them did. The fourth, well, the fourth obviously had a little issue as we watched the open kitchen prepare and cook the pizza. Once removing it from the oven the toppings were then removed and thrown in the bin and other toppings added. Aware of this we waited for the final pizza to arrive for a further 10 minutes after asking two separate members of the team where it was.
Pizza perfect?
The pizzas arrived tepid and not hot, by this point we were all a little disheartened after being excited by the new pizza place. Only the pizzas could seal Pizza Punks' fate. Would it be Death or Glory?
My pizza was exceptionally bland, as were the other 3 pizzas on the table. I asked for some salt and black pepper as well as some chilli oil. The waiter was indignant with my request for seasoning (I think there was a Clampdown on the seasoning as none of the pizzas appeared seasoned and were all very dry). I was told that they didn't have chilli oil. Yet chilli flakes were an option on the menu, and oil is a fundamental part of a pizza base.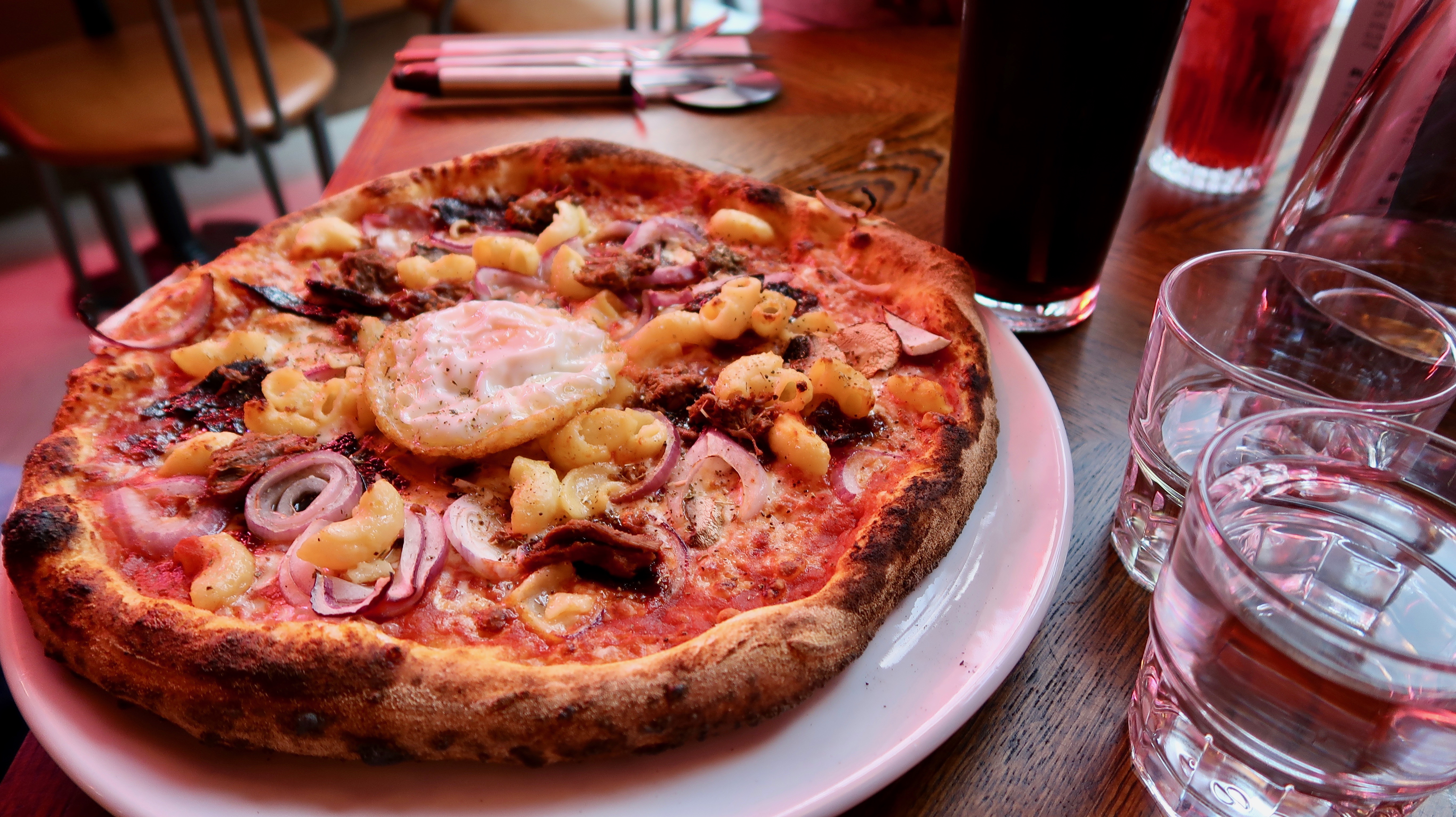 I'm a fan of an egg on a pizza when it's cracked on and cooked in the pizza oven, not fried and then added on top at the last minute. The Newcastle brown ale beef brisket was really delicious however and would come highly recommended if visiting.
Gluten-free dining
I have to admit, previously I've said I do have a gluten intolerance and did opt for the gluten free base. Unfortunately, within 30 minutes of eating have some of the symptoms I have when I eat gluten including a temperature and a sore stomach which was a little disappointing for me. I only have a mild intolerance so if you have a serious intolerance I'd make sure you make your server make the kitchen aware.
I don't want to Rock The Casbah with my conclusion, although I feel you probably know where this is heading. All in all, we collectively were a little disappointed, however as it was a pre-launch evening totally understand that the new restaurant was just finding its feet and probably had pre-launch teething issues which may be resolved now. I would return to Pizza Punks as I do like the idea of building your own pizza and think that the price point is good value for money city centre. I do however admit this won't be in a hurry though as with over 400 restaurants in the City Centre I've got more discovering of the food scene to do.
Disclaimer: This meal was provided complimentary, all views are our own. Read more about disclosure here.