Newcastle has a plethora of restaurants, so I think the last time I checked (and told you in my SoHe review) there were 400 restaurants in the city? So that consequently means a lot of eating if I'm reviewing them honestly right? The other week Adele and I headed to The French Quarter to check it out.
Side note; if you're a foodie make sure you go over to Instagram and give Adele a follow she posts some delicious food photos.
Want to discover more restaurants in and around Newcastle City Centre? We've got you covered with our 'Ultimate Newcastle Food Guide'.

First of all, the French Quarter is located in one of the Arches just down from Central Station. It's a small restaurant and wine bar which is owned by Cedric and Catherine.
Secondly, sitting down the decor is very rustic yet most noteworthy it boasts a modern French styling. While the ambience is relaxed, even though the restaurant is a little more formal. There seems like there was a great mix of people when we were dining too from groups fo friends, work colleagues having a drink after work, couples on dates. The staff were extremely friendly and very knowledgeable about the menu and wine pairing.
While the menu is quite comprehensive, it is worth noting though that the food is served tapas style and there are no full portions on the menu. Therefore Adele and I opted for;
Camembert; infused with garlic & rosemary, served with crudités and croutons (£6.50).
So the camembert was deliciously seasoned and had a strong garlic flavour. The croutons were large fried pieces of bread which were devilishly moreish smothered in Camembert. Simple, yet tasty. A dish we would both highly recommend.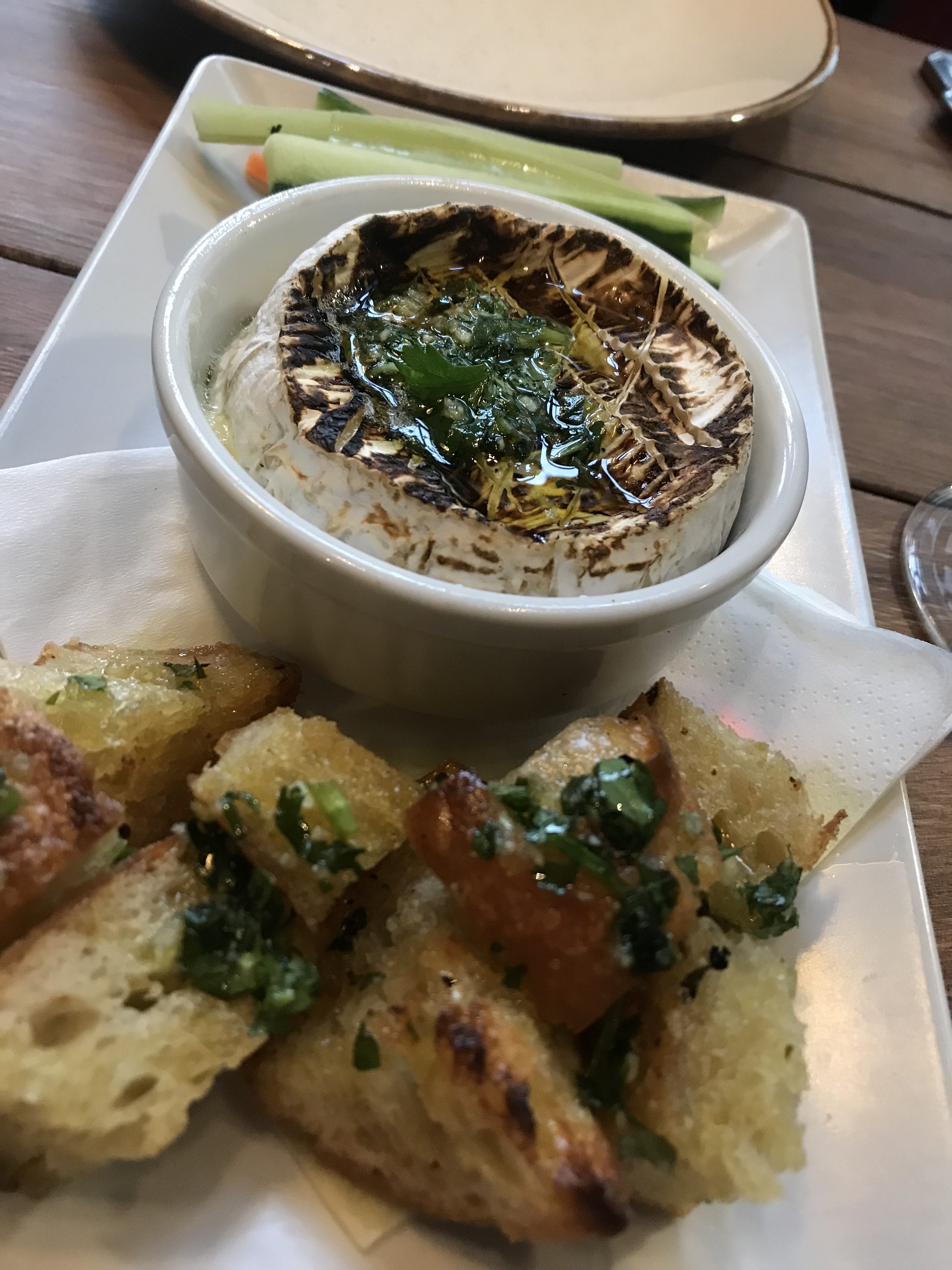 Gratin Dauphinoise; thinly sliced potato, garlic, creme fraiche & cheese (£4.95).
Dauphinoise is one of my favourite ways to serve potatoes. We chose the boeuf bourguignon and knew this would be a fabulous rich paring. The dish was a great size, was full of flavour and were both equally creamy and cheesy which make for a great dish.
Crevette pil-pil; king prawns, grilled in garlic, chilli, parsley, butter & olive oil (£7.95).
Personally, my least favourite dish from our selection. Garlic prawns are garlic prawns. There's not a lot more to say. They were quite meaty however I wish we had opted for a different fish dish instead.
Escargots; six snails traditionally cooked in garlic & parsley butter (£6.95).
When in Rome right? Or when in a French restaurant? First of all, snails can be really hit or miss if they're not cooked properly. I can confirm that The French Quarter Newcastle gets their snails perfect. So as a lover of all things gross that people don't like, like oysters, mussels, olives and yes even mushrooms, snails are also added to the list. Seeped in garlic (I'm glad I wasn't kissing anybody) these snails were served to perfection. Consequently, I really enjoyed how they were delicate and melted in your mouth.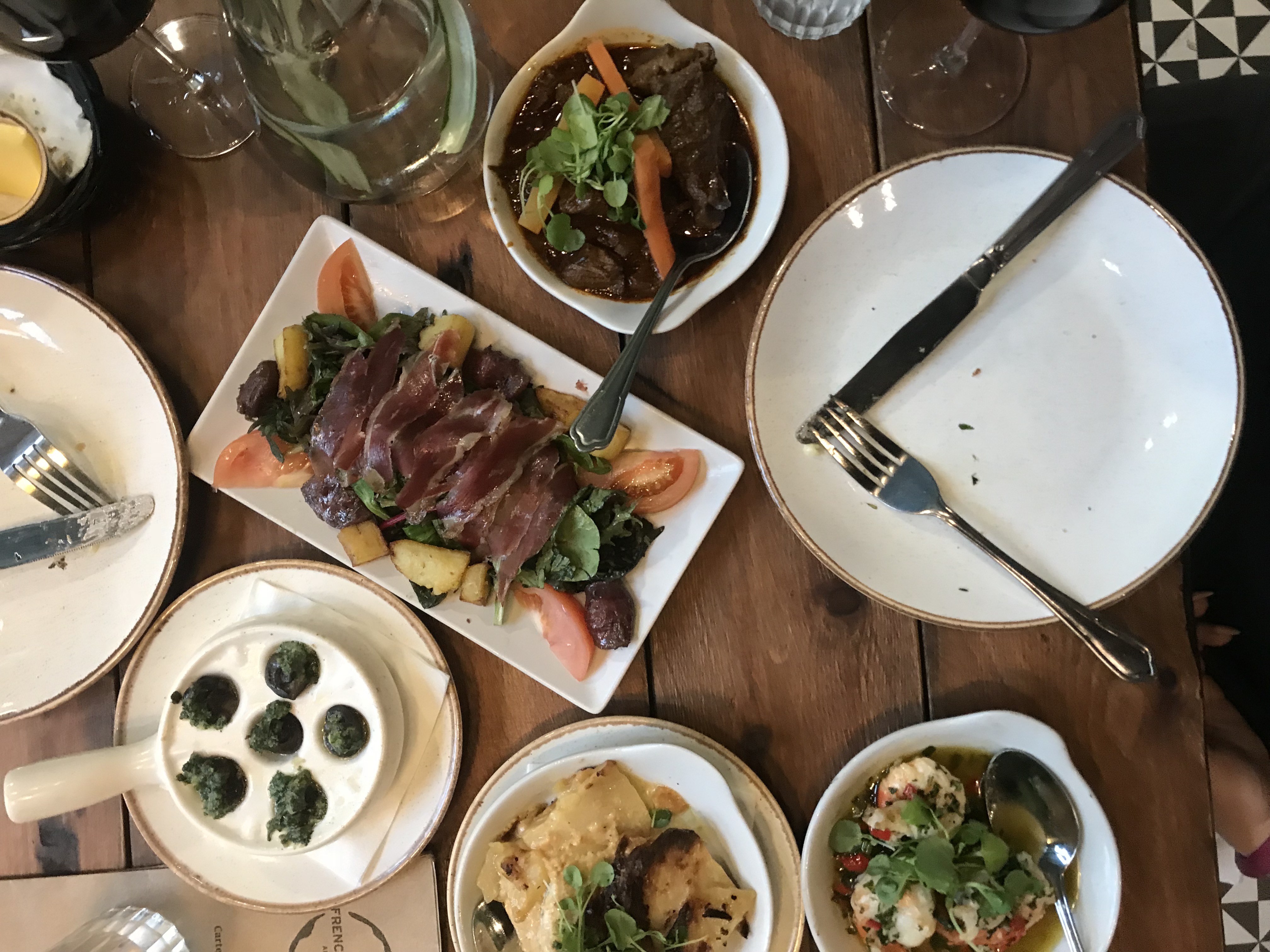 Salade perigourdine; smoked duck breast, gizzard, roasted potatoes & tomatoes on a bed of mixed leaves with vinaigrette dressing (£8.95).
Now, consequently as a result of this dish, this night will always be known as the night with the gizzard. If you don't know what gizzard is, Google it. I only wish Adele and I were a little more cultured prior to selecting this from the menu and then trying to work out what gizzard was. The duck salad was delicious, the smoked duck was full of flavour and I thought it was a really nice way to serve duck. It was a light dish which we both again enjoyed. The simplicity of the salad really allowed the power and flavour of the duck to come through.
Boeuf bourguignon; traditional flank steak served medium rare in a red wine and shallot sauce (£7.95).
Finally, this was undoubtedly my most favourite dish that we chose from the menu. The steak was rich and full of flavour. I'd say it was cooked more medium than the medium rare that the menu advertises, which was fine for me as I'm more a medium kind of girls anyways. Most notably the sauce was therefore perfectly complimentary to the beef. As a result, the dish is a must if you visit The French Quarter. I would wholeheartedly have this as a main if they were to do a full meal size menu.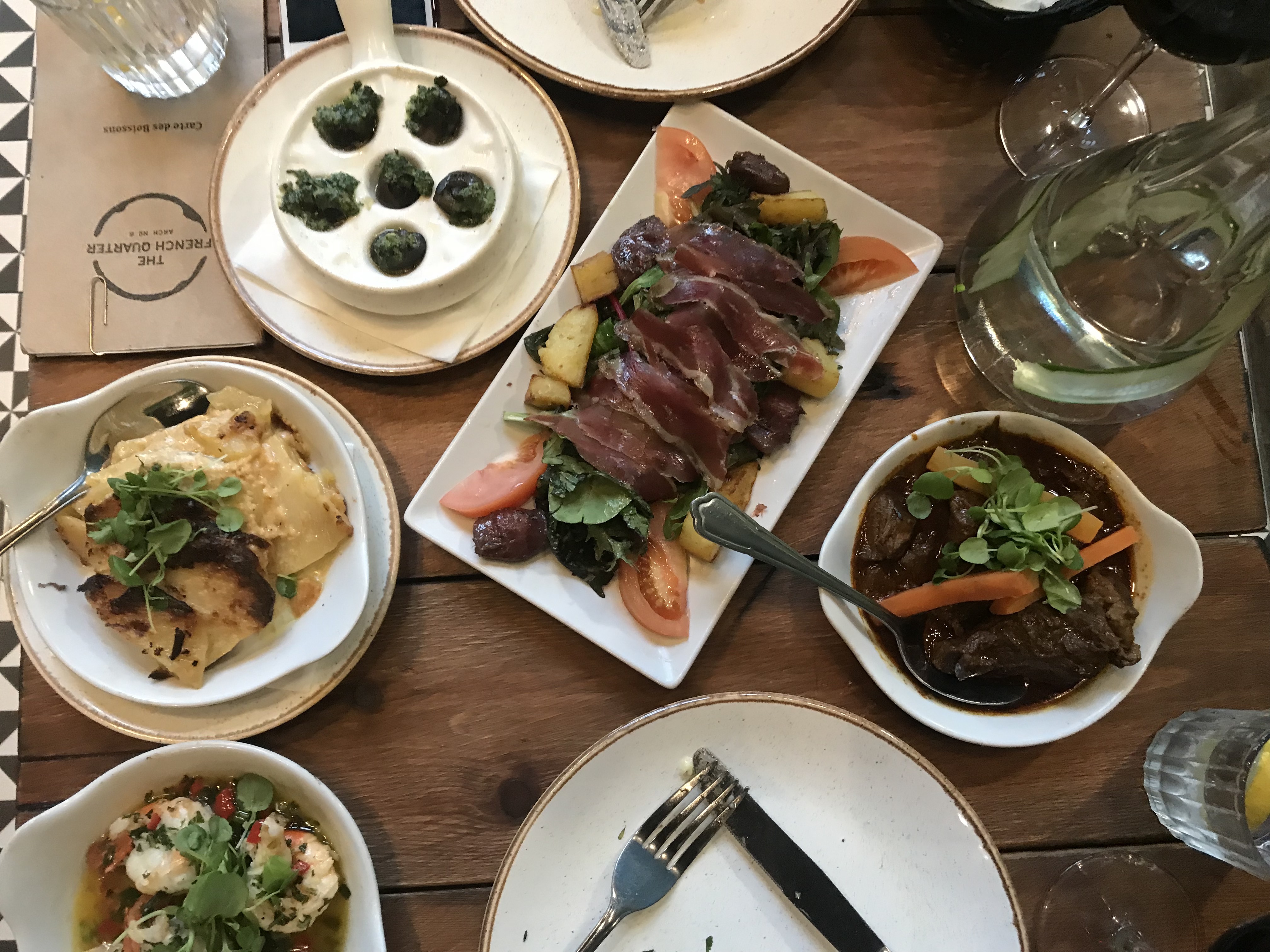 Wine pairing.
The food was so delicious and even more so because we had paired it all with a bottle of Domaine Roche-Audran, 2016 Merlot (£22.50); a sun-soaked Merlot from the Southern Rhone. Soft, round & inviting with lots of juicy black fruit. It worked really well to compliment each of the 6 dishes that we had chosen. It was quaffable and allowed the food to be the real showstopper.
As a result, if you're looking for alternative dining and fancy French cuisine I do recommend this independently ran restaurant for dining at. Due to the French Quarter being a smaller location it is probably worth booking a table although we walked-in and were seated straight away.