Earlier on in the year, I visited the newly launched Alchemist in intu Eldon Square's new restaurant quarter. Think I've practically tried all of the other restaurants located here, including Chaophraya, Tapas Revolution and Smashburger to name a couple.
Anyway, my visit to The Alchemist was slightly disappointing and of course, true to form I left an unfavourable review which you can read on the site. Alongside this in one Facebook group, I posted my post in I was absolutely slated for writing negatively about a meal in which wasn't complimentary.
I was quick to point out that I value my integrity and I am loyal to you my readership base. Regardless if I experience something complimentary or paid I always feel compelled to write as I find. If you know me (unlike this angry keyboard warrior) you'll know I call a spade a spade. I'm pretty much as blunt as that. If I like something I rave, if I don't I also voice that opinion. After all, you'd be bored of reading 'this was the best thing in the world' – something about my visit to The Alchemist was THE BEST IN THE WORLD though. You'll have to read on to find out what that was though.
I was invited back, kindly with three other influencers by the fabulous Jessica from Little Vegan Flower (you should check out her Iceland youtube it's seriously cute – total Bucket list goal right there!) to check out the newly launched 'Late Lab'.
Can it redeem itself the second time?
Believing in second chances I accepted her invitation. Attending along with that Pixie from Fashion Voyeur who seems to be stalking me as every single event post she features in (I'm going to start charging you for this constant advertisement Pix), Kayleigh Falcus who has recently launched her new Jewellery collection and Lifestyle Magazine Darkus.
Arriving through the shopping centre entrance, I headed through the dining area and into the bar where we were sat at a booth. As I watched the sparks flying at the bar and the smoke funnelling up to the ceiling as potions were created I kind of realised that there was an art to the cocktail making. Having sat 'outside' the previous time, we had missed this showmanship.
Late Lab Concept
The idea of Late Lab is that if there's a couple of you or more you can book online the several drinks packages in which The Alchemist Newcastle offer. From a Date Night option to a party of ten option there's a selection for everybody. It was so interesting to discover that if booked online you also save 25% off the total price which is an epic saving! The Alchemist also offers a mix and match service on their cocktail selection too which is great if you're not a fan of something on the menu.
As there was four of us we were taking the 'Hipflasks All Round' for a spin. This package costs £90 for the 4 of you (£22.50 each if you're wondering) and includes a Zombie Apocolypse and 4 hip flasks which include a choice of 3.5oz of Happiness, Vesper Martini or Aviator. These can be swapped for mocktails for the drivers or non-drinkers amongst your party.
First up was a huge bubbling Zombie Apocalypse which was pretty cool as it smoked and bubbled with dry ice. I quite like the theatre of dry ice in drinks, then I always end up repeating the story of Sugar Factory in Vegas. Where my Mum woke up convinced the next day she was dying from the dry ice. Pretty sure it was the alcohol which made her feel that way, but who am I to argue right?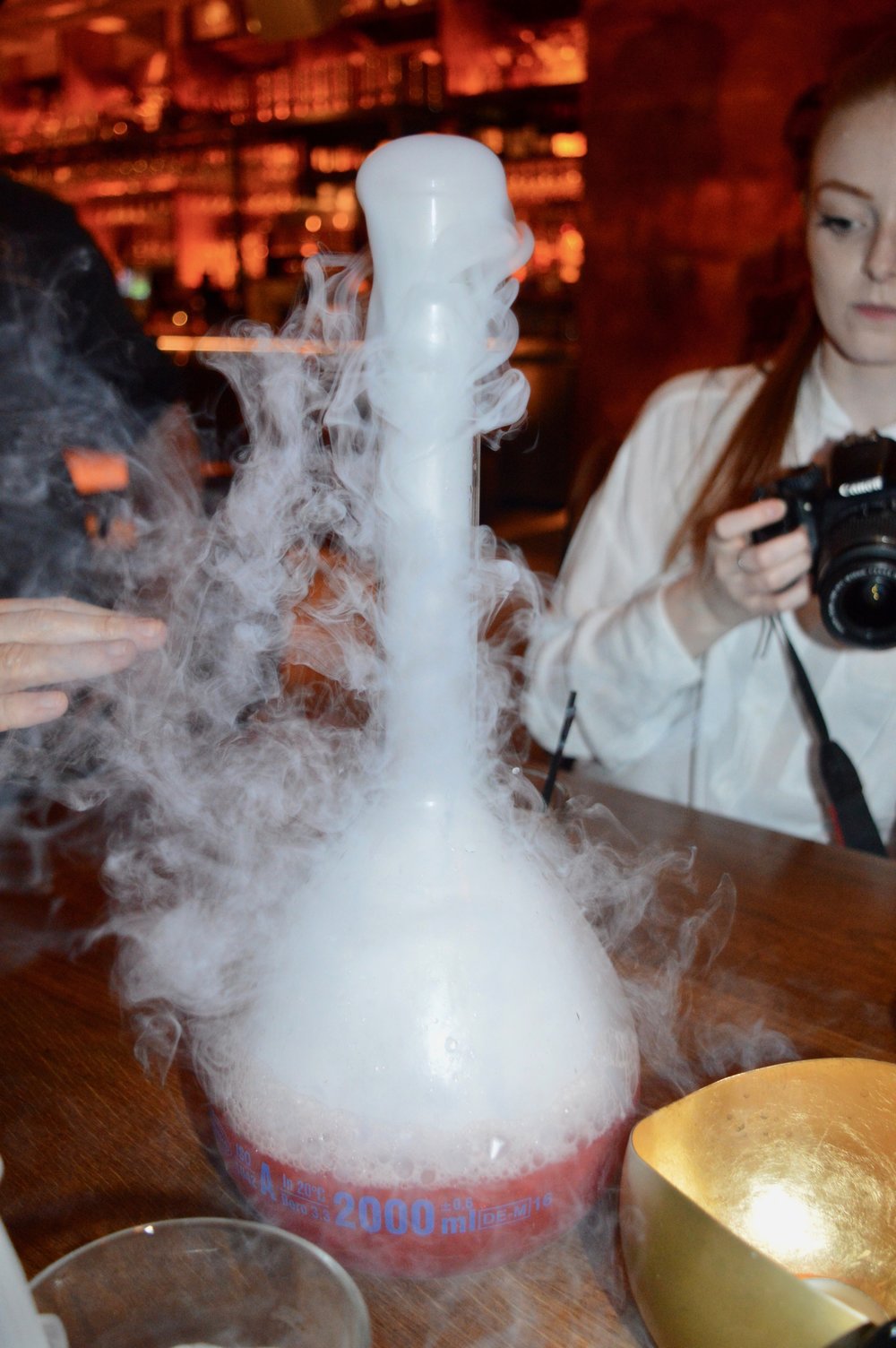 Raising the dead
Zombies are lethal. They are literally all the most deadly spirits you can think of put into one glass and then given to you to bring you back from the dead. So perhaps just what you need after a long day at work?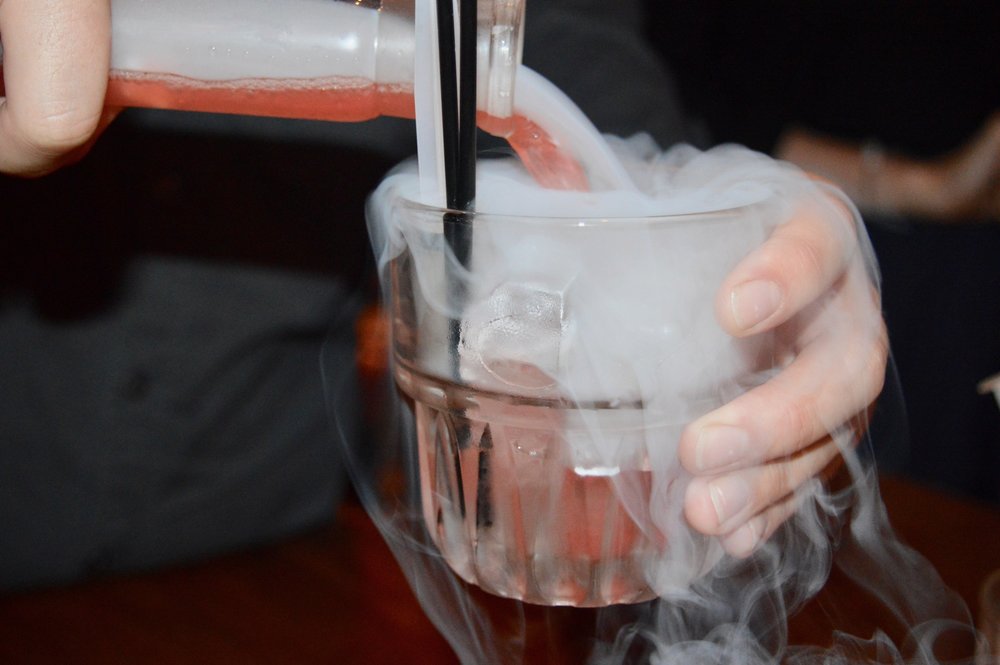 The Alchemist's twist on a Zombie includes Bacardi Carta Blanca, Wray and Nephew, Grand Marnier, Lime, Pineapple, Cranberry, Zombie Mix and a whole lot of smoke! Served with a syringe full of a whole load of crazy on the side we squirted half in before enjoying our first sip. Boy, that was strong! I love Zombies, they're up there with my favourites. This was super serious. Delicious and moreish the large beaker served us three cocktails each – this alone is priced at £38.50 and comes highly recommended for serious fun.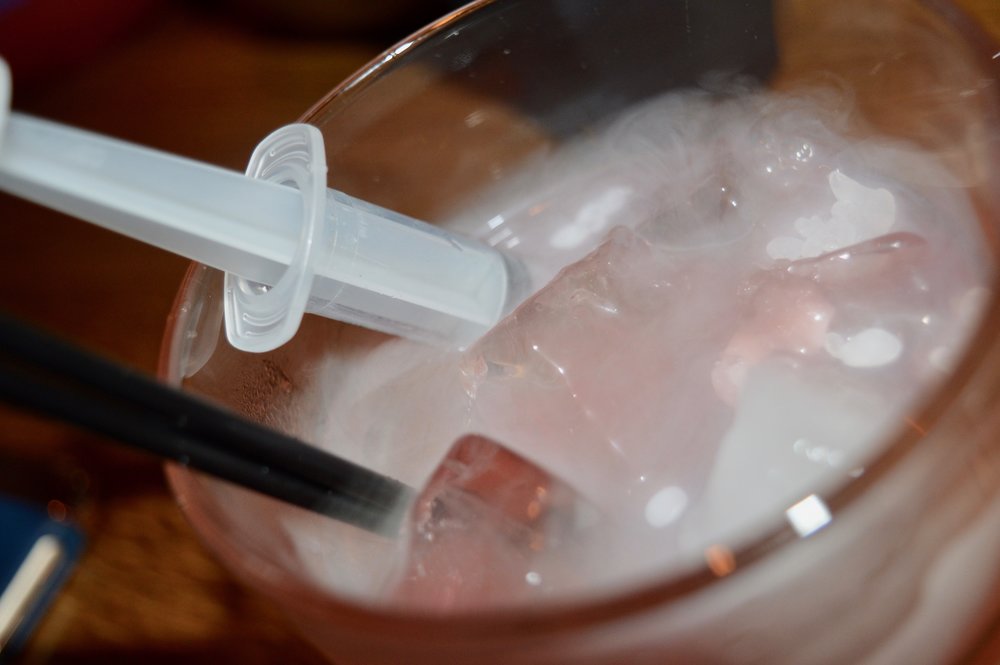 Table Service like a Pro
The whole purpose of the Late Lab is for groups to pre-order their drinks so there are no long wait times. The bar is expecting your order so when you arrive your first drink is served. Missing out on the waiting around. Everybody is winning, right?
The next selection of cocktails was served in hip flasks. This is kind of The Alchemist's signature. Order a cocktail with a hip flask and keep the branded flask. When you return to order the cocktails with the symbol to the right-hand side and you receive them half price. I just love a hip flask!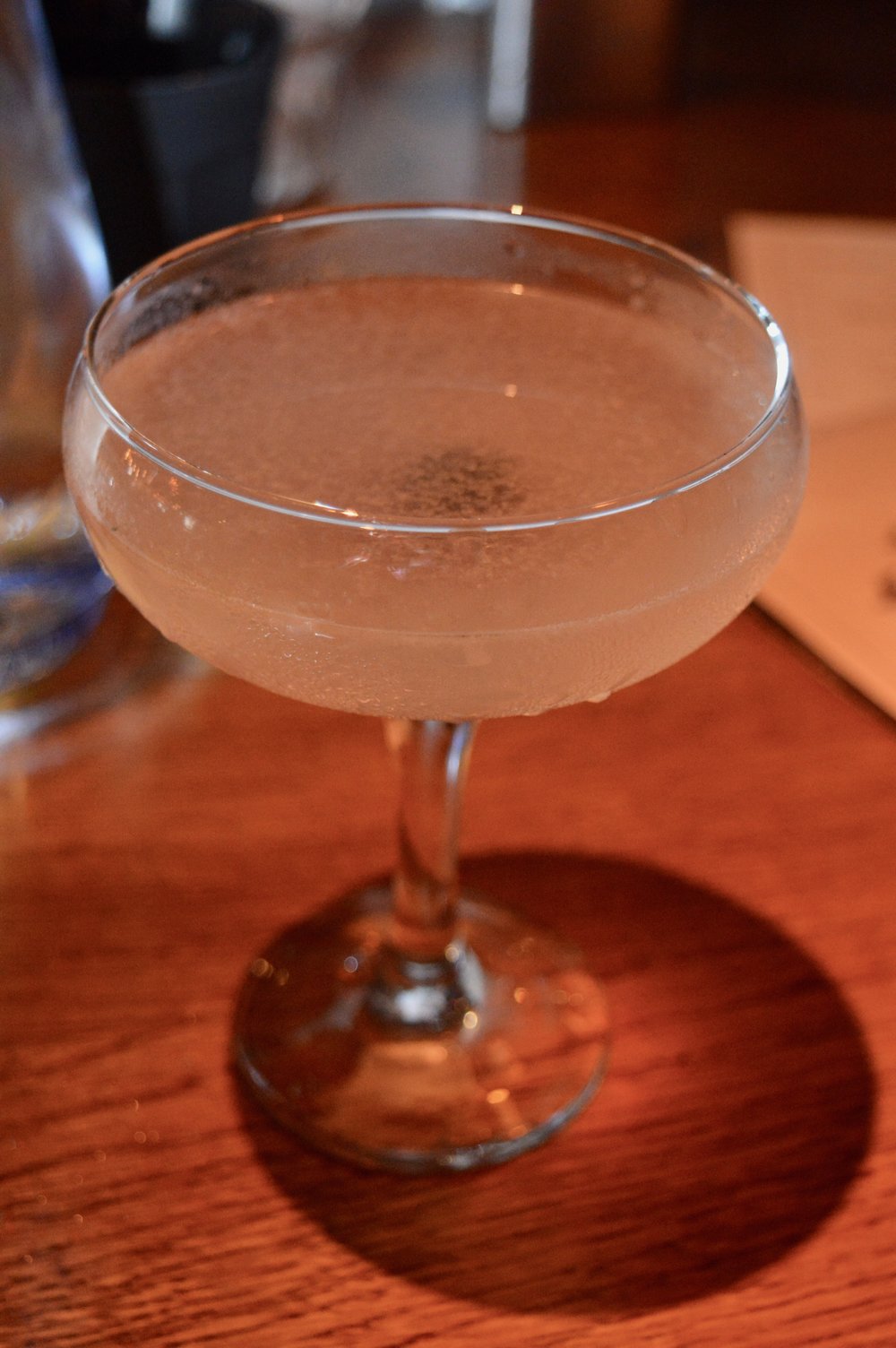 Having had the 'Aviator' the first time I visited it wasn't to my taste. This was The Alchemist's twist on the classic 'The Aviation'. I personally thought it was extremely bitter and medicinal which I talked about. Which was great as we then discovered that alongside the cocktail menu The Alchemist also offer the 'Top 100 Classics'. The world is your oyster now! Switching the Aviator to an Aviation was simply magical. This cocktail was so much better. It was minus the twist and was delightful, it tasted of Parma Violets and I'd recommend this classic. While you know what they say….if it ain't broke don't fix it!
The other guys had the 3.5oz of happiness and the Vesper Martini. Both delicious but seriously strong. Pixie, opting for a mocktail laughed at the title as she ordered a 'Kaleing me Softly'. A superfood green smoothie, Kale. And. Spinach. In. A. Cocktail. Bar? We'll just leave this right here and move straight on. I despair of this woman at times! The hip flask cocktails are priced at £12.50 each (50% off when you return with your flask).
Alchemy over Mathematics
As I'm writing this, I'm adding up the total cost in my head right now. £38.50 for the Zombie. £12.50 x 4 = £50 for hip flasks each. This comes to £88.50. The package is priced at £90.
It's well seen that The Alchemist is more Scientific and less Mathematical? Of course, if you order online it is a saving of 25% so it does work out at £67.50. Which is an exceptional value at just under £17 each per person. However, it begs me to question the illusion here if you're unaware of this deal and dive straight into the Late Lab menu.
Perhaps this £1.50 surcharge is for the speedy service? Which when enjoying cocktails without food isn't really an issue. We all personally didn't think there was any difference in the speed of service.
Don't get me wrong we had a lovely relaxing evening. The staff were amazing, friendly and had a great chat with us. The ambience was really chilled and the time absolutely flew. This is a great spot for if you're looking for somewhere pretty, exciting and showy to spend a couple of hours.
Best Margherita in the world?
We got onto the conversation of 'the best things in the world' where I asked the bar manager if he made 'the best Margherita in the world'. Having laughed about having the 'world's best Margherita' in Vegas, Miami, Ibiza and Mexico we were all laughing at what defines the BEST in the World. Five minutes later a Peach Margherita arrived….and you know what. The Alchemist Newcastle, you nailed it!
So hands down I've found the BEST Margherita in the whole world! Seriously, forget the fancy smoke, the quirky syringes and all the fancy bits that go into making a cocktail…that one drink truly won me over.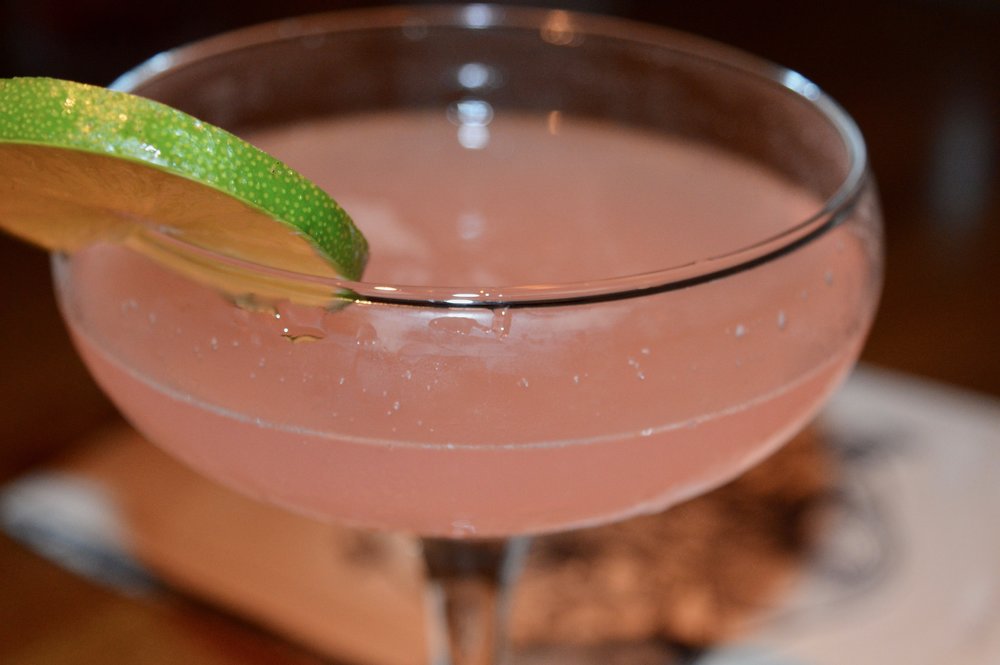 Peach Margherita all round guys!
Disclaimer: This evening was provided complimentary, all views are our own. Read more about disclosure here.