All You Need for a Luxury Outdoors Adventure
COVID has put a wrench into many people's travel and vacation plans. That being said, there are still plenty of things that you can do to get out and get the vacation you deserve.
Going camping or going for an outdoor adventure is one of these ideas. You are secluded from the rest of the world and can have some alone time to spend with family and friends. What if you don't like camping though? Fortunately, with camping, you do not have to rough it and can easily go for a nice luxury outdoor adventure. 
Here are some of the things you need to take your outdoor adventure to the next level.
Rain Pants
When it comes to going outside, you have to be prepared for the elements, no matter how luxurious you are planning on making your adventure. There is nothing worse than having your clothes completely soaked.
Companies have realized this, and have started to make high-tech luxurious rain pants for those people who are looking for fashion and functionality, you can visit MyOpenCountry.com to better understand how rain pants work and how they can definitely improve your trip.
Rain pants might not be the first item you think of when it comes to luxury, but the ability to stay dry and warm in even the roughest conditions is not something to be taken for granted, especially if you are going to be having an outdoor adventure.
An RV and an Outdoors Adventure
If you really want to make your adventure luxurious, throw away the tent and either book or rent an RV. RVs come in all shapes and sizes and can be customized to fit your every need. Do you want an RV that has electricity? You can definitely find one, allowing you to keep all of your gadgets with you.
You can also choose to have multiple beds within the vehicle, fridges, and whatever else your heart desires. Not only that, but many RVs come with outdoor shower attachments as well, allowing you to stay clean throughout the weekend.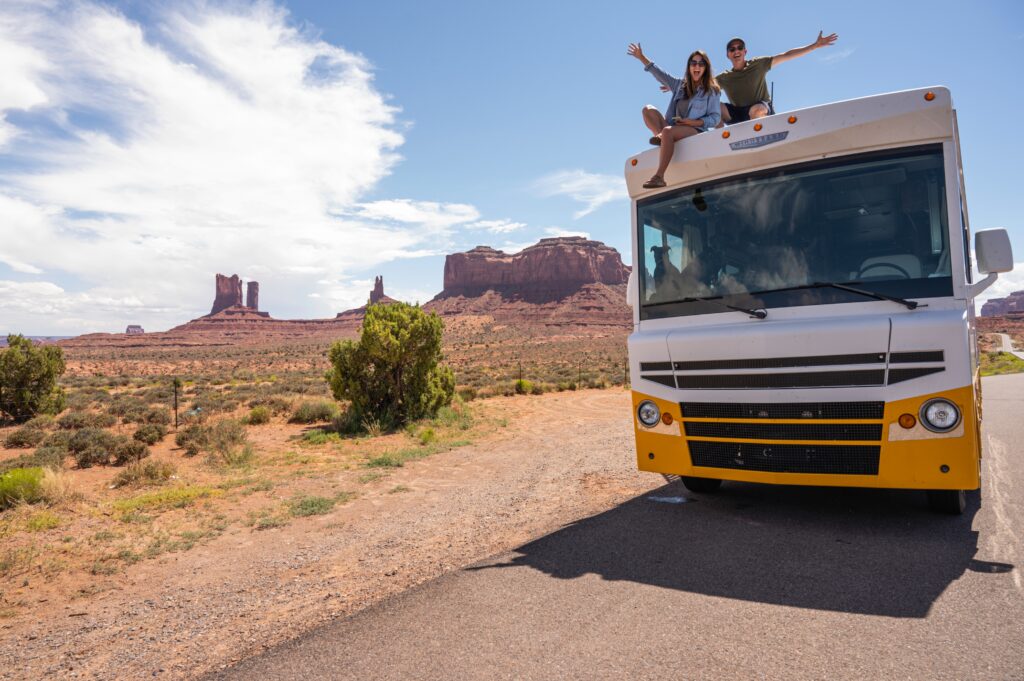 These vehicles will offer a great break from the elements and will allow you to have some semblance of home no matter where you are. You haven't had a luxurious outdoor adventure if you haven't booked yourself an RV.
A Screened Porch
When you are outside and enjoying the views, you do not want to have to worry about all the mosquitoes and bugs that are out there. A solution to that is to get yourself a pop-up screened porch.
You can put your picnic table in here along with several other pieces of equipment, allowing you to be outside and enjoy the air without getting bitten by all kinds of bugs. These screened porches are fairly easy to be put up also and can easily be stuck wherever you want them, giving you a variety of different layout options.
Outdoor Camping Oven
With camping food, people most often think of things like burgers, hot dogs, and sandwiches. While they aren't the worst meals to have, they can be boring and basic. Getting yourself an outdoor camping oven can allow you to cook and bake hot food each and every day.
Camping ovens can allow you to cook amazing dishes such as brownies or even a pizza while out in the wilderness. The consistent heat it provides makes it a much better option than cooking over the fire. If you don't want to worry about food while you're on your luxurious adventure, you should definitely consider an outdoor camping oven.
Portable Toilet
One of the biggest things people resent when going camping is the simple act of going to the bathroom. If you are out on a campsite, there might be bathrooms to use, but what is the condition of them? A lot of the time, porta-potties out in the wilderness are quite messy and disgusting. Companies understand this, and that is why they created an environmentally friendly portable toilet for you.
It can allow you to go anywhere without having to deal with a disgusting mess. You can mix it in with your RV's shower curtain for ultimate privacy as well. A portable toilet is a great way to cover your basic necessities while still adding a bit of a luxurious flair to it.
These are all great pieces of equipment that you need for a luxury outdoor adventure. You definitely want to spend some time enjoying the wilderness, but you also want to ensure that you have all the tools necessary to survive whatever comes your way. By investing in a few luxurious items, you will be sure to enjoy your adventure, no matter what comes your way.
Tagged:
Staycation