Last week was a little bit of a burger frenzy.  With three burger joints to review in one week. I can now pretty much claim though that I know where the best Burgers in the city are found!
If you didn't catch up burger review 1 of 3 then you can find out my thoughts on The Meat:Stack right here.
The Gate, if you're not familiar to Newcastle is the place which is full to the brim of city revellers visiting for the weekend. It's kind of a 'tourist hub'. It plays host to a selection of well-known chain food restaurants, a sprinkling of bars and of course a 13 screen cinema complex and a casino. Friday and Saturday nights are jumping at The Gate. Which neighbours bars such as Tiger Tiger and Sinners (yes there are real cages for you to twerk in!).
Head down from The Gate to an alcohol paved path of endless bars. This is known as the Bigg Market. To the end of the street, Tup Tup Palace. Probably most famous for hosting the Geordie Shore lot, 50 Cent and Kanye West. To the right what's known as The Diamond Strip. Think plush bars, such as House of Smith, Floritas, Perdu and of course a city favourite Revolution.
Newcastle is a condensed city. You can get from one side to the other in 15 minutes walking easily (if you want to take a cab then grab £10 FREE ride credit with Uber with the code ELLEBLONDE). However, for most The Gate is the best place to start the night.
Over the last couple of years, there's been a lot of change in The Gate. Most recently the opening of BURGER. If you've never heard of BURGER. they're a Scottish brand with an Edinburgh and St Andrew's location. Debuting their England location they've moved South of the border (just slightly) to launch their brand on the first floor of The Gate.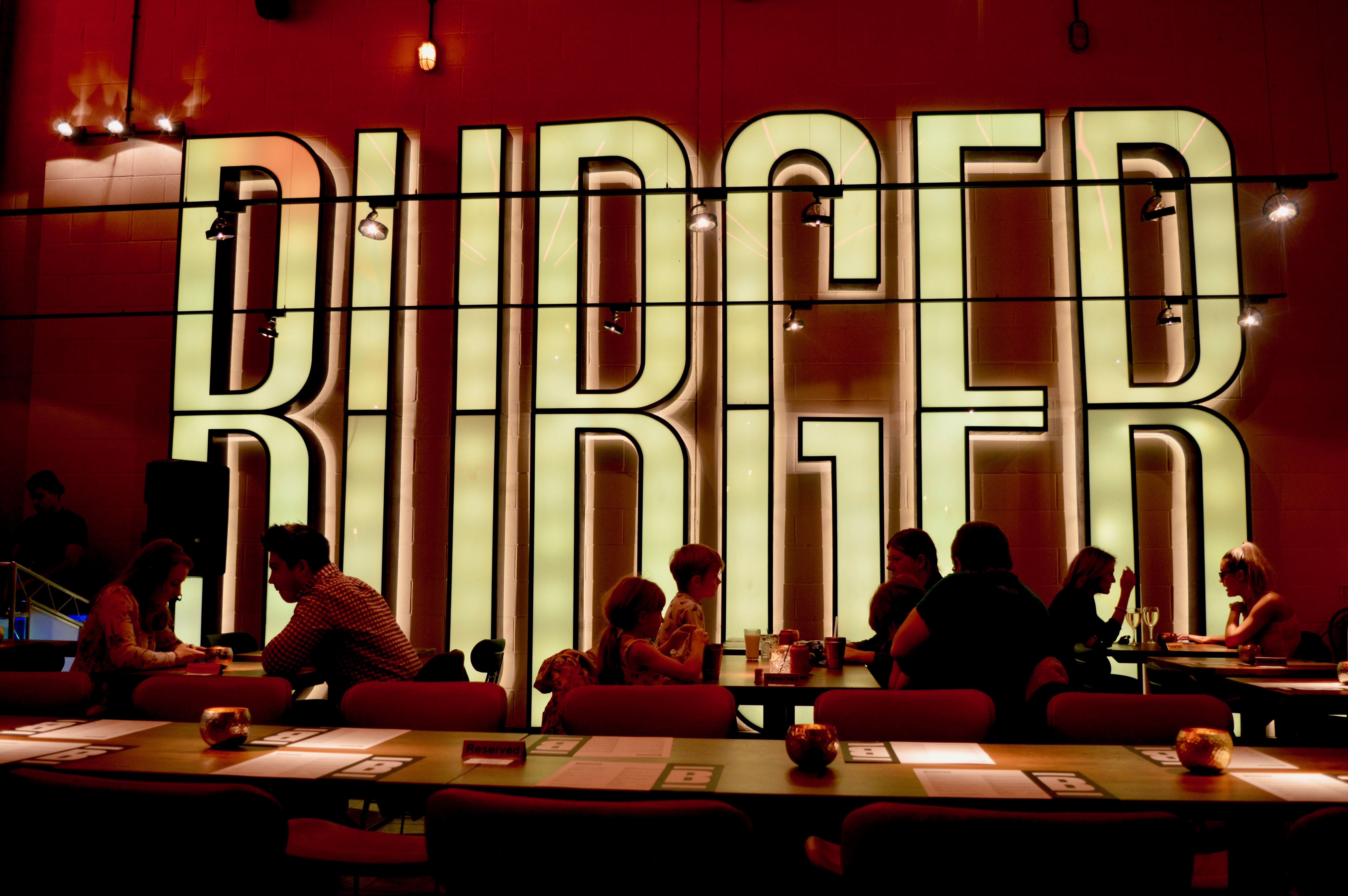 I headed along with one of my favourite ladies in my life, Alice from Zest of Alice for the opening of this newly launched restaurant. Upon arrival, we were greeted by Evan. Who was super passionate about the brand. He showed us to our seats as we took in the industrial-chic design. With huge BURGER. illuminated lettering down one side of the restaurant, DJ booth in front and an open kitchen at the back. BURGER. has a mixed vibe which reminded me of burger in Las Vegas (the burger restaurant owned by Gordon Ramsay) and STK in Ibiza, London & Vegas with the live house music.
It certainly made a great first impression, especially for a Friday night. Checking out their opening times on Friday and Saturdays BURGER. is open 12:00 until 23:00 and the rest of the week is open 12:00-22:30. The vibe and atmosphere alone is a great place to grab a bite to line your stomach before heading for a big 'neet oot on thu toon' (big night out on the town as we say here!). It's also pretty funky for a date or just to chill with friends during the week too.
Checking out the menu Evan explained it's a small and concise menu. With 9 burgers (1 of which is vegetarian, 1 vegan). The reason behind this; they wanted to keep it small and do what they know best. Creating a menu that they can cook with 100% attention, 100% of the time. Instead of over complicating things! I do personally prefer a smaller menu for this exact reason.
Using only the finest Scottish beef for the burgers. They're then ground with their special combination of herbs and spices before being cooked to order.
I opted for the Capital B (£11.65), you know go hard or go home! This comprised of Scottish beef, piled high with slow-cooked brisket. French Brie, pickled red onion, beef tomato and BURGER. sauce served on a toasted brioche.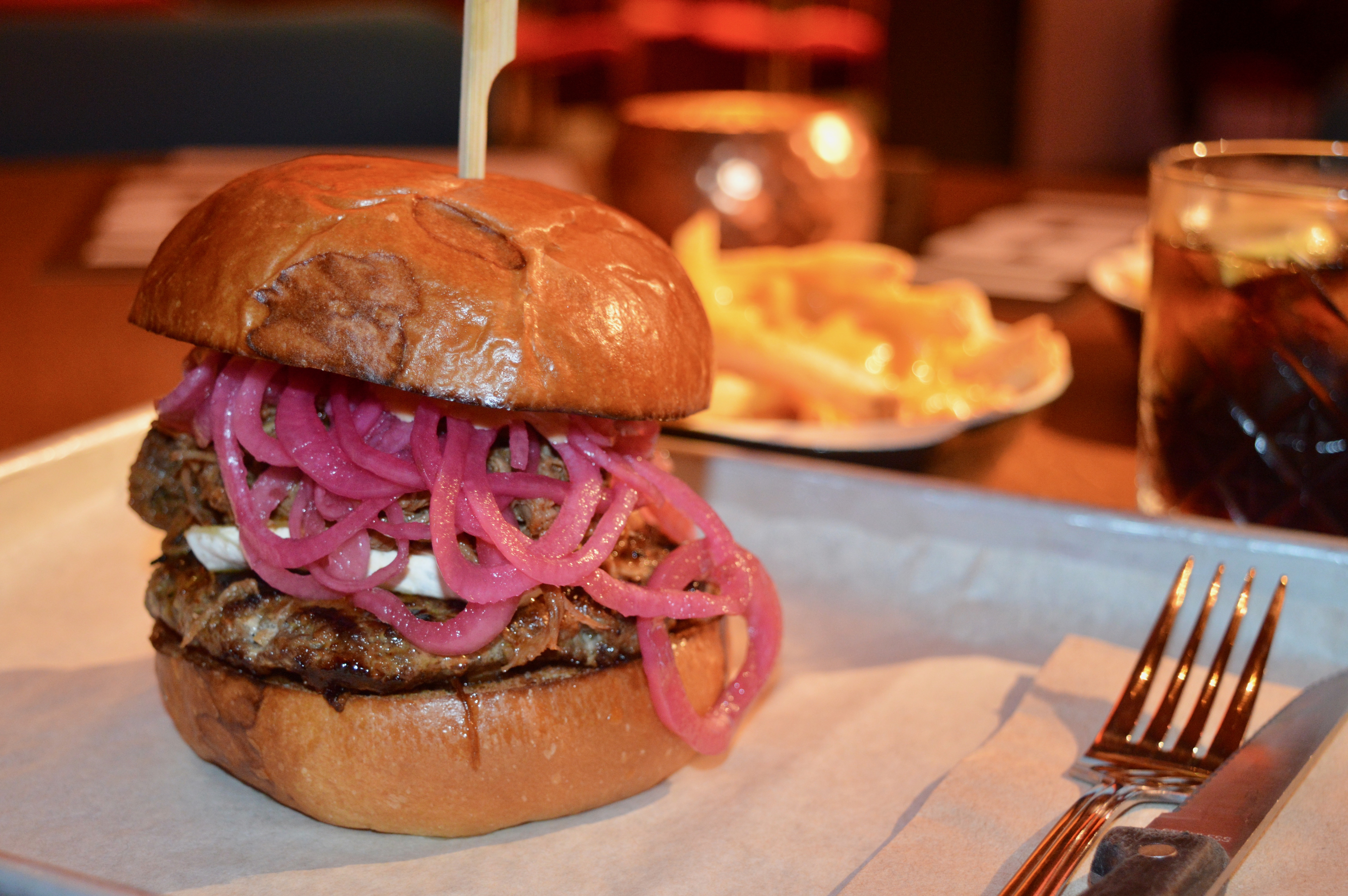 Our food arrived within 10 minutes and was served piping hot. My burger was colossal. One of the highest stacked burgers I've ever had! I loved the fact there was Brie as my cheese. It's such an understated cheese and worked so well with the melt in the mouth brisket. The BURGER. sauce was delicious and all the components of this stacked burger worked so well together. The burgers, well the Scottish beef melted in your mouth and was absolutely sensational.
Alice opted for the Bacon Cheese (£8.75). Which was a Scottish beef burger served with Red Leicester, crispy maple bacon, pickled gherkin, beef tomato and BURGER sauce on a toasted brioche.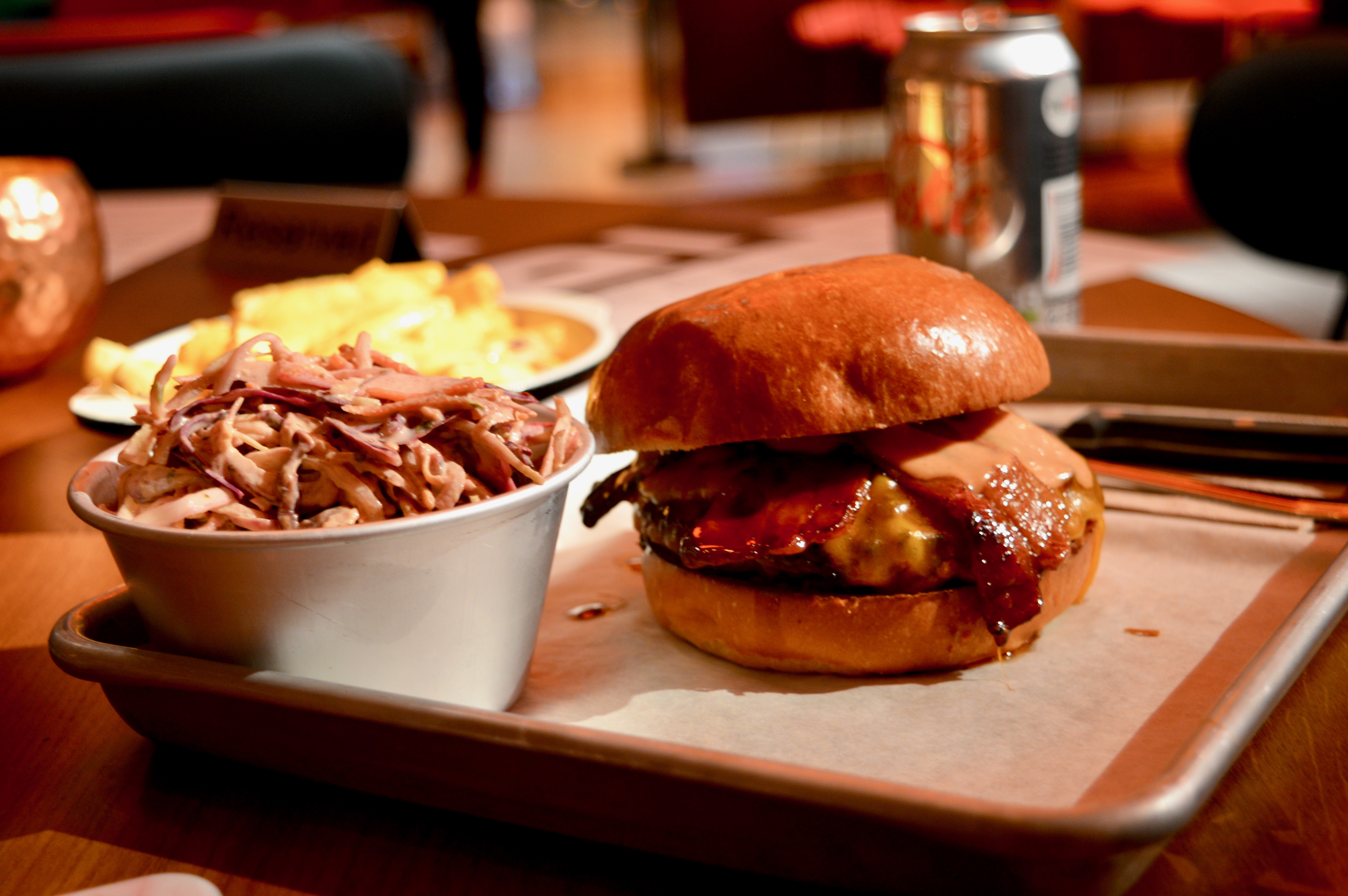 She too thought her burger was so tasty and the different elements of the burger had been chosen to work exceptionally well together to create a great taste.
We both opted for the cheesy fries (£3.90). Alice threw in a side of Chipotle 'slaw (£2.75) on for good measures too. What? It was Friday after all!
I personally thought the fries were a little bit of a letdown. There were mountains of melted cheese on the top, however, the fries were a little al dente for my liking. Alice's 'slaw was super spicy and she did comment that it was tasty.
They also have an extensive shake menu which pays homage to their slightly American roots with New York Cheesecake shakes and Salted Caramel to name a few.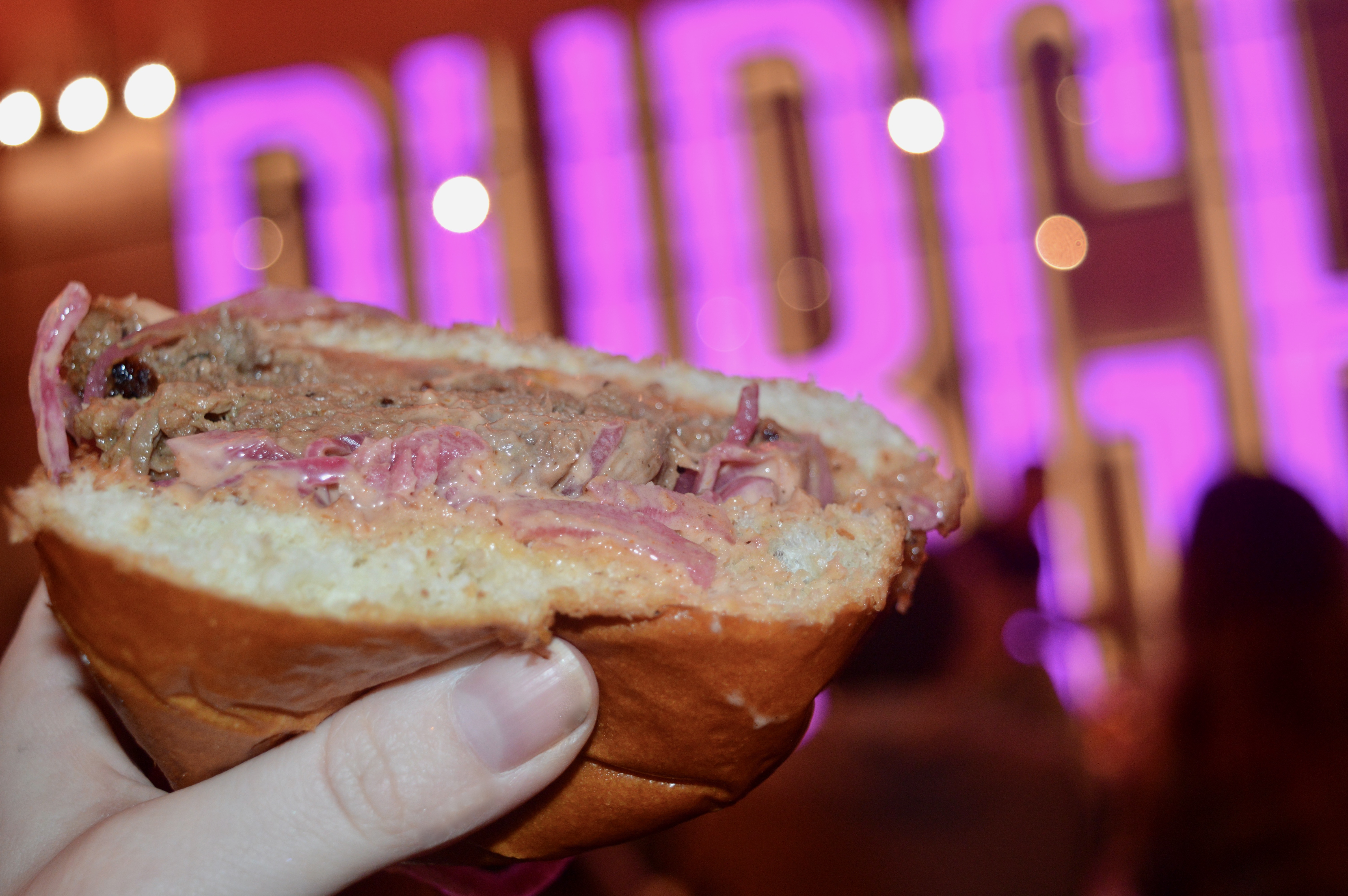 BURGER. thoughts
We both had a great night and it really got us in the mood to go out. Price wise the food is well priced for this city centre location and although around the higher end of the mid-range scale for a city burger.
The servers were so friendly they really made us both feel extremely welcome and we both had agreed we'd return. Especially as the atmosphere was totally chilled, yet really had us in a party mood. I do highly recommend a trip to visiting BURGER. in The Gate – the Capital B gets a thumbs up from me.
My favourite burger in the city though still remains the Meat:Stack at No28. Next burger challenger please stand up!
Love burgers? Coming to Newcastle? Pin me for later